How To Become a More Active Member of Your Community
Phil Ganz
/
9 Min Read
/
Feb 08, 2023
Are you looking for ways to become a more active member of your community? Are you curious about what it takes to make a meaningful difference in the lives of those around you? By becoming an active and engaged community member, you can help create positive change and make a lasting impact on your local area.
Whether it's joining civic groups or getting involved with specific issues that matter to you, there are plenty of opportunities to get connected and bring about progress. In this blog post, we'll explore some tips for how to become a more active leader in your local community.
From taking initiative on projects large or small, establishing strong relationships with like-minded people, or simply stepping up when needed - here's everything you need to know about becoming an effective community influencer!
Find the Right Community
Picking the right neighborhood is vital to being an active and engaged community member. For example, if you're a parent looking for good schools in your area, you should use resources like school rating websites to help you evaluate each community's education system.
Additionally, if safety is a priority for you and your family, check out city crime statistics to make sure the area you're looking at is secure. The conventional wisdom applies; watch out for signs of neighborhoods that are heading downhill such as abandoned homes or vacant lots. But more importantly, get involved before you move in!
Speak with local homeowners' associations and take note of the kind of events they put on throughout the year — this can give you a great indication as to what it would be like as a full-time resident.
Ultimately, when finding just the right neighborhood for you and your family, take into account all that makes up your day-to-day living and make sure to do plenty of research before diving in!
Buy Property
Buying property is a great first step towards becoming an active member of your community. With up-to-date knowledge about local regulations, you'll be able to make informed decisions about how to best serve the needs of your neighborhood. You can take an active role in neighborhood governance by participating in local discussion forums and attending town hall meetings.
Even simple activities like getting to know your neighbors and helping to maintain healthy grounds - by tidying yard waste or organizing block parties - can be instrumental in fostering a sense of community amongst all residents.
To ensure you're getting the most out of this experience, we recommend turning to trusted external sources like real estate legal advisors or online housing forums for guidance and advice on best practices.
Buying property can be a daunting task, but knowing which type of loan best suits your needs can help make the process much easier.
FHA loans are often popular among first-time home buyers due to their low down payment requirements, minimal credit score requirements, and lenient qualifying regulations.
VA loans are offered by the U.S Department of Veterans Affairs to veterans and active service members who meet certain eligibility criteria. These loans tend to have lower interest rates than conventional mortgages and no down payment requirement, making them an attractive option for those with good credit and steady income.
Conventional loans are typically used for larger purchases such as an investment property and require higher credit scores or a large down payment from the buyer in order to qualify; however, they usually offer better terms than FHA or VA loans since they carry less risk for lenders.
No matter what loan you choose, understanding which type best suits your particular situation will help you purchase a new home or property more easily.
Introduce Yourself to Your Neighbors
This creates an opportunity for you to get to know the people you live alongside, which can lead to new relationships, shared interests, and even collaborative efforts within the area.
To make a great introduction, start with casually making contact. Just say hello when you're out walking your dog or washing your car and take the time to introduce yourself properly if someone greets you back.
You may also want to consider hosting a block party or block cleanup day so everyone can enjoy spending time together outside in their neighborhood.
If possible, join a local community organization or association — this could be an excellent way for you to stay informed about what's happening locally and act accordingly.
Lastly, introducing yourself to your neighbors means risking potential awkwardness or rejection; however, it could lead you into many positive relationships and experiences that will truly enhance your sense of belonging in the community.
Join Community Groups
Being part of a community group is a fantastic way to become involved in your local area. Joining such an organization offers the opportunity to interact with like-minded neighbors who share your interests, develop relationships and make lasting connections that could help support positive change.
Additionally, joining allows you to access resources and helpful advice from those who have gone before you, so even if you are just starting out, it's easy to tap into valuable experiences.
As your involvement increases, so too will the opportunities available, as well as the scope of projects you can take part in.
The best way to get started is by doing some research as to which type of group best meets your needs and interests then attending some meetings or participating in community events.
Gaining first-hand knowledge of different organizations and their aims gives everyone a better understanding of their impact and what they are doing for their communities.
Find a Community Center
Community centers often offer services and amenities such as recreational activities and classes, social groups, civic education, events, emergency relief programs, and volunteer opportunities – all of which are ways you can collaborate with people in your area to make it better.
To start taking advantage of all that community centers have to offer, do extensive research on the various programs each one offers and decide which ones you'd be most interested in taking part in.
It's also important to consider whether the programs are financially feasible for you. For example, some may require you to pay a fee that might be too costly for your budget.
Studies have found that those who actively partake in their communities have higher levels of physical activity, better social skills, and fewer stress-related issues than those who don't get out regularly; so making an effort to join in at your local solidarity center is an all-around positive choice!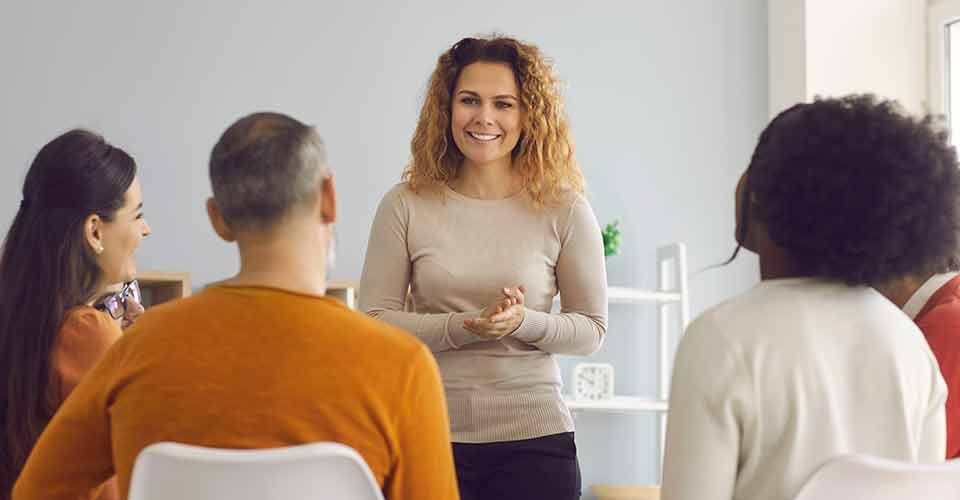 Take or Teach a Class
For starters, when you show up to teach or take a class, you're already taking steps to develop relationships with people in your community and build yourself as a leader.
Additionally, studies have shown that teaching can affect not only individual outcomes but also entire communities - 75% of respondents agree that teachers have the power to "significantly improve the lives and life chances of their students" (The Guardian).
Even taking classes can have an impact, such as helping you become more knowledgeable about topics that directly affect your community.
Best practices for becoming a more active member of your community through taking or teaching include volunteering, attending local meetings and forums, creating opportunities for dialogue among different groups in the population, and engaging regularly with individual members of the community.
Taking action with peers or colleagues on behalf of your environment is an especially meaningful way to further the development of any given community.
Attend Town Hall Meetings
Participating in town hall meetings is an effective way to become a more active member of your community. Such meetings are the perfect opportunity to collect primary-source information and make your voice heard by elected officials.
To make the most of these gatherings and have greater impact on your local community, show up on time for the meeting, ask meaningful questions, try to spark meaningful conversations and debates, and if possible, provide useful data from reliable sources.
Meetings that foster discussion and debate are more likely to result in impactful decisions. Moreover, local government activities often involve valuable resources and tax dollars that should be allocated appropriately – attending town hall meetings puts you in a position where you can ensure these resources are distributed fairly among all members of the community.
Throw Block Parties
Not only does it create an opportunity for friends and neighbors to come together, the fun and fellowship make the neighborhood feel connected and alive. To plan an effective block party, start by selecting a date that allows everyone time to prepare and publicize the event.
Make sure you establish some guidelines so disruptions are kept to a minimum. Involve your neighbors in developing an action plan; as research shows, when everyone is involved they feel more ownership of their community.
Lastly, remember safety first — it's important to have someone designated as responsible for keeping the peace throughout the event.
Go to Local Events
You can stay informed with the current news and activities, support local businesses, connect with other individuals and organizations you may otherwise not have access to, and explore different interests.
Here are some best practices for getting involved; before attending an event, read up on the mission and vision of the organization you'd like to support.
Once there, be sure to ask knowledgeable questions about their services — this way your presence is seen as valuable.
From there, make an effort to continue your involvement by donating financially or volunteering regularly. Studies show that when people actively volunteer in their community they report a higher feeling of connectedness and satisfaction.
Feeling socially connected is key for a sense of happiness within yourself and it also provides more opportunities for diverse cultural experiences. So what are you waiting for? Get out there!
Organize Community Clean-up Efforts
From picking up trash on the side of the road to gardening in public spaces, there are countless opportunities for doing your part as a member of your community.
While it may not always seem like much, small improvements can have huge cumulative impacts and these projects help foster collaboration, relationships, and civic pride amongst all members of the community.
It's important to do research beforehand so you know what types of projects will probably work best for your context and the resources available.
Make sure to use biodegradable materials whenever possible, encourage everyone to volunteer and stay safe by wearing gloves and proper masks when needed.
Get data whenever possible to inform your process--for example, studies suggest that regular upkeep of green spaces could reduce CO2 emissions by 6 million tons each year!
Finally, be sure to promote your efforts through local media channels or social media campaigns so you can share progress with other members of the community.
Get Involved With Local Charities
Participating in and supporting local charities is an excellent way to become more actively involved in your community.
With this contribution, you can help make positive changes for people and organizations in need, while participating in activities that promote sustainability, volunteer opportunities, wealth distribution, community health initiatives, and more.
To effectively get involved with local charities for maximum impact, here are a few key tips:
do your research on the charity you are considering;

understand their mission;

make sure they have a good rating with credible organizations such as the Better Business Bureau;

review team members' backgrounds;

consult current and former volunteers about their experiences;

and make sure to give more than just money whenever possible (including donating time or supplies).
These mindful practices can not only support worthwhile causes but also help build long-lasting bonds within the communities where we live.
According to statistics from 2020 published by Nonprofits Resource Group (NRG), 91% of nonprofit organizations reported that they've created or had an active presence in their local communities over the last year alone.
Ultimately, becoming involved with local charities is one of the best things you can do to positively contribute to the civic health and prosperity of your neighborhood.
Volunteer Your Time
Volunteering is a great way to develop yourself as an active community member. Not only does volunteering give you unique opportunities to help others and impact your local area, but it also boosts networking potential by placing you in contact with like minded individuals who share the same values and interests.
By interacting regularly at volunteering events, you can gain valuable experience for collaboration, communication and problem solving - all important attributes for an individual actively engaged in successful community progress.
Studies have even indicated a correlation between volunteering and mental health among those that contribute their time and skills to charitable causes.
Make sure to seek out established volunteer programs with transparent safety measures in place, and be aware of the commitment level when offering your services - it's important that organizations don't take on more than they can handle during difficult fiscal times!
With the right resources and commitment, volunteering can be a wonderful experience that allows you to play an integral role in building better communities.
Donate Locally
Donating locally can be a powerful way to get involved in your community and make a real difference. Supporting local merchants, nonprofits, and other organizations has numerous benefits both for the recipient and for yourself, from a stronger sense of connectedness to your neighbors to celebrating the hard work of people who are passionate about their mission.
For example, research indicates that small businesses produce more than two-thirds of net new jobs in the US each year - so when you choose to contribute money or volunteer energies at these institutions, you're playing an important role in ensuring continued economic vitality.
To ensure your donations are making the biggest impact possible, focus on making meaningful contributions within your financial means; if your budget can handle it, consider sustaining monthly donations rather than one-time gifts.
And don't forget to set aside a portion of your giving specifically earmarked for environmental causes like land conservation or renewable energy!
Shop Locally
Shopping locally is a great way to be an active member of your community. When you buy locally, the money you spend goes to local businesses who, in turn, pay taxes that are reinvested back into the area. This not only helps the local economy but also keeps it unique and vibrant.
Additionally, shopping locally gives you an opportunity to get to know business owners and engage with other shoppers within your community. Furthering your support for local businesses, see if there are events planned or food drives hosted by them in which you can become involved.
Finally, look for authoritative stats on how supporting local businesses builds links between citizens and boosts economic benefits for everyone living nearby.
Consider Running for Office
Running for office can help you become a more active member of your community, and it's easier than you think. Whether through local elections or an appointment to a board or commission, you can directly influence the future of your hometown.
When considering a candidacy, first develop relationships with members of your community. An understanding of what issues need to be addressed is paramount to being successful in an election or appointment process.
Additionally, put together a realistic campaign plan that includes strategic roles for supporters and volunteers and stick to it throughout the process. Before getting started make sure to review requirements for running in your jurisdiction, including age restrictions and residency rules.
Finally, look at authoritative statistics such as census data and voting trends; this will help you frame your platform and appeals while also giving people confidence in your commitment to being informed on issues important to them.
Summary
Now that you know some of the many ways you can become a more active member in your community, what are you waiting for? Get out there and introduce yourself to your neighbors. Join a community group or two.
Find your local community center and take or teach a class. Attend town hall meetings and get to know your elected officials. Throw a block party and get to know the people who live on your street. Go to local events and cheer on your fellow residents.
Organize community clean-up efforts. Get involved with local charities. Volunteer your time to help those in need. Donate locally to support causes that are important to you. Shop at local businesses. And if you're feeling really ambitious, consider running for office!
There are endless opportunities for you to get involved in your community today - so what are you waiting for?