Considering a Move to Orlando? Here is What it's Like to Live There
Phil Ganz
/
8 Min Read
/
Mar 17, 2022
If you're thinking about living in Orlando, you'll probably be interested in learning more about the city you might call home. It's an exciting place to be, but it might not suit everyone. Before making your final decision, here's what you need to know about Orlando and what makes it such an awesome place to live.
Reasons to Move in Orlando
People make big changes in their lives for many reasons, including good and bad. However, it doesn't matter what your reason is—what matters is that you're living your best life. Orlando, FL, has many things making it a perfect residence for everyone. If you're looking to make an informed decision about your relocation and don't know where to start, here are the top seven reasons to move to Orlando:
1. Affordable Cost Of Living
Low living costs are one of the main reasons, so many people move to Orlando. There are no state income taxes, and many of your everyday expenses such as food, utilities, clothing, and entertainment are priced lower than in other major cities. As a result, you can spend less on housing in Orlando, leaving more money for other important things like saving for retirement or paying off debt. After a few years, you could have enough savings for a down payment on a bigger home or a vacation property.
2. Excellent Healthcare Resources
There are multiple top-notch hospitals and medical centers in town, so if anything goes wrong, you can find excellent care almost anywhere in Orlando. Orlando has excellent healthcare facilities, including major hospitals, dental facilities, optical offices, rehabs, and other healthcare-related institutions. The hospitals here rank among some of the best in Florida. If you need urgent medical care or outpatient surgery, the hospitals in Orlando provide top-notch care for a range of ailments.
3. Great schools
If you're looking for a place where your kids can thrive academically and intellectually, then Orlando is a great place to start. Educational systems including STEM (science, technology, engineering, and math) in the city are among the best in Florida.
Orlando is consistently ranked as one of Florida's best school districts, and the educational opportunities are expanding with a new school opening each year. With small class sizes, award-winning teachers, and state-of-the-art facilities, your kids can get a great education at any of these local schools.
4. Attractive Weather Conditions
Florida is known for its pleasant weather, with only two seasons—the hot or humid summers and a relatively mild winter. This means that you can move here in any season without worrying about snowstorms or thunderstorms. The conditions are suitable for various outdoor activities, ranging from golfing to swimming and diving in lakes. You can even go ice skating on the streets during winter.
5. Business-Friendly Environment
Florida offers businesses low taxes and minimal government interference, which has resulted in an environment where businesses can thrive while providing employees with a cost-effective living situation. The Sunshine State is a business-friendly region ranking No. 3 on Verizon's list of Best States for Small Business. With a low tax burden and excellent licensing for small businesses, entrepreneurs can enjoy great opportunities and ease to start businesses.
6. Top-Notch Safety
Orlando is known for its safety, with a low crime rate and a relatively low rate of violent crime. That's great news for anyone, especially families, who'd rather not worry about their security while living in one of Orlando's great communities. The majority of communities are well-lit, and law enforcement responds quickly to calls for assistance.
7. Family-Friendly Neighborhoods
If you're looking for a family-friendly place, it's hard to beat Orlando. It has neighborhoods designed with children in mind and is home to one of America's most famous theme parks. Most of these neighborhoods have amenities and schools that appeal to young families. Living in Orlando will help your kids avoid having a boring childhood.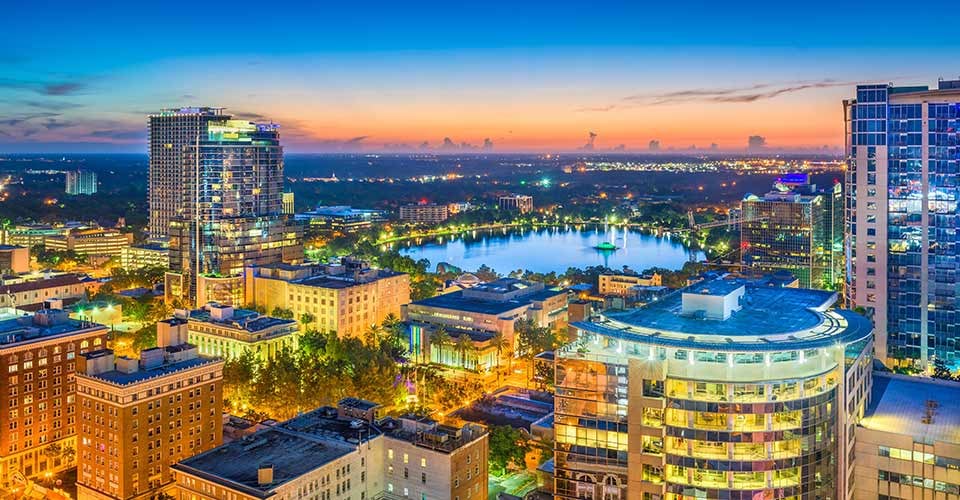 Housing and Transportation Options
If you're thinking about living in Orlando, one of the first things you should consider is your housing and transportation options. Luckily, there are lots of apartments in Orlando that offer great amenities. And when it comes to transportation, public transport and beautiful roads throughout different parts of Orlando make it easy to get around the city. Let's take a quick look at housing and transportation options in Orlando.
Housing Options in Orlando
There are many options for housing and transportation in Orlando. The cost of living in Orlando is relatively affordable, making it easy for you to live without breaking your budget. Housing costs in Orlando are relatively low, with an average price of $1,733 per month for an apartment.
Finding a place to live in Orlando can be pretty straightforward. There are plenty of condos, apartments, and other housing types available for rent. Many apartment complexes offer amenities like pools, fitness centers, and tanning salons for residents—and can usually accommodate pets as well. Just make sure you know what it'll cost you before signing a lease or making any promises.
Orlando has an active real estate market. Like in other cities, housing options vary widely and depend on your price range. If you want to rent, you'll find a great range of apartments and single-family homes in various neighborhoods. Orlando also has many communities filled with single-family homes under $300,000 each. Owning a home is affordable here, as well, as the median sales price for single-family homes is right around $230,000.
Transportation Options in Orlando
In terms of transportation, you have several choices, including public transit, bike-share programs, and Uber or Lyft making it easy to get around without owning a car. People drive less in Orlando because locals rely on other alternatives like biking, walking, and public transit more often than in other cities. If you're looking for more local options for getting around town, both Car2Go and Zipcar are popular car-sharing services in Orlando.
The city has made strides in improving public transportation options—you can now get around town using light rail, buses, or other ground vehicles that use electricity from overhead wires instead of fossil fuels. If you want to own a car but don't want expensive maintenance fees, you can go with an electric vehicle. They're generally more expensive but will save you on overall maintenance costs while being good for the environment.
Intriguing Things to Do In Orlando, FL
Orlando, Florida, is one of the most visited destinations in the United States, and there are many reasons why people flock to this city for their vacations and getaways. However, not all of the activities that Orlando has to offer are readily apparent to those who visit the town; sometimes, you have to dig a little deeper to find the intriguing things that you can do in Orlando.
To help you make the most of your time in Orlando, here are some activities that you should consider if you're vacationing there soon or if you're considering living in Orlando permanently:
Go to the Beach
Orlando, FL, is best known for its sandy shores and beautiful beaches. And, with a seemingly endless amount of beachfront to explore, it's no wonder, so many visitors flock here each year to bask in some serious rays. Whether you're moving with kids or planning a relaxing romantic getaway, there are plenty of must-see beaches in Orlando to keep you entertained all year round. Here are some of the best beaches near Orlando:
Cocoa Beach
Daytona Beach
Ormond Beach
New Smyrna Beach
Vero Beach
Flagler Beach
St. Augustine Beach
St. Pete Beach
Indialantic Beach
Clearwater Beach
Visit the Amusement Parks
There are several amusement parks, including water and theme parks, in Orlando that draw millions of visitors worldwide. With everything from roller coasters to water slides, it's no wonder there are so many theme parks in Orlando. If you're looking for fun things to do while living in Orlando, try visiting some amazing amusement parks like Seaworld, Disney World, and Universal Studios. Each park has something different to offer, but they're all sure to entertain kids and adults alike.
Visit the Museums
One of the favorite things to do in any city is visiting a museum. Each one has a different, fascinating story to tell, and they are usually free of charge. The city of Orlando is filled with museums, many of which are free or affordable. There's no shortage of exciting things to do that don't require spending a fortune from art to science to history. What better way to learn more about your culture and history than by visiting a museum? If you're looking to move to Orlando, make sure you check out some of the following museums:
The Orlando Museum of Art
The Charles Hosmer Morse Museum of American Art
The Orlando Science Center
Titanic: The Artifact Exhibition
The Orange County Regional History Center
The Orlando Fire Museum
The Albin Polasek Museum and Sculpture Gardens
Visit the Lakes
If you want to take in some of Orlando's most striking views, visit one of its amazing lakes. The Orlando area is home to dozens of lakes, many of which offer public boat ramps and ample parking. Lake Monroe is a popular spot for swimmers, campers, and anglers, while Lake Eola Park offers plenty of space for walkers and joggers. Other lakes include Lake Virginia, Lake Okeechobee, Lake Parker, Lake Ivanhoe, Lake Conway, and Clear Lake.
Visit the Nature and Wildlife Areas
Orlando is famous for its natural wildlife and beautiful landscape. You can take advantage of everything Orlando has to offer by visiting the many wildlife parks, zoos, and preserves in the city. Many of these areas have hiking trails where you can explore, find a bench to relax on, and discover various animals to watch. If you're planning on living in Orlando soon, it would be worth your time to check out one of these areas:
Discovery Cove
Gatorland
Green meadows petting farm
Smooth Waters Wildlife Park
Jungle Adventures Nature Park and Zoo
Attend the Local Events
Almost every major city hosts various unique events that you can attend for free or at a discounted price. In Orlando, event tickets typically go on sale several months in advance, so if you find something interesting and exciting (like Halloween Horror Nights), buy your tickets as soon as they're available. If a theme park is more your speed, there are always tons of special events to participate in - particularly during seasonally oriented holidays like Easter and Christmas.
There are plenty of festivals, parades, and events all over Orlando. This can include checking out a game at a local arena, going to an annual music festival, or visiting exciting museum exhibits. Be sure to check out local newspapers and other event calendars when you're in town to see what's happening.
Outdoor Activities and Attractions
There are several great outdoor activities to choose from when visiting Orlando. The weather is hot and sunny for most of the year, so it's a great place to enjoy an active vacation. Explore many of these attractions, which offer amazing views of Central Florida's landscape and skyline. There's plenty to do no matter what time of year you move to Orlando. Below are just a few examples:
Boggy Creek Airboat Adventures
Epic Paddle Adventures
Orlando Tree Trek Adventure Park
Orlando StarFlyer
WaveAround
Revolution Adventures
Real Florida Adventures
Spirit of the Swamp Airboat Rides
Winter Park Scenic Boat Tour
Hollywood Drive-In Golf at Universal CityWalk
Wild Florida Airboats, Gator Park & Drive-Thru Safari
Resident Laws in Orlando
Now that you've decided you want to move, it's important to know how much you can be fined for breaking local laws in Orlando. Every city has its own set of rules and regulations regarding minor traffic violations, so do your research before moving. Depending on your particular offense, fines can range from $30 – $500 or even more.
While many people assume they'll never need a lawyer, we all need legal help at some point. Fortunately, Orlando is home to great lawyers and law firms ready and willing to help you with whatever your legal needs may be. With that in mind, here are common laws you should understand before living in Orlando, FL.
Child Safety Seats in Vehicles
The law states that if a child under age five is riding in your vehicle and you're going 20 mph or less, they must be properly secured by a car seat and child restraints that conform with state and federal regulations. In particular, children should never sit in a front seat as it's dangerous for them and reduces their safety. You can purchase special booster seats that strap your child into an adult-sized seatbelt if you have young children. The extra height provided by these seats will make sure they're protected properly during an accident.
Traffic Law in Orlando
If you're planning to move to Orlando, it's worth knowing that the city has its unique laws governing vehicle traffic and moving violations. Drivers are not allowed to do common things like using their cellphones unless they have hands-free devices, flashing their high beams at oncoming cars, driving under the influence (DUI), among others.
Pet Law
While it's a generally pet-friendly state, specific city laws could affect your decision. Most housing complexes in Orlando ban certain dog breeds, including pit bulls and Rottweilers. So if you're thinking about making Orlando your new home, you might want to reconsider bringing your dog along with you.
Dogs aren't allowed on most public transportation or even in most restaurants, so be prepared for a lot of car time. On a more positive note, Orlando recently adopted a few dog-friendly laws, and there are several pet-friendly restaurants, buses, and parks around town.
Tax Law
The more you know, the less you have to worry about IRS penalties and interest accumulating on your back-owed tax bill when it comes to filing taxes. The problem with taxes in Orlando is that they can be quite confusing, especially if you don't know much about them. Be sure to research and consult tax specialists about all the available taxes in Orlando to avoid serious violations and penalties down the road.
Bottom Line
Orlando is a sunny, family-friendly city located in Central Florida. It's known for its amusement parks and various activities, including shopping, performing arts, and sporting events. If you're thinking about living in Orlando, you may have questions about what it would be like to live there. The weather, the attractions, the people—all of these can greatly impact your quality of life. Whether you're an entrepreneur, looking for work, or a perfect city to settle in, you'll find everything you need here.
Interested in learning about becoming a resident in Florida or moving there? Read more.