What is the Florida Empowered DPA Program? A Guide for Homebuyers

By Phil Ganz

Edited by Ryan Skerritt
7 Min Read
Oct 27, 2023
Overview - Florida Empowered DPA Program
What It Offers
Who Qualifies
Program Requirements
How to Apply
What is the Florida Empowered DPA Program?
The Florida Empowered DPA Program is a new program for homebuyers designed to provide much-needed down payment assistance. More accessible than most programs, it offers valuable support for purchasing a primary residence.
Understanding the Program
The Florida Empowered DPA Program is crucial in making homeownership more accessible. Its primary function is to provide down payment assistance, which helps make getting money for a down payment more attainable.
The Empowered DPA Program is a generous solution for those needing a financial push, offering a forgiving grant, not a loan, making homeownership in Florida achievable, relatable, and uncomplicated.
Unlike many other down payment assistance (DPA) programs, the Florida Empowered DPA Program stands out by providing up to 3.5% of the property's value.
This grant is not a loan that needs to be repaid but rather a significant helping hand for homebuyers. This unique feature sets a benchmark in the realm of DPA programs.
Eligibility Requirements
Homebuyers must fulfill certain requirements to meet eligibility for the Florida Empowered DPA Program. These prerequisites vary from income limitations to credit score thresholds and specific criteria related to the property.
Benefits of the Florida Empowered DPA Program
Thanks to the Empowered DPA program, securing a home has never been easier. Designed for homebuyers in Florida, this program creates a path to homeownership by reducing economic barriers and making home-buying more affordable.
How Does the Florida Empowered DPA Program Work?
The Florida Empowered DPA Program follows a straightforward process to help homebuyers. Here are the steps:
The Florida Empowered DPA Program simplifies home buying by providing a structured step-by-step approach. This makes it easier for potential homeowners to navigate and secure a property.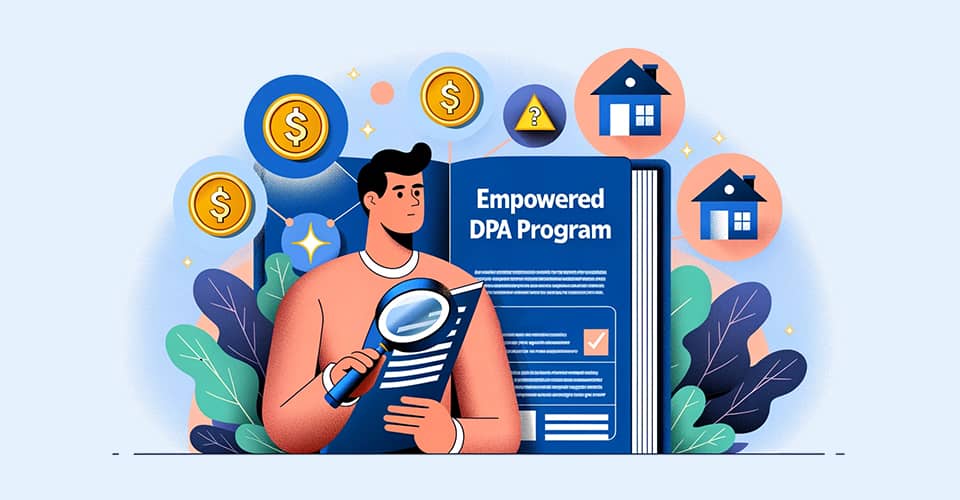 Step 1 - Prequalification
Prequalification is the first crucial step in your journey toward homeownership via the Florida Empowered DPA Program. It works as the initial assessment of your financial readiness and eligibility.
Step 2 - Finding an Approved Lender
Once you're pre-qualified, the next step is to find a lender approved by the Florida Empowered DPA Program. These lenders understand the DPA program requirements and can guide you through the application process.
Step 3 - Applying for the DPA Program
Applying for the Florida Empowered DPA Program is a straightforward process. Gather essential documents - credit scores, income proof, and details of your desired property - to ensure application success.
The application process entails validating your eligibility, completing homebuyer education, securing a loan offer, and submitting your application through an approved lender. Patience and promptness make the process smoother.
Step 4 - Closing on Your Home
The Empowered DPA Program plays a significant role in the home purchasing process. It offers up to 3.5% of the home's purchase price, greatly reducing your financial burden during closing.
The Empowered DPA grant is provided at the closing stage. For example, if you buy a $300,000 house, $10,500 will be taken care of, providing significant financial relief.
Unlike some assistance programs, this grant is not a loan, so there is no need to repay it in the future. This ensures a confident and cost-effective closing process.
It is important to note that you must maintain the loan for at least six months to have the grant forgiven. This commitment is small compared to its significant benefit, allowing for a smooth transition into your new home.
Step 5 - Post Purchase Support
With the Florida Empowered DPA Program, your relationship doesn't end at closing. You receive ongoing support to ensure your continued success as a homeowner. This support extends well beyond the purchase.
A standout aspect of the program is its commitment to sustainable homeownership. Counseling and education services are on hand, providing valuable guidance during your transition to homeownership. It's a reassuring safety net.
Another fantastic feature is the hotline dedicated to homeowners. Seasoned experts are ready to address your concerns, resolve confusion, and provide useful tips. The team's experience is unmatched.
Be it advice on property maintenance, financial planning, or tips on handling changing mortgage rates, you can count on the program's support. Your success as a homeowner is their victory, too.
What are the Key Features of the Florida Empowered DPA Program?
The Florida Empowered DPA Program offers significant down payment assistance, reduced interest rates, flexible loan terms, and first-time homebuyer education. Additionally, the program is open to various types of properties.
By highlighting its key features, the Florida Empowered DPA Program becomes an ideal pathway to homeownership. With its unique offerings, this program goes beyond a conventional mortgage loan, making homeownership more attainable for a wider audience.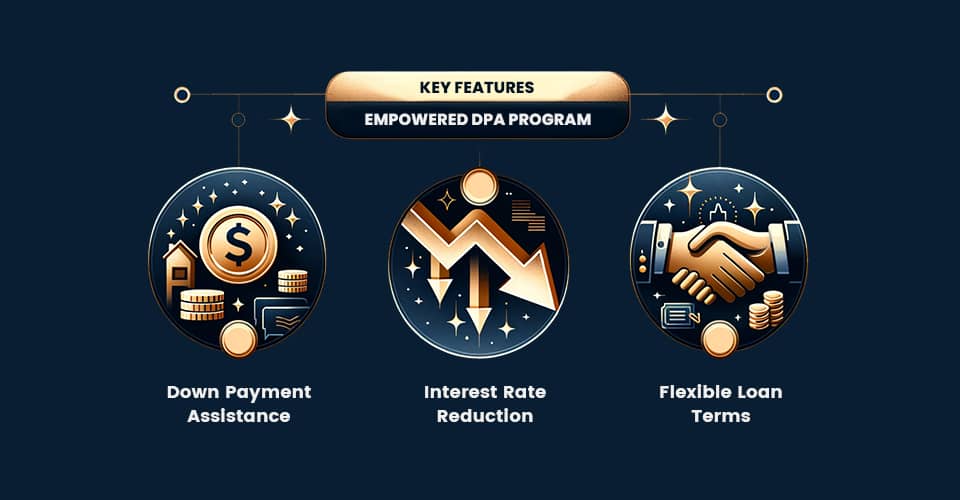 Down Payment Assistance
The Florida Empowered DPA Program offers down payment assistance to help homebuyers overcome the financial challenge of gathering the initial down payment. This feature simplifies the home-buying process by providing significant support.
Many homebuyers find the down payment to be the most difficult aspect. However, the Empowered DPA in Florida helps by offering a substantial contribution.
It challenges traditional down payment requirements and provides up to 3.5% of the home's price, covering the entire down payment of an FHA loan.
Interest Rate Reduction
Another notable feature of the Empowered DPA Program in Florida is the interest rate reduction. This provision is particularly attractive to budget-conscious homebuyers as it ensures more affordable monthly payments.
The benefits of the interest rate reduction feature are significant. Homebuyers can save thousands of dollars over the life of their loan, making homeownership more financially feasible for a larger pool of Florida residents.
This feature goes beyond saving money. It aims to make homeownership attainable and sustainable, allowing homebuyers to manage their mortgage payments comfortably.
Applying for the Empowered DPA Program and receiving an interest rate reduction can substantially impact a homebuyer's financial situation. It allows for a smoother path towards homeownership, easing the debt burden.
Flexible Loan Terms
The Florida Empowered DPA Program is known for offering much-needed flexibility in loan terms and accommodating various financial situations. It caters to the diverse needs of potential homebuyers, offering an adaptive approach to homeownership.
Flexibility in loan terms can act as a significant advantage for prospective homebuyers. It allows them to tailor their mortgage agreement based on individual needs and financial capabilities.
The program recognizes that every buyer's circumstance is unique and promotes financial accommodation. Hence, the flexible loan terms of the Florida Empowered DPA Program can be of great assistance.
This availability of adaptable loan terms has proven to be a stress reliever for many. It helps homebuyers to manage their finances better while preparing for homeownership in the long run.
In conclusion, the Florida Empowered DPA Program, with its versatile loan terms, goes a long way in making home buying an achievable dream for many. It embodies the program's commitment to empowering homeownership in Florida.
First-Time Homebuyer Education
Grasping the ins and outs of homeownership is a critical component of the Florida Empowered DPA Program. It mandates completing an approved first-time homebuyer education course, emphasizing the importance of homebuyer awareness.
Through the Florida Empowered DPA Program, you become well-versed in the nuances of homeownership. From understanding mortgage terminology to drawing up a sustainable budget, this program places a high premium on informed purchasing decisions.
Property Eligibility
For homeowners seeking to take advantage of the Florida Empowered DPA Program, having a clear understanding of eligible properties is essential. The program is not limited to conventional single-family homes. It includes a variety of property types, serving diverse housing needs.
Not only do traditional, single-family homes qualify, but also duplexes. This allows homebuyers to consider housing layouts that might also generate rental income. It's an excellent opportunity for buyers looking to offset mortgage payments.
Manufactured homes, too, qualify under this program, offering affordable housing solutions. As such, the program supports buyers focused on budget-friendly options, thus expanding attainable housing choices for Floridians.
FHA-approved condos and Planned Unit Developments (PUDs) also make the eligibility list. It ensures that those opting for condominium-style living or the shared amenities offered by PUDs can benefit from the program.
A comprehensive approach to property eligibility allows the Florida Empowered DPA Program to support a broad range of homebuyers. Irrespective of individual preferences or financial positions, the program paves the way to homeownership for many.
Is the Florida Empowered DPA Program Right for You?
Meeting the Florida Empowered DPA Program criteria relies on your current standing as a potential homeowner. Analyze whether you are a first-time homebuyer, a dedicated public servant, or fall within the set income percentages or underserved census tract.
Weighing the benefits against the limitations of the Florida Empowered DPA Program can aid in your decision. Consider the profession-based eligibility, flexibility of loan terms, interest rates, and down payment support it offers in light of the strict criteria and geographical restrictions.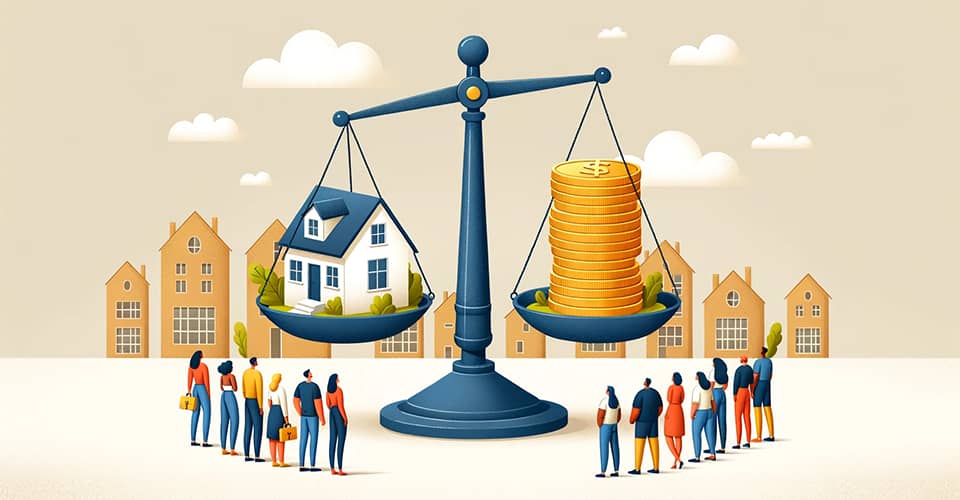 Prospective Homebuyers
The Florida Empowered DPA Program can be a lifesaver for first-time homebuyers. It provides funds that can cover the complete down payment required for an FHA loan, making the path to homeownership straightforward and less financially burdensome.
Prospective homebuyers can benefit significantly from this program. Not only does it assist with down payments, but it also offers flexible loan terms, making repayments more manageable.
The financial advantages of the program go beyond down payment assistance. It reduces interest rates, enabling potential homeowners to secure affordable financing for their dream homes.
The program encourages responsible homeownership. An approved homeownership education course, a prerequisite for the program, equips first-time homebuyers with essential knowledge about the housing market and the home-buying process.
Real Estate Investors
The Florida Empowered DPA Program is not limited to homebuyers but can also be lucrative for real estate investors. The program offers expansive property eligibility, encompassing single-family homes and FHA-approved condos, among other acceptable property types.
With the assistance of the Florida Empowered DPA Program, property acquisition becomes more attainable for real estate investors. It alleviates the financial burden of high down payments, allowing investors to explore more profitable real estate markets.
The potential to cover up to 3.5% of the down payment through the program can expedite property acquisition. This can significantly impact investment strategies and provide an opportunity to progress in the housing market.
By leveraging the benefits of the Florida Empowered DPA Program, real estate investors can gain a competitive edge in housing markets and maximize their returns.
With over 50 years of mortgage industry experience, we are here to help you achieve the American dream of owning a home. We strive to provide the best education before, during, and after you buy a home. Our advice is based on experience with Phil Ganz and Team closing over One billion dollars and helping countless families.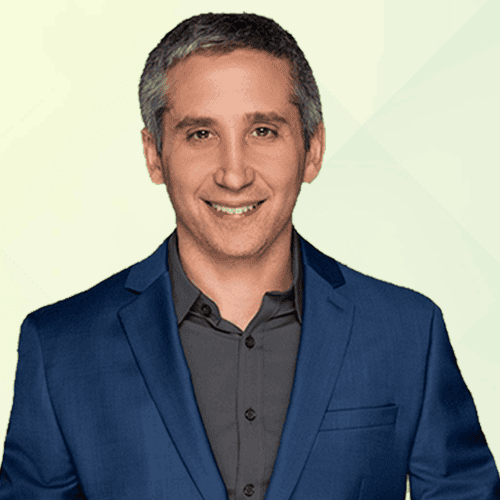 About Author - Phil Ganz
Phil Ganz has over 20+ years of experience in the residential financing space. With over a billion dollars of funded loans, Phil helps homebuyers configure the perfect mortgage plan. Whether it's your first home, a complex multiple-property purchase, or anything in between, Phil has the experience to help you achieve your goals.