14 First-Time Florida Home Buyer Grants and Programs in 2023
Phil Ganz
/
7 Min Read
/
Mar 17, 2023
Contrary to popular belief, a 20% down payment is not always necessary, and there are 14 first-time home buyer programs available in Florida in 2023 that can make it easier to transition from renting to owning.
These programs offer various benefits, such as cash grants, tax credits, and discounted mortgage rates, which can help you achieve your American Dream faster and without any further delays.
Below is a compilation of first-time home buyer programs, grants, and mortgages available for Florida residents in the year 2023:
What is a First-Time Home Buyer Program?
First-time home buyer programs are special incentives and mortgage loans that broaden the pool of eligible homebuyers in Florida. These programs receive support from both public and private banks, as well as government entities within the state.
First-time homebuyer programs comprise of:
Low-down payment mortgages, which permit a down payment of 5 percent or less.

No-down payment mortgages, which don't necessitate a down payment.

Mortgage loans that offer interest rate discounts exclusively to first-time buyers.

Mortgage loans that have more lenient approval standards for first-time buyers.

Mortgage loans with advantageous terms depending on the homebuyer's profession.
Mortgage applications for first-time homebuyers can be completed online or in-person, with mortgage companies being capable of providing approvals for first-time buyers within minutes.
Check if you are pre-approved here.
Most Used First-Time Home Buyer Programs
The U.S. government endorses six first-time homebuyer mortgage programs, each of which supports over a million loans for first-time buyers every year.
VA Mortgage
The VA mortgage is a 100% mortgage guaranteed by the Department of Veterans Affairs and is specifically designed for active-duty military members, veterans of the armed services, and surviving spouses.
VA loans do not require mortgage insurance and have a minimum credit score requirement of 620. Eligible buyers can utilize VA loans to purchase residential properties with 1-4 units across all 50 states and U.S. territories.
USDA Mortgage
The USDA mortgage is a 100% mortgage that is supported by the U.S. Department of Agriculture. It is specifically designed for homes in non-urban communities, which account for 91 percent of the United States land mass.
USDA mortgages are an excellent option for buyers with a minimum credit score of 580, as they allow 100% financing. Furthermore, USDA mortgage rates are frequently the most affordable of all low-down-payment mortgage loans.
The FHFA First-Time Home Buyer Mortgage Rate Discount
In 2023, first-time homebuyers will receive a discount on interest rates for their loans from the Federal Housing Finance Agency (FHFA) to make housing more accessible. To be eligible, you must meet these criteria:
First-time homebuyers.

Utilization of a conventional, 30-year fixed-rate mortgage.

Income at or below the average household income for their area.
First-time homebuyers who are eligible may receive automatic mortgage rate discounts of up to 1.75 percentage points on conventional 30-year fixed-rate mortgages, which can result in a reduction of up to 20% on monthly mortgage payments.
The amount of mortgage rate discounts for first-time homebuyers will vary depending on factors such as credit score, the amount of the down payment, the type of property, and the loan program.
HomeReady
HomeReady is a mortgage program that provides lower rates and costs to low and moderate-income home buyers, as well as a 3% down payment option. To be eligible for HomeReady, you must have a minimum FICO score of 620.
When buying a HomePath property with HomeReady, you can get a $500 credit towards your closing costs. Additionally, the HomePath Ready Buyer program offers a 3% cash contribution to cover your mortgage closing expenses.
Home Possible
Home Possible is a mortgage program for low and moderate-income home buyers that allows a 3% down payment, similar to HomeReady. It provides reduced mortgage rates and costs, and comes in both fixed-rate and adjustable-rate loan options.
Home Possible requires a minimum FICO score of 660 to qualify. It is an excellent choice for multi-generational households looking for a mortgage with a low down payment.
Conventional 97
If you earn too much income to qualify for HomeReady or Home Possible, don't worry. Conventional 97 is a catch-all, low-down payment mortgage that offers a 3-percent down payment option for single-family homes.
To be eligible for Conventional 97, you need to have a minimum FICO score of 620. This mortgage program is only available as a 30-year fixed-rate mortgage.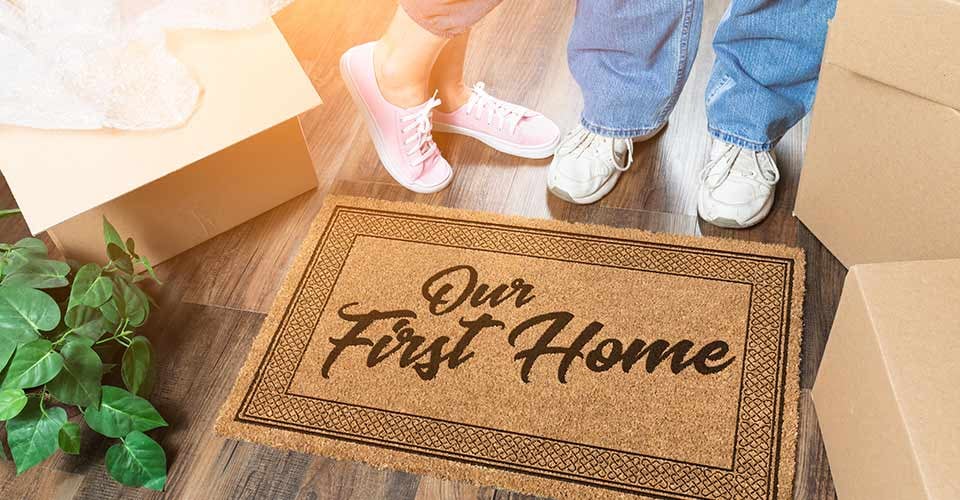 What Is a First-Time Home Buyer Grant?
A first-time homebuyer grant is a monetary award given to new homeowners during the home purchase process. Grants are awarded at the federal, state, and local government levels, as well as by charitable organizations and housing foundations.
The good news is that first-time homebuyers do not have to repay these grants, as they are considered contributions towards homeownership, which is considered a public good.
Studies indicate that making $10,000 cash grants available to first-time homebuyers can increase homeownership rates in an area by up to 34%.
As new homeowners move into a neighborhood, several positive impacts can be observed:
The neighborhood benefits from an increase in tax income, which can help fund community services and improvements.

Local businesses can thrive as new homeowners increase their spending in the area.

Families can establish generational wealth through real estate ownership, as homes tend to appreciate in value over time.
Most Used Grants for First-Time Home Buyers
Congress recently crafted ten bills to give homebuyers a leg up, offering tax credits and grants. For example, the $15,000 First-Time Home Buyer Tax Credit and the LIFT Act for ultra-low mortgage rates are just two of the benefits that could be yours.
So don't delay - investigate if you qualify for any first-time home buyer grants today.
The National Homebuyers Fund
Homebuyers can take advantage of the National Homebuyers Fund, a non-profit public benefit corporation that offers cash grants up to 5 percent of the purchase price.
To be eligible, you must commit to living in your new home for at least five years. Sadly, renters cannot apply directly - only their mortgage company can submit an application on their behalf.
Forgivable Mortgages
Forgivable mortgages are a type of loan that can be cancelled after a homeowner meets certain conditions, such as making regular payments for an agreed-upon period of time.
In this scenario, a first-time buyer would use a conventional mortgage to purchase a home and make the down payment with a forgivable loan of $15,000, for example.
If the buyer resides in the home and meets their payment obligations for the duration of the agreed-upon term, usually five years, then the lender will forgive the $15,000 mortgage and release their claim on the property's title.
Forgivable mortgages are a popular tool leveraged by governments to promote homeownership, neighborhood development, and local investment - all necessary components for a thriving economy.
If you have ever come across cities offering incentives for individuals to move there, it's likely that forgivable mortgages are integrated into that strategy.
Discounted Homes from HUD
The Good Neighbor Next Door Program (GNND) by the U.S. Department of Housing and Urban Development (HUD) offers repossessed homes to first-time buyers at a 50% discount.
This program is designed for teachers, firefighters, law enforcement officials, and emergency medical technicians who want to reside in the community where they work. To apply for GNND, one can search for eligible homes on the HUD website and apply for a mortgage online.
Closing Cost Assistance Programs For First-Time Buyers
Closing cost assistance programs are designed to provide financial support to home buyers by covering all or a portion of their closing costs, such as title expenses, transfer taxes, and mortgage fees.
To find available closing cost assistance programs, potential buyers can check the National Council of State Housing Agencies website, which maintains an updated list of these programs.
However, it's important to note that buyers typically need to meet certain criteria, such as minimum credit standards and local income thresholds, and the homes they purchase must meet minimum safety and quality standards.
State and local governments often present cash grants to first-time home buyers, distributed on a first-come, first-served basis as an effort to make homeownership more accessible.
These grants can range from $500 to $50,000 and can be used for mortgage closing costs, lower mortgage rates, or provide down payment help.
To be eligible for these grants, home buyers usually need to have an income within the lower two quartiles of the area, as well as a minimum credit score.
To find housing grants and programs offered in your area, you can check out your municipality's website, search for "housing assistance" or "housing grants," and review the requirements of down payment assistance programs.
Down Payment Loans
Down payment loans are loans given by non-profit and community organizations that replace a home buyer's down payment with borrowed cash. Interest rates on these loans are usually in the one-percent range and amortized over 30 years for ultra-low payments.
To see if down payment loans are available in your area, contact your municipal government's housing administration, which can offer local connections.
However, some mortgage programs do not allow down payment loans, so buyers should check with their lender before applying.
Deferred Mortgages
Deferred mortgages are mortgages that allow borrowers to delay repayment until they sell or refinance their home.
They are often offered by municipal governments and local foundations and can provide up to $25,000 in funding for first-time homebuyers who meet certain criteria, including having an income below the area average and a credit history with a track record of on-time payments.
Congress & First-Time Home Buyer Programs
Every session, Congress shows its support for first-time home buyers by introducing legislation to assist renters in becoming homeowners.
In the current session, Congress is expected to present two essential bills, a tax credit, and a cash grant.
The $15,000 First-Time Home Buyer Tax Credit
The government offers tax credits as incentives, to promote specific buyer behaviors, such as purchasing their first home. This year, the IRS has proposed a major victory for home buyers - the $15,000 First-Time Home Buyer Tax Credit.
Modeled after the 2009 version, this program is already included in the IRS tax code and would refund up to $15,000 in tax liability back to first-time homebuyers for purchases made after December 31st, 2020.
Additionally, homeowners may also claim mortgage interest as a federal tax deduction and take advantage of credit for home upgrades or improvements.
The $25,000 Down Payment Toward Equity Cash Grant
The Down Payment Toward Equity Act provides a home buyer grant of up to $20,000 in cash to first-generation home buyers, and an additional $5,000 to buyers from socially or economically disadvantaged backgrounds, to help them achieve home ownership.
The grant money can be used to make a down payment, pay closing costs or real estate taxes, and access lower mortgage rates via discount points.
Although the 2023 Down Payment Toward Equity Act has not yet been passed into law, Congress is expected to re-introduce the bill in its current session.
MakeFloridaYourHome FAQ Section
These are some of the most frequently asked questions.
What is a first-time home buyer?
A person is deemed a first-time home buyer if they have not owned and occupied a primary residence in the last 3 years. Eligibility for this status is based on purchase date.
Those who owned a home more than three years ago may qualify as first-time home buyers, and there are potentially other exceptions to this rule.
What is the most popular first-time homebuyer program?
The most popular first-time homebuyer program is the Federal Housing Administration (FHA) loan. This type of loan is backed by the government and offers eligible buyers low-down payment options and flexible credit scores.
Additionally, FHA loans also have relatively lower closing costs than other types of mortgage loans, which makes them especially attractive to first-time homebuyers. Other popular programs for first-time homebuyers include USDA Rural Development and VA loans.
What are the benefits of FHA Loans?
FHA loans also have lower interest rates than conventional mortgages, making them more affordable in the long run. Additionally, they require smaller down payments of just 3.5%, which can be helpful for those who don't have a lot of cash on hand.
Furthermore, FHA loans offer more lenient credit score requirements than other loan types, so even if you have a less-than-perfect credit score, you may still qualify for an FHA loan.
Finally, FHA loans come with mortgage insurance that protects lenders from losses if borrowers default on their payments. This helps to make FHA loans more accessible to those who may not otherwise be able to get approved for a loan due to their financial situation.