Florida's Popular East Coast: Best Places to Live
Phil Ganz
/
9 Min Read
/
May 27, 2022
It's hard to argue that Florida isn't one of the most incredible states in the United States. Beautiful weather, stunning beaches, and fascinating wildlife are just a few things that make Florida so attractive to both tourists and new residents. If you're thinking about moving there or just planning your next vacation, it's essential to know which areas of Florida are the best places to live.
(Mar 30, 2023)
With so many great cities and towns to choose from, deciding where to move can be tricky—particularly if you're moving from out of state. Thankfully, we've researched and ranked the best places to live on Florida's East Coast.
This article will go over some of the top spots on Florida's East Coast. Whether you're looking for the perfect small town or hoping to find a bustling city with plenty of opportunities, there's something here that will fit your needs.
Miami, Florida
Miami is a popular tourist destination, but that's not why so many people love calling it home. Locals will tell you there's no place like Miami—that it has everything: beautiful weather, fun nightlife, great entertainment, and plenty of tropical beaches for your afternoon stroll.
While those are all true, what sets Miami apart from other cities in Florida is its culture. The city attracts a lot of young professionals who want to live in an exciting urban environment with lots of energy.
No matter where you are in the world, Miami sounds like a place that only exists in your wildest dreams—but it's real. This incredible city has beautiful beaches, gorgeous weather, and so much to do year-round that you'll never get bored.
If you live in Miami, you're one of the lucky few who gets to call this paradise home; if you don't, it's probably time to start planning your move to The Magic City.
Reasons to Live in Miami, Florida
Miami, Florida is known for its incredible weather and sandy beaches, but did you know there are many other reasons to live in Miami, Florida?
If you're like most people and sitting on the beach all day doesn't appeal to you, the following list of reasons to live in Miami will show you that you still have plenty of good reasons to move to this famous Floridian city.
The Weather
Unlike some places where temperatures vary wildly and without warning, you can expect consistent year-round weather in Miami. While you should always be prepared for a freak heatwave or rainy day, you'll enjoy mild winters and comfortably warm summers here.
The city is sunny year-round, with average temperatures of 71 degrees in winter and 85 degrees in summer. That's right; there is no snow, ice, or freezing cold—just warm sunshine. And it doesn't matter when it's raining—the sun is always shining somewhere else on this lovely island city.
No State Income Tax
Florida has no income tax, which means that residents can keep more of their hard-earned money. Living in Miami, Florida means more cash for travel, savings, and entertainment to enjoy everything Florida offers.
Zero income tax is noteworthy considering that real estate and other expenses tend to be higher in Florida than in most states in the US. With no state income tax, you'll spend your money on other things that matter most, such as paying off your debts and building up savings.
Excellent Real Estate Market
Living in Florida means you're close to one of America's best real estate markets. Whether you're looking for something small and affordable or big and luxurious, there are many options here. And if you're looking for a change of scenery—or want to try out living somewhere new—you can quickly move from place to place within Miami without much hassle.
The median home price in Miami is $515 000; if you're willing to spend more than that on your home, you'll get a high-end property on your budget. And that doesn't even include condos, townhouses, tiny houses, RVs, or rental apartments—which can be even cheaper. Plus, homes in Miami sell quickly - The average selling time in Miami's real estate market is just 52 days.
Great Healthcare System
The greater Miami area has world-class hospitals and healthcare facilities within city limits; some are nationally recognized—including Baptist Health South Florida, one of America's best hospitals. It also offers top-notch research facilities.
These institutions attract some of the best physicians and medical professionals worldwide. Many people come to practice here because of its fantastic healthcare system.
Great Business and Job Opportunities
The coastal area of Miami is home to many major corporations and businesses. Major companies such as Burger King are headquartered here, which speaks volumes about Miami's appeal as a business hub. Additionally, it's also considered one of America's most diverse cities, with more than 100 languages spoken here.
Generally, Florida is home to one of America's busiest seaports. With over 90 shipping lines calling at PortMiami annually, there's no shortage of goods and services flowing through our city. That translates into more business opportunities for our residents. As a direct result of all that trade activity, South Florida enjoys employment opportunities that support commercial endeavors. Jobs in both international trade and retail industries can be found in Miami if you know where to look.
Multiple Fun Activities to Do
Even if you're not a beach person, you can still have fun in Miami. There are many exciting things to do outside by land or sea, from museums and cultural attractions to great adventurous sports such as kayaking, paddleboarding, and skydiving.
And with so many great restaurants offering diverse cuisine from around the world, there's no shortage of dining options.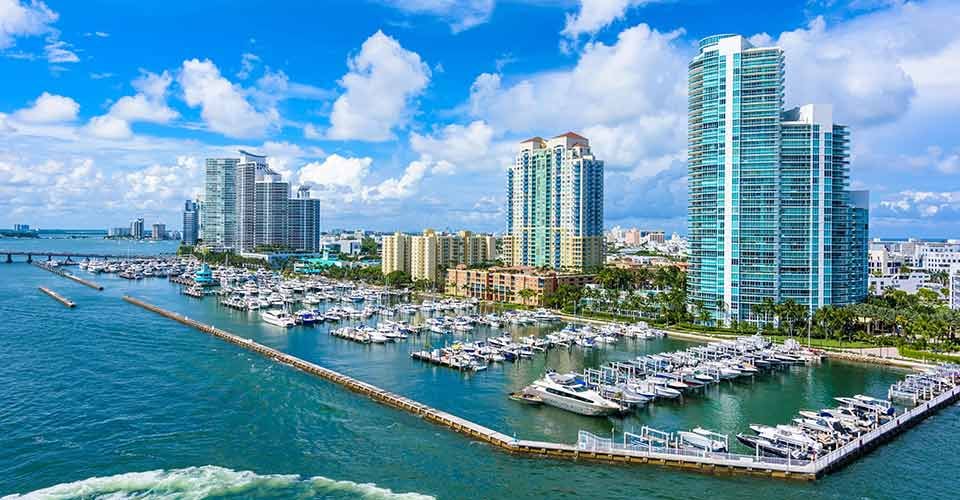 Orlando, Florida
Orlando is known as The City Beautiful, and it's no wonder why. This bustling metropolis is home to a diverse collection of arts and culture, recreation, education, and food. Orlando is home to today's trendiest places, including amusement parks, museums, and other attractions.
If you're looking for an exciting place to live with various things to do all year round, Orlando might be what you're looking for. Whether you want somewhere affordable or more upscale living, Orlando will be able to accommodate you based on your specific needs.
Reasons to Live in Orlando, Florida
Orlando, Florida, may be best known as the home of Walt Disney World Resort and all of its magical adventures and experiences. There's no denying that Orlando offers some pretty spectacular attractions to visitors of all ages and interests.
But if you think living in Orlando means spending all your time at the parks, you're missing out on what truly makes this city great. Here are five reasons to fall in love with living in Orlando.
Affordable Cost of Living
One of Orlando's biggest draws is its affordability. The city is one of America's most affordable places to live. Despite its reputation as a major tourist destination, Orlando is also an excellent place. It's easy on your wallet, from housing costs to groceries and other items.
You also get access to plenty of entertainment options without spending too much money. With a median home price of around $354,000, you can get more bang for your buck without sacrificing quality or amenities.
Safety and Family Friendliness
Few major cities can beat Orlando regarding safety and family friendliness. Major cities tend to be high-stress environments where violent crime is prevalent. Orlando is a big city with a small-town vibe that makes it easy for residents of all ages and income levels to live comfortably and safely. There are hundreds of police officers around while residents are active in reporting any suspicious activity.
Look no further than Orlando for your next home if you're trying to raise kids. With quality public schools and a high proportion of students who attend private or charter schools (compared to other areas), Orlando offers an excellent educational foundation for kids.
Young children can play outside without worrying about them getting lost or hurt. Top-notch institutions like Rollins College and Full Sail University are also here—so if you want your child to go down an artistic path, they have plenty of options.
Business Friendly
Since being named one of America's fastest-growing cities for new businesses for three consecutive years, it's no surprise that Orlando is highly regarded as a business-friendly city. Opportunities abound in Orlando, whether you're starting your own business or working for someone else's organization.
Attracting millions of visitors each year, it's no wonder that business owners flock to Orlando. With a strong tax climate that includes no corporate income tax or inventory tax and only a 6% sales tax, local businesses thrive in Orlando; investors see plenty of opportunity for return on investment.
Connection to Nature
One of Orlando's most vital points is its connection to nature. If you love hiking, rock climbing, or exploring natural waterfalls, there are many options. You're only a few hours from Florida's best natural attractions in Orlando, including Seaworld and Aquatica; Walt Disney World and Epcot; Universal Studios and Islands of Adventure; Disney's Animal Kingdom Park.
Spend a day enjoying educational activities like Animal Encounters at SeaWorld or splash through water adventures like those found at Aquatica. Many parks offer fitness classes and group-exercise options for those who prefer to stay active outside of work.
With stunningly beautiful beaches and pleasant weather year-round, there's no surprise why Daytona Beach ranks high on many best places to live lists.
The largest city in Volusia County offers a vibrant downtown area with high-end dining, boutique shopping options, and top entertainment options like NASCAR racing at Daytona International Speedway.
There are also plenty of outdoor activities in this vacationer's paradise year-round—surfing and paddle boarding are some of the favorites.
Reasons to Live in Daytona Beach, Florida
Daytona Beach, Florida, can be one of the most vibrant and entertaining places in the United States. With so many attractions and events to attend, there's always something new to do and someone to meet, no matter what time of year it is.
The great weather, the vast array of activities, and the affordable cost of living are some reasons you should consider moving to Daytona. Below are more reasons you should consider calling this wonderful city home.
A Sense of Community
Daytona is a tight-knit community that prides itself on helping its members flourish. If you live on a beach, it's natural to spend your time socializing with friends on the beautiful coastline. When you get together for barbecues and bonfires, you don't need TVs or video games – conversation is enough entertainment around the notable Daytona residents.
You can't get bored in a city where people want to get together and do things. Want to see a live band? Grab dinner with friends? Check out local art shows or street festivals? The opportunities are limitless here. And if you're looking for a sense of belonging, look no further than Daytona Beach.
Sports and Leisure Activities Galore
With all of its diversity, Daytona has something for everyone. Whether you're interested in fun outings with friends or a quiet evening at home with family, there are plenty of events to choose from. You'll never be bored, from great bars and clubs on Ocean Street to family-friendly parks and beaches just a few blocks away.
Living here all year round will let you take advantage of Florida's mild winters and partake in many leisure activities. Activities like surfing, skiing, and snowboarding are available on short notice due to Daytona Beach's temperate climate. If you don't want to brave these chilly waters yourself, tons of local sports bars host viewing parties for every event under the sun.
Neighborhoods with Personality
There are plenty of neighborhoods and areas for buyers to consider when deciding where they'd like to live. However, some communities within Daytona Beach stand out from others by offering residents a truly unique and safe place.
An example of such a neighborhood is Daytona Beach Shores. Here you'll find beautiful waterfront views and plenty of things on land and water. Other communities include North Shore, South Peninsula, Ormond by the Sea, South Beaches, etc.
Excellent Schools and Healthcare Facilities
The state of Florida ranks high for elementary and high school education. Besides boasting some of the highest-ranked public schools in America, a few private school institutions also offer top-tier education in Daytona.
Additionally, there are multiple quality hospitals located throughout this fantastic city. From Halifax Health Medical Center to Halifax Health Urgent Care Center, you'll have no shortage of options if you need urgent care or medical attention.
St. Augustine, Florida
Known as America's oldest city, St. Augustine was founded in 1565 by Pedro Mene'ndez de Avile's. This charming coastal city offers a unique mixture of old-world Spanish architecture, modern golf courses, and a healthy dash of Southern charm.
It draws tourists worldwide with its art galleries, restaurants, and historical sites. St. Augustine is an excellent place to call home with its gorgeous downtown area and warm weather.
Reasons to Live in St. Augustine, Florida
There are many reasons to live in St. Augustine, Florida. This city has a long history dating back to Spanish exploration and colonization.
Today, this rich history blends with modern conveniences that make it ideal for raising your family, starting your business, or retiring to peace and tranquility. Check out these top reasons you should live in St. Augustine, Florida.
St. Augustine is Family Friendly
Families come to St. Augustine for many reasons, but one of the top attractions is family-friendly neighborhoods and safety! Most neighborhoods are family-friendly and quiet because it's a well-established city with families who have been here for generations. This means that you can raise your kids without worrying about what kind of influence they might be exposed to.
With excellent education facilities and healthcare options available in Saint Augustine, you can rest assured that your family is well cared for. You can also rest easy knowing that your children will receive quality education thanks to the multiple public and private schools located throughout the city.
Amazing Things to Do
The city boasts a wide range of activities and attractions that are fun and educational for all ages. Families will love exploring Spanish colonial history at Castillo de San Marcos National Monument, strolling through historic downtown, or swimming with dolphins at Marineland, Florida.
A Perfect Place to Retire
But if you're looking for a location with character, culture, and history that won't break your retirement budget or force you into an active lifestyle for you — look no further than beautiful St. Augustine, Florida. With its rich Spanish Colonial yore, natural beauty, and charming small-town feel, it's no wonder why so many retirees are calling St. Augustine home these days.
If you're worried about where your parents will go after retirement, you don't have to worry. You can be confident they'll be well taken care of in one of the world-class senior homes in St. Augustine, Florida. With so many senior homes and assisted living communities here, it's a perfect place for retirees and snowbirds to live comfortably and enjoy all that Florida offers year-round.
Bottom Line
If you're looking to take the plunge into life on the East Coast, you'll have plenty of choices regarding where to live. There are nearly limitless possibilities available, from beaches to big businesses, small towns to big cities.
With Florida's East Coast being so large, you'll need to do your research before deciding which of the many cities suits your needs and preferences. So, take your time to research and choose the perfect spot to suit your lifestyle, budget, and interests.