What is a Renovation Home Improvement Loan? Top 10 Things You Need to Know

By Phil Ganz

Edited by Ryan Skerritt
16 Min Read
Apr 28, 2022
This article provides answers to all your questions and outlines the various options available for you to undertake those long-desired improvements finally.
What is a Renovation Loan?
A home renovation loan is a type of loan where credit is given based on a home's future value after renovation. They also have the roll mortgage and remodeling costs into one loan; thus, it is essentially a refinancing.
Because the loan is based on the home's value after renovations are complete, you can borrow more than other traditional options. You can make significant renovations to improve your home's value, utility, and comfort.
A home renovation loan offers the following advantages
You add value to your home should you decide to sell later.

It helps you build equity faster as you add value to the home.

Combining remodeling and mortgage costs allow you to have only one bill to manage and increases the chances of finding a lower rate than your previous arrangement.

You could claim a higher tax deduction when combining the mortgage and renovation interest.

It prevents you from depleting your savings or maxing out your credit cards to fund the repairs and renovations.
Requirements for a Home Renovation Loan
Because a typical home improvement loan is a mortgage, the are some requirements, unlike some unsecured personal loans.
The exact requirements will vary based on the type of home renovation loan you take and the providers. Some of the standard requirements are;
Home equity
Most renovation loans will require you to have a healthy amount of equity in the home.
It affects the amount of loan you can get, either limiting you under the set standards or allowing you leeway to go above the specified maximum.
Your credit history comes into play when you take a renovation loan like any other new loan. It is even more important here since you are taking a second mortgage which increases the risk of foreclosure.
As such, lenders prefer a minimum FICO score of 620 though they prefer 680 and above.
A Fair Isaac Corporation score is a 3-digit figure that shows how likely you are to repay your loan. Your score affects how much loan you get, the term of the loan, and the interest rate.
Debt and income ratio
The debt-to-income ratio or DTI is the amount of your monthly financial commitments divided by the monthly income.
The general rule among lenders is for your DTI ratio not to exceed 41%. A DTI under 41% shows the lenders that you have enough income to cover your loan obligations and living expenses.
It is also often a requirement that the house you are taking the loan to remodel should be your primary residence. It is required that you use licensed contractors and only use one contractor for some projects.
Some loans and lenders also restrict the improvements you can make and require you and the contractor to follow the payment schedule.
An appraisal of the property and the potential value of your renovations is also a requirement to help the lenders determine the amount to give you.
Types of Home Renovation Loans
There are different kinds of home renovation loans, each with different attributes. The four main home improvement loans are;
Single-Close Construction to Permanent Loan (CTP)
This is a construction loan and a type of renovation loan that replaces your current mortgage loan and becomes your first permanent mortgage.
In a way, it resembles a cash-out refinance (more on that later), with the difference being it is based on the after-renovation value.
Also, since it is a construction loan, the money is paid to the contractor and not the homeowner. The money is given based on a progress schedule which necessitates the lender to visit the site.
Pros
Because it is a single close, you only sign one set of documents and meet one set of closing costs.

You get low monthly premiums since it is like a traditional mortgage allowing you to spread payment over 30 years, keeping your monthly payment very low.

You often get low rates typically corresponding to the market rate for first mortgages.

It gives you one of the highest borrowing limits, over $1million.

There are options of converting it to more traditional loan offerings like a 30-year fixed loan or a specialty like Adjustable-Rate Mortgages (ARM).
Cons
Finding a contractor may be challenging since most are reluctant to deal with the inspections and disbursement schedule hassle.

Because you are refinancing, there are chances you could be refinancing at a higher rate if you do not look well.

Construction loan costs and fees tend to be the highest in the market.

Because you are replacing the existing mortgage, it restarts the clock, slowing down the time you have to build your equity.
Fannie Mae Homestyle Loan
This type of construction loan is, but Fannie Mae, a government agency, insures it. It is a perfect loan for someone with good credit who can make a sizeable down payment.
It gives you plenty of options, including financing primary, rental, and vacation properties, making repairs, remodeling, and even energy-efficient upgrades.
Pros
There is only one set of documents to sign and one set of costs to pay.

You can borrow up to 95% of the future value of your home after renovations. Very few private banks allow you to get to 85%.

It is an option for those with a lower credit score as qualifying standards are not as stringent as those at private banks.

You can spread payment over 30 years.

There is no restriction on the kind of renovations you make as long as they are permanent and add value to your home.
Cons
You will need private mortgage insurance for down payments under 20% or if your borrowing limit goes above 80%.

You may have trouble getting a contractor due to the hassle of inspections and scheduling payments.

One of the most expensive costs from a fees perspective.

There is a risk of refinancing at a higher rate.

You restart the clock on your mortgage payments, slowing down how fast you can build equity.
FHA 203(k) Rehab Loan
It is similar to the Fannie Mae loan, but the Federal Housing Administration insures it this time.
Because the government insures the loan, you get certain advantages like accessing the loan even with bad credit scores or having a lower down payment.
It is available in limited and standard options.
Pros
You can borrow up to 96.5 % of your after-renovation house value.

You can spread the payment over 30 years.

The qualifying requirements are not stringent, making it excellent for people with bad credit scores.

Like the others above, it is a single close document, meaning you only get to sign one set of documents and pay one of the closing costs.
Cons
FHA 203(k) loans attract the highest rates of all renovation loans

Come with all the risks of refinancing, i.e., you could get higher rates, and your home equity progress is low as you start afresh

You require an FHA mortgage insurance upfront and throughout the loan.

It is one of the most expansive options in the market in terms of feels.
RenoFi Loan
A RenoFi loan is a new type of renovation loan customized to take the best of traditional home equity loans and the best of construction loans. For instance, the money is not disbursed to contractors but goes straight to the homeowner.
There are three kinds of RenoFi loans; RenoFi Home Equity Line of Credit, RenoFi Home Equity Loan, and RenoFi Cash-out Refinance.
They take the usual attributes of their respective traditional refinancing options but then use the after-renovation value to determine the amount of loan you can get.
This approach offers you several advantages, including;
Pros
You get a higher borrowing limit allowing you to borrow from $20 to $500k.

You do not have to deal with inspections and draws. You can work with any contractor since there is no hassle involved.

They are in a variety, allowing you to find the one that best serves you.

They do not always require refinancing your first mortgage, so you could keep the same low rates and avoid restarting the clock on your mortgage payments.

You have lower closing costs since it is on a small base because you do not have to refinance.

If you want a cash-out refi option, you get 11x the traditional amount since you are taking from the home's future equity.
Cons
This kind of loan typically maxes out after 20 years, meaning the monthly payments are higher than construction loans that go up to 30 years.
Alternatives to Home Improvement loans
While the home renovation loans are limited, you can have more luck with the alternatives. These are usually known as home improvement loans, and it can be easy to confuse them with specialty home renovation loans. The main difference is the valuation of your home.
Most products sold as home improvement loans are generally personal loans that give you a chance to work on your house.
They could be secured against your house or be unsecured loans. Often, you are not under obligation to use the amount on your home.
However, the main difference with a home renovation loan is that these personal loans are not borrowed against the future value after renovations but rather the current value of your home. As such, they may not support significant home renovations.
The common alternatives are;
Home equity loan
A home equity loan allows you to borrow against the equity you have built up with your home as collateral. Your home equity is the current market value of your home minus the amount still pending on your mortgage.
A home equity loan allows you to borrow up to 80 % of the home's current value less the amount you still owe. It is not refinancing but rather a second mortgage.
Because you get the loan against your house, you get lower rates.
Pros
Interests rates are often fixed.

You can get loan terms up to 30 years.

Fast approvals.

It is fully amortized, so you pay interest and principal from the start.

Can be tax-deductible.

No restrictions on how you use the money.
Cons
You cannot get as much money as a specialty renovation loan.

They have high rates than cash-out refinancing.

You get another monthly loan obligation.

There are fees.
Home equity line of credit (HELOC)
A home equity line of credit (HELOC) is similar to a home equity loan, with the only difference being that you do not get the whole amount in a lump sump.
It works like a credit card in that you withdraw any amount you need at any time until you hit your credit limit.
You only make interest-only payments during the drawing phase, but you make both principal and interest payments as the loan is amortized in the repayment phase.
HELOCs usually come with a time you can make such withdrawals ranging from five to ten years, after which you enter the repayment phase. You cannot withdraw during the repayment phase even if you have not reached your credit limit.
Unlike a home equity loan, the interest is variable and can rise and fall according to the market.
It also gives you the advantage of low monthly payments during the borrowing phase since, at any one moment, you can only borrow a percentage of your full credit limit.
Pros
Minimal to no closing costs.

You have a revolving balance that allows you to re-use funds after paying for them.

Your payment depends on the amount you have borrowed.

You are paying interest only on the amount borrowed, not the whole credit line.

You only borrow what you need as you need it.
Cons
The variable interest rates mean your payment obligations can go up.

The lender can change the repayment terms.

The interest rates are higher than a home equity loan.

Your monthly payments substantially rise once you get into the repayment phase.
Cash-out refinancing
Cash-out refinancing means you take out a bigger mortgage than the balance you currently owe on your mortgage, pay off the existing mortgage and then cash out the remaining balance.
The cash-out balance can then be used to make renovations though there is no stipulation requiring you to do so, and you can use the money for other things. A cash-out refinance also offers you a chance to enjoy lower interest rates and change the term limits of your mortgage.
If you are going for a cash-out refinance, it is essential to consider the closing costs, which are usually high because of the high amount of refinancing. Closing costs often take up 2% to 5% of the mortgage as they apply to the whole amount, not just the cash-out.
The amount of cash out you get should be significantly higher than the closing costs. Also, the interest rates should be considerably lower than your existing mortgage for this option to be viable.
Pros
The cash-out comes from home equity, so the larger it is, the higher the amount.

You have no restrictions on how you use the cash.

You get the chance to lower your interest and if you want your loan term at the same time.

You continue paying one mortgage.
Cons
High closing costs.

Since you are refinancing, you start over on your mortgage payments.

The new loan leaves you with a larger balance than the current mortgage.
Personal Loans
If you do not have substantial home equity or are facing an emergency, you can consider a personal loan. Personal loans are a source of unsecured credit for those who may not have sufficient equity.
They are easily accessible given solely based on your income and creditworthiness. If you do not pay them on time, your creditworthiness will take a hit.
The rates are usually high compared to loans taken against your home equity, but you can find a favorable option with a good credit rating. You also have the choice between a fixed rate or an adjustable one.
The loan repayment period is usually shorter, between two to five years which is less flexible and, depending on the amount of loan you have taken, may leave you with high monthly payments.
Pros
A fast application process; you could even do it online.

You get funds quickly, possibly even on the same business day.

There is no requirement for a lien against your home.

It is excellent for emergency repairs.

There is no appraisal needed.
Cons
You have lower borrowing limits.

Short loan terms.

Late repayment attracts expensive fees.

Some options may have prepayment penalties.

Your creditworthiness determines your rates.
Credit cards
Credit cards are straightforward to use as there is no application process. Ideally, credit cards should not be an option you go for when you are looking to make several or a significant renovation.
However, they can come in handy when you have an emergency expense or to supplement some other form of financing should it fall short of the budget.
You may, however, need to request an increase in your credit limit as some expenses may be more substantial than your current limit, or you may have to use two credit cards.
Another important consideration is the length of the renovation project. Credit cards are excellent for short-term projects, in which case you can look for credit cards with a promotional 0 % introductory Annual Percentage Rate.
Such offers, however, last for 12 to 18 months, during which you should have paid off that debt. If that is the case, then the credit card option is worthwhile. You may also use a credit card for an urgent need and get a loan to pay off the credit card.
Pros
It is fast and easy to get a loan.

No paperwork.

No interest options.
Cons
High APR compared to other options.

Lower limits to how much you can borrow, restricting your home budget.

It reduces your credit options.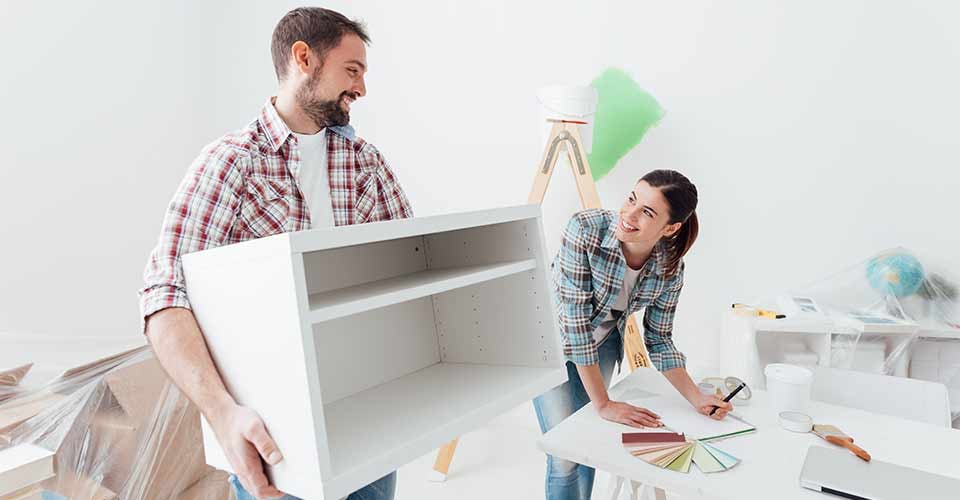 Types of Renovations You Can Undertake and How Much You Can Borrow
Home improvement loans allow you to undertake varied projects at home. For the specialty home renovation loans, you may find some that restrict you on the kind of projects you can do. For the alternative options, there is no such restriction.
Your budget needs and the value of the upgrade or repairs added to the home will also determine the kind of projects you undertake. Renovations are divided into two; minor and non-structural renovations and structural renovations.
Minor/non-structural renovations
These are small changes that do not touch on structural items like walls, foundations, roofs, etc.
These include cosmetic changes like painting the interior and exterior of the building and installing appliances like air conditioners, free-standing ranges, dishwashers, etc.
It also contains minor remodeling projects like the kitchen and the bathroom.
You can expect to get up to 90% of the after-renovations value for such projects if you are using specialty home renovation loans.
Structural renovations
These involve significant changes to your home, often adding new structures like rooms, insulations, changing roofs, extending the foot space of the house, etc. They cost more but often add more value to your home when you complete them.
Most of these projects can allow you to get significant sums of money and, depending on the type of loan, up to 95 % of the after-renovations value. Common structural renovations include basement finishing, septic system repair or upgrading, etc.
In general, some of the common renovations you will get approval for are;
Repairing or replacing roofs, down sprouts, and gutters

Repairing, upgrading, or replacing HVAC systems

Repair, replace, or upgrade plumbing and electoral systems

Replacing flooring

Weatherization including storm windows, insulation, weather stripping

Creating accessibility improvements

Basement waterproofing

Lead-based paint stabilization

Repair and replace exterior patios and porches
Which Renovations Add Value to Your Home?
Because it is a loan, you must be strategic with the kind of renovations you put up.
Even the lenders value your home and determine the loan amount, and in some cases, the loan's approval may depend on the kind of project.
Your focus should be on projects which allow you to recoup over half of your cost.
Some of these renovations include;
Garage Door Replacement
A well-functioning and good-looking garage is a top attraction in the market. According to several estimates, it may cost a couple of thousand, but you will recoup over 90%.
The garage door also affects the aesthetics of your outdoor, so when it is functioning smoothly, buyers appreciate the added value.
Kitchen remodeling
The kitchen is regarded as the heart of the kitchen, which means it gets the most scrutiny and can be a deal-breaker. Any effort you put in the kitchen, from minor details to full remodeling, will add significant value to the home.
Adding space, a utility like storage, aesthetic finishes, convenience appliances, and quality countertops will help you recover close to 75 % of your initial investment.
Replacing the siding
New siding can give your home a fresh look, primarily on your home's exterior. There are plenty of options to pick from, including stone veneers, fiber-cement siding, and vinyl siding.
New siding also adds to the longevity of your home, and all these options will help you recoup over 60% of the initial investment on resale.
Finishing the basement
The basement adds to the usable square space in the house, and if you have insulated it correctly and made the necessary proofing against moisture, it will add value to the home.
That's because buyers always value any extra space they can get in a house.
Roof replacement
If shingles are buckling, missing, or curled, you should consider working on your roof. It adds years to the building, and with the right material, you can make the
Replace old windows
New windows also freshen up the look of your home.
It adds value to the house, unlike windows letting in a draft. They also give you the chance to go for energy-efficient windows, which save the homeowner from high energy bills.
Renovate your bathroom
The bathroom is another interior space that gets a lot of attention from prospective buyers.
It is also essential for your comfort as the bathroom is a place to find relaxation, so do not feel guilty spending a few dollars extra.
You want to include sleek surfaces, add lighting and if the home has only one bathroom or one and a half, consider additions like a shower or a half bath in the guests' living area.
Several realtor estimates say you can recoup at least 52% of your initial investment.
Choosing the Right Type of Loan
The best home improvement loan depends on your circumstances.
As a rule, however, if you are planning to finance some improvements or repairs at home, then go for loans specifically made for renovations.
Even then, the main options are suitable at different points. Here is an overview of where to use each option.
FHA 203(k) – It is excellent when you have low down payments and bad credit

Fannie Mae Homestyle loan – This is the best loan for those who have excellent credit and can put up a sizeable down payment.

RenoFi Equity/HELOC loans – These are best for someone who has a low mortgage rate locked in but who wishes to get funds for renovation as they do not have to refinance again.

RenoFi cash-out refinances – It is best if you are looking to take advantage of existing low-mortgage rates in the current market.
The advantage of these specialty renovation loans is the amount of financing you can get. It is significantly higher than traditional home improvement products, which are nothing more than personal loans.
However, if you cannot access these, then the alternatives option can help you secure some funds for your renovation. They are also suitable in varying circumstances;
Cash-out refinances - As is the case with those above, this is the best option if you are looking to take advantage of existing low interests and change other terms of your mortgage.

Home equity loan - This option is best if you want to fund a significant renovation and have enough equity.

Home equity line of credit - It is a good option if you have several small ongoing projects and are unsure about their exact budget.

Personal loan - A personal loan is an option if you have low to no equity.

Credit cards - Only use a credit card for short-term projects or emergencies. Also, look for either 0% APR or get a subsequent loan to pay off the credit card to avoid the high rates.
Steps for Applying for a Home Improvement Loan
The next step is applying for your home improvement loan. The following are steps to follow to have a smooth process.
They include steps for loans that will require;
Have a budget
It is vital to have a budget that defines how much you need.
At this stage, you identify the areas you want to improve and their costs, considering the product options in the market.
Find a contractor
Unless it is a simple DIY where you only need to buy the material, you will need the best contractors.
A professional contractor increases your chance of getting the loan and provides you with accurate estimates and quotations. Further, it guarantees you quality work.
Pick the right financing
Find the right financing option that will give you the amount of income you are looking for and not create a heavy debt burden.
Identify your preferences and what your goals and monthly budget can support when going through the various home improvement loan options.
Prepare for the underwriting
Once you have your offer and bid finalized, wait for the processing and underwriting of the mortgage. Do not make any changes to the selected contractors or the scope of your work while your loan is under review.
It is also crucial at this point to get all the necessary permits and inspections done, giving you the go-ahead to conduct the renovations.
Close the loan and start your renovations
Review all the closing documents and ensure all payments required at closing have been delivered.
You will then receive a welcome letter from the draw administrator within two weeks notifying you of your success and, where necessary, the readiness of an escrow account where the renovations funds will await disbursement.
Tips for Success When Seeking a Home Renovation Loan
Follow these tips for the best experience when looking for a home improvement loan.
Shop around for loans - Do not settle for the first lender or offer you get. Once you know the kind of loan you want, shop around for several offers from different lenders and then make a shortlist of five for further comparison.

Look past interest rates - It is easy to focus on the interest rates, but they are not the only indicator of the cost of your loan. Consider the fees and other costs, monthly payments, terms, etc.

Check your credit score before applying for a loan - Knowing your credit score beforehand will help you choose between loan options.

Check your rate variability - Keep a lookout on your rates if you have a variable rate that, if it rises, can increase your monthly payments and the overall cost of your loan significantly.

Understand the disbursement schedule - You and your contractor should understand the disbursement details of the loans to prevent inconvenience and ensure you meet the lender's requirements.

Give yourself a buffer - While you should stick to your budget as much as possible, it might be impossible to cover everything, and any good plan requires a contingency plan. For emergencies, always have about 10-20% on top of your budget, depending on the project.

Have a professional look at your budget - Once you have drawn up your budget, it helps to get a professional to look at it, especially on the cost of materials and labor. They will help you get accurate costs and may be aware of items you are missing for the project.
Mistakes and Red Flags to Avoid When Choosing a Home Improvement Loan
As you choose your home improvement loan, avoid making these two common mistakes;
Waiting until the last minute - A home renovation loan is complex and takes time to get to the approval point than other standard loans like a car loan. The lender will require detailed information about your intended improvements, and they will have to do an appraisal of the future value. Waiting last minute will make the process stressful, and you will rush through the process missing important details or giving yourself enough time to shop around.

Every renovation should factor in the resale value because it does not guarantee you will get significant returns just by spending more. On top of the usability and aesthetic value, you should do comparative research in the neighborhood to see the going rates of houses comparable to yours. Buyers can only send so much on renovations, so you want to be careful and not go out splashing.
Besides these two mistakes, you also have to be wary of the lenders as some may not be providing products with genuine care for you. The three red flags to be on the lookout for and avoid are;
The lender is offering vague terms, especially on the rates and fees, limiting how accurately you can work out the cost of the loan. Be sure to look through the details and get the correct answers, and if they are not clear, move to another lender.

If you are being pressured to sign quickly, you should reconsider as you might be dealing with a predatory lender. Many complexities come with renovation loans, from the type of rates, potential penalties to closing costs and even insurance. If an agent is rushing you, it is a red flag that they could hide something and do not want you to keep asking questions.

The lender is not worried about your ability to pay the loan. People with bad credit scores, low and unstable income or a high debt to income ratio always attract extra scrutiny and may find it hard to get some loans. However, if your lender does not pay much attention to your creditworthiness, it is a red flag, and you are either being scammed or being set up with debilitating terms.
Summary
There are two ways you could get home improvement loans, using specialized home renovation loans or through secured or unsecured forms of personal loans.
Specialized home renovation loans are the best as they allow you to borrow based on the future value of your home after the renovations.
Finding the right kind of home improvement loan and lender is essential to prevent you from getting an expensive loan or so little financing that it cannot match your renovation budget.
Working with a mortgage or loans expert and a contractor and doing some research on your options will help you pick the right home improvement loan.
You also have to consider the resale value of the house and various improvement projects to determine their suitability.
With over 50 years of mortgage industry experience, we are here to help you achieve the American dream of owning a home. We strive to provide the best education before, during, and after you buy a home. Our advice is based on experience with Phil Ganz and Team closing over One billion dollars and helping countless families.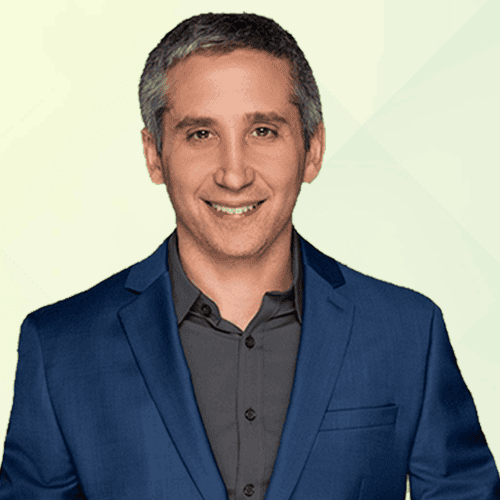 About Author - Phil Ganz
Phil Ganz has over 20+ years of experience in the residential financing space. With over a billion dollars of funded loans, Phil helps homebuyers configure the perfect mortgage plan. Whether it's your first home, a complex multiple-property purchase, or anything in between, Phil has the experience to help you achieve your goals.