Home Loans for Nurses: The Advantages, Benefits, and More!
Phil Ganz
/
8 Min Read
/
May 18, 2022
Nursing is one of the most rewarding careers, offering flexibility and employment stability. You can work flexible schedules, such as alternate days or swap shifts. You can also ask for extra shifts or look into travel nursing to increase your earning potential. However, employment flexibility can be a disadvantage when it comes to mortgages.
(Mar 31, 2023)
When completing a risk analysis on loans, lenders may view "flexible" work schedules as "unstable." Furthermore, proving full-time employment when your job is shift-based might be problematic.
By and large, it's difficult for nurses to convince lenders that their financial situation is stable because it is complex. It is even more challenging to demonstrate stability to mortgage lenders for travel nurses, who frequently shift from one employer to another, resulting in gaps in their employment history.
However, just because you don't qualify for traditional loans doesn't rule out other possibilities. Nurses looking to buy their first house might take advantage of specialized home loans and subsidy programs.
Nurse-specific home loans and grants
Specialized house loans and grants for nurses are financial aid schemes available specifically to qualified medical professionals. They come in various loan-to-value ratios and qualifying restrictions for first-time home purchasers.
These loans and grants can assist you in reducing your mortgage. Among them are:
Nurse Next Door Grants
The Nurse Next Door scheme isn't a traditional home loan as it doesn't do any money lending. However, it will find you the suitable house, financing, and support package for your needs, thereby saving you on closing costs, home appraisal, etc. Nurse Next Door services can find you grant up to $6000 and assistance for downpayment up to $10 000.
The specific qualifications for this program will vary depending on where you live. Generally, all medical professionals will be eligible. But grants are limited to primary residences and medical professionals without a home. Check if your local or state down payment assistance program offers more generous grants or loans before utilizing this program.
Everyday Heroes Housing Assistance Fund (EHHAF)
You can acquire a loan covering up to 97 percent of your home's market price. Fire crews, teachers, Police officers, doctors, and nurses can apply for this loan program. However, the EHHAF does not disclose any precise eligibility criteria for qualifying for this loan.
Homes for Heroes
The Homes for Heroes scheme allows registered nurses in California, Hawaii, Alaska, Oregon, or Massachusetts, to save up to 25% on realtor fees by hiring program-affiliated agents or brokers. You'll also save money on inspection and closing expenses.
After you've purchased a home, the scheme will repay you 0.7% of the property's purchase price. You will save even more money on borrowing fees if you choose a Homes for Heroes affiliated lender.
Mortgages for Champions
Mortgages for Champions provides specialized house loans to healthcare workers, including registered nurses. This lending scheme removes expenses such as mortgage application, processing, and underwriting fees.
However, the program doesn't publish eligibility requirements except that it's open to all healthcare workers, including registered nurses. You can contact them for a quotation.
Conventional loans
On the other hand, conventional loans are not developed expressly for nurses. Still, you may be able to qualify for them because they are generally available nationwide for most people and may have better terms than the specialty loans mentioned above.
Conventional loans can be paired with down payment assistance programs. DPA programs are available in all states and can help reduce your deposit and closing fee expenses. These loan programs include:
Conforming loans
The government does not back standard mortgages. However, most standard mortgages follow the guidelines set down by government-sponsored entities Fannie Mae and Freddie Mac. Conforming loans usually require a 3% minimum deposit and a 620+ FICO score.
For individuals with FICO scores between 580- 620, you may be eligible for a Federal Housing Administration-backed mortgage. If you can, though, go for a conforming loan because FHA loans may come with mortgage insurance expenses. A 3.5% down payment is usually required.
These loans, backed by the Veterans affairs dept, are exclusively available to those who've served or are currently serving in the country's military. If you're eligible, this is almost certainly your best option.
Lenders determine their credit score requirements, typically from 580 to 660. However, there is no requirement for a down payment. You'll also be eligible for a super-cheap interest rate, low closing expenses, and no private mortgage insurance. VA loans can finance your house by 105%.
US Department of Agriculture-backed mortgages (USDA) are available for people, including nurses in rural areas. They are for buying primary residences and require 640+ FICO scores. The max amount you can obtain is 115 % of your county's median income.
Private loan alternatives
Some mortgage lenders advertise their products as being specifically designed for nurses. And these can provide tangible benefits such as lower closing costs or other bonuses. Among them are:
Homes for Champions
RealFi Home Funding Corp Home for Champions is a loan product for doctors and nurses. The company claims this loan scheme cuts 2-3% closing costs by removing several fees usually needed.
However, only those living in Washington DC, Florida, Virginia, Texas, Pennsylvania, New York, New Jersey, North Carolina, Maryland, Georgia, Denver, South Carolina, and Connecticut can apply.
Everyday Hero Housing Reaffix Assistance Fund
Nurses can also get assistance from other corporations or agencies. The Everyday Hero Housing Reaffix Assistance Fund, for example, reimburses you for seller discounts obtained by expert estate agents.
You're not alone in thinking that's a fraud, but the Better Business Bureau gives it an A+ rating. So, it might be worth a look. However, remember that seller concessions are difficult to come by in seller's markets.
Down payment assistance programs (DPAs)
DPAs are loans and grants that can supplement your closing costs and down payment. Lenders frequently accept these. If you meet specific criteria, you may be eligible for an outright handout or a low to zero-interest loan to finance your deposit. Some DPA money may also be utilized to cover closing fees.
Grants, loans, delayed loans, and forgiven loans are examples of DPAs. Grants do not require repayment, whereas loans must be repaid with your primary mortgage. On the other hand, Deferred loans are second mortgages with postponed payments that must be made only when you sell, move, or refinance. Forgivable loans are secondary loans that can be forgiven or deferred over a defined period so that you only need repayment if you move, sell, or refinance soon.
Most of these DPA initiatives are available at the local state or county level. The eligibility standards for each program differ. Most are for primary residences and require a good FICO score and low to moderate income. However, not all schemes follow the same set of rules. Also, many DPA schemes have a database of affiliated lenders with whom they collaborate. As a result, you may need to select a lender who your aid program has vetted.
Consult with your local loan officer to learn about DPA programs in your area. They should be aware of any local grants or loan schemes to assist you. They'll also know which packages the lender accepts; not all lenders are down with DPA programs.
You can also conduct your research and find current DPA programs you qualify for.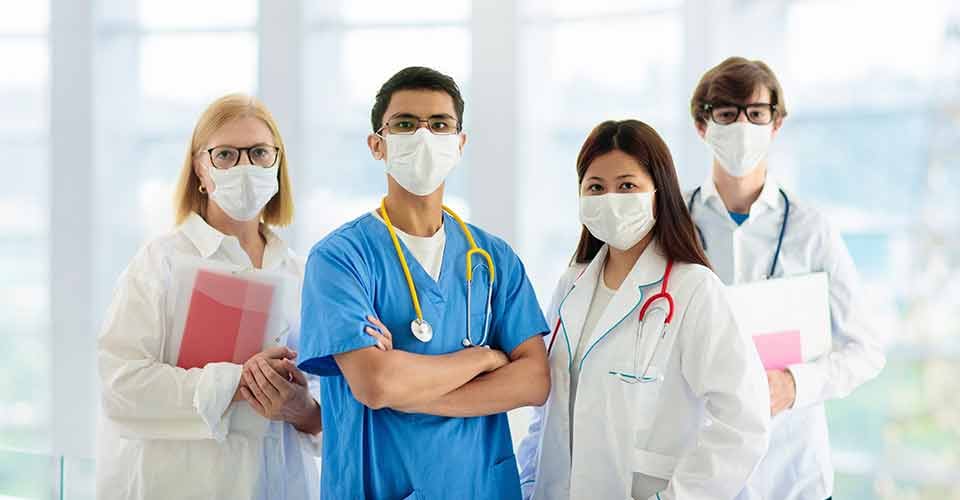 Mortgage qualification challenges for nurses
Obtaining a home loan as a nurse can be challenging at times. Lenders must verify your salary, but they may not all be familiar with the way nursing jobs are structured.
The flexibility in working hours and sometimes location leads to many challenges when applying for a mortgage. Here's a look at some of them.
Travel nurse vs. staff nurse
Staff nursing positions are the most common type of nursing occupation. However, the specifics vary by job and company. Staff nurses render care to patients in clinics, hospitals, or other healthcare facilities. They have a basic salary, job security, paid time off, and a variety of benefits, including retirement funds and health insurance.
On the other hand, travel nurse jobs are temporary assignments that usually last eight to thirteen weeks, although some may continue longer. It includes benefits like compensated travel, licensure, and housing costs. However, because of the nature of their occupation, traveling nurses may have more difficulty obtaining a home loan than staff nurses.
Base Income vs. Actual Income
To borrow money, a staff nurse can verify their base income to their lender; this could be documentation such as an employment agreement. However, base income hardly ever accounts for nurses' overall earnings.
There are several kinds of wages for nurses, including shift pay, overtime pay, and extra compensation for working outside regular schedules. Indeed, research has revealed that most nurses work extra hours outside their usual 12-hour shifts.
With these non-base pays, creditors are likely to examine your average gross earnings over the previous two years. If you have changed your schedule or added more hours to your routine, it might not immediately count against your revenue. For example, most creditors are unlikely to consider recent raises in your night shift hours earnings. It might be helpful to get a letter from your employer confirming that recent rate raises are long-term.
You can also include a letter with your loan request explaining why you believe the bank should consider more of your non-base income. In some cases, this may work in your favor.
Student debt
Student debt is another challenge nurses applying for home loans face. As advanced nursing degrees become more lucrative, many nurses incur significant school debt to obtain these qualifications. Of course, student loan debts impact your Debt-to-Income ratio.
Lenders are concerned that borrowers with too many outstanding debts may be unable to make their regular mortgage payments plus other housing expenditures comfortably. Student loans might add to your debt burden, increasing your DTI beyond the 36% threshold set by most lenders.
You can reduce your DTI by paying off large maturing debts with lower balances. If your car loan installments are expensive, but you're almost done paying them off, consider finishing them before applying for a home loan.
Breaks in employment history
If you work as a travel nurse, you're likely to have breaks in your job due to various circumstances. Perhaps there are periods you've been without work due to changing agencies, expired contracts, or even per diem employment.
These instances do not imply that you're a lousy employee who has difficulty keeping a job, but some lenders may negatively interpret your work history without some context.
You can take several steps to help lenders understand your work history.
Include a letter with your loan application explaining your circumstances to the lender.

Request your employer to write a letter confirming that overtime work will continue.

Request a comprehensive employment verification from any past employers.

Put together at least two years of work history.

Keep and provide a record of W-2s, pay stubs, year-end paperwork, and other agency-related documents. Such evidence will assist your lender in determining your income and appropriate mortgage.
In many circumstances, presenting the preceding two years' pay stubs will provide a comprehensive accounting of all income types, giving your non-base earnings a greater chance of being considered in your mortgage calculation.
Travel Nurse Mortgage Denial
Don't give up if your home loan application is turned down. To improve your chances of getting a loan, stick with one agency for at least two years.
Also, don't give up on purchasing a home, convinced you won't need it badly because of the nature of your job. Travel nurses might consider buying a house as an extended investment.
You might not get to spend much time in it, but still, it's worthwhile and will help you build equity, access tax deductions, and gain control over your living space and your housing expenditures and budget.
How do you pick the best mortgage program?
There isn't a single best mortgage program for nurses. Your unique circumstances determine what's right for you. Sometimes specialized loans are better than standard loans; other times, they are not. Always do your research and rate shop.
A VA mortgage will probably fit you best if you are currently serving or previously served in the country's military, whether as a nurse or in other positions.
A conventional-confirming loan is generally the next best option for those who never served. These loans require 620+ FICO scores and at least a 3% downpayment. If you have a FICO between 580 and 619, you may need to apply for an FHA loan, but this loan requires private mortgage insurance.
Lastly, USDA loans are ideal if you have limited resources and acquire a home in a rural location.
Wrap-up
A nursing career will give you numerous opportunities to grow and increase your income over time. Still, lenders might have difficulty approving you for a mortgage due to various kinds of pay. It would be helpful if you understood the different kinds of earnings that make your pay stubs and put all this information in a letter explaining to the lender why they should consider more of your income in their calculations.
Also, if you've recently had a raise in your night shift hourly rate, ask your employer to write a letter confirming that this arrangement is long-term. For travel nurses with gaps in your work history, keeping a record of places you've worked, pay stubs, and other documents can help relieve a lender's doubts.
There are various kinds of home loans for nurses and other medical professionals. Depending on your location and circumstances, you can qualify for these loans and other downpayment assistance programs to reduce your mortgage. Above all, you don't have to keep trying for a standard home loan if you can easily qualify for a specialized loan.
While at it, Nurse Home Loan Programs claims its mission is to inform and link nurses with ideal mortgage solutions throughout the country. It might be good to call them if your loan applications are being rejected. The mortgage application process is already challenging; finding a lender who understands the technicalities involved in your occupation can make it at least simple.
Some lenders don't grasp nurses' unique working practices, such as shift differential and overtime pay or gaps in a traveling nurse's employment history.