How to Get Pre-Approved For a Mortgage in Florida: Expert Guide
Phil Ganz
/
7 Min Read
/
Mar 26, 2023
So, if you are committed to purchasing a home in Florida, follow these steps to obtain a mortgage pre-approval.
What is a Mortgage Pre-Approval?
The initial step towards purchasing a home in Florida involves completing a mortgage pre-approval questionnaire. This document outlines which mortgages a buyer is eligible for and the amount of money they can spend on a property.
Once a buyer has obtained a mortgage pre-approval, they can confidently search for a home, secure in the knowledge that their offer to purchase will be accepted.
For mortgage lenders, the purpose of a pre-approval differs. It serves as a rehearsal for the actual mortgage approval process, using a buyer's employment status, credit history, and a hypothetical property to determine the following:
The maximum allowable purchase price.

The expected mortgage interest rate.

The likely monthly housing payment.
Additionally, a pre-approval can help estimate closing costs and expedite the final approval process.
How to Obtain a Mortgage Pre-Approval
Regardless of the lender, obtaining a mortgage pre-approval in Florida involves a specific process that can be followed by anyone.
Determine Your Monthly Payment
One of the most critical aspects of home buying is ensuring that you can afford the monthly payment. Therefore, it's essential to determine the maximum amount you are comfortable spending each month before obtaining a pre-approval for a mortgage.
Although a mortgage lender may approve you for a larger monthly payment, it's crucial to stay within your budget to avoid financial strain.
Find a Mortgage Company To Pre-Approve You
Mortgage pre-approvals in Florida can be obtained for free through the majority of mortgage websites without any obligation to continue with the process.
It is common for homebuyers to receive a pre-approval from a different mortgage company than the one they ultimately obtain a mortgage from. Therefore, it's essential not to overthink this step.
The crucial aspect of obtaining a pre-approval is merely obtaining one since it is a necessary step towards purchasing a home. Without a pre-approval, it's impossible to proceed with buying a home.
Locate Financial Documentation
When obtaining a pre-approval in Florida, the lender may request supporting documentation such as bank statements, W-2 statements, pay stubs, proof of deposits, federal tax returns, and student loan statements.
It is not necessary to have these documents downloaded or stored on your hard drive beforehand. However, it's important to know where to locate these documents when asked for them.
Get Pre-Approved
Obtaining a mortgage pre-approval can be done either online or in person, depending on the lender's preference and the borrower's convenience. Online pre-approvals have become increasingly popular due to their convenience and speed.
With online pre-approvals, borrowers can fill out a form, upload required documentation, and receive a decision within a matter of minutes or hours.
On the other hand, in-person pre-approvals offer a more personal touch, allowing borrowers to sit down with a loan officer and discuss their financial situation in more detail.
This option may be preferable for those who have more complex financial circumstances, such as self-employed individuals or those with non-traditional sources of income.
Self-service pre-approvals are the simplest type of pre-approval and can typically be completed entirely online without the assistance of a loan officer.
These pre-approvals often involve filling out a questionnaire, uploading necessary documents, and waiting for a response from the lender.
Overall, the method of obtaining a pre-approval may vary, but the importance of getting pre-approved before embarking on a home-buying journey cannot be overstated.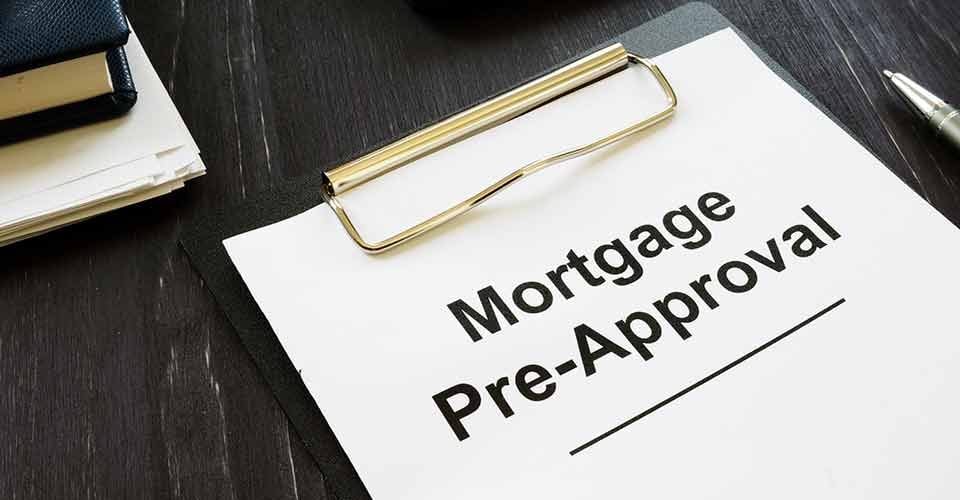 Differentiating Between Mortgage Pre-Approval and Pre-Qualification
A significant difference between mortgage pre-approvals and pre-qualifications is that pre-approvals can be used to purchase a home, while pre-qualifications cannot.
Home sellers regard pre-approvals as reliable proof of a solid offer because they are supported by lenders and have undergone double-verification.
This verification process includes a credit check and an evaluation of monthly income to determine if a buyer can afford to buy a home.
In contrast, pre-qualifications are considered weak because they do not involve any verification or review by a lender. They are merely an informal estimation of how much a buyer might be able to borrow based on the information provided.
Therefore, pre-qualifications are not regarded as reliable evidence of a buyer's ability to buy a home, and sellers may not accept offers from pre-qualified buyers.
It's important to understand the differences between pre-approvals and pre-qualifications when planning to buy a home, as pre-approval provides a more accurate assessment of one's ability to secure a mortgage and purchase a home.
When is the Ideal Time to Obtain a Mortgage Pre-Approval?
Obtaining a mortgage pre-approval at least a year before deciding to purchase is highly recommended. However, as a home buyer, it's never too early to get pre-approved since pre-approvals are advantageous to you.
Acquiring a pre-approval early on is beneficial since a considerable portion of mortgage applications contains errors, which could negatively impact your interest rate and hinder your ability to purchase a home. With a pre-approval, these mistakes can be identified and corrected in advance, saving you time and trouble.
In addition, obtaining a pre-approval sets a clear price range for your home search. Pre-approved buyers are less likely to exceed or fall short of their desired budget compared to those who rely solely on online mortgage calculators.
Thus, obtaining a pre-approval provides home buyers with a valuable tool for making informed decisions when it comes to purchasing a home.
Can Mortgage Pre-Approvals Impact Your Credit Score?
Getting pre-approved for a mortgage may cause a temporary drop of about five points in the buyer's credit score. However, given that credit scores can range up to 850, the impact of a five-point change is insignificant.
It's important to note that obtaining a pre-approval does not harm your credit. In fact, many home buyers utilize pre-approvals to improve their credit scores.
Pre-approvals involve a credit report, and it's estimated that one in three reports contain errors. By identifying and correcting these mistakes, buyers can potentially raise their credit scores.
Higher credit scores are linked to lower mortgage rates, which can result in significant long-term savings for the buyer. Therefore, it's essential to maintain good credit and take advantage of opportunities like pre-approvals to improve or maintain your credit score.
What Is the Typical Timeframe for Getting Pre-Approved for a Mortgage?
The duration of obtaining a mortgage pre-approval can vary from a few minutes to up to ten days, depending on the method and location of application. The following are the estimated timeframes for obtaining pre-approvals, from the slowest to the fastest:
Standard: In-Person Meeting
Typically, the conventional method of obtaining pre-approval is to arrange a face-to-face meeting with a loan officer at a bank.
These meetings are usually only available during regular business hours, and the loan officer may need several days to assess and approve the application. Additional meetings may also be necessary.
Faster: Online Form
Obtaining pre-approval for a mortgage is also possible through online applications on mortgage lender websites. To complete the process, the buyer needs to provide financial documentation such as W-2 statements, tax returns, and pay stubs.
Once the documentation is submitted, the lender usually verifies the information within a day. This method eliminates the need for in-person meetings and reduces the pre-approval processing time.
Fastest: Self-Service Pre-Approval
Buyers can opt for self-service pre-approvals, which are convenient, quick, and hassle-free. The process is automated, and verifications are done instantly, giving buyers answers in as little as three minutes.
This option is available round the clock, making it extremely convenient for buyers who want to get pre-approved without any delay.
What is the Duration of a Mortgage Pre-Approval?
Mortgage pre-approvals have a validity of 90 days from the date of issue. If mortgage rates increase by one percentage point or more, you'll need to obtain a new pre-approval.
It's important to note that an expired pre-approval is no longer a reliable proof of purchase. You should avoid relying on an expired pre-approval to establish your household budget or set a maximum home purchase price.
Fortunately, you can renew an expired pre-approval online or in person anytime. However, buyers with lender-assisted pre-approvals may need to provide additional financial documentation, such as proof of residency and pay stubs.
Additionally, any significant changes in the buyer's employment, income, or residence, or a significant drop in their credit score, will invalidate their pre-approval.
Is it Possible to Be Denied a Mortgage After Receiving Pre-Approval?
Although getting pre-approved for a mortgage increases a home buyer's chances of obtaining a loan, there are still some reasons why the pre-approval may not be honored.
The buyer's credit score dropped below the minimum
A mortgage pre-approval is a preliminary step towards a buyer's final mortgage approval. Thus, if a buyer's credit score decreases before finding a home, their pre-approval may become invalid.
Typically, there are certain minimum credit score requirements that buyers must meet:
FHA - 500 credit score
Conventional - 620 credit score
VA - 620 credit score
USDA - 580 credit score
The buyer lost income or piled on debt
A crucial factor in determining a home buyer's eligibility to repay their mortgage is their Debt-to-Income (DTI) ratio, which measures the amount of debt they have in comparison to their income.
Mortgage approvals typically limit a buyer's DTI ratio to around 50 percent. However, if a buyer's debt increases while their income remains the same, their pre-approval may be revoked when it comes time to make a purchase.
The buyer's employer or job title changed
Making changes in your job or career, even if it results in higher pay, can jeopardize your pre-approved mortgage. If you intend to make any of the following changes, it's best to check with your mortgage lender first:
Becoming a partner in a company.

Starting a new business.

Moving from a salaried job to a position with a salary plus bonus structure.

Switching industries.

Receiving payment in cryptocurrency.
While it's perfectly fine to make changes to your career, it's crucial to speak with your lender to avoid any unforeseen issues.
The monthly payment is higher than pre-approved
Mortgage pre-approvals are based on hypothetical scenarios with generic homes and purchase prices. However, when buyers make offers on actual homes, the pre-approvals are revised with real numbers.
During the final approval process, lenders replace the pre-approval figures with actual ones, such as the home's purchase price, the expected down payment, current mortgage rates, real estate tax bill, homeowner's insurance premium, and monthly assessment (if applicable).
If the recalculated housing payment turns out to be higher than expected, the buyer's pre-approval may be canceled.
Pre-Approving Your Mortgage: Why It's Never Too Early to Start
It's recommended to obtain pre-approval as soon as you start considering purchasing a home. Pre-approved buyers are more likely to secure better rates and homes.
Obtaining pre-approval establishes the range of your home purchasing price and the minimum down payment required, and it allows you to review and rectify your credit status.
More than anything, pre-approvals demonstrate your commitment to buying a home.