Lakeland, Florida: A Great Place to Start a Family
Phil Ganz
/
9 Min Read
/
Apr 05, 2022
Whether you're thinking about starting your family or have already begun, it's important to have somewhere that you feel comfortable raising your kids. Some places have more advantages than others when it comes to raising a family, and in the end, you may find yourself looking for someplace that makes life as easy as possible for your little ones.
(Mar 20, 2023)
Lakeland Florida, happens to be one of those places that bring many family-friendly amenities together under one roof. Lakeland Florida, has been in the headlines quite a bit lately, and that's for all the right reasons. Since the late '80s, Lakeland has seen explosive economic growth thanks to its thriving business community and ideal location. Lakeland is still one of the fastest-growing cities in Florida and boasts some of the most famous attractions in Florida. Read on to learn more about why this city in Florida is such a great place to raise your family.
Reasons Why Lakeland, FL Is a Great Place To Raise a Family
If you're thinking about moving to the Lakeland Florida area, there are plenty of reasons why this beautiful community would be a great place to raise your family. Lakeland has everything you need to make it your home base with stunning scenery, great weather, and plenty of activities!
Lakeland, FL, has been dubbed the city of destiny because of the great opportunities and growth potential it offers to its residents. Whether you're planning to relocate here or simply looking to explore what the town has to offer, you'll find something to make you feel at home in Lakeland. Below are reasons why Lakeland, Florida, should be your top choice if you're looking to raise a family in a serene location.
Family-Friendly Housing Options
It's always good to be aware of what an area's housing market looks like before making big decisions about moving and purchasing your dream home. Lakeland has affordable options for first-time buyers and those looking for second homes. This mid-sized city offers several affordable housing options for families looking to settle down.
Lakeland's family-friendly housing options allow families of all sizes and stages of life to feel comfortable in their homes. Lakeland is one of the top towns for raising children, and they noted that great schools, activities, and affordable housing are some of Lakeland's strongest attributes. Whether you're looking for small apartments or large single-family homes, there's an affordable option for everyone who wants to raise their family in Lakeland.
With prices ranging from about $221,200 for a median home to over $250,000 for a larger family home in established neighborhoods just outside of town, there's no shortage of options. A variety of furnished homes are also available so that you can move right in and start enjoying your new life with your loved ones.
Quality healthcare
If you're concerned about quality medical care near your home, rest assured, knowing that Lakeland, FL, is surrounded by excellent medical facilities. The hospitals in Lakeland are ranked among the best medical care facilities in Florida, offering high-quality services like:
Gynecology services
Trauma care
Pediatric care
Cancer treatment and care
Heart-failure treatment
With health centers on hand and top-rated hospitals in a town like Lakeland Regional Medical Center, residents of Lakeland never have to worry about finding great care, whether they need surgery or just an antibiotic. These options are so close by, so you can rest easy knowing there's help for any family health emergency no matter where it takes place in Lakeland.
Schools
If you're looking for quality schools with strong academic programs and big-time sports teams, you'll want to consider raising your family in Lakeland. The schools in Lakeland are generally larger than in some surrounding areas, meaning more resources are available for students, teachers, and administrators.
Several area high schools consistently rank among America's best, and the universities and community colleges all offer outstanding programs. If you choose not to send your children to public school, private options are also plentiful. You can even teach your kids at home with online education programs if you want. There's no lack of educational opportunities in Lakeland, FL!
Various public and private elementary schools are available in Lakeland, including Trinity Christian Academy and McKeel Academy. Additionally, several high schools are open for students living in or around Lakeland. Top-ranked high schools include Kathleen High School, Kathleen Middle School, Polk Pre-Collegiate Academy, and Chain of Lakes Collegiate High School.
Lakeland is also home to Polk State College, an institution that offers technical courses along with transfer and bachelor's degrees. In addition, there are numerous other colleges in Lakeland itself or close by that serve full-time and part-time students. If you need some training on your own time and schedule, you can enroll in the University of South Florida-Polk, Hillsborough Community College, and Florida Technical College.
Good Weather
One of Florida's most notable advantages is its weather. But no matter how you look at it, there's little doubt that the weather keeps things exciting all year long in Lakeland! This means that outdoor activities are year-round fun. And when you don't feel like being outside or if it's raining, there are tons of indoor activities to keep you busy in Lakeland. With its mild climate, gorgeous weather, and abundance of sunshine, Lakeland, Florida, is ideal for raising a family.
With Florida weather, you can count on three or four seasons, including hot and humid in summer, warm and humid in spring, cool but not cold in fall, dry and sunny year-round. Summers are friendly, and winters are mild in Lakeland. The area gets an average of around 53 inches of rain per year, so water isn't scarce.
Safety
Lakeland has some of the lowest crime rates in Florida, thanks to its excellent safety programs, which help keep citizens and their families safe day in and day out. Whether you're interested in going for a run or taking your kids to play at one of the many playgrounds or parks around town, you can feel safe knowing that your family is well-protected. The safe Lakeland streets allow parents to let their kids and pets roam free, providing convenience and peace of mind.
A great place to raise a family isn't complete without safe neighborhoods. This city is recommended for families looking for communities where kids can grow up without worrying about safety. The City of Lakeland has multiple neighborhood associations working together to make neighborhoods in Lakeland safer and stronger. Neighborhood watch initiatives are held regularly in some of these communities. They help organize members against crime by making them more aware and knowledgeable about what is happening in their neighborhood.
A Strong Children's Services Department
The city of Lakeland is considered one of Florida's best cities to raise children. One of the assets that makes it a desirable place for families is their strong children's support system. The Children's Services Department plays an active role in many community projects and events and assists with development and education efforts related to children and families.
The strong children's service department provides outreach services, such as parenting classes and after-school programs that allow parents to share their knowledge. The department also helps ensure vulnerable children receive social and emotional support during times of change or challenge, such as parental separation or divorce.
Friendly Local laws
One of many reasons families choose to settle down in Lakeland Florida, is the city's friendly local laws. Although Lakeland is consistently ranked as one of America's most family-friendly states, most new residents are surprised to learn that there's still such thing as local laws that target common violations and regulate behavior. Most rules have at least some basis in protecting public safety.
Florida is known for its lax gun laws and lack of restrictions. This doesn't mean you have to have an arsenal of weapons in your Lakeland home. It just means that if you want to carry around a gun or two while out and about, you can do so with impunity. Just be sure to check the local ordinances you must follow. Similar laxness applies to alcohol consumption and conduct.
Due to Florida's mild climate, many animal lovers enjoy having pets around. This is especially true in Lakeland, which has some of the most lenient pet laws in all of Florida. There are no restrictions on cats and dogs unless they pose a threat to other people or animals. All pets must be leashed when walking them through public areas, and owners must show current rabies vaccinations when requested by local officials.
With traffic laws being friendly in Lakeland, it's a great place to be if you want to raise a family. One of the great factors is how aggressively police officers enforce traffic violations in Lakeland, Florida. Most drivers in Lakeland follow reasonable traffic laws. Drivers respect pedestrians, use their turn signals, and don't tailgate. If you're looking for a safe place to live that feels like home during your daily commute—Lakeland is your place! When raising a family in Lakeland, you don't have to worry about drivers zipping past school buses and running red lights in front of daycare centers and parks.
The Diversity
If you live in Florida or looking to move there, you already know or have heard about its diverse population. Finding diversity from Latin cultures to African American communities is easy in Lakeland. At one point or another, you will notice that Lakeland is one of the very few places in America where people from all walks of life can get along. If your kids want to discover more about various lifestyles or expand their horizons at school, they'll have no trouble finding it in Lakeland, Fl.
A large number of ethnicities in Lakeland is one of its greatest strengths. The city's diversity is likely to appeal to families with members from different cultural backgrounds. In addition, Lakeland offers plenty of opportunities for families and individuals to learn about and experience other cultures through various community events and festivals.
Activities and Entertainment Options
With all that nature has to offer in Lakeland Florida, you have ample opportunity to enjoy activities and entertainment with your family. No matter what age group you're in, there are plenty of options for fun and adventure for everyone. From theme parks like Walt Disney World Resort to a quiet hike through any of our hundreds of parks and trails, you'll never be without something fun to do with your family.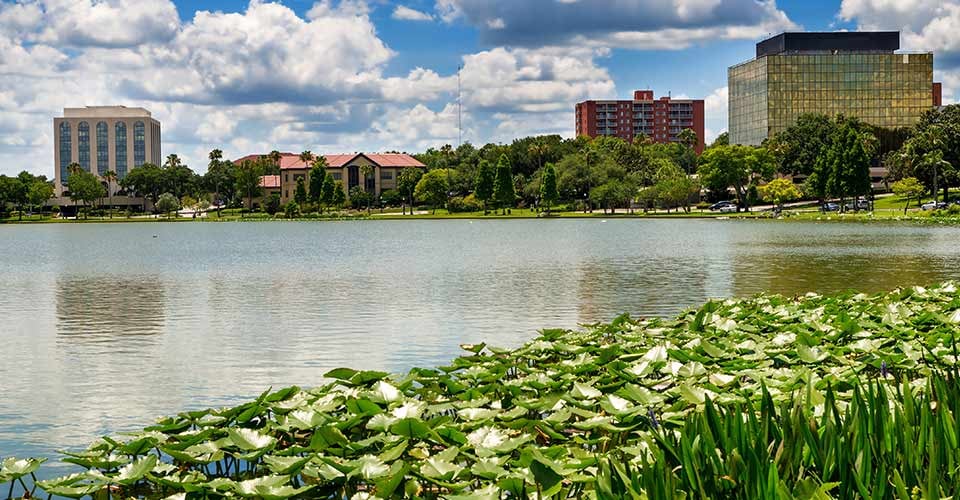 Fun Things To Do in Lakeland, FL
Lakeland has a lot to offer visitors and residents alike if you're looking for family-friendly fun or exciting adventures. From first-rate dining to exciting sports and live entertainment, there are so many activities to try in this city you might have trouble deciding where to go first! Here are some of the fun things to do in Lakeland Florida.
Visit Barnett Family Park
If you're looking for a good time with friends or family, head to Barnett Family Park! Take a walk through Barnett Family Park's winding trails and admire its Spanish moss-draped trees. The expansive park contains several hundred acres of land that comprise woodlands, nature preserves, and lakes. It has basketball courts, tennis courts, and picnic areas open daily. There's a playground for kids and tennis lessons available for adults. The park hosts various events such as movie nights and festivals all year round.
Barnett Family Park also has a gorgeous dog park that allows your furry friend to play with other pups and take a dip in their doggy pool. They even have a low-cost day camp for puppies! If you're looking for something a little different than your typical dog park or daycare, look no further than Barnett Family Park.
Visit Bok Tower Gardens
Bok Tower Gardens is an unspoiled refuge of nature with a history that will leave you breathless. Through its magnificent 1930s Mediterranean-style mansion, unique Singing Tower carillon, and historic landscape gardens, the Gardens offer unmatched cultural, artistic, personal, and spiritual enrichment opportunities. Here you can also hike picturesque paths, enjoy breathtaking vistas and learn about outstanding conservation efforts.
Learn About Citrus, Swans, and Native American Tribes
If you're looking to go back in time and explore where things began, there are multiple historic sites in Lakeland. These sites offer a deep history of citrus, swans, and native American Tribes. There are various National Historic Landmarks located in downtown Lakeland and are home to some of America's largest collections of swan art. Explore historic swan boats in Swan Lake Park.
Many museums offer educational programs such as guided tours by staff members who are experts on Native American history and culture. You can learn about topics like weaponry, clothing, trade practices, and even rituals at these museums.
The Polk Museum of Art is home to native American artifacts such as pottery, baskets, and paintings. The museum hosts a collection of artifacts from local Native American tribes, including Seminole and Miccosukee heritage. Several parks are located around town where you can see a full-size replica of an Indian village complete with longhouses, tipi poles, and even an observation deck.
If you're interested in citrus fruits, the city has many unique citrus historical sites that can make your vacation fun and exciting. Lakeland is known as The City of Citrus and is home to citrus groves. Learn more about local citrus history by visiting historical landmarks around town like Eustis-Citrus County Historical Museum. You can also follow a short self-guided walking tour called Trailblazers Citrus Trail that takes you through downtown Lakeland and provides information on famous orange growers from long ago.
Visit Wing Chun Kung Fu Downtown Lakeland
Lakeland is a small city with many hidden gems, one of which is Wing Chun Kung Fu. This studio focuses on teaching individuals how to defend themselves while incorporating forms of healing through breathing techniques and meditation. Students find it a great workout and a way to relieve stress. Wing Chun, which roughly translates into eternal springtime, has been passed down for generations with roots in China and Vietnam. If your family is interested in martial arts, you'll get an opportunity to learn more from this dojo.
Visit the Lakeland Escape Room
Escape rooms are a new trend that's sweeping across America. It involves a group of friends coming together to solve a series of puzzles to escape from an actual room. With Lakeland Escape Room, you'll be tasked with discovering clues and solving mysteries as you navigate your way out of confinement before time runs out. This is a unique and interactive experience for those who want something fresh and fun to do when visiting downtown Lakeland.
Bottom Line
Lakeland Florida has earned the reputation of being one of the safest and friendliest cities in the country, and that's certainly not without reason. With more than 110,000 residents, Lakeland offers plenty of room to expand your family while still feeling like you're just minutes away from an equally safe but larger city. The city also hosts numerous parks and playgrounds, many of which are located within walking distance from downtown Lakeland's shops and restaurants, so your family can easily venture out on the weekends to enjoy an afternoon of fun.
Interested in learning about becoming a resident in Florida or moving there? Read more.