Learn about Florida First-Time Home Buyer Programs
Phil Ganz
/
8 Min Read
/
May 22, 2022
Buying a home for the first time in Florida can be quite daunting since the housing supply is ever tight as the demand and prices increase. Navigating the entire home buying process can also be tricky if you are unsure about your financing options. However, help in the form of first-time homebuyer programs offered by the Florida Housing Finance Corp is usually available to make the purchase fruitful.
(Mar 22, 2023)
You can turn to the Florida Housing Finance Corporation (also known as Florida Housing) for affordable housing opportunities for first-time homebuyers. Florida Housing rolls out first mortgage programs and down payment and closing cost assistance. The corporation offers the loans through approved mortgage lenders whose work is to originate, underwrite, close as well as fund a loan.
First-time homebuyer program loans are usually underwriter-certified and reserved. They can give you a chance at homeownership provided you understand their terms. Find out more about these programs in this guide:
Understanding the Loan Process
eHousingPlus is the official online reservation system participating lenders can use when qualifying borrowers to Florida first time homebuyer programs. The platform trains lenders on how they should handle applications and reviews all program files to ensure they are compliant. eHousingPlus is easy to use, secure and efficient.
In all transactions related to the mortgage program, the US Bank Home Mortgage acts as the master servicer. US Bank also trains participating lenders on how to deliver and review loans. It also helps lenders with their loan delivery requirements and notifies them on file exceptions for collaterals.
Conventional first mortgages have to adhere to a 60-day timeline to be delivered. Loans need to be repriced if they were bought after the maximum delivery date.
The Dynamic Loan Process
The loan process begins with lenders attending online training and gaining eHousingPlus access. Lenders are only required to qualify potential borrowers for the loan based on any applicable FL Housing Program, US Bank and GSE.
In step 2, lenders need to gather all essential paperwork from borrowers to confirm their eligibility into the program. Once they obtain a fully executed sales contract, the lender will key in the loan application in their origination system. The lender's underwriter will then approve the loan if it is data consistent and complies with all requirements.
The loan will later on close and the lender will submit a program compliance file to eHousingPlus for approval/reviewing.
Loan Delivery Timeline
Florida Housing requires lenders to stick to a delivery timeline of 60 days. They must also stick to a 45-day period for a reservation to underwriter certification and a 60-day period for the reservation to purchase.
Loan delivery costs stem from the lender's service release premium (SRP) during loan purchase. Loans may be canceled if the lender failed to deliver them within 60 days. All loans that were not bought in 60 days will get a purchase extension automatically.
Extension fees are usually imposed on the party contributing to closing delays. They need to be set in accordance with the closing disclosure. The timeline of a first-time homebuyer is based on the loan reservation date in the eHousingPlus portal.
The First-time Home Buyer Programs
You have a chance to qualify for any of the four Florida first time homebuyer programs. The corporation requires you to meet the first-time homebuyer criterion and satisfy certain requirements to be eligible.
Florida Housing can only consider you a first-time homebuyer if you haven't owned any principal residence in a span of three years. You may also qualify if you've never owned a home even when your spouse owned a home. The four mortgage programs are as follows:
The FL HFA Advantage Conventional Loan Program
FL HFA Advantage Conventional Loan Program can offer you a 30-year mortgage with fixed rates. You can apply for the loan with an income below 80 percent of the mortgage insurance premium. If you qualify for this program, you may be eligible for down payment assistance programs like HLP Second Mortgage or FL assist.
FL HFA Advantage PLUS (HFA Advantage PLUS) Conventional Loan Program
With the FL HFA Advantage Plus loan, you may qualify for a 30-year, fixed-rate home financing solution. The loan also entitles you for a 3 percent, 4 percent or 5 percent forgivable second payment, which you can use to settle down payment and closing fees.
The FL HFA Preferred (HFA Preferred) Conventional Loan Program
The HFA Preferred loan program offers 30-year, fixed-rate home loans. They may favor you if your income is below 80 percent of the mortgage insurance premium. Once you're eligible for this program, you can also sign up for down payment help through the FL HLP Second Mortgage Program and FL Assist.
The FL HFA Preferred PLUS (HFA Preferred PLUS) Conventional Loan Program
The HFA Preferred Plus loan program offers a fixed-rate mortgage with a 30-year term to eligible borrowers. You can also qualify for a relief of 3 percent, 4 percent or 5 percent of the loan amount. The relief amount can be used to cover down payment and closing expenses.
The Salute Our Soldiers PLUS Down Payment Assistance
Salute Our Soldiers is a forgivable loan program targeting veterans looking for affordable housing. It comes with an option ranging from 3 to 5 percent of the overall sales price. You have a chance of getting your loan forgiven at a 20 percent rate every year over five years.
Program Requirements
Florida Housing requires you not to have any ownership interest in the home you are planning to finance with a loan during a 3-year period. You also have to meet various income limits based on the median wage in the area you intend to live. Use HUD's lookup tool for insights on median income across different neighborhoods in Florida.
Requirements for Veterans
Veterans only qualify for the Florida first time homebuyer program if they served in the air service, naval or military. If you are a veteran, you should also prove that you were released or discharged from service under conditions that exclude dishonorable.
You must also meet the requirements of a borrower's affidavit to stand a chance of getting the loan. The borrower's affidavit acts as a document with important explanations on mortgages that are needed in any real estate transaction.
Your income should be lower than the maximum income limit requirements that are applicable in the county in which the home is being bought. For instance, if the property is situated in Miami-Dade, the income limits include $105,110 for a 1-2 household and $109,680 for a household of more than 3 people. The purchase price limit for this area is $491,261.
Florida Housing dictates that the contracted purchase price should be less than the purchase price limits in the county you're purchasing the home from. Refer to Florida Housing's list for purchase price limits and income limits for more guidance.
Other than income and purchase price limits, you need to meet certain FICO score limits If you have a FICO score ranging between 640 to 679 your debt-to-income ratio will be 45 percent, which isn't favorable to most lenders. Consequently, a FICO score above 680 may result in a DTI ratio of 50 percent, which is favorable to lenders.
Federally-Designated-Targeted Area Exceptions
If you live in a federally-designated-targeted area, you may be exempt from meeting most of the first-time home buyer requirements. The targeted areas are usually characterized by slow economic growth, thus first-time home buyers from these areas don't have to meet harsh requirements to qualify.
Most of the federally targeted areas in Florida witness or witnessed frequent hurricanes. The frequent and sudden mass destruction of homes and loss of income make these areas less appealing to businesses and investors. They are inhabited by low-income residents compared to other areas in the Sunshine State.
As of 2016, most of the federally designated targeted areas in Florida are situated in Broward, Hillsborough and Miami-Dade counties. Check the Florida Housing website for a full list of these areas to know whether you qualify for the exception.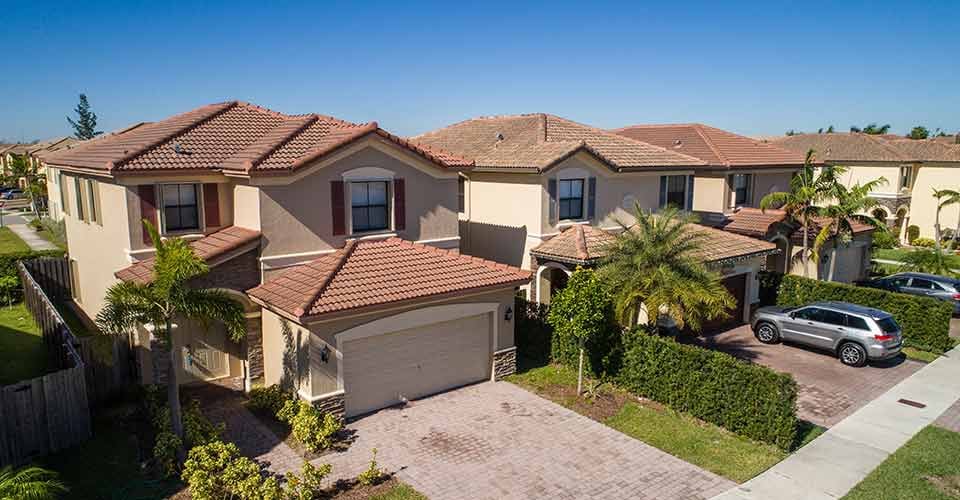 Reserving or Registering for the Loan Program Funds
Florida Housing allows you to direct your questions on loan reservations to the eHousingPlus portal. The corporation also requires you to register or reserve loans through the eHousing portal. Mortgage lenders are also required to reserve the loan in their originator's system.
Reserving Conventional Loans
Through the eHousingPlus portal, your lender should log in and reserve your first home loan. They are supposed to choose the right program and loan type with the corresponding rates. Your loan type, here, will depend on your income.
Underwriter Certification for Conventional Loans
Your lender has to complete the underwriter certification within 45 days of making a reservation. The certification helps them underwrite loans offered through Florida first time homebuyer programs. It also makes them better at analyzing credit issues in the loans.
Requesting for a Change in Loan Type
The eHousingPlus portal gives an option for lenders to change borrowers' loan types. However, the loan's timeline requirements won't change. Your lender has to send the loan type via email with all relevant details.
You must have qualified before making this request for it to be considered. Your request should also mirror the reason for changing your loan type.
Closing the First-time Home Buyer Loan
At the final stages of the loan process, expect closers to verify all relevant program paperwork for data consistency. You can access all documents needed for the transaction via the eHousingPlus portal. Closers also need to pull various documents and forward them to your closing attorney, title agency and closing agency.
Among the most important documents needed during closing is the US Bank Privacy Form. This document is needed when getting a HFA Preferred PLUS loan for TBA or the HFA Preferred loan for TBA.
Closing costs in the sunshine state stand at $4,606 on average for a home with a purchase price of $255,006. Though it is one of the states with the highest closing costs in the country, buying a home in Florida isn't way too costly. The state also has its own rules for what's included in the closing fees and here's a breakdown of each component:
Loan Origination Fees
Closing costs are usually inclusive of loan origination fees, which are charged by lenders to create a mortgage account. The fees cover the process of facilitating the home loan application, underwriting, pre-approving and loan processing. Origination fees take 0.5 to 1 percent of the loan amount.
Credit Report Fee
When lenders perform thorough credit checks on your financial background, they bill you for the cost of getting the report. It costs about $200 to request a credit report. Credit checks help ascertain lenders your creditworthiness.
Attorney Fees
Florida is among the states in the US that puts lots of emphasis on hiring a real estate attorney if you want to buy a home. The attorney will champion for your rights throughout the negotiations, draft the purchase agreement, finalize the contract and certify deeds. Their fees vary depending on the complex nature of the home sale and billing method.
Title Search Fees
With the help of a title company, a thorough search on the property will be conducted to verify whether the seller has full rights to transfer home ownership to you. Title searches focus on historical records like property indexes, court records and deeds. They cost between $150 and $1,500 in Florida depending on the intensity of the search.
Appraisal Fee
The participating lender will request an appraisal of the property to ensure that its current market worth matches your loan amount. Since appraisal fees vary depending on the property's value, a higher-value appraisal may demand several appraisals, which cost more in the long run. For a single-family home in Florida, expect to pay between $300 and $700 for an appraisal.
Escrow Fees
You'll need a third-party account to hold your funds before the sale is complete. The escrow account ensures that your money is kept in a safe place and the seller doesn't receive it until they meet all home sale conditions. Escrow fees vary with the transaction size and the third-party's policies.
Flood Determination/Monitoring and Pest Inspection Fee
You will have to pay a flood determination and monitoring fee to a qualified inspector, who will assess the property's flood risk. The inspector will also conduct ongoing observations on the home to determine whether it needs flood insurance.
A thorough pest inspection will also be required to flag out the presence of pests and pest-related damage in the home. The service usually costs around $100 and it should be done before ownership is transferred to you. Due to the surrounding subtropical climate, Florida is one of the places with high termite infestation rates, thus the need for pest inspection.
Clearing the First-time Home Buyer Loan for Purchase
Your compliance loan files will be reviewed after closing to determine whether they satisfy the program requirements. The loan files also need to satisfy all US Bank and Agency requirements.
After receiving and reviewing the loan file, the US Bank will notify a participating lender of any errors. If your files had missing or erroneous segments, it's possible to rectify them through the eHousingPlus Digital Docs Portal. Only lenders have authorization to use the Digital Docs Portal to correct file errors and omissions.
The participating lender will need a unique username and password when accessing Digital Docs. On the portal, they'll find options for logging into the eHP Digital Docs Portal and the existing Lender Origination Portal.
Paying Compliance Review Fees
Florida Housing uses a secure payment solution known as eHPay that participating lenders can use to pay compliance review fees. The service is supported by eHousingPlus business representatives who are always on standby for help on signing up and other user-related queries.
The Bottom Line
Owning a home in Florida may seem like a huge endeavor, especially if it's your first time buying one and you aren't certain whether lenders will approve your mortgage application. Luckily, Florida Housing Finance Corp has your best interests at heart with its affordable and convenient Florida first time homebuyer programs. The eligibility requirements on these programs are less strict compared to other home financing solutions you'll find in the sunshine state.
First-time homebuyer programs help you get rid of any obstacles faced towards homeownership. You can sign up for them if you can't meet the down payment and credit score requirements of private mortgage lenders. All the best as you inch closer to owning a home in Florida.