Living in Melbourne, FL as a Retiree
Phil Ganz
/
8 Min Read
/
Mar 28, 2022
Many working-class people already know they want to retire in Florida. However, deciding where exactly to live in the Sunshine State is a whole other story. Between the Gulf of Mexico and the Atlantic Coast, from large cities to little communities, active individuals in Florida have lots of alternatives for where to retire in Florida State.
(Mar 31, 2023)
Melbourne, a mid-sized beach community on the South Atlantic Coast, is becoming increasingly popular with soon-to-be retirees. This coastal city, which is located along the Space Coast, is situated 40 minutes south of Cape Canaveral, which is home to the Kennedy Space Center. Melbourne draws young working adults and retirees alike for a variety of reasons, including pleasant weather, an abundance of outdoor activity, and a low cost of living.
Read on to discover all you need to know about living in Melbourne as a retiree.
Benefits Of Retiring in Melbourne, FL
1. Warm and Sunny Weather
One of the perks of living anywhere in Florida is the amazing weather that the state enjoys all year round, and the city of Melbourne is no different. With an average of 234 days of sunshine, most outdoor activities are available throughout the year. Whether you're thinking of going to the beach, having a picnic, or visiting one of the cultural treasures in Melbourne, you can be sure of enjoying fantastic weather any day of the year. The weather in Melbourne is also favorable for year-round farming since the planting season lasts for most of the year. This means you are guaranteed fresh vegetables all the time.
2. Beautiful Outdoor Spaces
Melbourne like most other Floridian cities is awash with lovely outdoor spaces which lend themselves to a wide variety of fun activities. From swimming and snorkeling to fishing and kayaking, there are very few water-related activities and sports that you won't find here. But that's not the end of it. The city is also home to numerous parks and sanctuaries where youth and senior citizens alike can retreat to enjoy some relaxing time in nature.
3. Employment Opportunities
With a small population of just over 85,000, Melbourne has a dynamic job market with plenty of employment. The largest employers in Melbourne are the aerospace, defense, and technology companies, with most positions in these firms paying a lucrative salary. Melbourne, FL is also home to numerous international companies which play a crucial role in the city's economy. Other sectors that hire numerous workers in Melbourne include the manufacturing industry, retail stores, and the healthcare industry.
4. Superb Education System
One of the most important factors to consider when choosing a place to relocate is the quality of the education system in the city you're moving to. If you have a young family with school-going children, you want to make sure your new home provides access to the best schools. Fortunately, Melbourne, FL has some of the best schools not only in Florida but the entire nation. The school district in this coastal community has several schools that are recognized by the U.S News $ World Report's Best High School Rankings.
Some of the best public schools in Melbourne include Viera Elementary School Brevard, Suntree Elementary School, West Shore Junior, and Senior High School, and Palm Bay High School. The city is also home to excellent institutions of tertiary learning such as Eastern Florida State College and Florida Institute of Technology, which is listed among the best universities in the U.S.
5. Cost Of Living
One of the things that make Melbourne, FL a favorite destination for retirees is the affordable cost of living. While some parts of Florida have a cost of living that is among the highest in the entire country, this is hardly the case with Melbourne. On average, living costs in the city of Melbourne are 10% lower than in the rest of the country and the medium cost of housing is below the average in Florida state
6. Numerous Assisted Living Facilities
Melbourne, FL is home to many assisted living facilities for senior citizens and retirees. These institutions come in handy for aging citizens who require specialized care, which for whatever reason, their families are unable to provide. Some of the best assisted living facilities for senior citizens in Melbourne, FL include:
7. Grand Villa of Melbourne
Grand Villa of Melbourne is known for its lovely waterfront setting and offers exquisite food and luxury facilities that make for a spectacular, resort-style retirement experience. The community's goal is to establish a family-style setting with warm, inviting common areas where members may mingle with their friends. There's also a welcoming outdoor courtyard, walking walkways, and a swimming pool for seniors to enjoy the warm Florida weather. Residents are served three chef-prepared meals each day, and the Passport Dining Experience allows seniors to sample cuisines from all around the world.
8. Sonata Viera Assisted Living
Nestled in an upmarket planned community setting, Sonata Viera Assisted Living, provides a homelike atmosphere just minutes from stunning beaches and some of Melbourne's best attractions. This community is distinguished by its At Your Service program, which focuses on continually trying to provide unrivaled service and hospitality with respect and dignity. To guarantee that each member has a life-enriching experience, the community provides personalized programming, trips, and events, such as morning stretches, personal meditations, card games, and museum visits.
9. Victoria Landing
Victoria Landing, which has spectacular views of the Indian River, is created for seniors to enjoy resort-style, beachfront living. Apartments are provided in four different types, each with completely accessible showers, personalized heating settings, and cooking facilities. Many of the rooms also have individual, screened-in patios.
Guests can enjoy the lovely weather by making use of several outdoor facilities, which include a private dock, hiking trails, an indoor swimming pool, and a bocce court. They also enjoy full access to a gym, craft room, library, salon, and movie theater indoors, and the community organizes a range of entertaining events every day.
10. The Brennity at Melbourne
Guests at The Brennity at Melbourne can experience maintenance-free living in an atmosphere that combines comfort, elegance, and compassion with fully personalized care. The sprawling 48-acre property has many communities with a range of floor layouts to meet the requirements of seniors seeking independent living, assisted living, or patient-centered care.
A community clubhouse with a fine dining area, tavern, playroom, gym, and the heated therapeutic pool is located in the heart of the campus. The neighborhood is conveniently located near cafés, retail, and entertainment, and members may take advantage of scheduled transportation to go shopping or appointments.
11. Discovery Village At Melbourne
Discovery Village at Melbourne offers a resort-like atmosphere with three unique living alternatives seniors have access to the degree of care and assistance they require. It's regarded as one of the best assisted living communities in the region because of its unique approach to senior living, which includes six special lifestyle programs geared towards decreasing stress, enhancing health, and promoting a high quality of life.
Guests can unwind and enjoy their retirement by taking advantage of restaurant-style cuisine, cleaning services, complimentary transportation, and an active schedule of events. The apartments are well designed and include modern appliances, walk-in closets, and private patios.
12. No State Tax In Florida
The Sunshine State does not have an income tax. This means that retirees like other residents of Melbourne do not have to worry about paying state income tax on pensions or Social Security income. As such, retirees who continue to work can keep more of their savings and use it however they deem fit. Learn more about the benefits of living in Florida here!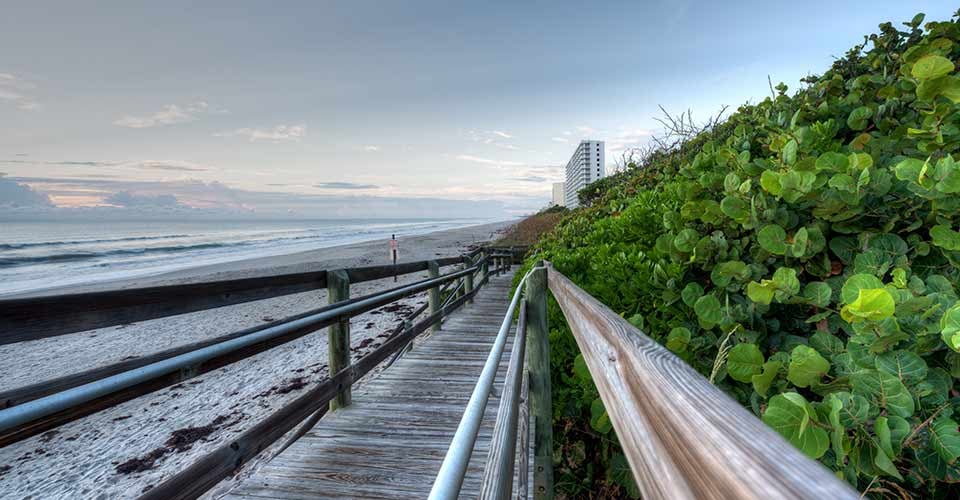 Attractions And Things To Do In Melbourne, FL
1. Brevard Zoo
While it is full of intriguing and extraordinary animals, like other zoos, the Brevard Zoo also provides tourists with a range of recreational alternatives that are not available at most animal parks.
The Brevard Zoo is small in comparison to zoos in bigger urban areas, but many former visitors have remarked that their experience at this wildlife sanctuary greatly surpassed their expectations and that it matched more well-known and popular zoos.
For adrenaline addicts who aren't content with just watching wild animals go about their day, zip-lining and exciting kayak experiences are available. There are lots of covered lounging spots and a café where you can unwind with a refreshing drink after a long day on your feet.
2. Manatee Cove Park
Manatees (commonly known as sea cows) are one of Florida's most distinctive and iconic animal species. They are plump, slow-moving marine creatures that can grow to enormous sizes.
Manatee Cove Park, located on Merritt Island, is roughly 30 acres of great manatee habitat ideal for observing these endearing creatures. Aside from a variety of observation spots, the park also has trails that run around the lagoon, a playground, and a picnic with built-in BBQ grills.
The park's admission is low, and the majority of the funds raised go straight to initiatives targeted at conserving the manatee's habit.
3. Kennedy Space Center
For decades, the Kennedy Space Center near Cape Canaveral has served as the focal point of the United States' illustrious space program. The museum is committed to preserving the area's rich space heritage and has a unique collection of memorabilia and installations.
Most visitors to Melbourne prefer to visit the space center as part of a guided tour, most of which include round-trip transportation, guides, and shopping stops at adjacent outlet stores. Tours of the space center can be exhausting, so they may not be the greatest option for families with little children. However, for individuals looking to discover the fascinating history of America's space race, the Kennedy Space Center is a must-visit.
4. Magnificent Beaches
Despite its abundance of historical, cultural, and natural attractions of all sizes and descriptions, beaches are the primary reason many travelers choose to visit Florida.
Melbourne, FL is regarded as one of the state's top beach sites, with Melbourne and Paradise Beaches among the most popular with both locals and tourists. Both beaches are free to use. Melbourne's beaches, in contrast to other of the state's fancier and more exclusive beaches, such as Miami Beach, are definitely easygoing and family-friendly.
Surfing, frisbee games, and sunbathing are all enjoyable ways to spend the day, and there are numerous dining and shopping options nearby.
5. The Eau Gallie Arts District
The Eau Gallie Arts District in Melbourne's newest hotspot for individuals wishing to visit chic galleries, museums, shops, and restaurants.
The coastal city has commissioned a set of unique murals by local artists, which most locals and tourists acknowledge adds another dimension of flavor and vibrancy to the already colorful and artistic neighborhood.
The bustling district regularly organizes a range of events, including musical performances, arts and crafts exhibits, and food and beverage adventures such as beer festivals and wine sampling. It tends to be busier in the evenings and for weekend happy hours, particularly during the chilly winter season.
6. Foosaner Art Museum
For almost four decades, the Foosaner Art Museum in Melbourne's Eau Gallie Arts District has established itself as the home of world-class art collections from all over the world spanning several centuries. The permanent collection of the museum is mostly made up of modern art created in a range of mediums by local and international artists.
Apart from hosting permanent exhibits on a regular basis, the museum also organizes traveling exhibitions so you will see something new each time you visit. It's a museum as well as an educational center, and it's especially popular for its hands-on events and instructional programs.
7. Melbourne Community Orchestra
If you've had enough of the beach and want to spend your evening doing something more creative and culturally meaningful, an evening at the Melbourne Community Orchestra would be ideal.
For over two decades, the Melbourne Community Orchestra has offered access to advanced performing arts that would otherwise be unavailable to many residents of this phenomenal oceanside city
Throughout the year, the orchestra presents a number of free public activities, many of which are appropriate for families. Their outdoor nighttime activities are among the most popular and attendees are welcome to bring their own snacks, beverages, and seating.
8. Rossetter House Museum
Although it is not widely known, Florida is home to some of the country's oldest communities, some of which date back to the 17th century.
While the Rossetter House Museum isn't nearly that antique, it is one of the community's best-preserved buildings of its era, providing tourists with a unique look into the past. The mansion dates from the late 1800s and was listed on the National Register of Historic Places within the previous 30 years.
To get the most value for money, take advantage of their guided tours, which are provided from Wednesday to Saturday. Tours run approximately an hour, are suitable for both adults and children, and are quite affordable.
9. The Ted Moorhead Lagoon House
The Ted Moorhead Lagoon House, situated on Dixie Highway NE in Palm Bay, is part of the Indian River Lagoon National Scenic Byway and is owned by Melbourne city.
The complex is full of exhibits pertaining to the area's origin, culture, growth, and economics, and is dedicated to preserving the area's rich history and educating locals and tourists.
The facility's highlights include a boardwalk, an Atlantic whale display, and a 20-foot-long map of the lagoon. Throughout the year, the Lagoon also organizes a range of educational events, such as children's activities, guest lecturers, and guided tours.
10. Andretti Thrill Park
Even if you aren't a huge fan of car racing, the name Andretti is one you'll become very familiar with once you move to Melbourne, FL.
Andretti Thrill Park, located on South Babcock Street in Melbourne, has been in operation for over 20 years. The facility attracts visitors from all over the country and offers a range of thrilling activities, including high-powered go-kart racing, miniature golf, laser tag, and a massive video arcade.
Parents who have only scheduled an hour of vacation time to Andretti Thrill Park should reconsider because the kids won't want to leave that quickly. Be sure to check their website to get a sense of their operations.
Wrapping Up
When it comes to selecting a retirement location, you want to make sure the city you're planning to move to has all the facilities and amenities you require to live comfortably and enjoy your sunset years. Fortunately, Melbourne offers all the perks of living that a retiree would ever need to lead a satisfying and exciting life.
Not only does this coastal community have some of the best beaches in the world, it is also home to a wealth of museums and unique cultural treasures that you won't find anywhere. Moreover, the city offers a high standard of life with a low cost of living, plenty of job opportunities, and superb facilities for assisted living.
Interested in learning about becoming a resident in Florida or moving there? Read more.