Long Island to Florida: Learn Why Tampa Bay Has Become So Popular with Long Island Residents
Phil Ganz
/
8 Min Read
/
Jul 17, 2022
Tampa Bay is quickly becoming the perfect destination for Long Islanders looking to ditch the cold, icy winters of New York for something a little more... tropical. And who can blame them? The Tampa Bay area is a beach lover's paradise, with close-to-home access to everything from gorgeous white sand to laid-back, family-friendly beaches and charming seaside towns.
(Mar 31, 2023)
It's also just a short drive away from some of the best golfing in the state. But we're getting ahead of ourselves; you want to hear more about why Tampa Bay might be right for you!
Why Long Island residents are flocking to Tampa Bay
Tampa Bay is becoming a new hub for Long Island residents. The area has a lot to offer, including a thriving job market, great weather, and plenty of outdoor activities.
Here is an in-depth look at some reasons why Tampa is popular with Long Islanders:
Plenty Of Jobs Available
Long Island is a great place to live, but it's not for everyone. If your dream is to move somewhere with more opportunities for employment and greater access to the things you need to succeed—and you're looking for a change of pace from what Long Island offers—Tampa Bay may be the ideal choice.
While Long Island is one of the best places to live in New York City, Tampa Bay has been consistently ranked as one of the fastest-growing metropolitan areas in the country. That means there are plenty of jobs available here if you want them. So if you're looking for a new beginning with better employment opportunities than what's available on Long Island, Tampa Bay could be an ideal choice!
The Weather
We're all looking for the same thing: a warm, sunny climate that makes us feel like we're on vacation year-round. And it turns out that Tampa Bay is just the place for you!
As any Long Islander knows, the winters in New York can be brutal. And with winter comes colds and flu season. It seems like every week, there's a new article about how more and more people are moving to Florida. These days, though, more and more people are moving to Florida permanently—and they're not the only ones who are noticing this trend.
Family-Friendly
If you're a long islander ready to move to Florida, you might wonder if Tampa Bay is a good place for your family.
The answer is YES! Tampa Bay is an excellent place for families because it has many beautiful things. For instance :
Family-friendly activities - The Tampa Bay area is home to many family-friendly activities, including the Tampa Bay Rays baseball team, Busch Gardens Theme Park, and Lowry Park Zoo.

Family-friendly hotels - If you're bringing little ones with you on your trip down south, plenty of hotels cater to families in the area. Many offer complimentary breakfast buffets, babysitting services, and even children's menus at restaurants nearby so that parents can get dinner out without worrying about what kids will eat (or how much damage they will do during dinner time).

Family-friendly neighborhoods - Here you have access to great neighborhoods close to central Tampa Bay locations. Homes here tend not only to provide clean air but also offer relatively low property taxes compared with other regions around Florida or even Long Island itself! Some prefer living amongst other families in their community instead of a traditional homesteader approach (i.e., suburban sprawl).

Equally Good Schools - If you're a Long Islander considering a move to Tampa Bay, you might be worried about the quality of schools your kids will be able to access. The area is one of only three metropolitan areas with most public elementary and high schools rated "A" by the Florida Department of Education—the other two are Orlando and Jacksonville. When you relocate to Tampa Bay, your kids can continue getting the same education they got back home or even better.
Golf Courses
The golf courses in the Tampa Bay area are among the most impressive in the country. There are over 1100 courses within Tampa, including those used for PGA Tour events.
It's no wonder that this city is home to both the PGA Tour and LPGA Tour headquarters!
In addition to being a great place to play golf, there are also plenty of options for you if your love of sports extends beyond hitting balls into holes. The Tampa Bay Buccaneers play at Raymond James Stadium in Tampa every season, while other teams like the Tampa Bay Rays play at Tropicana Field in St. Petersburg (about an hour away).
Shopping
Long Island Long Island is a great place to shop, and residents will find plenty of shopping centers and malls in the area. However, Tampa Bay's shopping experience is higher and has so many shopping options that you might think twice about going home with an empty wallet! There are so many outlet malls around here; you may even want to stay for an extra day or two to go through them!
Some people like outlets because they are cheaper than regular stores on Long Island; others like them because they have more unique items that aren't available at nearby shops (or maybe even anywhere else).
Outlet centers are also great places where friends and family members can meet up while they're out running errands on weekends—you could spend hours finding new clothes without having any idea where your loved ones might be right now!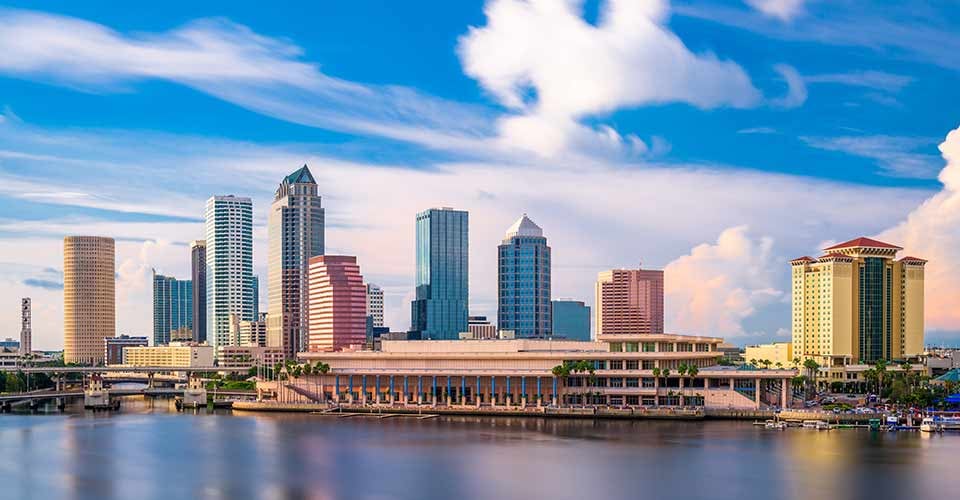 Escape The Hustle And Bustle Of Life In The Big City
A big city like Newyork can be a place that is both exciting and stressful. While it offers many opportunities, many challenges come with living in a large metropolitan area.
Many Long Islanders would be drawn to Tampa Bay because it offers an escape from the congestion of living in New York City or other large metropolitan areas. They also enjoy having access to parks and recreation areas to spend time outdoors with their families without traveling very far.
The perfect example is the Tampa Bay area's own "Central Park" - Lowry Park Zoo. Lowry Park Zoo is just one of many attractions that bring visitors from all over the country to visit the Tampa Bay area year-round. It's no secret why so many people are moving there from New York City and other major metropolitan areas across the country - Tampa Bay offers a high quality of life that isn't easy to find elsewhere.
Notable Tampa Bay Area Events
Tampa Bay is home to some of the country's most exciting sporting events. From the Tampa Bay Buccaneers to the Lightning and Rays, there's always something going on at Raymond James Stadium or Amalie Arena.
Also, Tampa Bay's biggest festivals are a blast. Whether you're into margaritas, pirates, or just being outside in the sunshine with your friends, we've got the best festivals to check out this summer.
Tampa Riverfest - Tampa Riverfest festival runs this free event along the entire length of the Tampa Riverwalk. It's a great place to hang out and watch live performances by local musicians, art, and local food. You can even try museums if you're feeling adventurous since they usually offer exceptional rates.

Tampa Bay Margarita Festival - The world's largest margarita festival takes place in Tampa every year—so if you're looking for something to do on weekends, make sure it's this one! More varieties of margarita and tequila are available, and some great local music.

Gasparilla Pirate Festival - The Gasparilla Pirate Festival is a massive celebration on Bayshore Boulevard every year during the first weekend in March. People dress up as their favorite buccaneers and parade down Bayshore Boulevard before preparing for an epic battle at sea!
Tampa Bay Has Become A Hub For Remote Workers
Tampa Bay is one of the top cities for remote workers in the United States. There are plenty of resources for people who want to work from home or another location in Florida or elsewhere.
The weather is usually sunny and warm all year round, making it an ideal place to work outside if you prefer a natural environment. If you want to stay inside your home office or co-working space, many options offer free WiFi in public areas throughout Tampa Bay.
Cost Of Living
Most of us know that the cost of living in New York City is higher than anywhere else on Earth. So it's no surprise that many Long Islanders are moving to Tampa Bay, which has a lower cost of living than both New York and Long Island.
According to a recent study by the Data USA, the median annual household income (the middle point between all households) in Tampa Bay is $57,709 compared with $69,407 for New Jersey and $85751 for New York State as a whole. That's quite an attractive statistic!
While housing costs can be high in some areas of Florida like Miami or Fort Lauderdale, you'll find that most homes in Tampa Bay are more affordable than those found on Long Island. For example, A three-bedroom house with two baths located 10 miles from Downtown St Petersburg averages around $150k. In contrast, similar real estate options can quickly go above half-a-million dollars on Long Island!
Nightlife
Long Island is known for its high-class reputation, including its nightlife. But in comparison to what Tampa Bay has to offer? Well… it's not even close.
OverTampa Bay has an enormously vast range of nightlife activities that can appeal to everyone, from young professionals to families with children. And while Long Island does have a few spots where adults can unwind after work—like Doha Bar Lounge, the Atrium, and Elpatron Sports Bar —these places aren't nearly as accessible or fun as Tampa Bay has to offer.
However, when you go out in Tampa Bay, tons of bars have live music on any given night and plenty of other things besides drinking! If you want something fun like trivia, karaoke, darts, or even some good food, you'll find it.
Diversity
One thing that makes Tampa Bay so appealing to many Long Islanders is its diversity. The community is a melting pot of cultures and ethnicities, each with its traditions and ways of life. You don't have to go far in the area before people from different backgrounds surround you. It's pretty commonplace for someone passing you on the street or waiting in line at Starbucks to be from another country entirely!
So many people come here for this reason—to be surrounded by so much diversity. They want to learn about new cultures, languages, and customs. Others want to live somewhere where their children will grow up with friends from different backgrounds who can teach them about other ways of life beyond what they knew growing up on Long Island. If being around such diversity appeals to you, consider moving here—you won't regret it.
Tampa, Florida, is safer than you think
We're not saying that Tampa is the safest city in the world—but we're not saying it's not either. These FBI statistics show that Tampa has a lower crime rate than most other cities in the United States.
The average American city has about 2,346 crimes per 100,000 people, or about 2.3%. Tampa's overall crime rate is about 1,885 crimes per 100,000 people, or 1.9%. That means you're less likely to get robbed in Tampa than in any other major American city.
This may surprise some people who are used to hearing about the high rate of violent crime. But Tampa's low crime rate isn't just an anomaly: it's one of the lowest Florida rates, according to The Tampa Bay Times.
The Cons Of Living In Tampa Bay
Tampa Bay is a great place to live. It's got beautiful beaches, a bustling downtown area, and plenty of entertainment options. But there are some downsides to living in Tampa that you should know about before moving here.
Extreme weather
Tampa has been called "America's Most Livable City" by Forbes magazine, but that doesn't mean it's always pleasant here. The summers are hot and humid (even more so if there's a hurricane), and the winters can get pretty chilly and snowy.
The good news is that the winter months are short-lived and rarely last more than a month or two at most, so you won't be stuck with cold weather for long when it comes around.
Plenty of snowbirds
Winter isn't the only time when people from colder climates come down to visit Tampa Bay. During the summer months, thousands of retirees move here from up north looking for warm weather and sandy beaches.
This influx of people can worsen traffic during peak tourist hours (like spring break). But even if they don't affect traffic as much as possible, they're still inconvenient because they take up parking spaces at popular destinations like Busch Gardens and Adventure Island Waterpark.
Bugs
This one is pretty self-explanatory. If you've ever visited Florida, you know it's full of bugs. The most common are mosquitoes and bees, but spiders and ants are also. Every insect you can think of lives in Tampa, so be prepared for many bug bites!
Alligators
You may have heard that Florida has alligators, but they're not just sitting around waiting to be seen by tourists—they're everywhere! They live in lakes and rivers as well as sewers and storm drains. If you're ever walking through a swampy area at night, don't assume that something small like an alligator couldn't hurt you—it could easily bite off your toe or even grab hold of your entire leg!
Wrap-up
The truth is, Tampa Bay is more than just a place where Long Islanders go for a weekend trip. Many have decided that it's the perfect place to live. It's not surprising, either. Tampa Bay has everything you could want from an area: great weather, beautiful beaches, and plenty of activities to keep you busy no matter what time of year you visit.
What's more, if you're looking for a way to make some money on the side while living in paradise, there are plenty of opportunities for that as well—you might even be able to start your own business! So if you're considering moving down South or maybe just taking a vacation there, we'd love to hear all about it!