Moving to Palm Beach Florida is Popular Among NYC Residents, but Why?
Phil Ganz
/
8 Min Read
/
Jul 18, 2022
What comes to your mind when you think of Palm Beach? Is it high society, charity balls, golf, or country clubs? Well, that's not what it is. It combines white sandy beaches, a tropical climate, palm trees with historic architecture, designer shops, and well-manicured country clubs. Well known for its tourism and shopping, this suburb community is home to about 110,000 people who enjoy the best of Florida living.
(Jun 7, 2023)
Palm Beach, Florida, has seen a population growth of nearly 14.2% in the past few years, with New York City residents making up a good portion. So what is it about Palm Beach that entices people to leave one of Earth's most densely populated places? Well, Palm Beach has plenty of things going for it – pristine beaches, a year-round warm climate, and ample opportunity for outdoor recreation, to name a few.
Between the beaches, the restaurants, and the nightlife, it's no wonder that many people are intrigued by Palm Beach, Florida. However, what may be surprising is that many of those people are actually from New York City. So what is it about Palm Beach that lures NYC residents away?
Well, Palm Beach offers a much slower pace of life than NYC does. It's a perfect place to relax and get away from the hustle and bustle of city life. Additionally, there's plenty to see and do in Palm Beach, including dining at restaurants like The Ocean Grill, which serves fresh seafood and live entertainment.
Palm Beach Overview
Also known as the Orchid City, Palm Beach, Florida, is part of Palm Beach County in South Florida. The small town is well known for its location on the water and its numerous attractions that include beaches and boating. Since its inception, Palm Beach has been a resort area, with wealthy business people and tourists flocking to it.
The city is also a popular destination for people who live in New York City. The draw of the sunny state and its opportunities is enough to make people take the plunge and move.
Why New Yorkers Move to Palm Beach
Life in NYC is a busy and fast-paced one, but moving to Palm Beach means more time and less stress. Living in the area means you'll spend less time commuting and more time relaxing. It also means you can enjoy a slower pace of life, that's great for those suffering from depression or anxiety.
Palm Beach is also an excellent place for those looking for a high quality of life. You can enjoy the warm weather year-round, beautiful beaches, and many great opportunities for fun and recreation for New Yorkers.
Many New Yorkers have moved to Palm Beach, drawn by its trendy restaurants, beautiful beaches, and luxurious resorts in recent years. But what is it about Palm Beach that keeps New Yorkers coming back?
Here are the key reasons that make Palm Beach a desirable destination for New Yorkers:
Great Weather
Palm Beach has been a popular destination for those fleeing the cold winters of the Northeast for many years. The population of Palm Beach County, Florida, has boomed in recent years as people move south in search of warmer weather.
Those who move to Palm Beach, Florida, enjoy the year-round warm weather that Florida is known for. According to Forbes magazine, Florida is the most popular state in America for retirees. The warm weather certainly contributes to its popularity! Additionally, people tend to feel happier when they spend more time outside in warmer temperatures.
Just because you're moving to Palm Beach, Florida, doesn't mean you have to lose your love of sports. The warm weather in Florida is excellent for just about every sport you can think of. You can go swimming in the ocean, enjoy a relaxing boat ride, or play golf at one of the many world-class courses found throughout the state. Or, if you're looking for something more adventurous, try your hand at skydiving or scuba diving!
Cost of Living
Another reason Palm Beach Florida is popular among New Yorkers is its relatively low cost of living. According to the Cost of Living Index, Palm Beach is one of Florida's most affordable places. While living in NYC can be relatively high, Palm Beach offers a lower cost of living with similar amenities.
The people who move to Palm Beach, FL, tend to be higher-income earners. Many are doctors, lawyers, and other professionals eligible for tax benefits such as medical expense deductions. If you're not an eligible New York City resident, there are still plenty of reasons that would make it worthwhile to move to Palm Beach, Florida!
Career Opportunities
One of the significant aspects of Palm Beach, Florida, is its strong economy. The city has become a popular choice for those looking for career opportunities in the state and even nationwide.
The area is home to various industries and companies, including technology, finance, manufacturing, healthcare, etc. There are plenty of opportunities to work in Palm Beach, whether you're looking for a job or business opportunity. It's also a popular destination for those looking to start their businesses.
Outdoor Activities
Another reason New Yorkers are so attracted to Palm Beach, Florida, is year-round outdoor activities. When you move from NYC, you'll have many opportunities to enjoy the great outdoors without worrying about snow, ice, or extreme temperatures.
Moving to Palm Beach means you'll experience all of your favorite sports and activities in a new way in South Florida. Whether you're an avid fisherman, boater, golfer, or surfer, there's no shortage of great places to indulge your passion.
Some of the top picks for restaurants in the area include The Ocean Grill and the House restaurant on Worth Avenue. Or, if you're a New Yorker looking for something more casual, try Boa's Bar and Bubbles or Haze. If you're not a fan of alcohol, ordering a cheese plate at La Carafe is another option.
Low tax
Residents in the State of Florida are not charged income tax. And in addition to its low cost of living, Palm Beach is very friendly to those who need tax help from the IRS. It has a lower IRS Tax Rate than most other states in the US, making it a good choice for those who want to save money on taxes.
You may also be eligible for medical expenses and moving deductions while living in Palm Beach, Florida. These can add a significant amount of savings to your pocketbook. Moving to Palm Beach will give you the freedom to enjoy life without stressing about money.
It's also, and it's cheaper to cash out your 401K in Palm Beach, Florida, than in most other states because you don't have to pay any state income taxes.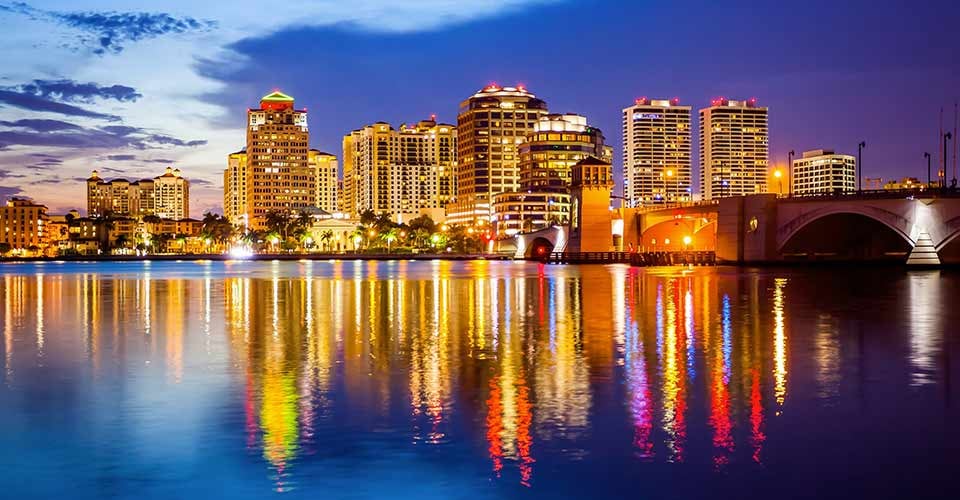 What to Know About Palm Beach Before Moving
While on vacation, you may have gotten a glimpse of Palm Beach, Florida, heard the rumors, or seen the glossy tourism photos. Regardless, here are a few things you ought to know before moving to this southern coastal community:
Housing Market
Palm Beach is a popular area for those looking for a house in Florida. While housing is relatively lower than in New York, you will still have to spend quite a bit of money to get what you want. If you're not wealthy enough to afford a house, you'll be forced to settle for rentals.
However, the cost of living is considerably low compared to most other places. With very little taxes to pay and plenty of amenities, Palm Beach is famous among retirees and young couples who are looking for a safe and beautiful place to raise kids.
The distribution of people who rent and own homes is mixed, with many homeowners settling in residential homes. At the same time, those renting luxury condos or apartments are closer to the city center. You can rent a two-bedroom apartment at a monthly cost of $1500 or purchase a three-bedroom home at an average of $237,600.
Economy and Job Opportunities
With a strong economy and low cost of living, Palm Beach has a flourishing job market. The Greater Palm Beach area has an unemployment rate of 5.1%, lower than the national average. This comes with free medical care and low taxes that help attract businesses and workers alike. The primary industries in the area are healthcare, finance, education, and manufacturing.
Palm Beach is one of the fastest-growing communities in Florida, with tourism supporting more than 60,000 jobs. In addition, many of these new businesses are technology companies and medical centers.
The jobs available in Palm Beach include medical and consulting positions that offer excellent pay and benefits. Medical professionals can earn an average salary of $180,000 annually, while accounting managers can make $124,000 annually.
Transportation and Traffic in Palm Beach
Moving to Palm Beach allows you to stay within the city limits or move further inland. The city center is only a few miles from Interstate 95 and Florida Turnpike. This gateway to Florida has excellent transportation options with plenty of bus lines and taxis and a low-fare commuter rail system called Tri-Rail that connects to Miami, Fort Lauderdale, and West Palm Beach.
The Palm Tram system operates throughout the city, owned and operated by the Palm Beach County Area Transit. This service is free and comes with low frequency during rush hours. If you can't find a ride, you can always rent a car to get around town or use your vehicle.
The major roads in Palm Beach are primarily designed to accommodate one-way traffic that allows cars to go at high speeds on the interstates. However, many side streets are two-way and offer driving fun and convenience.
Government
Palm Beach is a city in Palm Beach County, and Palm Beach County is a county in South Florida. It has its government structure with a mayor, council members, and commissioners who serve on the countywide governing board and local councils for each of the five towns where most residents live.
The municipality is divided into several branches, each with specific goals and functions. The city has a mayor and a five-person commission elected to four-year terms. The government's departments include the administration, finance, public works, police department, and fire-rescue services.
What to Do in Palm Beach
Palm Beach has many fun activities for you and your family. You can enjoy the beautiful beach and weather, go to one of the many museums and art galleries, or play a game of golf on one of the well-known courses. There are plenty of family-friendly attractions in the area to enjoy with your loved ones.
You can also spend a day at The Gardens Mall or enjoy shopping at Town Center Mall or City Place. You'll find plenty of things to do in the area, including restaurants and nightclubs that serve cuisines and drinks.
You can enjoy the spectacular view with your family on the beach or have a fun time at Sunset Cove. There are many golf courses in Palm Beach that you can choose from. You'll find everything here, including places to shop, dine, and relax.
Utilities in Palm Beach
Being one of the most critical living elements, utilities are always important things people are concerned about when moving to a new location. In Florida, you will find all the utilities you need. Here are some standard utilities here:
Water and Sewage - Drinking water, sewage, and stormwater are managed by the Palm Beach County Water Utilities Department.

Natural Gas - There are three natural gas providers in Florida Public Utilities, Tampa Bay Energy, and Gulf Power.

Electricity - The electrical grid is managed by Florida Power & Light.

Telephone and Cable Television - AT&T Inc., Verizon, Comcast, Bright House Networks, Charter Communications Inc., and Century Link are some significant providers here.
In Palm Beach, you will find everything from automatic payment plans, online accounts, and online tools to maintain your accounts online, and even 24/7 customer service contacts with representatives who will help you out in any way they can.
Beach Facilities in Palm Beach
There are hundreds of restaurants and shops in the area to enjoy. You'll find everything from casual eateries to elegant upscale places. There are also many nightclubs in the city where you can have fun and even dance the night away.
If you would rather stay indoors, there are plenty of museums and art galleries for you to visit. You'll find everything from science museums to planetariums to art galleries. There are also casinos, bowling alleys, and theaters in the area where you can enjoy your favorite shows and performers.
Pros and Cons of Living in Palm Beach, Florida
With the area continually attracting new residents, living in Palm Beach has its fair share of pros and cons.
Pros
Ample Outdoor Recreation – You have plenty of outdoor recreation options, including the beach, boating, fishing, golfing, exploring natural environments, hiking, and visiting parks.

The Tropical Heat – the weather in Palm Beach is tropical and warm and remains above freezing point all year round.

Shopping – you have a wide range of shopping options available to you in the area, including high-end malls, chain malls, local boutiques, and the latest merchandise stores. Palm Beach also has a wide range of restaurants, from casual eateries to elegant upscale places.

Entertainment – you can enjoy the entertainment your city offers with various local clubs, theaters, and music venues.

Celebrities – you can meet more than a few celebrities if you are willing to pay a little extra attention to what is going on in the city. The presence of influential celebrities and celebrities' families in the area will make you feel like you are living in the lap of luxury.
Cons
Alligators – A lurking alligator is likely to conceal just more than a few inches deep in any water.

Hurricane Risk – The area will experience a tropical storm or minor hurricane semiannually.

Traffic – The significant thoroughfares in Palm Beach are just as unpredictable as the weather and can clog without warning.

Cost of Living – The price of housing and amenities is driven by affluent neighbors and Tourists.

Mosquitoes – Known as home to 80 varied species, these disease-carrying vermin are likely to pester in summer.
But you don't have to be discouraged; friendly neighbors at Palm Beach have strategies and can manage these minor nuisances, and the environment is very adaptable. Despite the few cons of living in Palm Beach, it is one place that would meet your lifestyle needs completely.
Bottom Line
The location, natural beauty, and overall lifestyle of Palm Beach make it a great place to invest. You can find a wide choice of homes for sale in the area ranging from small single-family units to large luxury mansions.
The area offers many amenities, including top-of-the-line restaurants, fine shopping establishments, and cultural and educational facilities. The weather is tropical and warm all year round, and there are plenty of outdoor recreation options.
If you are looking for a perfect place to live, Palm Beach is an excellent place to consider. It will bring out the best in you and will help you achieve all of your goals, providing you with many great opportunities for a better future.