Port St. Lucie's Mortgage Rates and Top Reasons to Relocate
Phil Ganz
/
10 Min Read
/
May 08, 2022
(Mar 31, 2023)
Besides the sun, sand, and surf, the third-largest city in South Florida combines small-town charm with the appeal of a big city. Minus the traffic and exorbitant cost of living, of course!
Relocating to Port St. Lucie gives you the perfect blend of proximity and convenience, paired with rarefied peace and quiet.
Dig in as we explore various reasons to relocate to Port St. Lucie and what you can do to make your homeowning journey smooth and seamless.
Local Attractions in Port St. Lucie, Florida
Port St. Lucie is the home to surf, sand, and sun. Moving to this coastal town links you up with 21 miles of pristine beaches. More than half of the beaches in Port St. Lucie are on public land, so they're not going away anytime soon.
You can explore, walk, hike, bike, picnic, and enjoy more than 40 parks within the town. You can cruise along the St. Lucie River and other water bodies as you enjoy a lazy fishing trip. Port St. Lucie is a golfer's paradise, and you can enjoy teeing off at many top-level courses, including St. James, PGA Village, and the Savannah Club.
Buying a home in Port St. Lucie puts you a stone's throw away from major attractions such as Legoland, Disney World, and Marlins Park.
Great School District in Port St. Lucie, Florida
The St. Lucie Public Schools is out to provide a safe and secure learning environment. More than 85% of students graduate high school, and nearly 20% acquire a bachelor's degree.
The St. Lucie County public school district oversees:
six high schools
Three middle schools
12 K-8 schools
19 elementary schools
The St. Lucie Public Schools use an open-enrollment system to help families pick the best and most convenient schools. You can take your kids to any of the 30 private schools in the district.
Parents get to enroll their kids in the schools closest to their homes and are assured that the student remains in that school. The school district doesn't redraw school boundaries annually or move children to different schools involuntarily.
Port St. Lucie has many research facilities, including the USDA Horticultural Research Laboratory, FAU's Harbor Branch Oceanographic Institution, and The Smithsonian Marine Station at Fort Pierce.
Look no further than Port St. Lucie when looking for a family-friendly neighborhood in the sunshine state. The town is smaller and more affordable than the larger cities in the south. Your kids will appreciate its small-town feel coupled with big-city amenities.
You get to raise your children in a laid-back environment surrounded by friendly neighbors. Unlike the big cities, the suburbs are slow-paced, and neighbors wave hello in passing and even stop for a chat. Your neighbors will stop by to introduce themselves once you move into the neighborhood.
Port St. Lucie neighbors have a friendly vibe, low crime rates, and many families and retirees. Your kids can enjoy peaceful nights surrounded by kind and friendly neighbors.
Since Port St. Lucie is a natural paradise, it's brimming with outdoor activities. Your kids will be spoilt for choice when it comes to outdoor activities in more than 40 parks and recreational facilities, including
Hiking
Biking
Hunting
Kayaking
Fishing
Why It's Good for Single Person to Move to Port St. Lucie, Florida
Recently single or still searching for that special someone? You might luck out by moving to Port St. Lucie. The coastal city is busting with sun, fun, and friendly folks. Here you won't find the cold aloofness and suspicion rife in the big cities.
People are warm, hospitable, easygoing, and love the outdoors, creating numerous avenues to run into your special someone. Still, moving to the coastal town improves your financial prospects. Port St. Lucie has a lower cost of living while offering numerous employment opportunities. Moving here lowers your cost of living and may enhance your financial security.
The coastal town has a diverse real estate market characterized by single and family housing. The town's real estate market is vibrant and is on an upward trajectory. Young investors can profit from this dynamic market long before settling down and starting a family. Port St. Lucie is brimming with charming restaurants and an active nightlife to let you enjoy your youth to the fullest.
Job Opportunities in Port St. Lucie, Florida
Port St. Lucie enjoys a vibrant economy, and the job market is making a remarkable post-pandemic resurgence. The metro area's job market is comparable to the neighboring regions, which spells good news for first-time homeowners in the coastal town.
According to the Bureau of Labor and Statistics, Port St. Lucie has a civilian labor force of more than 227,000 as of March 2022. That employment rate dipped during the pandemic but bounced banked to pre-pandemic levels in November 2021.
In 2019, Port St. Lucie's employment opportunities peaked at 218,000, representing a 10.6% increment over the previous year. Sales-related jobs, office and administrative, and management jobs were in high demand.
There are almost 20,000 government jobs in Port St. Lucie. The job opportunities are spread across various industries, including manufacturing, finance, business services, trade and transportation, mining, construction, and logging. Other vibrant sectors include leisure and hospitality, education, health, and information technology.
Port St. Lucie has more residents working Personal Care and Service jobs, sales, installation, maintenance, and repair jobs than the surrounding metro areas.
Some of the top employers in the health care sector include HCA Florida St. Lucie Hospital, Cleveland Clinic Martin Health, and Port St. Lucie Hospital.
Income Levels in Port St. Lucie, Florida
The median income per household in Port St. Lucie is $62,380, and it varies between counties. At $90,356, St. Johns County had the highest median household income in Port St. Lucie. Clay and Collier's counties came a distant second and third with $76,687 and $76,025.
At $23,945, Port St. Lucie has a lower income per capita than the Florida and national average at $27,598 and $29,829, respectively.
On average, male employees make $46,953 a year, which is 1.34 times higher than the average income of female employees. Surprisingly, the income inequality in Port St. Lucie is lower than the national average.
In 2019, the largest industries in the coastal town of Port St. Lucie were Construction (21,986 workers), Retail Trade (32,553), and Health Care and Social Assistance (32,766).
By median earning, Architecture and Engineering Occupations are the highest paid jobs in Port St. Lucie, with an average salary of $65,533. Computer science and engineering jobs come in a close second with $61,552. Technical occupations, including Health Diagnosing and Treating practitioners, are third with $60,596 a year.
The highest paying industries in Port St. Lucie include Enterprises and management at $112,500, Utilities at $62,328, and Warehousing and Transportation at $51,998.
Homeownership in Port St. Lucie, Florida
You're in good company if you plan to buy a home in Port St. Lucie.
Over 78% of residents in Port St. Lucie are homeowners.

The median price of a typical Port St. Lucie home is $372,850.

The current home price is 31.5% higher compared to the previous year.

There's a growing demand for Port St. Lucie homes, with 615 units sold in March 2022.

On average, Port St. Lucie homes sell after 35 days on the market, while hot homes fair better.

Hot homes sell within nine days and are usually 3% above the list price.

A 30-year fixed-rate mortgage in Port St. Lucie, FL, carries a 4.858% interest rate.

The mortgage rates drop to 4.122% for a 15-year fixed-rate mortgage, but a 5/1 adjustable-rate mortgage has the lowest rate at 3.94%.
Based on these lending figures, median home value, and a 10% down payment, you need an annual income of $61,090 to purchase a house in Port St. Lucie.
If your monthly expenses are reasonable, this income makes you eligible for a $335,565 home mortgage.

The mortgage would carry a monthly repayment of $1,415.
The mortgage term affects your loan terms, eligibility, and the home you can afford to buy in Port St. Lucie, even with this income. A Port St. Lucie mortgage calculator can help shed light on this issue. A mortgage calculator lets you crunch the numbers when planning to buy a home.
A home loan calculator compares various interest rates, mortgage terms, home prices, credit scores, deposits, etc. It offers insights into how each factor affects the cost of your dream home in Port St. Lucie.
Using a mortgage calculator lets you make informed decisions when buying a home. It also enables you to take corrective measures to help you qualify for the mortgage loan and lower interest rates.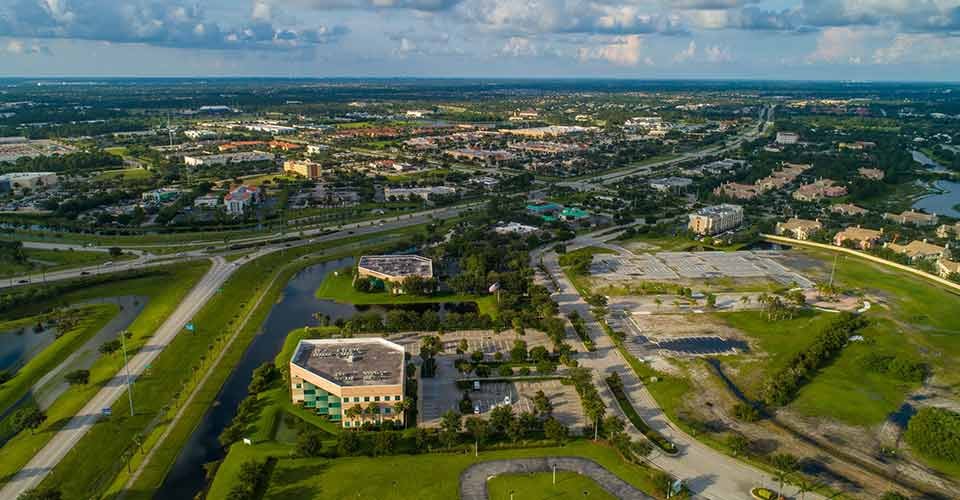 Why Port St. Lucie, Florida is a Great Place to Live
Port St. Lucie is a growing metro area comprising 35 neighborhoods. Some neighborhoods are established, newly developed, or currently under construction. The variety gives homeowners great options when choosing their forever home. You can join an established community or move into a new development and form your community from scratch.
The Neighborhood Improvement & Community Engagement (NICE) Program gives Port St. Lucie an edge over the neighboring metro areas. Overseen by the City's Neighborhood Services Department, the NICE program fosters community engagement and cohesion. The program facilitates bi-annual, in-person meetings in 27 of the established neighborhoods.
These meet-ups help the community envision and formulate plans and programs to be adopted by the City Council. Established in 2019, the NICE Program allows Port St. Lucie residents to be heard.
The meetings are open forums that enable residents a chance to build healthy neighborhoods.

Residents meet up in Spring and Fall.

They meet to identify concerns, discuss pressing issues, resolve conflict, and implement solutions that improve their quality of life.

They develop and implement new projects such as bike racks, parks, fitness stations, pet waste stations, and green spaces to revitalize and improve the neighborhoods.
Buying a home in Port St. Lucie affords you a chance to build the ideal neighborhood. The neighborhood meetings facilitate, encourage, and maximize your input and participation in all neighborhood initiatives. Homeowners in Port St. Lucie have a rare chance to build vibrant, healthy neighborhoods where families thrive.
Florida is one of the nine states in the US with no income tax. But it doesn't stop there. Moving to Port St. Lucie affords you a chance to lower your tax burden. The state won't tax your income, letting you keep more of your hard-earned money.
Besides letting you keep most of your paycheck, the State of Florida charges no inheritance or estate tax. The lack of death taxes makes Florida and Port St. Lucie a prime destinations for retirees. Even though you're on the hook for other taxes, the state goes the extra mile to make them more affordable.
Property taxes are assessed at the county level, and none of it goes to the state government.

The property taxes vary between counties and are assessed based on property value from January 1st of every year.

The Save Our Homes Program (SOH) caps the property tax at 3% of your property value or the Consumer Price Index change, whichever is lower.
The Homestead Property Exemption
But wait, it gets better. The Homestead Property Exemption lowers your tax burden even further. If you own a permanent residence for you or your dependents in Port St. Lucie, you may be eligible for a $50,000 tax exemption.
The first $25,000 covers all property taxes, including school district taxes. The remainder applies to non-school taxes.

Senior homeowners in Port St. Lucie (65 years and older) are eligible for an additional $50,000 or full property tax exemption.

Disabled homeowners are eligible for a $500 exemption.

Other notable groups, including active-duty military and veterans, are eligible for property tax exemptions.
Moving to Port St. Lucie lowers your tax burden because the Florida state government doesn't collect income and death taxes. Unlike most states, Florida relies heavily on the sales and use tax from its booming tourist economy for revenue generation.
Despite collecting other forms of taxes, including fuel, corporate, documentary, and stamp taxes, Florida remains one of the states with the lowest tax burdens in the country.
Professional Sports Team
Relocating to Port St. Lucie means you don't need to travel for miles to get a fill of America's favorite pastime. Built-in 1988, Clover Park is a 7,160-seat baseball stadium in Port St. Lucie.
It's the spring training venue for the New York Mets, Gulf Coast Mets Rookie League team, and St. Lucie Mets Class A team. Scoring the spring training tickets might be a costly affair but will be well worth the splurge.
Finding a Mortgage in Port St. Lucie, Florida
On average, you need north of $372,000 to become a homeowner in Port St. Lucie. At the current mortgage rates, you need to earn at least $61,000 a year to join the ranks of homeowners in this beautiful coastal town.
If you qualify for a 30-year fixed-rate mortgage loan, you'll need to raise $1,415 a month to service the loan.
Here are some helpful tips to increase your chances of qualifying for a mortgage and lower your mortgage rates.
Improve Your Credit Score
Whether taking out a conventional mortgage, VA, FHA, or any other home loan, you need a high credit score. Lenders use your credit score as a measure of creditworthiness.
High FICO credit scores, preferably over 740, prove you're in excellent financial health and entitle you to lower interest rates. A low credit score marks you as a risky borrower leading to high mortgage rates.
Bolster Your Income
Lenders calculate your mortgage based on your yearly income. You might have difficulty qualifying for a mortgage in Port St. Lucie if you make less than $60,000 a year. Don't let that crush your dreams of owning a home in the sunshine state.
Taking reasonable measures to bolster your income will increase your chances of becoming a homeowner. You can take up an extra shift at work, get a second job, moonlight, join the gig economy, anything to earn a legal buck. Cash in on the current labor crunch and use the higher-than-average wages to fortify your finances.
Raise a Higher Down Payment
The money you pay as PMI doesn't go towards repaying the mortgage or building equity in the home. While most lenders will let you buy a home with a 10% down payment, a 20% deposit is better.
Anything less than a 20% deposit triggers Private Mortgage Insurance, which raises the cost of your monthly payment.
Building Your Credit History
A mortgage is likely the most significant debt you'll carry in your life. Cognizant of this fact, lenders go the extra mile to reduce exposure. They'll launch a deep dive into your financial history to understand how your treat your creditors.
They want to know if you pay your bills on time. Take the time to ensure that your credit history is spotless when applying for a mortgage. Pay all your bills in full and on time, and ensure that none of them goes to collection.
Lower Your Debt Burden
Lenders are likely to approve your mortgage loan application if you have a low debt burden. Banks use your debt to credit ratio or credit utilization to determine your credit limits. Ideally, it would help if you had a debt-to-credit rate of 30% to qualify for a mortgage rate.
Fear of your ability to repay, Lenders will decline your application if you're carrying too much debt. Creating a debt repayment plan and increasing your income can help lower your credit utilization.
Crunch the Numbers
First-time homeowners often make the cardinal mistake of rushing through the home buying process. Please don't fall into this trap, as it increases the likelihood of losing your home.
Using an online mortgage calculator can help you determine how much money you need to repay a mortgage each month. Crunching the numbers allows you to determine how much home you can afford. It keeps you from taking out a mortgage that you cannot service.
Get Your Dream House on the Sunny Port St. Lucie, Florida
Getting friendly mortgage rates is the primary concern for any first-time homebuyer. If looking to relocate to Port St. Lucie, don't the allure of the sun, sand, and surf deter you from your due diligence.
Make every effort to improve your creditworthiness, including growing your income, boosting your credit score, and lowering your debt burden. There are numerous home loan calculators to help you make sense of the numbers.