Relocating to Fort Myers? Here's What Living Here is Like
Phil Ganz
/
8 Min Read
/
Mar 25, 2022
Here is what to expect when living in Fort Myers.
The Beaches Are Incredible
Perhaps the most enticing aspect of living in Fort Myers is its proximity to the beaches. One of the best-known beaches is on Sanibel Island.
Miles of white-sand beaches and turquoise waters await you on Fort Myers Beach and Bonita Beach. Explore the underwater world while snorkeling or scuba diving, take a kayak out into the Gulf of Mexico, or a boat ride along the coast.
People Here Have a Laid-Back, "Go with the Flow" Attitude
When you are living in Fort Myers, you'll quickly notice that people here have a laid-back attitude compared to those who live in larger cities. They are friendly and don't let things stress them out too much. This can be appealing for anyone trying to cut back on their stress levels or slow down their pace of life.
Interested in relocating to Florida? Learn why it's such a popular relocation destination by clicking here!
You'll be able to find any type of food you crave close by
The Fort Myers area offers a diverse array of food, from local fare (grouper and scallops, anyone?) to international cuisine. If you love Indian food, there are several top-rated eateries in town, and if Central American dishes are your thing, you'll find plenty of restaurants that serve those too. When living in Fort Myers, you can find many options for breakfast and brunch or just some good old comfort food.
There are many parks and trails to explore
Fort Myers is surrounded by nature. The city is located on the Caloosahatchee River and is only a short drive away from the Gulf of Mexico. It's also close to numerous state parks and wildlife preserves, where you can explore hiking trails and kayaks through mangrove forests. When living in Fort Myers, be sure to check out Florida Panther National Wildlife Refuge and the JN "Ding" Darling National Wildlife Refuge while you're here!
Raising Kids in Fort Myers
When living in Fort Myers, there are many great neighborhoods with schools for kids to go to that range from elementary school through high school. Some of the top schools in the area include:
1. Fort Myers High School
Fort Myers High School is one of the oldest schools in Lee County, opening its doors to the students in August of 1924. The school was originally built for a population of 1,500 students, but today's enrollment has doubled. Address - 1501 Edison Avenue, Fort Myers, FL 33901.
2. Riverdale High School
Located in Fort Myers, Riverdale High School is part of the Lee County Public Schools district and has approximately 2,800 students and 28 varsity sports. The school offers a variety of programs and clubs, including JROTC, STEM program, and many others. Address - 2600 Buckingham Road, Fort Myers, FL 33905
3. North Fort Myers High School
North Fort Myers High School is proud to be an International Baccalaureate (IB) World School. It offers an international curriculum that encourages students to become active learners who respect themselves and others. Address - 5000 Orange Grove Boulevard, North Fort Myers, FL 33903
4. South Fort Myers High School
South Fort Myers High School is the best school in Fort Myers and has a rating of "A." It is located at 14020 Plantation Rd, Fort Myers, FL 33912, United States. The school was founded in 1997 and currently has 2,051 students.
The school has an average graduation rate of 98%. The average AP enrollment is 83%, while the average SAT score is 1337. The school uses the Lee County Public Schools district.
5. Mariner High School
Mariner High School is the second-best school in Fort Myers and has a rating of "A." It is located at 18120 N Cleveland Ave, North Fort Myers, FL 33903, United States. The school was founded in 1988 and currently has 1,957 students.
The school has an average graduation rate of 96%. The average AP enrollment is 59%, while the average SAT score is 1188. The school uses the Lee County Public Schools district.
6. Lehigh Senior High School
One of the best schools in Fort Myers, Florida, is Lehigh Senior High School. Since its founding more than fifty years ago, the school has won numerous awards and recognition awards. The students come from diverse backgrounds and cultures, making for an interesting learning environment for everyone involved. This school offers several extracurricular activities that allow students to enjoy themselves while learning.
Once kids graduate from high school, they will attend Florida Gulf Coast University, which is located in Fort Myers.
The downtown area is pretty happening
People who like spending time in city centers will enjoy living in Fort Myers. As you drive into town, you'll see the buildings rise up above the road, and once you get into this area, there are plenty of shops and restaurants to visit.
One thing that really makes the downtown area stand out is the wide sidewalk that runs along First Street, which features some lovely art installations. If you like seeing colorful sculptures and murals as you stroll around town, you'll be glad that you moved here.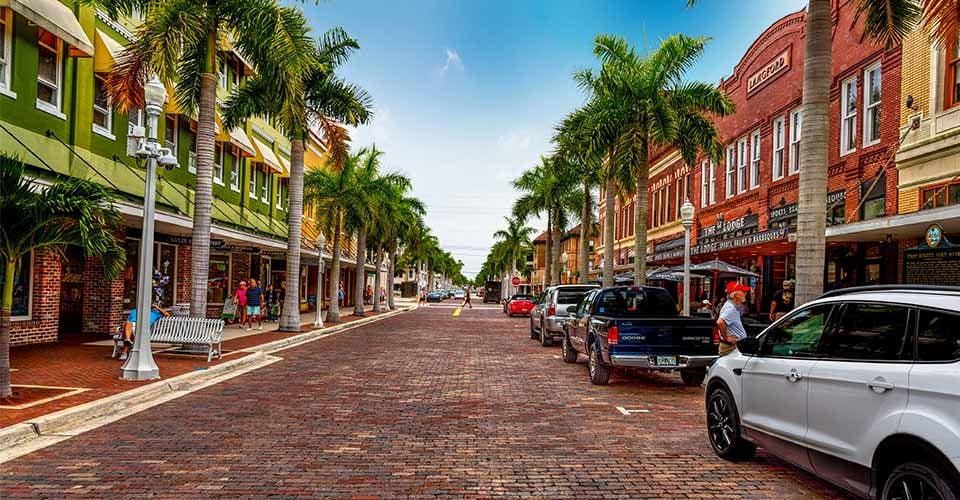 Finding entertainment is not a problem
There are plenty of concert venues in the area, and several professional sports teams play nearby. Fort Myers has multiple museums, including the IMAG History & Science Center and the Southwest Florida Museum of History. Other great venues for an evening out include:
Arcade Fire - Open seven days a week at 5 pm. This is a friendly neighborhood bar in the heart of downtown Fort Myers. A jukebox, pool table, and lots of great people to help you have a good time.

The Lunch Box - The Lunch Box is Downtown Fort Myers Premier Sandwich Shop. Delivery Service Available.

City Tavern Restaurant and Bar Fort Myers - City Tavern Restaurant and Bar Fort Myers are one of the best bars in Ft. Myers featuring an awesome menu with fresh seafood and steaks along with a full liquor bar including handcrafted cocktails made by our professional bartenders while enjoying a live band in our very own music hall. Come down to City Tavern Restaurant and Bar Ft. Myers for lunch or dinner!

The Barrel Room at the Firestone - The Barrel Room is an upscale casual restaurant offering American cuisine with many Italian influences. Located in the Historic Firestone Building in Downtown Fort Myers, Florida, across from the Harborside Event Center, the Barrel Room offers Indoor/Outdoor dining.

Gator Lanes - Gator Lanes is a Fort Myers, Florida-based bowling alley and sports bar. Their bowling alley offers quality entertainment for the whole family!

Pinchers Crab Shack-Fort Myers Beach - Pincher's Crab Shack has been serving fresh seafood since 1993. They are dedicated to serving you only the best seafood caught in our local waters and beyond.

The Gator Show at the Broadway Palm Theatre - If you're looking for a little something different when living in Fort Myers, head to the Broadway Palm Theatre where you can catch "Gator Boys Alligator Rescue" — a show that combines comedy, stunts, and alligators. Based on the popular Animal Planet television series, "Gator Boys," this show offers educational segments alongside alligator wrestling (and even an alligator kiss cam).
Spring Training Baseball
Fort Myers is home to both the Minnesota Twins and Boston Red Sox spring training teams. These teams compete against other Major League Baseball teams in Florida during Spring Training season at the two stadiums located in Fort Myers - JetBlue Park at Fenway South and Hammond Stadium at CenturyLink Sports Complex.
Cruises to Sanibel Island
One of the best ways to experience Fort Myers is from the water. Cruises on the Fort Myers Princess or the Tropical Breeze offer great views of the scenic Gulf Coast, including passing dolphins and other wildlife. If you want to get up close and personal with dolphins and manatees when living in Fort Myers, take one of the dolphin- and wildlife-watching tours offered by Pure Florida.
Lakes Regional Park
This large park features a fishing pier overlooking a freshwater lake, a skate park, and nature trails. It's also home to the Lakes Regional Library if you're looking for a place to read or use free Wi-Fi. While there are no beaches here, it's a good place for picnics, hiking, or simply enjoying some fresh air.
Florida Repertory Theater
This theater group produces and performs six shows a year, ranging from classics to contemporary works. The theater has been around since 1995, but it's relatively new to the Fort Myers River District — in fact, the venue is opening its second stage, the Historic Arcade Theatre, for the first time in 2017.
The Art of the Olympians Museum and Gallery
The Art of the Olympians Museum and Gallery is a unique museum that houses artwork from Olympic medal winners. The museum was founded by Al Oerter, a four-time discus thrower champion who died of heart failure in 2007.
A selection of his paintings is on display, along with other pieces from artists who have won Olympic medals. The Art of the Olympians holds rotating exhibitions for its collection, so you'll always find something new when you visit.
It's an affordable place to live
If you want to move somewhere more affordable than where you live now, then Fort Myers might be a good choice for you. The average cost of living here is 4 percent lower than the national average. Housing prices are 23 percent lower than average across the country as well. With less money spent on housing costs, you have more money available for recreation and entertainment every month!
You can have a lot or just a little space for your home
Fort Myers has something for everyone regarding its housing options, from small bungalows to sprawling golf course estates. There are large gated communities with resort-style amenities like pools and tennis courts and age-restricted communities that cater to retirees. And if you want to live near the water, there are many waterfront neighborhoods to choose from along Estero Bay.
There's so much natural beauty around here
Fishing, boating, kayaking, hiking, and other outdoor activities are part of daily life in Fort Myers. With the Caloosahatchee River running through the city, there are plenty of places to get out on the water for some fishing or boating fun.
There are also several beautiful state parks within a short drive of Fort Myers. Lovers Key State Park has been named one of the top 10 beaches in Florida by Conde Nast Traveler Magazine, while Bonita Springs has 2 miles of sand that overlook Estero Bay and the Gulf of Mexico.
It's safe
Fort Myers has a reputation for being one of the safest cities in Florida, thanks to its low crime rate. The violent crime rate was only about half that of the national average according to data from 2018, and property crimes were also notably lower than most places in America. However, police are still investigating cases of human trafficking in Fort Myers and nearby Cape Coral, which may contribute to an uptick in crime rates in these areas once police reports are filed.
It's a retirement haven
Fort Myers has many retirement communities, including well-known names such as the Shell Point Retirement Community, the Del Webb community, and Sun City Center. But Fort Myers isn't just for retirees — it's also home to Florida Gulf Coast University (FGCU), a popular school with a strong athletic program. Plus, Fort Myers is a hub of business activity thanks to its booming Southwest Florida International Airport, making it easier for people to travel to and from this part of the state.
There are no state income taxes in Florida
Since there is no state income tax in Florida, you'll have more money to spend on other things — like buying your dream home in paradise. The cost of living in Fort Myers is relatively low compared to other beach towns in Florida and the rest of the United States.
Learn more about other benefits that Florida Residents have by clicking here!
There is a thriving art scene in Fort Myers
The city has a thriving art scene with several museums, theaters, galleries, and more. In addition, near some of the most beautiful beaches on earth – almost every neighborhood has easy access to the Gulf Coast's white sandy beaches!
Natural beauty
The area has many natural landmarks and wildlife preserves, such as the Babcock Ranch Preserve and Six Mile Cypress Slough Preserve. You can also visit the Calusa Nature Center & Planetarium, which has a butterfly house, bird aviary, and reptile house, among other attractions.
Fort Myers is surrounded by gorgeous beaches and mangroves, making it a great place to live if you love the outdoors. The area has plenty of boating, fishing, kayaking, and birding opportunities.
Extensive coastal access
Fort Myers is on Florida's Gulf Coast, so you have easy access to the water. If you want to catch some rays, go for a swim, or enjoy the view, head out to Fort Myers Beach or Sanibel Island.
You're never far from the beach. You don't even have to drive far to see beautiful sunsets nearly every night of the year.
Plenty of golf courses
If you enjoy hitting the links, you have plenty of options when living in Fort Myers. There are public golf courses throughout the town and nearby communities like Naples (about 25 miles away). Each year, the Fort Myers area attracts many golf enthusiasts because of its good weather and open fairways.
The Weather
The weather in Fort Myers is mild enough that people call it "the City of Palms." Temperatures rarely dip below 65 or rise above 93 degrees Fahrenheit all year long. There are no snowstorms here! If you're looking for a warm place to live with low humidity and lots of sunshine, this is the right place for you!
Wrapping Up
There are many great reasons to move to Fort Myers, Florida. We've just laid out some of our favorites, and we hope you enjoyed them. If you're on the fence about moving to such an incredible city as Fort Myers, FL, hopefully, these benefits have helped you make your decision.
And if you're already a resident, no doubt these reasons will help convince your friends and family that there's never been a better time to relocate. Regardless of where things fall for you, hopefully, this article has provided some insight into why so many people choose Fort Myers as their home and chosen lifestyle.
Interested in learning about becoming a resident in Florida or moving there? Read more.