Sarasota Florida: Among the Best Places to Retire in 2023
Phil Ganz
/
8 Min Read
/
Apr 24, 2022
This Florida oceanside city also features the facilities that seniors need such as local hospitals and work options for those wishing to supplement their retirement income.
Many visitors are enticed to Sarasota's world-class beaches at first. Sarasota, located on the Gulf of Mexico, boasts miles of beaches ranging from popular to isolated. Siesta Key's quartz sand is fine and powdery, keeping it cool even on scorching days.
But it's not just the seaside breezes and waving palm palms that make Sarasota an appealing retirement destination. The region is also known for its lush golf courses, art, and cultural treasures, and it hosts many major events, including the Sarasota Film Festival and the Sarasota Chalk Festival.
With the stunning setting, innumerable opportunities, and world-class amenities, it shouldn't come as a surprise to anyone that Sarasota is widely considered the best place to retire in the U.S. according to the U.S News and World Report. Read on to find out what makes Sarasota the number one destination for retirees in Florida.
Reasons To Retire In Sarasota
1. Excellent Weather
They don't call Florida the Sunshine State for no reason. All the cities in this glamorous state enjoy fantastic weather all year round, and Sarasota is no different. Expect your retirement in this beautiful beach city to look like a postcard with a lovely sky and plenty of sun.
Your friends and relatives will be delighted by the photos you send them sitting on the beach reading a new book or snorkeling in the deep blue waters of the Atlantic. There are several beach possibilities in the Sarasota region, and you may even consider setting down somewhere with a pool.
Make sure you have enough sunscreen on hand and get rid of any unnecessary clothing as you're in for hot tropical weather throughout the year.
2. Superb Healthcare and Assisted Living Facilities
Even if we don't like to accept it, aging comes with its share of aches and pains. This is why it is critical to select a retirement location that offers access to top-tier medical facilities.
Fortunately, Sarasota is home to several top-rated hospitals such as Sarasota Memorial Hospital as well as assisted living facilities. These assisted living facilities provide several advantages, such as a social atmosphere and dedicated personnel. Even if you can live independently, you and your family may rest assured that there are several well-trained doctors in the region.
Some of the best assisted-living facilities in Sarasota include:
Grand Villa of Sarasota
The Grand Villa of Sarasota has a 24-hour team on call, including licensed personal caregivers and a staff nurse. Medication management is available to residents for a nominal price in addition to the monthly room and board charges. Personnel at Grand Villa are on hand to assist residents with medical appointment scheduling and transportation, as well as medication ordering and delivery.
The monthly charge includes daily and weekly housekeeping, linen, and personal laundry. Group transportation is provided for organized expeditions to cultural and entertainment destinations in Sarasota and surrounding Tampa, as well as medical appointments, shopping, and banking visits into town.
Atria Sarasota
For its independent and assisted living clients, Atria Sarasota provides a variety of spacious floorplans. The community's apartment houses all include fully outfitted kitchenettes, walk-in closets, and private thermostats. Each level has a washer and dryer for those who choose to do their laundry, however, housekeeping and linen service is offered weekly. Rooms provide amenities including in-house Wi-Fi, satellite or cable TV, a free landline phone network, and an in-room emergency call system that residents can dial to summon assistance as required.
Meals are cooked by staff chefs and served in a restaurant-style dining area with full service. Residents and visitors can also request private dining rooms which are offered on a first-come basis. The facility also has a communal barbecue which offers outdoor dining, with meals cooked on the grill.
DeSoto Palms Assisted Living Community
DeSoto Palms Assisted Living Community is staffed by experienced and qualified caregivers who are on call 24 hours a day to help residents with personal care requirements such as personal hygiene and prescription assistance. Guests are kept secure by an electronic call system and have the alternative of visiting the facility's outpatient clinic to see the on-site doctor.
Group events, such as planned excursions, leisure trips to the beach, and shopping, are arranged regularly and residents can enjoy access to free transportation if they need to go outside for shopping trips, religious services, and doctor's appointments. The facility also features community amenities including a playroom, sauna, beauty salon, and properly-stocked cafe with an international selection of coffee and tea.
Chef-prepared meals are provided at all times in the open seating mess hall as well as in the private dining rooms allocated for residents and their visitors.
Heron Club at Prestancia
The Heron Club at Prestancia provides its residents with opulent resort-style lodging in spacious luxury residences with balconies overlooking golf resorts and beautiful private ponds. There are studio and one-bedroom apartments available, all with walk-in closets, stocked kitchenettes, and a round-the-clock emergency response system.
The all-inclusive monthly plan includes weekly housekeeping and laundry service, and residents and residents are allowed to keep pets, although a deposit may be charged for some animals. Excellent chefs prepare three meals each day from seasonal menus, using strictly fresh produce.
Residents can also request special menus that are prepared to meet their unique medical and cultural requirements. As if that's not enough, every day, there is a happy hour in the bistro-style mess hall, where beverages and nibbles are served all day.
3. Restaurants and Other Dining Opportunities
Every once in a while, we all have those evenings when we don't want to go through the hassle of preparing a meal. Fortunately, retirement in Sarasota means an abundance of wonderful cuisine and fine restaurants that serve tasty and healthy meals.
You'll never run out of alternatives, whether you want to wear more casual apparel to a beach bar or dress up for a gourmet dinner. The downtown Sarasota region provides a variety of possibilities in a convenient location. This also means you'll have lots of sites to show relatives and visitors when they come to visit.
4. Proximity To Top-Rated Vacation Spots
Although Sarasota has everything you could want in a retirement destination and more, it's still pleasant to get away for a few days every once in a while. The good news is that by retiring here, you'll be near attractions like Disney World and The Kennedy Space Center.
You could even travel a few hours down to Miami for a mojito or continue on to The Keys if you want to. When it comes to living in South Florida, the vacation possibilities at your disposal are virtually endless.
5. Affordable Housing
Although Sarasota isn't the cheapest destination to retire in Florida, the affordable housing makes it possible for seniors on a tight budget to live near the beach. In Sarasota, it costs a median of $1,531 per month to purchase a home with a mortgage and roughly $1,209 per month to rent.
The typical house value among those aged 60 and older is $245,000, however, housing expenses vary greatly depending on the location. It will cost more to buy a property near the beach, downtown, or in one of the top golf communities. However, if you are content simply being here, you may discover less costly areas to rent or purchase a home.
6. No Income Tax
One of the best things about retiring in Florida is the fact that the State does not levy income tax. As a retiree, this is a huge advantage for you as you won't be expected to pay any income tax on pension or Social Security income as well. This means you get to keep more of your income and use it to enjoy yourself in whatever way you deem fit.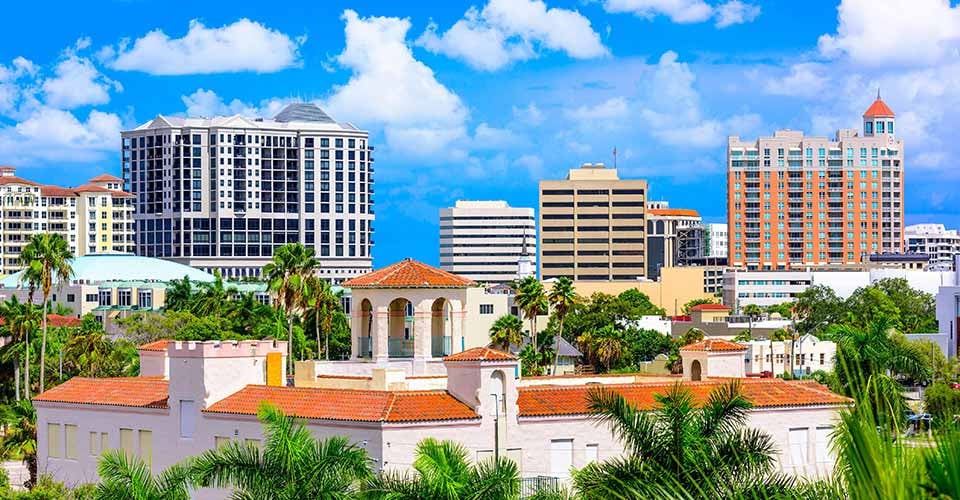 Top Attractions And Things To Do In Sarasota, FL
1. Siesta Key Beach
Even if you're not big on sunbathing and basking, we highly recommend paying a visit to the magnificent Siesta Key Beach, undoubtedly Sarasota's crowning treasure. It has been named the Best Beach in the United States multiple times throughout the years, including by the Travel Channel in 2004, Dr. Beach in 2011, and Tripadvisor in 2015.
The beach is well-known for its dazzling white, quartz-crystal sand. It also features several bright lifeguard platforms all along the shore, from where you can capture magnificent shots of the coast.
2. The Ringling Museum Of Art
The sprawling grounds that house The John and Mable Ringling Museum of Art on Bay Shore Road in Sarasota is full of incredible original and reproduction art and architecture from the classical Greek, Roman, and Renaissance historical periods that make many visitors feel like they've been transported to a different epoch.
The museum, named for the co-founder of the once-famous and now-defunct Ringling Bros. & Barnum & Bailey Circus, is a unique gem worth a few hours of your time. It's also appropriate for youngsters, so don't forget to bring your kids on this one-of-a-kind cultural adventure.
3. Marie Selby Botanical Gardens
Even if you're not a gardening enthusiast, the Marie Selby Botanical Gardens on Sarasota Bay is a lovely place for a quiet stroll. Serene sitting areas dot the 15-acre grounds, allowing you to relax and take in the environment. You can also stroll through mangrove trees on a wooden boardwalk and enjoy stunning views of the bay.
One of the world's most stunning displays and collections of orchids and bromeliads are among the botanical attractions. Bamboo, ferns, cycads, and gorgeous old banyan trees that are about 100 years old are among the other stunning examples.
Plans are underway to build a new research center, archive facilities, a restaurant, and restore the historic home, as well as a new car park, greenhouse, and pedestrian promenade.
4. Mote Marine Laboratory and Aquarium
The Mote Marine Laboratory and Aquarium, located on Ken Thompson Parkway, has a variety of displays that include intriguing marine species including turtles, otters, and eels. It also features a designated shark tank with almost 100,000 gallons of water.
While the entrance is quite pricey, most visitors believe it to be a fair deal, given everything there is to see and do. The institution hosts a yearly reptile exhibit showcasing American alligators and crocodiles, which are popular with both adults and younger visitors.
The facility provides free onsite parking, and public transit is available within a short walk.
5. Florida Maritime Museum
It's hardly surprising that Florida has a strong maritime history, considering it boasts more coastline than virtually any other state. The Florida Maritime Museum is set in an ancient schoolhouse that was erected more than 100 years ago on four acres in the historic town of Cortez.
The museum's displays and artifacts are mostly focused on commercial fishing and marine transportation, with an unusual combination of ship's records, pictures, first-hand narratives as well as a range of nautical equipment and memorabilia. The museum is also home to one of the largest research libraries of its sort. Most visitors typically spend between one and two hours at the facilities to fully soak in all the treasures it has on display.
6. Myakka River State Park
Myakka River State Park is over 60 square miles in size and contains a variety of diverse ecosystems such as prairies, lakes, rivers, and marshes. It provides guests with a variety of activities that will allow them to get up close with nature.
Trekking, biking, angling, and kayaking are some of the popular activities at this attraction, and guided trips by road and inflatable rafts are also offered. If you have never felt the rush of an inflatable raft, it's a terrific opportunity to receive a shot of adrenaline while also seeing the amazing scenery from a different angle.
Miles of walkways, souvenir shops, a guest's center, and a café are among the available amenities.
7. Palma Sola Botanical Park
Palma Sola Botanical Park was founded three decades ago to create an exquisite and serene green place for visitors to relax in and to conserve a diverse range of trees from a local nursery. There are several differentiated gardens in the park which are linked by trails that include gazebos, picnic sites, a playground, and three small lakes with bridges.
Park personnel also provide instructional and educational seminars, many of which are appropriate for children. Check out their website's event schedule to make sure you don't miss out. The park is open all year, save for significant holidays.
8. Big Cat Habitat and Gulf Coast Sanctuary
The Big Cat Habitat and Gulf Coast Sanctuary on Palmer Boulevard in Sarasota is a shelter for big cats and other creatures. Kay Rosaire founded the refuge in 1987, and it became a non-profit corporation in 2005. Its mission is to rescue and care for exotic cats and other species such as bears and birds while also teaching the public about the necessity of preserving wildlife.
To provide a natural atmosphere, the sanctuary has three large indoor/outdoor habitats replete with swimming pools and vegetation. Visitors can learn about conservation and environmental protection by watching training routines with the big cats.
9. Van Wezel Performing Arts Hall
Van Wezel Performing Arts Hall in Sarasota is a popular venue for performances of comedy, music, dance, and theater. The hall, which was built in the late 60s can seat 1,736 people, and the 6,000 square foot Grand Foyer can accommodate up to 350 people. This allows access to the Terrace and Bayfront lawn, resulting in an additional 1,500 seats. Enjoy a performance at the Van Wezel Performing Arts Hall if you're looking for nice romantic ideas.
The hall also has a dedicated Education Center and provides a wide range of educational outreach programs for youngsters, adults, and senior citizens.
Wrapping Up
While there are plenty of amazing retirement destinations in Florida, the city of Sarasota stands out from the rest for its quality assisted living facilities, superb restaurants, and comparably affordable housing options. With a plethora of exciting places to visit and things to do, you can be sure that your retirement in Sarasota will be a magical experience the likes that you won't find anywhere else in Florida and the entire nation.
Interested in learning about becoming a resident in Florida or moving there? Read more.