Single Wide Unit Manufactured Homes: What you Need to Know to Qualify
Phil Ganz
/
8 Min Read
/
May 06, 2022
Single-wide unit manufactured homes are among the increasingly popular home options today. They feature floor plans with a single long section and come in different widths, room configurations, and lengths. These homes also have different floor plans to suit families of all sizes.
(Mar 30, 2023)
If you're planning to buy a single-wide unit manufactured home, you need to consider your financing options. You may opt to buy the home with cash or sign up for a mortgage. Relying on federal-backed home programs to finance the property is also a good idea.
Fannie Mae and Freddie Mac programs can offer you a chance at homeownership. These programs invest in manufactured homes to expand the affordable housing units available. This guide goes deep into what each program offers regarding single-wide unit manufactured homes and their requirements.
Overview
Fannie Mae is committed to enabling Americans to access affordable housing by investing in manufactured housing (MH) loans. The program offers liquidity to the MH loans market to improve homeownership rates in the country.
Manufactured homes are undeniably a low-cost alternative to homes built from the ground up. Thanks to their attractive prices, you may find them convenient if you live in rural or high-cost areas. Fannie Mae buys eligible home loans borrowers take on manufactured homes via approved private lenders.
On the other hand, Freddie Mac seeks to expand homeownership to borrowers who consider getting manufactured homes. The program sets requirements for these homes to originate, underwrite and service home loans. You get to buy a home you can both maintain and afford in the long run.
Federally backed loans for single-wide units manufactured homes are available only through Freddie Mac and Fannie Mac programs. Under the Freddie Mac program, the housing unit must have been manufactured less than ten years before it was appraised. Fixed rates for both programs range from 15 to 30 years.
Both Fannie Mae and Freddie Mac require you to use the property as your primary residence to qualify for their assistance. They also prohibit cash-out transactions.
FNMA Programs – Single Wide only
According to Fannie Mae, a manufactured home is a housing unit of not less than 12 feet in width and 400 square feet in area. The home must have been constructed under the HUD Code for manufactured homes.
In this case, the property should lie on a permanent chassis and affixed to a permanent foundation system.
Eligibility Criteria
Check the Date Plate for the home you plan to buy to determine whether its date of manufacture complies with Fannie Mae's requirements. It might be eligible if it was manufactured ten years or less as of the appraisal date.
Fannie Mae buys loans with manufactured homes as collateral, provided they meet various conditions. These conditions include:
Fully amortizing fixed-rate mortgages
First-lien mortgages only

Principal residences

Fully amortizing ARMs (adjustable-rate mortgages) with 7 to 10-year initial fixed-rate periods
The home loan has to be secured by the single-wide manufactured home and the land it occupies. Fannie Mae also demands that the home and land be classified as real legal property under relevant state law.
Loan Purpose and Max LTV/CLTV
Fannie Mae set a purchase/limited cash-out to refinance 95 percent CLTV/LTV on qualifying home loans. The program's MH Advantage doesn't apply to home loans secured by single-wide manufactured homes.
Fannie Mae also requires a minimum of 2 comparable manufactured homes to be near the property. One of these comparable home must be an active listing or a sale with matching single-width configuration as the home financed by a loan. Special feature codes for the eligible single-width homes include SFC 235 and SFC 791.
All single-width homes need to be situated in a subdivided land that meets Fannie Mae's requirements. It should also lie in a Planned Unit Development designation when it's subject to a resale, qualifies as a community land trust, or is a new project. Data points are also needed if the home is situated in a PUD, co-op, or condo.
Loan Type, Term, and Pricing
Only home loans with fixed-rate mortgages and no ARM terms qualify for the Fanie Mae program. They must also have a loan term of 15 to 30 years. The Mortgage Insurance needed for loans of more than 80 percent LTV, and LPMI products must be available.
Under the Fannie Mae program, a 0.50 percent LLPA (Loan-Level Price Adjustments) applies. The program assesses LLPAs based on loan features and eligibility criteria like occupancy, loan purpose, and credit score. It requires various special feature codes to deliver loans with these features.
The program bases credit score requirements on the credit score set by the mortgage lender.
Underwriting and Appraisal Requirements
Enact is the only mortgage insurance company covering home loans for single-width manufactured homes: the coverage guarantees lower costs, competitive rates, and faster closing. You'll also need less paperwork and assume homeownership on your terms with the coverage.
Fannie Mae allows private lenders to originate and underwrite loans efficiently and speedily. The program delivers efficient and speedy underwriting recommendations aligned to lenders' loan processes and origination systems. It also offers comprehensive credit risk assessments to help reduce the underwriting cycle times.
An appraisal can help tell a home's acceptability for a loan based on its marketability and value. Mortgage lenders have to work with appraisers to make sound underwriting decisions. The appraisers offer thorough, objective, and accurate reports on a property's market value.
Are you a first-time homebuyer and interested in learning more?
Servicing
Fannie Mae requires mortgages secured by single-width manufactured homes to meet default management and servicing requirements. The services must ensure that the serviced home loans have been adequately identified. They should also check whether the loans need Fannie Mae's Servicing Guide requirements.
The service guide offers insights to servicers on handling escrows, taxes, assessments, and insurance. It also covers expense reimbursement, foreclosure proceedings, and post-delivery servicing transfers.
Besides buying mortgages secured by MH, Fannie Mae offers value-driven servicing solutions to save time and reduce risk. The solutions guarantee convenient access to home loan information and give services a chance to respond to customers' unique needs.
Exceptions
Suppose the MH is not located along a publicly maintained street. In that case, Fannie Mae requires it to be located along a privately owned and maintained street or a community-owned and maintained street. The area should have ample vehicular access and be maintained by the local legal statutes.
Home loans backed up by MH with incomplete items (such as needed repairs and defects) don't qualify for the purchase if the incomplete items affect the property's structural integrity, soundness, and safety. Fannie Mae may only proceed with the purchase if the incomplete items are minor enough not to hinder obtaining an occupancy permit.
MH with structural modifications or addition may qualify for the purchase under various conditions. First, the lender must confirm that a local state agency approved the modifications.
Suppose the state agency doesn't have this requirement. In that case, Fannie Mae will only consider the property provided the proposed modifications have been inspected and considered structurally sound by a state-accredited third party. Either way, the lender should have the inspection report in the mortgage loan file before FNMA approves the purchase.
FNMA Product Codes
The Federal National Mortgage Association (FNMA) published various special feature codes to reflect the delivery of single-family home loans. Mortgage lenders need to review their unique requirements, variances, or lender contract to determine if they need other SFCs at delivery.
The product codes needed by Fannie Mae on loans backed with a single-width unit manufactured homes include:
CONV FIX 15 Single-wide MH

CONV FIX 30 Single-wide MH

CONV FIX 15 HomeReady Single-wide MH

CONV FIX 30 HomeReady Single-wide MH
All eligible homes submitted through Fannie Mae's Desktop Underwriter (DU) must qualify as manufactured homes. They should also have the correct codes for easier pricing adjustments.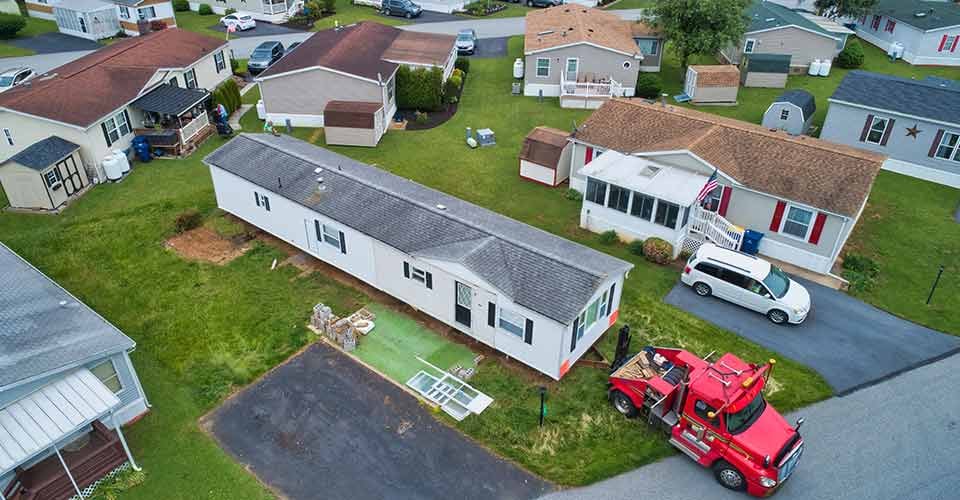 FHLMC Programs – Single Wide Only
Freddie Mac (the federal home loan mortgage corporation) buys home loans that have manufactured homes as collateral. The program helps low and moderate-income borrowers to realize their homeownership goals.
Your home loan will only qualify for Freddie Mac's program if the single-width manufactured home is located in a subdivision or an individual lot. The seller should have a negotiated term of business (obtained from Freddie Mac) and meet the selling requirements.
Eligible Mortgage Products
Only single-width unit manufactured homes financed with fixed-rate mortgages qualify for the loan resale. The mortgages shouldn't have any ARM terms.
Other eligible mortgage products include Freddie Mac conforming loan and Freddie Mac Home Possible. A conforming loan is a mortgage meeting FHFA (Federal Housing Finance Agency) dollar limits. The loan can offer you low-interest rates if you have excellent credit.
Limits for conforming loans in most parts of the country are $647,200. Conforming loans are easily accessible since lenders can package them and sell them in the secondary mortgage market.
On the other hand, the Freddie Mac Home Possible loan gives borrowers more credit flexibility and options. They target low-income borrowers looking to own a home with a low down payment.
Eligibility and Underwriting
The Freddie Mac program requires all home loans secured by single-width unit manufactured homes submitted via Loan Product Advisor. As an online portal, Loan Product Advisor gives access to FHLMC's credit requirements. It also allows you to check your credit risk to understand the overall underwriting risk for the loan.
Lenders calculate equity contribution based on the borrowed amount. They require you to commit to an equity contribution if you are looking to buy a home. If you own the plot where the home is attached, the plot may qualify as an equity contribution under particular conditions.
Since single-width manufactured homes come with a collateral risk, various factors must be evaluated. These factors include collateral, capacity, and credit reputation.
Collateral encompasses your assets used as security for the loan. Your credit reputation can help predict your future behavior when taking out a loan. As for capacity, lenders need proof that you're in a position to make loan payments in respect to the loan terms.
Terms
Freddie Mac buys 15 to 30-year home loans backed with a single-width unit manufactured homes. 15-year mortgages are issued to borrowers looking for fixed interest rates and monthly payments throughout the loan term. You may opt for this type of mortgage to save lots of money on mortgage payments.
A 30-year mortgage, on the other hand, allows you to borrow the same loan amount several times. The lower monthly payments allow you to buy a home you would afford when taking a 15-year loan. 30-year mortgages make it convenient to build up savings and free up finances for other obligations.
Freddie Mac requires the manufactured home to be your primary residence. You must occupy the property for a large part of each calendar year to be considered. Second homes don't qualify for this program since the homeowners don't occupy them in the required length.
The single-width unit manufactured home must have been constructed on/after 15th June 1976. It should also lie on a permanent chassis in adherence to HUD Codes. The property must also comply with the Federal Manufactured Home Construction and Safety Standards.
Transaction Type
The FHLMC only allows purchase transactions on manufactured homes financed by a mortgage. In a purchase transaction mortgage, the proceeds acquire mortgaged premises or finance property improvements. They may also be used to pay off any outstanding balances under the land contract or the related interim construction financing.
No cash-out refinance mortgages are eligible for the program since they help borrowers consolidate their high-rate loans into one low-rate loan. They also lower your monthly mortgage payments and associated closing costs. Lenders that offer no cash-out refinance mortgages can increase their origination volumes and sell more home loans to the FHLMC.
FHLMC Product Codes – Single Wide
Freddie Mac uses specific product codes when considering single-wide manufactured homes in its program. These codes vary with the type of mortgage borrowed and the type of manufactured home. The property codes include the following:
CONV FIX 15 Single-wide MH – Freddie Mac

CONV FIX 30 Single-wide MH – Freddie Mac

CONV FIX 15 Home Possible Single-wide MH – Freddie Mac

CONV FIX 30 Home Possible Single-wide MH – Freddie Mac
FHLMC requires mortgage lenders to code the properties used as loan collateral as manufactured homes using these codes. When the correct property codes are used, it's easier for FHLMC to price the properties accordingly.
Property Specifics
Both Fannie Mae and Freddie Mac programs have minimum size requirements for single-wide unit manufactured homes financed by mortgages. The minimum living area required is 600 square feet, while the minimum width required is 12 feet for Freddie Mac and a living area of 400 square feet and 12 feet for Fannie Mae. The FNMA doesn't specify any minimum requirements for construction details like roof out and size for manufactured homes coded by HUD.
Both programs require title elimination on single-width manufactured homes. As of 1st March 1990, the title elimination process was instituted to allow owners of manufactured homes to title their properties. Owners can eliminate their housing unit title and list the units and land as real property for financial reasons.
MH is categorized as personal property, just like an automobile. Fannie Mae and Freddie Mac require manufactured homes to have titles, which vary by state. As a result, taxes imposed on MH are different from those imposed on the land.
Final Thoughts
In a nutshell, both Fannie Mae and Freddie Mac buy manufactured housing loans to make homeownership affordable. Though their eligibility requirements vary, they share a mission to allow the medium to low-income American households to have a roof over their heads. In the context of this article, they only consider eligible home loans secured by single-width manufactured homes that are titled.
Once Fannie Mae and Freddie Mac buy these mortgages, they either package them into mortgage-backed securities (later sold) or hold them in their portfolios. Eligible mortgage lenders use the money earned from selling home loans to FNMA and FHMLC to further their loan processing activities. The loan purchases ensure that families and individuals have a constant, stable money supply for home loans.