The Benefits of Having a Family in Tallahassee, Florida
Phil Ganz
/
8 Min Read
/
Mar 18, 2022
Tallahassee, Florida, is home to many unique characteristics that truly make it one of the best places to live in the United States. If you're in the market for a new place to call home, don't be discouraged by the big city feel that many cities offer nowadays. Whether you're single or married with children, Tallahassee has plenty to offer families as well as singles who enjoy spending time with others.
(Mar 25, 2023)
If you're thinking of moving to Tallahassee, you're probably asking yourself, is Tallahassee a good place to live? You're presumably wondering if the new chapter of your life will give you the same amount of enjoyment that your current location does. While each person has different needs, it's possible to enjoy life in Tallahassee. This town can suit everyone's lifestyle needs, as long as you know what you're getting into before you pack up and move. This article will explore everything you need to know about Tallahassee, FL, to help you make an informed decision.
Benefits of Living in Tallahassee
Tallahassee, Florida, is the sunshine state's capital and offers residents some pretty awesome perks. Tallahassee has a lot to offer, from great weather year-round to super friendly people. If you're looking to get out of the hustle and bustle of your current city and experience life somewhere quiet and quaint, there are plenty of reasons why Tallahassee will exceed your expectations and make you glad that you decided to move here.
Tallahassee might not be the most populous city in Florida, but there are many reasons why it's the perfect place to live with your family. Whether you're thinking about moving or already living in the area, here are ten of the best benefits of living in Tallahassee.
The Friendly Weather
Since Tallahassee has a mid-Atlantic climate, it has hot and humid summers and warm, sunny winters. The area experiences all four seasons with temperatures ranging from an annual low temperature of about 50 to a high temperature of about 80 with four inches of rainfall on average each month and very few extreme temperatures. Unlike many other cities in Florida, you'll have plenty of sunny days in Tallahassee.
If you're looking for a temperate climate and want to avoid hurricanes, Tallahassee is your place. The mild winters and pleasant summers make for a comfortable year-round temperature. The city gets lots of sunshine throughout the year with about 2,200 hours per year, creating perfect weather for outdoor activities like hiking or biking.
Affordable Cost of Living
Tallahassee ranks as one of America's most affordable cities. The cost of living in this city is low compared with other large coastal cities. Low average rent rates and moderate prices for consumer goods and services make it easy on your wallet. Living in a place with a low cost of living, like Tallahassee, can benefit your budget.
Residing in Tallahassee will allow you to focus more on your career and less on extras that you probably don't need. Additionally, locals take advantage of Florida's no-income-tax status—and there are no state or local income taxes.
Excellent Education System
One of Florida's best-kept secrets is its excellent education system. Florida ranks among the top states in elementary, middle, and high school test scores and graduation rates. Whether you want to enroll your child in a public or private school, Tallahassee has great options for all ages and academic levels.
Tallahassee has some great educational opportunities. There are multiple colleges and universities in or near Tallahassee, including Florida State University. The area's largest institutions of higher learning (FSU, Florida A&M University, and Florida State College at Jacksonville) offer a wide variety of degrees and programs for students who want a traditional college experience. Other schools also offer online degrees that are perfect for people with busy schedules.
These schools attract thousands of residents from around America and worldwide, contributing to a rich cultural experience. Additionally, these schools continue working with local businesses and hiring their graduates to drive growth in income, jobs, and technology.
Great Healthcare System
No matter what your medical needs are, you'll find a wealth of options in Tallahassee. From family practices to major surgery, chances are you'll find what you need within a short distance of your home. The city also has one of just 10 Level 1 trauma centers in Florida and numerous chiropractors, dentists, optometrists, and other healthcare providers. There's no shortage of healthcare in Tallahassee as far as healthcare is concerned.
If you want a little more privacy and comfort with your health care needs, there are dozens of local hospitals available with state-of-the-art equipment and facilities to accommodate even the most complex procedures. And it all comes at reasonable prices too!
Family-friendly Housing Options
It can be hard to find housing that fits everyone comfortably when you have a large family. Tallahassee's proximity to nature, combined with its suburban feel, makes it a great place for families. In addition, there are a variety of great housing options, such as condos and apartments, which are ideal for families (both rentals and homes for sale) that accommodate various price points. These housing options are large, well-maintained, family-friendly residences with generous square footage and room for your entire family.
Safe City with Low Crime Rate
While it doesn't get a lot of headlines, crime in Tallahassee and Leon County is lower than average compared to other cities its size. Many young professionals and families choose to live here because of its safety. This city has a low crime rate, meaning it's less likely you or your kids will be robbed or attacked when walking through town. The City of Tallahassee offers peace of mind with its low crime rate and excellent police force executing 24/7 patrols.
Great Transportation Options
Public transportation in and around Tallahassee makes it easy for people without cars to get around. The buses and trains run from early morning until late at night, so it's an excellent option if you need a way to get from point A to point B on time. The cost of public transportation is also much lower than that of a personal family car.
There are also plenty of taxis available around town so that even late-night cravings for takeout food won't require a long walk home. Plus, there are several car-sharing services available if you need them regularly. For a small fee, you can also rent a bike from any one of Tallahassee's many bike shops. Combine these facts with your freedom as a walker or cyclist, and maintain quite a lifestyle.
Additionally, Tallahassee is a small town with some of Florida's shortest commute times. This means that you won't be spending hours each day on your way home from work—you can spend more time with friends and family instead.
Cultural Diversity
One of Tallahassee's most attractive features is its cultural diversity. People of different ethnicities and cultural backgrounds live side by side in Tallahassee without a major culture clash. This gives residents many opportunities to enrich their lives through exposure to new people, ideas, and concepts.
All residents will be exposed to a new way of life that they can carry into their future professional endeavors. The cultural diversity of Tallahassee makes it an interesting place to live and work. No matter what your background, there are plenty of people who share it. The city embraces everyone.
Thriving Economy
With over 20,000 businesses and corporations, there's no shortage of economic activity in Tallahassee. As the state capital and home to Florida State University, the city's unemployment rate is one of the lowest in Florida. Hence, opportunities are plentiful with many jobs in a variety of fields.
New jobs are being created every day, and you can find one here if you want a career. And if you're not looking for work, you can tap into one of several startup incubators in town that help new entrepreneurs get off on their feet. Generally, there are plenty of entrepreneurial opportunities in Tallahassee.
Family-friendly Festivals and Events
One of the biggest attractions in the city is that they have a wide range of family-friendly festivals and events. Tallahassee has long been known for its love of art, music, and food. With so many fun things going on each week, you can often find affordable or free family-friendly events.
The city offers several large family-friendly festivals and events that make it easy for families to have fun together. Perhaps one of Tallahassee's most popular events, The Leon County Fair offers fun for everyone, including horse shows, an arts and crafts show, livestock judging, a carnival, and more. In addition to providing fun for kids of all ages (and adults), it serves as a great to showcase what makes Tallahassee so special.
Gorgeous Scenery
Tallahassee's natural beauty makes it a great place for anyone who wants to live in an area with lush, gorgeous scenery. Nature lovers will especially love calling Tallahassee home. The city is blessed with coastal views, sandy beaches, and forests within a short drive of downtown. Hiking and biking trails meander throughout the city, offering scenic views of nature at every turn. Whether you live in a wooded area or have an abundance of green space on your doorstep, your family will never get bored of Tallahassee's natural beauty.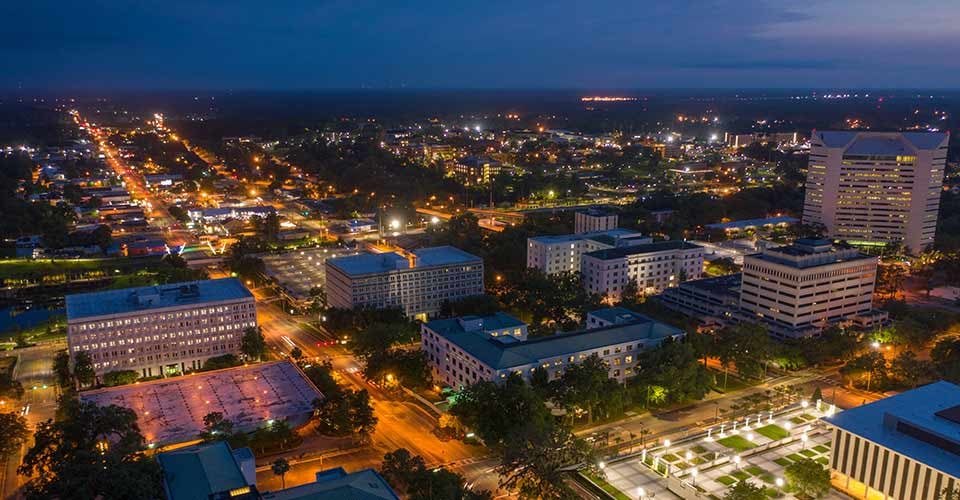 Family-Friendly Things to Do in Tallahassee
Tallahassee offers an array of activities suitable for all ages and interests leaving you with lifelong memories. However, finding the best family-friendly things to do here can be a little tough, especially if you're new in the city.
Whether you're looking for things to do indoors or outdoors, cheap or luxurious, we have plenty of options on this list that will make your stay fun and exciting! Check out the following family-friendly things to do in Tallahassee that are sure to keep your family entertained:
St. Marks National Wildlife Refuge
St. Marks National Wildlife Refuge is a 68,000 acre protected wilderness on the Gulf Coast. It offers easy access and unique flora and fauna that you don't see in other parts of Florida. If you want to take your family for a walk and enjoy nature without having to travel too far from home, St. Marks is a great option.
You can stop by with your family and check out their boardwalk trail. The wooden boardwalk winds through marsh grasses and provides you with scenic views of wild animals, including alligators, white ibis, egrets, and herons. And you'll have plenty of fun spotting these creatures while keeping your feet dry.
Museum of Florida History
The Museum of Florida History is full of hands-on activities that your kids are sure to love. Children and adults alike will find plenty to do on their next visit, from learning about farm life in Florida to studying dinosaurs. The museum is home to artifacts and exhibits from Florida history, including a rare swordfish boat model and an exclusive display of vintage sports cars. The museum hosts daily tours and events all year long, many of which cater to families. You can always stop by for a day full of history fun.
Tallahassee Antique Car Museum
Museum visitors will be amazed at how far car design has come since 1900. The vintage cars, horse and buggies, steam engines, and fire trucks at the Tallahassee Antique Car Museum all help show how transportation has evolved. Families can spend a day walking through the history of cars. Kids will have fun imagining what life was like when these cars were new.
Mission San Luis de Apalachee
This place is perfect for family outings and field trips. There's a lot to learn about history at Mission San Luis de Apalachee, with two permanent exhibits, an educational movie, and an activity book available for children. The site features a priest's house, church, and chapel in authentic, historical buildings.
Bring some binoculars so you can observe hundreds of species of birds that fly through their migratory routes. An interpretive center will educate you about native Florida wildlife, and a range of permanent birdhouses provide an at-home feel for many creatures.
Cascades Park
Tallahassee's Cascades Park is a beautiful place to spend an afternoon with your family. Plan a picnic to enjoy with your loved ones. From swinging to climbing, sliding to rock-climbing and zip-lining, there's something for everyone in your family to enjoy.
You can bring your kids here to play on a jungle gym, cruise down a waterslide, or challenge their friends to an intense game of beach volleyball. If you can't get enough water action, there are miles of trails to explore nearby. There are hiking trails and off-leash dog areas for fun exercise and bonding with your four-legged family members.
St. Marks Lighthouse
The St. Marks Lighthouse is one of Florida's oldest, built in the 1800s. It's also listed on both national and state registers of historic places. The lighthouse is constructed of coral rock with a cast iron frame and features a working beacon from old age. Tour guides at St. Marks will take you on a journey to learn about Florida's unique history, as well as give you insights into lighthouse keeping that your middle school teacher never thought to mention.
Railroad Square Art Park
Located downtown, Railroad Square Art Park has paintings and other artwork created by local artists on display. As far as family-friendly fun in downtown Tallahassee is concerned, Railroad Square Art Park may be your best bet.
They host several family-friendly events throughout the year, including paint parties and open studio painting nights where you can bring your booze and paint to work on a blank canvas or one provided by Railroad Square. There's also art, music, film festivals, performances from local musicians and much more.
Challenger Learning Center of Tallahassee
This is a space where kids and teens can explore science, nature, arts, and culture through interactive exhibits and programs. Kids can learn how to layout a bike racecourse, make their own video game with free play console systems, explore an original covered wagon or swamp buggy, build and program a robot, design art exhibits, star in their own television show. The possibilities are endless.
Bottom Line
Tallahassee, Florida, is a great place to raise a family. The community has plenty of business and education opportunities, and the low cost of living ensures that you'll have plenty of cash left over for your family at the end of each month. From the city's thriving economy to its proximity to the Gulf Coast, there are plenty of perks that come with living in the capital of Florida. If you're thinking of relocating to Tallahassee with your family, there are many reasons why you might want to make it happen soon.
Interested in learning about becoming a resident in Florida or moving there? Read more.