The Benefits of Living in Sarasota, FL
Phil Ganz
/
8 Min Read
/
Mar 22, 2022
Sarasota, Florida is not only popular with tourists but also a favorite retirement destination for retirees due to its tropical weather, affordable housing, living costs, and cultural activities. Nestled on the Gulf of Mexico, Sarasota offers a unique experience compared to other Florida cities, thanks to its stunning beaches, vibrant food culture, and plenty of attractions.
(Mar 25, 2023)
If you're eager to make Sarasota your new home, it doesn't hurt to know the perks of living here before moving. In this post, we're going to break down some of the benefits of living here to help you decide whether this is the place for you. So without much ado, let's dig in.
Warm and Sunny Weather All-Year-Round
Like most cities in Florida, Sarasota enjoys sub-tropical weather all-year-round with an average of 250 days of sun. You can expect daytime temperatures of between 70 to 80 degrees for most of the year, with summer temperatures reaching 90 degrees.
The climate in winter is typically most favorable, with temperatures averaging between 50 to 70 degrees. Snow and sleet are pretty rare even when the temperatures dip to their lowest.
The excellent Sarasota weather is ideal for outdoor activities including swimming, frisbee games, sunbathing, and picnics.
Gorgeous Beaches
While the entire state of Florida has an abundance of beautiful beaches, Sarasota is home to some of the most stunning gems throughout its 35-mile stretch of gleaming white sand. Six keys (barrier islands) dot the Sarasota coastline, offering visitors and residents spectacular sunset views.
Here are some of the favorite Keys that you will find in this gleaming coastal town:
1. Lido Key
This barrier island in the downtown Sarasota area features three public beaches. North Lido is the smallest beach at Lido island and incidentally, the most isolated. Despite its secluded location and limited parking space, this beach attracts plenty of visitors due to its pure white sands, calm and clear waters, and plenty of cultural sites.
Lido Beach is the main beach area in Lido Island. Its landscape is covered with glistening white sands and blue waters perfect for swimming. This beach also offers plenty of amenities including lifeguards, shaded picnic tables, a public swimming pool, and playground for kids. You will also find ample parking space, restrooms, and special wheelchairs which you can rent for your day visit.
At the tip of Lido Key is South Lido Beach Park, which offers spectacular views of downtown Sarasota. Some amenities provided here include picnic tables along with grills, nature paths, public restrooms, a volleyball sand court, and kids playground.
2. Longboat Key
Longboat Key is a 12-mile island located between Sarasota and the Gulf of Mexico. This elegant destination offers a combination of spectacular beaches and cultural activities. The downtown district of Longboat key also features plenty of shops, restaurants, and beach bars.
3. Siesta Key
Located a few minute-drive from downtown Sarasota, Siesta Key lies adjacent to the Gulf of Mexico. This laid-back island is home to the phenomenal Siesta Public Beach which has been twice named the best beach in the U.S. Siesta Key's 8-mile long stretch offers a plethora of attractions and things to do. Here you will find several resorts, restaurants, bars, and shopping centers.
4. Casey Key
Nestled between Sarasota and Venice, Casey Key is home to the oldest beach in Sarasota County. Nokoma Beach in Casey is an exclusive island that is popular with celebrities. Some of the activities that you can enjoy on this narrow beach include fishing, picnics, bird watching, and hiking.
Vibrant Cultural and Arts Scene
Sarasota is famous for its diverse cultural heritage and arts scene. The city has a film society, opera house, numerous art galleries, world-class symphony orchestra, car museum, and several historical landmarks. Various cultural events are also hosted here including:
Sarasota Medieval Fair
Sarasota Oktoberfest
Sarasota Shell Show
Sarasota Wine Festival
In addition to these offerings, Sarasota also is also home to a plethora of award-winning restaurants and shopping areas that offer residents the opportunity to indulge in different interests and hobbies.
High-Quality Health Care
Access to health care is one of the most important things to consider when choosing a place to live. Fortunately, Sarasota County is home to four hospitals, which have all won awards for the quality of service they provide. Sarasota Memorial Hospital, which is one of the biggest acute care hospitals in the entire state of Florida is located here. This facility has been ranked as one of the best hospitals in the U.S.
Sarasota city is also recognized as being one of the best healthcare systems in the country. The county has one of the highest hospital beds per 100,000 people in the entire Florida state at 370. Nevertheless, there are only 236 licensed doctors per 100,000 people. While this is less than what the entire state of Florida has on average, the doctors in Sarasota are highly rated.
Regardless of whether you are relocating to Sarasota with a young family or thinking of retiring here, you can be certain that living here will offer you the best quality of health care.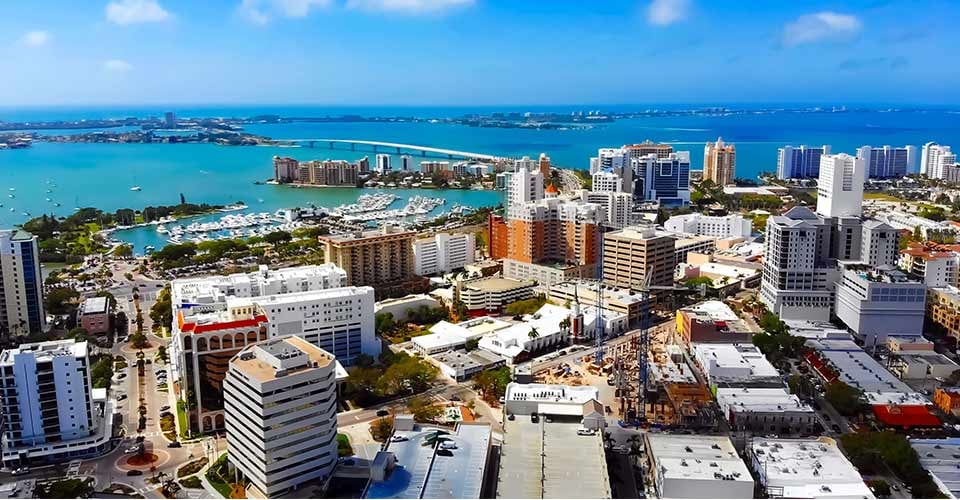 Plenty Of Housing Opportunities
Let's face it, the influx of newcomers to Sarasota in recent years has been driving up the cost of housing in this county. However, if you are moving to Sarasota from the Northern parts of the country, you will likely still find the housing market in this county to be pretty affordable.
As of February 2021, the median cost of single-family homes in Sarasota stood at $360,000. However, like most states, property prices in Sarasota will vary wildly depending on the location where you choose to live.
While the beach communities mentioned earlier are the best places to live in Sarasota County, housing prices in these locations tend to be quite steep. For instance, the average cost of a family home in Siesta Key is $692,000 while purchasing a single-family property in Longboat will cost you roughly $706,000.
If you are looking for a more affordable property in Sarasota, the mainland is probably the best place to seek one out. There are also plenty of decent-priced homes in the outskirts of Sarasota. Are you a first time homebuyer? Learn more here!
Here are a few neighborhoods you might want to consider living in when planning a move to Sarasota County:
Venice
Manatee River District
Rosemary District
Southside Village
Heritage Harbor
Wellen Park
Quality Education
Sarasota County has a top-notch education system with more than 86 public and private schools found throughout the city. Many of these institutions are ranked within the top 20 in Florida state and the entire country.
If you're looking for good private school options for your kids, you may want to consider Cardinal Mooney Catholic High School and The Out-of-Door Academy. Both of these schools perennially produce students with high SAT and ACT scores. Sarasota is also home to Pine View School, which is considered the best public school in the U.S.
Likewise, there is plenty of quality higher learning institutions in Sarasota including the University of South Florida Sarasota-Manatee, New College of Florida, and Ringling College of Arts and Design.
Attractions and Things To Do In Sarasota
While Sarasota county is mainly known for its glittering sandy beaches, it offers a wide range of attractions for tourists and residents alike. With plenty of museums, gardens, parks, and performing arts communities, you won't struggle to find an exciting thing to do in this bustling city.
Here are some of the best attractions and must-do activities in Sarasota:
1. Visit the Ringling Museum of Fine Art
The Ringling is a fine art museum on Bay Shore Road that is one of Sarasota's most popular attractions. It was recognized as the state art museum of Florida and is administered by Florida State University. It was founded in 1927 with artwork donated by Mable and John Ringling. American art, Asian art, modern art, European paintings, and ancient antiquities from Cyprus are included in the museum's 21 galleries.
The collection has nearly 10,000 pieces ranging from antiquity to modern art, including ornamental arts, drawings, paintings, photos, prints, and sculptures. Bernini, Boudin, Duchamp, Gainsborough, Poussin, Velaquez, and others have works in the museum. The museum also houses a world-famous collection of Rubens paintings.
2. Marie Selby Botanical Gardens
Marie Selby Botanical Gardens is a magnificent botanical garden in the Hudson Bayou area and one of the top things to do in Sarasota, Florida. The gardens, which cover seven acres, are located on the grounds of Marie and William Selby's old residence.
This impressive botanical garden is dedicated to collecting and displaying epiphytes such as bromeliads and orchids. It houses the world's most diversified collection of bromeliads and more than 20,000 other plants representing 6,000 species. The garden's diverse ecosystem includes plants such as bamboo, live oaks, mangroves, succulents, and many others. Other amenities found here include a herbarium, greenhouses, and a research library.
3. Mote Marine Laboratory and Aquarium
Mote Marine Laboratory and Aquarium is a marine research center on City Island in Sarasota, Florida. It was formerly known as the Cape Haze Marine Laboratory until 1967 when it was renamed in honor of philanthropists Lenore and William R. Mote, as well as his sister Betty Mote Rose. The laboratory mainly conducts marine and estuarine research.
The aquarium which is open to visitors all year round is home to over 100 marine species, many of which are endemic to the area. Some of the aquatic life forms found here include jellyfish, manatees, rays, seahorses, sea turtles, and many more. The aquarium's narrated shark feedings are a popular feature.
If you're looking for things to do in Sarasota with kids, this is a terrific location to go. Field trips and school projects are a few examples of educational programs offered at Mote.
4. Watching Shows at Van Wezel Arts Hall
If you are a fan of live art performances, a trip to Sarasota won't be complete without visiting the Van Wezel Hall. Here, you'll find entertainment at its best, ranging from live dances, theater, comedy, and music.
Besides entertainment, the Van Wezel Hall has also been a source of educational programs for different age groups since 1968.
The Sarasota trail system also winds through the Van Wezel Arts Hall. So, if you don't enjoy watching live shows, you can have a closer glimpse of the stunning structure.
5. Seeing Nature's Best at Sarasota Jungle Gardens
Along Bay Shore Road lies Sarasota's stunning garden, home to nature's best plants and wildlife. Since its establishment in 1930, the botanical garden has seen remarkable improvements, hosting numerous plant and animal species from different parts of the world.
Currently, the garden is home to birds such as flamingos, iguanas, and parrots. A walk in the park will also grant you an opportunity to spot snakes, alligators, lizards, primates, and other mammals. Most animals at the botanical gardens are harmless, so you can even take your favorite pictures.
6. Shopping and Dining at St. Armand's Circle
St. Armand's is a small family spot full of fun-packed activities. From family shopping to dining, there is something to try out. Named after St. Armand, who bought the circle, it opened doors for the public in the 1800s.
If you love shopping, you'll enjoy visiting St. Armand's because it has more than 100 shops that stock different products. While at the circle, you'll also have an opportunity to enjoy unique cuisines from the many restaurants available in the mini business hub.
7. Watching Domestic and Wild Animals at the Big Cat Habitat
Can you withstand the sight of big cats like tigers, lions, and bears? Then the Big Cat Habitat Gulf Sanctuary is your ideal spot. The park, which features among Sarasota's top 10 attractions, began as a haven for exotic cats. Today, it hosts birds and chimpanzees, besides the big cats. Other birds and animals at the Big Cat Habitat include monkeys, camels, lemurs, and foxes.
Occasionally, you'll also spot water pools and natural vegetation, supplementing the animals' wild habitat. The Big Cat Sanctuary has indoor and outdoor habitats and a zoo where children have an awesome time petting goats, donkeys, or sheep. But for the brave, feeding the lions and tigers is the best hobby ever inside the zoo.
For Yoga enthusiasts, Lemur Yoga is a favorite sport to try out. There, you'll have an interactive Yoga class with tigers, foxes, and lemurs.
8. Relaxing at the Scenic Myakka River Park
Myakka Park is one of the top-rated scenic attractions in Sarasota and Florida. The park derives its name from the Myakka River, which flows through the nearby wetlands.
But the splendor of Myakka River Park lies in what it offers first time and frequent visitors. You can view wildlife, walk through the treetop canopy, hike, or ride in a kayak. You can also go fishing in the lakes within the park.
If you want to relax, you can camp as you enjoy the quiet, natural silence along the river valley.
9. Shopping at the Central Sarasota Fresh Produce Market
There's no better way to enjoy shopping than to have the finest stock of fresh farm produce. At the Central Sarasota Market, the stalls are open from as early as 7 am for your favorite weekend shopping. You'll have a wide selection of fruits, vegetables, and edibles, including honey, coffee, and cheesecake.
Besides fresh produce, Sarasota traders also stock artifacts, baked products, and body lotions.
10. Learning History at Manatee Historical Park
As previously mentioned, Sarasota has a diverse historical and cultural heritage dating back to the early centuries. That's why a city tour is never worth it without visiting the Manatee Village Historical Park. If you want a glimpse of the prehistoric days of civil wars, Manatee is the place to be.
The park features 14 landmarks that convey the powerful face of Florida in the olden days. Top among them include a courthouse of the 1860s, a church, a school, and a sugar milling plant. To preserve the rich, diverse culture, blacksmiths opened shops within the park. So, you'll likely bump on the offer to buy some artifacts and housewares from the shops.
11. Spotting Your Dream Car at the Car Museum
The Sarasota Classic Car Museum is home to vintage cars of all time. From the Halcyon cars with protruding headlights to the muscle models of the 1950s, you'll find vehicles of various models. Besides car exhibitions, the car museum has gift shops to buy other accessories at affordable costs.
Interested in learning about becoming a resident in Florida or moving there? Read more.