The Best Places to Live in the Florida Panhandle

By Phil Ganz

Edited by Ryan Skerritt
9 Min Read
May 22, 2022
Why Move to the Florida Panhandle
The Florida Panhandle has a median household income of $43,878, and the median home value is $179,400. The area is not only known for its low cost of living but also its warm weather.
Beaches and beautiful scenery
The area is known for its great beaches and beautiful scenery. There are many sports and outdoor activities to enjoy, such as swimming, surfing, hiking, and biking.
If you're looking to work or study, several military bases in the area, including Eglin Air Force Base and Naval Air Station Whiting Field, provide job opportunities in different industries.
Florida has no income tax
The Sunshine State has no income tax on wages, but it does have a sales tax, which varies from county to county but averages about 6%. Property taxes are among the lowest in the nation, and they're not levied on boats and recreational vehicles such as RVs and motorcycles.
You can also deduct sales taxes paid when filing your federal income tax return if you live in one of the 23 states that don't levy an income tax.
Historical sites and museums
Several historical sites and museums, including museums dedicated to Civil War history, Spanish settling history, and Native American history. There are also art galleries where you can see local artwork from artists all over Florida, and some areas have their art festivals every year where you can meet new people who share your same interests!
If you're looking for entertainment, look no further than Pensacola Beach, Panama City Beach, or any other towns along this gorgeous coastline that offer great restaurants with delicious food options and nightlife venues like nightclubs where locals go out after dark on weekends.
Great weather
Florida boasts 300 days of sunshine each year on average and mild winters with temperatures rarely dropping below freezing at night or during the day.
There's plenty of rain during hurricane season (June 1 through Nov. 30), but it usually falls at night when you're sleeping soundly in your home with central air conditioning or enjoying yourself outdoors at one of South Florida's many outdoor malls or shopping centers.
Schools
The school district in Panhandle, Florida, is outstanding—it's one of the best in the country. Schools here have a national reputation for excellence, and people move here specifically to benefit from that.
It's not just the exceptional quality of the education; it's also the diversity of the courses offered. The district offers a wide range of advanced placement classes, and there are tremendous opportunities for students interested in sports or the arts.
Job opportunities
Panhandle Florida has a robust job market with great opportunities, particularly if you want to get involved in technology or research. It is also home to several Fortune 500 companies, which means that if you like to work for a big company but want to avoid big-city living, this is a great place to be.
Real estate
The Panhandle Florida real estate market is booming right now. It's an excellent time for those looking for investment opportunities and those thinking about buying their first home.
If you've been waiting on the sidelines of this market, now is the time to get in—it's expected that homes will show continued appreciation over the next year or two.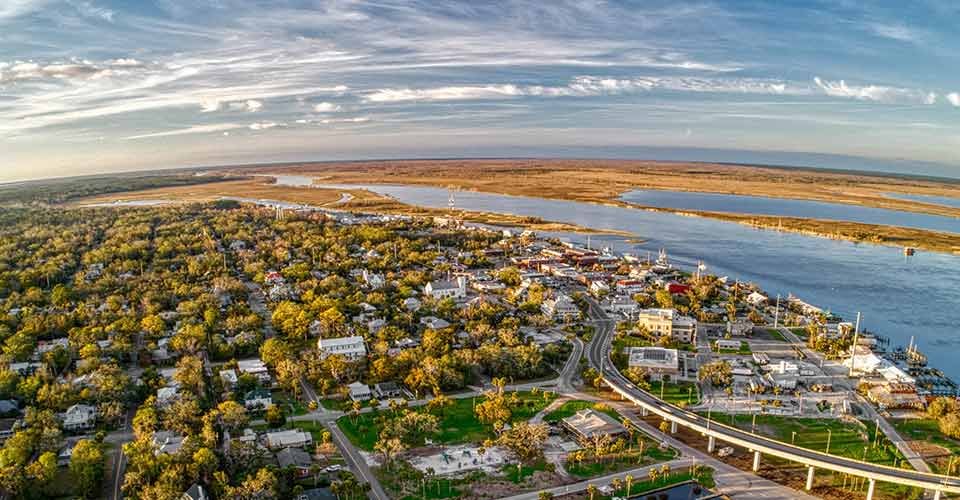 Where to live in Florida Panhandle
From the rural swamps of the west to coastal areas on the east, there are many places to have fun, whether you're into swimming or spelunking.
For more information about the best towns in this region of Florida and their cost of living, check out our list below:
Located on the Gulf Coast, Pensacola is a major tourist destination and has a small-town feel. With a population of 53,000 and low housing costs, this city will appeal to retirees looking for affordable living. However, with its significant military presence and major airport, it may be challenging to find quiet time away from the hustle and bustle.
The median home list price in Pensacola is $213,500 (2022).
Pensacola has plenty of attractions that all ages can enjoy. For example:
The National Museum of Naval Aviation
Historic Pensacola Village
Historic Downtown Pensacola
Destin
Destin, located in Okaloosa County on Florida's Emerald Coast, is a vibrant waterside city and one of the state's most popular vacation destinations.
The weather is perfect year-round. While many people think Florida is hot and humid all year long, that is not true. There are only three months out of the year where it gets above 90 degrees! The rest of the time, you will enjoy temperatures in the 60s or 70s with plenty of sunshine.
There are plenty of activities for families. When it comes down to it, one of the main reasons people move here is because they want their kids to have access to great schools and activities while they grow up.
Destin has something for everyone, including museums and theaters and many parks and playgrounds. It also has dozens of public and private golf courses, so if this is your thing, you will be right at home here!
Average home prices - $330,542

Top schools - Destin Elementary School, Fort Walton Beach High School

Major employers/Job market - Tourism, City of Destin

Tourist attractions - Crab Island Sandbar and Crab Island Water Park, Secret Harbor Beach Walkway and Boardwalk, HarborWalk Village

Demographics - Population - 13,378
Panama City
Panama City is a popular destination for tourists and retirees. With an overall population of 37,000, it's one of the largest cities in northwest Florida.
The city has a relatively low cost of living compared to other cities in Florida. It also offers many housing opportunities for people looking for affordable dwellings or luxurious mansions on the beachfront.
The average home price in Panama City is $232,200; condos go for just under $300,000, while townhomes are listed at $450,000+. These prices are significantly lower than what you'll find in Miami or Jacksonville.
Panama City Beach
Panama City Beach is a major tourist attraction with an international airport, which means the tourists come in droves. And who can blame them? It's hard to resist with resorts, restaurants, and the beach right at your doorstep. But what about if you're looking for a less transient place to call home?
For those looking for a quieter pace of life, there are many choices in the area around Panama City Beach - Rosemary Beach and Inlet Beach are charming beach towns with more permanent residents but still close enough to enjoy all that Panama City has to offer.
The median home price here is $280K - $290K in 2022.
Port St. Joe
Port St. Joe, a tiny town of just 3,600 people located on the coast of the Gulf of Mexico, is another excellent option for those seeking a laid-back lifestyle. Homes in this area typically cost less than most other coastal towns in Florida; the average price per square foot hovers around $300,000, far lower than nearby Destin or Panama City Beach.
The city's location close to St. Joseph Peninsula State Park and its award-winning white sand beach make it an ideal spot for nature lovers and water sports enthusiasts alike. The best part? The unemployment rate sits at about 3.6 percent - one of the lowest in Florida!
Marianna
The town was once a historic trading post, and it is on the National Register of Historic Places. Marianna, population 6,000, is famous for its Caverns State Park and nearby Chipola River, which is good for fishing and canoeing. It's also home to Chipola College, which has sports facilities open to the public.
Marianna is also home to many lakes and rivers, which means plenty of boating and fishing available. If you are not a big fan of going out on the water, you can still enjoy all the benefits of having access to these natural resources.
There are many beautiful parks in Marianna where you can hike or go camping in the woods. Several golf courses are close by for those who want to play golf but don't have time for a long round at one of the local courses.
Other points of interest include Jackson Blue Spring (part of Florida's first state park), Blue Springs Recreational Area (where you can camp alongside a spring-fed river), Merchants Walk (an outdoor mall), and several historical buildings from the early 19th century. The median home price here is $200,000 as of July 2022.
Tallahassee is the capital of Florida and home to two universities - Florida State University and Florida A&M University. With a population of 200,000, it's a city with much to offer. Tallahassee Community College is also located here, nestled between the universities.
If you're seeking a leisurely lifestyle where you can enjoy the outdoors while having access to plenty of educational opportunities, Tallahassee may be right up your alley.
Places of interest in Tallahassee include:
The Museum of Natural History (and the adjacent Museum of Cultural History)

The Challenger Learning Center, a science museum dedicated to space exploration and flight

The Tallahassee Automobile Museum

Goodwood Museum & Gardens
Housing prices in Tallahassee can vary greatly depending on which neighborhood you choose to live in. The median home price for 2022 is $250,000, making it one of the more affordable cities in the state for real estate purchases.
Blountstown
Known for attracting a fair share of retirees, Blountstown is the place to be if you're looking for a quiet and peaceful retirement. This city has a population of under 2,500 residents and is nestled along the Apalachicola River.
If you enjoy hunting, fishing, or enjoying nature, don't miss out on Sam Atkins Park. Here you will find two baseball fields and two basketball courts for those that like to stay active. The park also contains hiking trails and picnic areas perfect for family outings or hosting events.
Blountstown offers some of the lowest home prices in the Florida Panhandle, with an average listing price of $130,200. Most homes were built between 1900-and 1939 with 3-4 bedrooms.
If you are looking for employment opportunities in Blountstown, several top employers offer great career opportunities - Calhoun Correctional Institution (1,575 employees), Gulf Coast State College (294 employees), and Industrial Contractors Inc (246 employees). These employers have helped Blountstown earn its reputation as a regional center of employment opportunities in northwest Florida.
Navarre
Navarre is the largest unincorporated community in Florida and one of only two significant communities in the state without a municipality to serve it (the other is Key Largo). The city rests on the Gulf Coast and offers great outdoor activities like fishing, hiking, biking, and surfing.
The average home price in Navarre is $185,000. The median income for Navarre's estimated 40,000 residents is $68,000 per year. The unemployment rate of 2.8% falls below both county and state averages.
If you're looking for a safe place to raise your family within minutes of world-class beaches and recreational activities, Navarre could be an ideal place to live.
Seaside
Seaside is a small town in the Florida Panhandle with around 1,500. It was founded in 1981 by Robert Davis and is known for being the first New Urbanist community in the United States.
There are three schools for children - Bay Elementary School, Emerald Coast Middle School, and South Walton High School. The educational attainment rate here is nearly 100%.
The median home price here is $1,072,000 (as of 2022).
Lynn Haven
Lynn Haven is close to the military base. The military base is one of the largest employers in Bay County. It offers excellent benefits, and it is an excellent place for families. Lynn Haven has a strong sense of community.
Lynn Haven is a beautiful place for nature lovers. Lynn Haven is an amiable city with a strong sense of community. It's easy to meet new people in this area, and people are willing to help each other out when needed.
There are many parks and green spaces throughout the city to enjoy nature or relax on your own time.
Lynn Haven is home to many technology companies that offer great career opportunities for residents who want to work in their field but don't want to relocate elsewhere. This makes it an ideal place for people who want to stay close but still have access to high-paying jobs in their field.
Carrabelle
Carrabelle is a small fishing town of only 1,872 that prides itself on being the "Seafood Capital of Florida," and it's been dubbed one of the best places in all of America to do saltwater fishing. The average home price here is a low $215,000, and there's no shortage of affordable properties for you to choose from when buying your permanent residence or a vacation home.
Suppose you're looking for a job in the area. In that case, you'll probably find those easier than elsewhere in Florida—the unemployment rate here is only 6.1 percent, compared with the Florida average of 7 percent and the U.S. average of 7.9 percent! Here are some more exciting facts about Carrabelle:
The median household income is $32,500.

With mild winters and hot summers featuring high humidity, Carrabelle has an average climate for Florida.

Local attractions include Carrabelle Beach (calm surf) and the excellent Carrabelle History Museum.
Mexico Beach
Mexico Beach is a small city in Bay County, Florida. With around 1,000 people, the city is known for its white-sand beaches, clear water, and recreational fishing. Mexico Beach was founded in the 1950s as a tourist destination and retirement town. It is still a popular tourist destination among families who enjoy beach vacations.
It has also seen an upturn in residents moving to the area after retiring as it offers easy access to several large cities along the coast but still provides a sense of peace not found in larger cities. Zillow estimated the median home value was $410,000 as of January 2021 and $430,000 in 2022. The median rent price was estimated at $1,200 per month as of January 2021, with an estimate of $1,300 per month beginning in 2022 by Zillow.
Conclusion
Moving to the Florida Panhandle is a popular choice among retirees and families alike; there are different places to go and things to do, depending on what you're into.
The Florida Panhandle is known for its stunning beaches, great fishing and water sports, and vibrant culture. This region offers year-round sunshine, a low cost of living, and a diverse range of activities to suit all lifestyles. For those looking for something slower-paced, the towns along the Gulf Coast offer beautiful scenery and quiet seaside living.
If you prefer something a little more active, then Pensacola may be the right place for you; it has an active community of artists and musicians and several museums and art galleries. There is something for everyone with so many things to do here, whether they prefer indoor or outdoor activities!
With over 50 years of mortgage industry experience, we are here to help you achieve the American dream of owning a home. We strive to provide the best education before, during, and after you buy a home. Our advice is based on experience with Phil Ganz and Team closing over One billion dollars and helping countless families.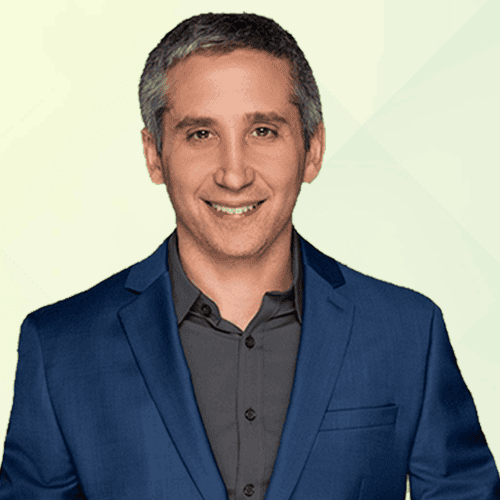 About Author - Phil Ganz
Phil Ganz has over 20+ years of experience in the residential financing space. With over a billion dollars of funded loans, Phil helps homebuyers configure the perfect mortgage plan. Whether it's your first home, a complex multiple-property purchase, or anything in between, Phil has the experience to help you achieve your goals.