The Most Popular Places to Live on the Florida Coast
Phil Ganz
/
8 Min Read
/
May 27, 2022
There are 50 states in the United States, and then there is Florida! People from across the country flock to America's southernmost state and call this place home. It's one of the most popular places in the United States to live. According to Zillow, more than 5 million people live in Florida's coastal counties.
(Mar 27, 2023)
The region has become one of the nation's most popular locations for retirees and second-home owners. Why? From the glitzy beaches of Miami to the mangrove swamps of Florida's Gulf Coast and the misty springs of Florida's Panhandle, each region of Florida has its own identity and personality.
From historic Key West to charming St. Augustine to the sun-splashed keys of the Florida Keys, with their legendary fishing and old-world style, where else in America can you find such a dazzling array of diverse locales within a single state.
But where exactly makes for an excellent place to live when you decide to move to Florida? The culture is unique, the warm weather year-round, and the fresh seafood is incomparable. Plus, if you're a football fan, you couldn't ask for a better place since Florida boasts some of college football's biggest fan bases in places like Gainesville and Miami.
If you want a great place in Florida, this guide will help you find it. We've outlined the best places to live on the Florida Coast, including good options.
About Florida Coast
Florida is a long peninsula stretching from South Carolina to The Keys in the south and Alabama to Georgia. It is the 22nd largest state by total area and is influenced by the cultures of the Southern United States, Caribbean, Central America, and the Northern Atlantic Ocean.
The Florida coast has two coasts - the Atlantic Ocean and the Gulf of Mexico. Many towns along each coast, but some of the most popular include Sarasota, Tampa, Naples, and Fort Myers. These areas are known for their warm weather and beautiful beaches, making them ideal for living near water or enjoying outdoor activities like fishing and swimming.
What Makes Florida Coast A Popular Place To Live?
The Florida coast has a variety of communities, neighborhoods, and landmarks that make it a popular place to live. From the unspoiled natural habitats to the vibrant lifestyle it boasts, numerous factors attract residents and tourists alike, and here are some of the most obvious ones:
Favorable Climatic Conditions
People choose to live on the Florida coast because of the climate. The weather is very comfortable year-round, and there are plenty of sunny days. The weather is generally warm, and there are many activities to enjoy year-round. The climate on the Florida coast is warm and sunny all year round.
The average temperature in January is 59 degrees Fahrenheit (15 degrees Celsius). In July, it averages 87 degrees Fahrenheit (31 degrees Celsius). This makes it ideal for those who love outdoor activities such as swimming, fishing, and boating.
Job Opportunities
One of the main reasons for moving to Florida is that it offers plenty of job opportunities. Florida has a very healthy and diverse economy. The state has solid agricultural output, textiles, food and beverage production, electronics and aerospace industry, to name a few. This has seen the Florida job market experience tremendous growth over the past few years, with Florida making one of the top three destinations in the nation for high-tech employment growth.
Tourism is another big industry in Florida, offering numerous service, business, and management job positions due to over 600 hotels. Because of this, it has a fast-growing economy due to its rising service industry. The service industry includes tourism, transportation, international banking, electronic commerce, and (at Cape Canaveral) aerospace.
The state needs more employees to keep up with this growth; therefore, workers in this region are always in demand. This means that you can find a rewarding career here regardless of your expertise or education level.
Quality Education
Most Florida Coast residents will tell you that there are two main reasons a person should live in the Florida coastal area. The first is they were born here, and the second is education. The benefits of schools in the Florida coastal region are numerous. They include public, private, parochial, charter, college preparatory, and vocational schools. Florida's Department of Education oversees the state's K-12 public school system.
The state is a national leader in school choice, with open enrollment and numerous charter, magnet, and homeschooling opportunities. Florida's 50 public schools represent 1.3 million students. Florida has the fourth-largest public school system in the United States, and many of its districts are among the 100 most prominent in the country.
This means a wide variety of resources available for you to use, whether you want to research with a famed professor or discover some new creative pursuit.
Magnificent Sceneries & white sand beaches
The Florida coasts are one of the most picturesque places to live. The white sand beaches are some of the most beautiful in the world, and many are only a walk or quick drive away from your resort or beach house.
The sparkling waters and white-sand beaches make it ideal for a relaxing getaway while maintaining your proximity to the city, never feeling like you're far away from everything else in town. You can enjoy swimming, fishing, snorkeling, or relaxing on the beach!
Diverse Activities
From major cities like Miami and Orlando to smaller towns like Apalachicola and St Augustine (where there's still plenty of nightlife), there's something for everyone here in Florida's Sunshine State! If you desire a little urban experience, many cities like Orlando offer entertainment options like amusement parks and sporting events and shopping opportunities at malls like Disney World's Magic Kingdom or Universal Studios.
The ocean offers many outdoor activities such as surfing and sailing. At the same time, inland rivers provide excellent opportunities for kayaking and canoeing through protected areas where you can enjoy wildlife viewing without disturbing any marine life while paddling around at your own pace.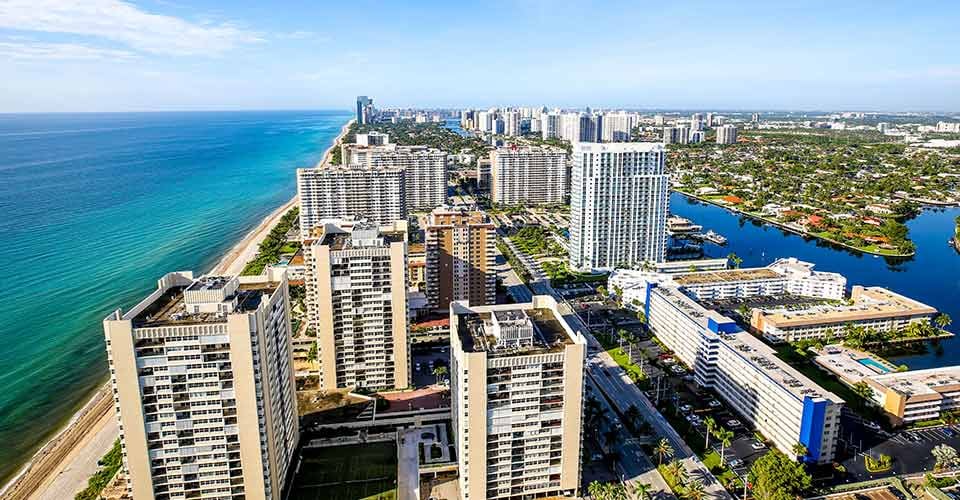 Best Places to Live On the Florida Coast
The Florida coast is adept with an assortment of pretty popular attractions and attracts numerous tourists from different parts of the world. For a location with adequate sunshine and warm temperatures year-round, then the Florida Coast is your ideal location. Here are some ideal places to stay on the Florida coast, along with what makes them attractive:
Stuart
This is an excellent place for the convenience and proximity of the sand beach without dealing with all traffic. Stuart is a sleepy little town on the southern tip of Martin County that has become a preferred home for many retirees wishing to live near the ocean but avoid the crowds and traffic of South Florida.
It is known as the Sailfish Capital of the World due to its many fishing tournaments held every year. Moreover, it hosts several major events, including an annual Seafood Festival in March, including food vendors and entertainment such as parades and concerts by local bands.
Stuart is located on Florida's east coast, just south of Palm Beach County. This coastal community has over 50 miles of beaches with white dunes that stretch for miles along the Atlantic Ocean.
The town ranked as one of the top 10 places to live by Money Magazine severally, with the city also receiving an award from CNN Money as one of the top 10 places to retire in America.
It is home to many fantastic state parks for those who enjoy hiking or fishing along the natural waterways like Lake Okeechobee or Indian River Lagoon, which provides boating, kayaking, and other water sports activities like jet skiing.
The town has several beautiful beaches, including Jensen Beach Park, which has white dunes, and windsurfing opportunities. It also has plenty of historic charm with historic buildings such as the Old Jail Museum (which was previously a jail) and the Historic District with lots of antique shops, restaurants, and bars.
Finally, the town's soothingly warm climate means enjoying year-round outdoor activities like golfing or fishing without worrying about changing weather conditions or high temperatures.
Fort Myers is a city in Lee County, Florida. Its downtown river district is built on the historic Caloosahatchee River and is a principal city of the Cape Coral-Fort Myers Metropolitan Statistical Area and the North Port-Fort Myers-Naples Combined Statistical Area and is among Florida's largest metropolitan areas. It is commonly known as the "City of Seven Lakes."
This city has over 71,000 people and is located along the Caloosahatchee River. There are many reasons why people choose to live here, including its proximity to other cities in Southwest Florida, such as Naples and Sarasota. Fort Myers is also home to several high-profile attractions, such as Edison's Museum, which features over 6,000 items from Thomas Edison's life and work.
The Fort Myers region is also a hub for cultural history and diversity, serving as a residence for the famous Calusa tribe. History outlines that The Calusa people lived along both sides of what became known as "the river" or Caloosahatchee River (not to be confused with today's Caloosahatchee River). Only in Fort Myers can you find & learn about this great tribe as it is home to one local landmark.
Naples
Naples is an eclectic city on the west coast of Florida with over 15,000 people and is located on Florida's west coast along the Gulf Coast. It's known as the "City on Seven Hills" because it sits in a bowl-like depression surrounded by seven hills above sea level.
Naples has been named one of America's best places to retire by CNN Money Magazine for its temperate climate and beautiful beaches with luxury homes at reasonable prices compared to other parts of the United States.
Naples is known for its beautiful beaches, golf courses, and luxury vacation homes that attract tourists worldwide. The city is also packed with numerous quality restaurants, shops, galleries, and historic sites, including the Historic Fruit & Spice Park, where visitors can learn about tropical plants worldwide. While here, you can take your pick for your perfect relaxation spot, courtesy of its multiple excellent resorts that attract tourists worldwide.
In addition, Naples residents can enjoy year-round sunshine while living in one of the most popular cities in America!
The area is one of the largest metropolitan areas in Florida, with more than three million people living in the region. It is popularly known as "America's Sunniest City," with 300 sunny days per year, and is home to several major cities, including Tampa, St. Petersburg, Clearwater, and Sarasota.
The Tampa Bay area comprises several cities, including Tampa, St. Petersburg, Clearwater, and Bradenton/Sarasota. The area has an urban feel but still retains its small-town charm because it's close enough to nature to enjoy city life and outdoor activities like kayaking or hiking at nearby parks like John Chesnut Sr Park or Caladesi Island State Park.
Tampa Bay is home to many popular tourist attractions, including Busch Gardens Tampa Bay (a theme park), the Florida Aquarium (an aquarium), Raymond James Stadium (home field for the NFL's Buccaneers), the University of South Florida; Channelside, and Ybor City (a historic district).
You'll love that this area has more than 100 miles of coastline on both sides to enjoy beautiful sunsets from your waterfront condominium or home overlooking Tampa Bay or Boca Ciega Bay.
Therefore, it is no surprise that Tampa has many beaches, including the famous Clearwater Beach and Adventure Island Theme Parks. Lastly, Tampa offers a few world-class museums, such as the John F. Kennedy Memorial Library & Museum and Glazer Children's Museum, that help you learn and enjoy the unique aspect of its history.
Fort Lauderdale
Fort Lauderdale is on a barrier island east of Miami and has attracted international tourism for decades ranking high as a popular retirement destination for Baby Boomers. Fort Lauderdale is well known as "Venice of America" because it was built on an island with canals and waterways throughout the city. This makes it an attractive place for boating enthusiasts who enjoy living near water.
Fort Lauderdale is home to over 100 miles of beautiful beaches and attracts visitors worldwide every year. Its beaches are globally-acclaimed and have previously ranked among the best in America - in 2011, Condé Nast Traveler ranked Fort Lauderdale Beach as one of its "Top 25 Beaches in the World"; it also has miles of beaches within walking distance of its downtown area.
It is one of the most popular cities in Florida for tourists because it offers plenty of activities and allures for visitors to enjoy while they're visiting.
There is an assortment of fun and engaging activities in Fort Lauderdale when you want to leave town but still stay close by. For example, if you'd like to go shopping or have dinner with friends at an upscale restaurant, then take a trip over to Las Olas Boulevard or Espanola Way, where you'll find many high-end boutiques and restaurants as street performers.
And when you want to go shopping with your pals, there is the stunning Sawgrass Mills mall, where you can enjoy an exclusive shopping experience and head down to an afternoon adventure of boating on canals or fishing off piers or docks near homes in Fort Lauderdale. Also, there are many other amenities available in Fort Lauderdale, including golf courses, shopping centers, and restaurants.
Conclusion
If you want a perfect place in Florida to live, don't forget to consider the Florida coast. Florida Coast is one of the fascinating coastal areas in the USA. It has many pretty popular attractions and attracts numerous tourists from different parts of the world. The growing communities in this beautiful part of the world offer a wonderful place to live and start a family while enjoying beach life, resort-style living, and affordable rates.
Once you consider that the Florida coast has friendly people, beautiful scenery, and is close to other major cities, it becomes easy to understand how people keep flocking here. The only question remains - are you willing to call Florida coast home?