Why Maitland Florida is Popular Among Young Adults
Phil Ganz
/
8 Min Read
/
Apr 07, 2022
Maitland, Florida, is a gorgeous city located in Central Florida. The City of Excellence has a population of 19,675 and is easily accessible to Orlando and other major Central Florida cities. Maitland, Florida, is popular among young adults because of its many fun, safe, and entertaining offerings.
(Mar 26, 2023)
Water Sports and Waterparks
Maitland Florida offers the perfect setting for young water enthusiasts with water sports galore. Abundant options are available, from swimming in local pools to kayaking down the river.
There are many water sports and waterparks to enjoy in and around Maitland, Florida, including:
This is where you will find the perfect spot to enjoy the sun, sand, surf, and a lot of fun. The Aquatic Center is located in Daytona Beach on State Road A1A at the end of the Seabreeze Bridge.
SeaWorld is a beautiful place to spend the day enjoying all of what SeaWorld has to offer. You can experience one-of-a-kind rides, take a journey under the sea, or meet dolphins and other sea creatures. There is something for everyone at SeaWorld Orlando.
Disney's Typhoon Lagoon Water Park
Typhoon Lagoon is Disney World's water park that features thrilling waterslides, a wave pool with six-foot waves, relaxing rivers, and more than two acres of white sand beaches. This water park offers plenty of entertainment for young adults, including surfing lessons, snorkeling adventures, scuba diving, and kayaking.
Located on International Drive, Universal's Volcano Bay Water Theme Park is a tropical paradise that offers thrills and relaxation. The volcano Krakatau is the centerpiece of this park, and it stands more than 200 feet tall in the middle of a massive wave pool.
The park offers many different types of water slides. Some are single-rider body slides, while others are more family-friendly raft slides.
Discovery Cove
Located near Orlando's International Airport, Discovery Cove is an all-inclusive day resort where guests can experience exciting animal encounters in a breathtaking tropical atmosphere. Here you will swim with dolphins, feed exotic birds and encounter playful otters and tropical fish in the Tropical Reef.
A Vibrant Dining Scene
Maitland offers many dining options, from fine dining to fast-casual venues. With many higher education institutions nearby and young professionals residing in the area, there are ample opportunities for all taste buds.
It's a great place in Maitland, Florida. The food is always fresh, and the service is impeccable. The restaurant has a nice, elegant atmosphere. We would recommend it for a date night or any other occasion when you want to impress!
Black Bean Deli has delicious food and an even better atmosphere. The staff is friendly and accommodating, the decor is modern and elegant, and the food is to die for! It's our favorite restaurant in Maitland!
This is the best place for a romantic dinner in Maitland, Florida. The food was delicious, the service was excellent, and the ambiance was perfect! You will have a wonderful time at this restaurant.
Bosphorous
Located on North Orlando Avenue, Bosphorous Restaurant has been a Turkish restaurant since 2006. One of their specialties is the Iskender kebab, which consists of grilled lamb served over pita bread with a yogurt sauce and tomato sauce on top.
If you're looking for something vegetarian, try the Hummus Beyaz Peynir or the Sigara Boregi. These are small appetizers that pack a punch. The Lamb Shank, the Baklava, and the Mezze Plate are other considerations. This is a great place to go for an affordable date night in Maitland.
Sage
Sage is located on Packwood Avenue in Maitland. The restaurant serves fresh meat, cheese, pasta, and produce from local farms. Some of the items you'll find on their menu include the Margherita Pizza, Mushroom Ravioli, and the Duck Leg Confit.
Sage also has a selection of cocktails, including several different martinis and wine by the glass. The atmosphere at Sage is upscale and romantic, making it an ideal place to spend a romantic evening with your significant other.
Shopping
Shop 'til you drop! Maitland offers plenty of unique shopping experiences that will not disappoint even the most seasoned shopper. Whether shopping at boutiques or browsing the bookstores, Maitland, Florida has it all!
Culture & Arts
Maitland, Florida, has a thriving arts and culture scene that includes unique art galleries, sculpture gardens, festivals, and many other amazing sights and sounds. Some of these include the historical Morse Museum, The Holocaust Memorial Resource & Education Center of Florida, and the Charles Hosmer Morse Museum of American Art. These museums offer a glimpse into Maitland's history and its bright future.
Outdoor Action and Adventure
The beautiful parks in Maitland provide plenty of opportunities for outdoor fun, including walking trails, fishing, sports fields, and more. Lake Lily Park is an ideal place to enjoy a picnic or take a stroll along the lakefront boardwalk. Other local parks include Venetian Gardens and Maitland Community Park.
Many state parks are within driving distance from Maitland, including Wekiwa Springs State Park, Blue Springs State Park, and Rock Springs Run State Reserve.
Wildlife and Conservation Nature Center
The Wildlife and Conservation Nature Center is a popular attraction in Maitland, Florida. You can attend events and listen to lectures about local wildlife and conservation efforts at this nature center. In addition, the center has many exhibits where you can see animals up close and learn about them.
When visiting the nature center, be sure to check out the walking trails that wind through the preserve. This is an excellent place for hikers and nature lovers.
Lake Lily
Lake Lily is one of the most popular destinations in Maitland, Florida. This place hosts various events during weekends, such as art festivals, concerts, and more. It is surrounded by walking trails that you can enjoy during sunrise or sunset. In addition, there are picnic tables where you can bond with friends or family while enjoying the beauty of nature.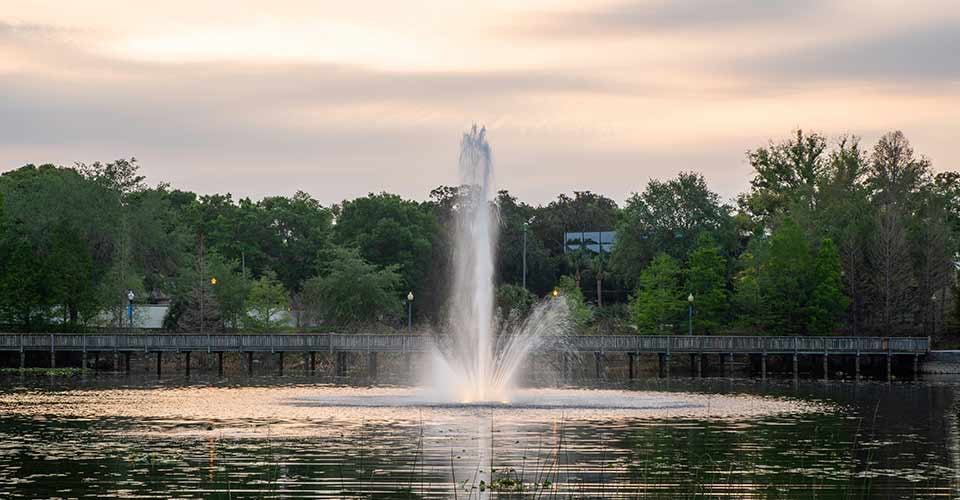 Maitland City Events
While living in Maitland, Florida, you can anticipate many exciting events every month that will give your stay more meaning and purpose. It hosts several events throughout the year ranging from family-friendly events that will make your stay more memorable.
Orlando Apartment Communities
In Maitland, you'll find several Orlando apartment communities for young adults, including The Hamptons at MetroWest, Watercrest at Lake Orienta, and Legacy on Lake Margaret Apartments. These communities offer affordable monthly rates with plenty of amenities that young adults want, such as swimming pools, fitness centers, and pet-friendly environments.
The Job Market
Maitland will soon be home to a brand new downtown area that's expected to create more than 1,000 jobs for city residents. Young adults looking for work can also find other opportunities nearby Orlando, only 10 minutes away from Maitland.
Construction worker
There are many entry-level jobs in the construction industry, such as roofer and laborer. These jobs typically involve physical labor and require little to no experience or training.
Hospitality and tourism industry jobs
The tourism and hospitality industries are significant sources of employment for young people in Maitland. The city is located between Orlando and Daytona Beach and has many hotels, restaurants, and bars. Many of these businesses hire teenagers who are at least 18 years old.
Landscape maintenance
Orlando landscaping companies employ many young adults who have experience mowing lawns, trimming trees, and removing weeds. Owners of residential properties often hire young people to perform yard work part-time.
Restaurant work
Restaurants employ workers of all ages to perform various tasks, including bussing tables, washing dishes, stocking supplies, and cooking food. The minimum age requirement to work in most restaurants is 16, although some employers may require applicants to be at least 18 years old.
Nightlife
Maitland is famous for its nightlife. It has many bars and clubs that offer an excellent environment for fun with friends. Maitland Florida nightlife includes bars, clubs, lounges, and restaurants.
There are many clubs in Maitland which are open till very late in the night. The best thing about these clubs is that they do not charge any fee for entering their premises. This is one of the main reasons Maitland Florida is becoming so popular among young adults today.
Affordable Rent
The rent of the apartments in Maitland, Florida, is very affordable compared to other Florida cities. You can easily find a decent apartment at a reasonable price in this city. This makes it easy for young adults to live close to their office or college and save money on daily transportation. This is another primary reason why people want to live in this city today.
Entertainment
Maitland, Florida, is one of the most entertaining cities in the world today. It has many entertainment places and parks where you can spend some quality time with your family and friends.
These entertainment places are open all day long and offer great fun activities at reasonable prices, making them an ideal place to hang out with friends and family members every weekend.
The best places to go clubbing
There are three clubs that we recommend. The first is Suite B Lounge on S. Orlando Ave. This club has plenty of room, great lighting, several bar stations, and lots of room for dancing. The second is Club 23 West on W Horatio Ave. It is a smaller club, but it does have live music and a dance floor. Finally, Firestone Live on E South St. has two dance floors and a full kitchen and bar.
The best places to go for some drinks
If you want to hang out with some friends and drink, there are three great options as well. The first is the Copper Rocket Pub on N Orange Ave., which has over a hundred different beers and ales, specialty drinks, and excellent pub food.
The second is Chillers on N Orange Ave., which has many frozen drinks and shots, and cocktails. Finally, the Barn on North Orange Avenue also has draft beer and wine by the glass or bottle, along with cocktails and shots.
Good places for karaoke
Karaoke is one of the most popular attractions for Maitland, Florida nightlife. Some places that are well known for karaoke are:
Shooter's Lounge – Shooter's Lounge is a bar that allows its customers to relax, enjoy a few drinks, and sing a song or two in their karaoke bar. They have several games that can allow people to have fun as they wait for their turn to sing.

O'shuckers Sports Bar – O'shuckers Sports Bar is another excellent place to go if you want to have some fun singing in front of other people. They also offer special events that can be enjoyed by everyone in the family and not just adults.
Parks
Maitland has beautiful parks that are perfect for family outings. The city also has its fair share of dog parks where you can let your furry friend run free.
Fort Maitland Park
Fort Maitland Park is a nice park to visit on a sunny day in Maitland, Florida. The park has a gazebo, tennis courts, and a basketball court. You can find many people exercising here and children playing tag or using the playground.
Evans High School Track
The Maynard Evans High School Track is a track that is open to the public when school is not in session. On beautiful days, you can find many joggers and walkers doing laps around the track. It's also popular with soccer players that use the field for practice or games.
Maitland Community Park
Maitland Community Park is another excellent place to visit in Maitland, Florida. There are two lakes with fishing piers, playgrounds, picnic areas, and pavilions. This park is also home to three athletic fields where you may catch a game or practice on any given day of the week.
Maitland Recreation Complex
Located at 1450 Mayo Avenue, the Maitland Recreation Complex is a destination for all ages. The complex features basketball and tennis courts, a playground, a softball field, and more. In addition, there's an outdoor pool with a splash pad and a gymnasium with a weight room. The recreation center also offers youth sports leagues and programming for children of all ages.
Festivals
One of the best things about Florida is all the festivals throughout the year. In Maitland alone, at least five festivals happen annually: the Fourth of July celebration, the Fourth Friday Food Truck Fiesta, Maitland Food & Wine Festival, Maitland Farmers' Market, and the Maitland Art Festival.
Maitland Art Festival (March)
The Maitland Art Festival is an annual arts festival at the Waterhouse Pavilion in Lake Lily Park. The festival features works from more than 100 artists and crafters from around the country who will be displaying their paintings, sculptures, ceramics, woodwork, glasswork, and jewelry. There will be live entertainment as well as food trucks and other vendors. Admission to the festival is free.
Maitland Food Truck Rally (April)
The Maitland Food Truck Rally takes place at the Maitland Civic Center every month throughout most of the year. The rally features several food trucks serving everything from tacos to burgers to barbecue and desserts.
There are also live bands performing and activities for kids, including bounce houses and face painting. Admission to the festival is free; however, there is a parking fee, and all food must be purchased separately from the food trucks.
Maitland Food Truck Rally
If you love food trucks, then the Maitland Food Truck Rally is the perfect event for you to attend. This annual festival takes place on the third Thursday of each month from 5:30 p.m. to 9 p.m at Lake Lily Park (701 S Lake Lily Drive).
The event features various food trucks from around Orlando, including BBQ, Latin cuisine, seafood, and more! There will also be live entertainment at this festival, so it's sure to be a fun time!
Race for the Sun 5k/10k in Maitland
The race for the Sun 5k/10k is an annual event in February or March. Participants can choose to run in the 5k or 10k race or walk instead. The race begins and ends at Lake Lily Park in Maitland.
The winter weather is fantastic
If you love winter weather but don't consider yourself a fan of snow or freezing temperatures, then this might be the city for you. The average temperature in January is around 65 degrees Fahrenheit, which is quite warm compared to other cities in central Florida. And if it does get too cold for your liking? You can always head down south for some sunbathing!
Maitland, Florida is a short drive from anywhere in central Florida
Although Maitland is in Orlando, it's far enough away from the tourist areas that you can avoid traffic and enjoy a quieter way of life. However, Maitland, Florida, is about 20 minutes from downtown Orlando and 30 minutes from Disney World. It's also just 10-15 minutes from Winter Park, where you can get to Rollins College, Park Avenue, or the beautiful Mead Gardens.
With various retail shops, restaurants, and bars located throughout the town, it's easy to see why Maitland, Florida, is one of the most popular places among young adults.
Interested in learning about becoming a resident in Florida or moving there? Read more.