All You Need to Know About Buying a Condominium in Florida
Phil Ganz
/
8 Min Read
/
Jun 17, 2022
Condos are a top choice for diverse groups, ranging from first-time homebuyers to investors and empty nesters.
People buy them in droves now because they are cheaper than actual houses, secure, and easier to maintain. Plus, they give owners access to various top-tier amenities, including pools and gyms.
But, picking the right condo can be challenging, especially if you aren't armed with the correct information. That is why we have compiled this comprehensive guide.
It will introduce you to everything you need to know before buying a condo, including what defines a condominium and why owning one is a splendid idea.
Let's dive in!
What is a Condo?
A condo or condominium is a residential or housing complex consisting of several separate units. Each unit in the complex belongs to a specific individual. Owners may rent out their units to tenants or keep them as apartments or independent houses.
Condominiums come with numerous facilities. The most common include swimming pools, barbeque pits, function rooms, basketball courts, gyms, garages, and outside hallways. Condo owners share these and more.
Condos are suitable for diverse people, ranging from first-time property owners looking for affordable alternatives to expensive family houses to older adults that prefer living in low-maintenance dwellings.
Condo vs. House
Condos and houses are two different properties. Whereas condos are single units existing within a larger building, houses are stand-alone single-unit residential structures. Typically, a house owner purchases the building and its land.
If you buy a condo unit, chances are high you'll have neighbors below, above, and next to you.
On the other hand, a house or single-family home doesn't share the same space with other buildings. That is one of the reasons why condos are often cheaper than free-standing houses.
However, condos attract homeowner's association (HOA) fees, unlike houses.
These fees cater to the expenses of maintaining and repairing amenities like swimming pools and clubhouses. They also act as reserve funds and pay for insurance.
Condo vs. Apartment
One of the features that distinguish condos from apartments is ownership. Individuals own condominium units, but apartments are rented residences that may be part of larger residential structures.
Condos and apartments are somewhat structurally similar- both are units within more significant buildings. So, both condo owners and apartment renters are surrounded by neighbors living in the same structure.
This similarity means people in condominiums and apartments have access to similar amenities like communal trash disposal and swimming pool facilities.
Finally, although HOA fees are standard for condo units, not all apartment renters have to pay them. The responsibility may be the landlord's or tenant's, depending on the lease agreement.
Condo vs. Mansion
Mansions are large houses built on extensive properties. Their most defining feature is luxe amenities like entertainment facilities, lavish grounds, and leisure space.
Since mansion owners also possess the land parcels that come with them, these properties have more maintenance responsibilities than condominiums.
Amenity-wise, mansions are less likely to have the community facilities available in most condominium complexes, including pools and gyms.
But these homes may have numerous high-end amenities, including private spa rooms, fully-equipped outdoor kitchens, and exquisitely-manicured backyards.
Buying vs. Renting a Condo
Whether to buy or rent a condo can be a dilemma. If all signs indicate that you'll live in the same place for the next five years or more, buying is more sensible than renting.
To ensure you pick the best option, put together a five-year plan.
Pros and cons of buying a condo
Buying a condo has many benefits over renting. The most prominent include:
You can rent out a condo you own and make extra income.
A condominium lets build wealth through home equity.
You can rent out a unit you own and enjoy tax write-offs.
Condos are an excellent investment because their value appreciates over time.
You can make improvements to a condominium you own.
But purchasing a condo has its downsides too. Here are some of them:
Buying requires a down payment.
Most buyers must pay closing costs.
Pros and cons of renting a condo
Renting is a good idea if you plan to do it for less than five years. This option has its upsides, including:
Lower up-front costs.
Flexibility to upgrade or downsize.
No concerns about tanking property values.
No maintenance or repair costs.
However, renting isn't all sunshine and rainbows because:
Renters don't reap returns because renting is not investing.
Condo tenants can't enjoy home equity.
Most owners don't allow renters to make changes to their condos.
Why Owning a Condo is a Good Idea
Condos come with their fair share of benefits. These include:
Affordability
Most condos cost less than single-family homes because, first, buyers purchase units with no land. What you buy in a condo is the air space within your walls. But you also share an ownership interest in exterior areas, stairwells, and other community properties and amenities.
Alternatives like detached houses are costlier because they allow you to own the land they are built on. On the other hand, Mansions come with land and privately-owned luxury features. These lead to hefty price tags.
Although renting an apartment may seem cheaper than buying a condo, in the long run, the obverse is true. If you rent a luxury apartment designed to provide higher-than-average convenience and comfort, the expenses will be higher.
Top-tier amenities
Condo owners often have top-tier community amenities at their disposal. These include fitness centers, pools, and rooftop terraces. And, some condominiums have unique features like spas and tennis courts too!
Many of the amenities available in condominium complexes are absent in most single-family houses. The reason is that they are expensive to build and install. For instance, an inground pool can cost anywhere from $28,000 to $55,000 in the United States, depending on shape, size, and materials.
But, since condo owners share the resources and facilities in the complex, you won't have to dish out ungodly amounts to access them after purchasing a unit.
Fewer responsibilities
You may expect to always tackle all interior repairs and maintenance as a condo owner—these cover drywall replacement, plumbing repairs, fixing electric issues, etc.
Anything outside your unit's interior space, including the siding and the building's structure, is the condo association's responsibility.
Therefore, you can safely assume that the board will repair and maintain exterior lighting, the roofing system, and amenities like hot tubs, sidewalks, trails, or walkways.
The best thing is that the homeowners association doesn't charge condo owners exorbitant fees for maintaining and repairing common spaces and resources.
Ready-to-use appliances
You need numerous appliances to live a comfortable life. For instance, your kitchen area can't serve you well without a refrigerator, dishwasher, and stove.
You also need an air conditioning unit, a television, and furniture in the living area. And a home can't be complete without essentials like a clothes dryer, washing machine, and space heater.
Fortunately, modern condominiums come with most must-have appliances. So, all you have to do is move into your unit and use them.
No need to start searching for appliances and buying whatever you can find. Moreover, since the condo is yours, you can replace anything you find outdated or purchase whatever is missing.
Security
Condos are more secure than apartments and similar alternatives. That is so because reputable security companies guard condominium complexes. These service providers use skilled and vetted staff to watch over the buildings, units, and occupants.
Top-notch condos also use several security systems to guarantee owners' safety. These include alarm systems and surveillance cameras. Other complexes have access control systems, intercom devices, roving guards, and front desk teams.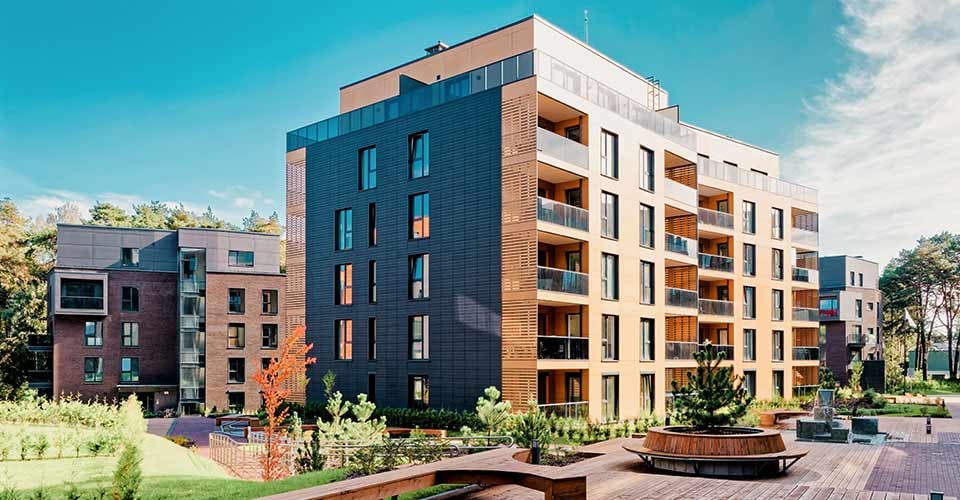 Drawbacks of Condominium Ownership
Condominium ownership comes with the following cons:
No land ownership
Condos don't come with individual land ownership privileges. On the contrary, the plot where a condo complex stands belongs to all homeowners. Therefore, if you buy a condo, you'll share the land's ownership with other owners.
Owning land is a huge plus because this resource is always in demand, and it does not depreciate. On the contrary, people that choose single-family homes and similar properties buy the building and parcel of land it sits on. Plus, as a sole landowner, you can do whatever you like with the property.
Limited space
Most condos are similar to sizable apartments. That means they can be small, especially for families or groups living together.
In addition, although some units come with designated storage spaces, they are smaller and unfit for storing more oversized items like old furniture.
Depending on location, some condominiums offer significantly limited parking spaces. Worse still, some complexes lack this option.
If you own multiple cars, living in a condo where the rules don't allow you to park more than one vehicle at a time can be challenging.
Community rules and limitations
Condo owners live in a community run by a governing board or association. The authoritative body sets rules and regulations that every resident must observe.
For instance, your condo's HOA may bar unit owners from throwing noisy parties or accessing recreational areas after permitted hours.
Some condo association rules also dictate the number of pets you can have in your unit. Living in a condominium with strict rules can be inconvenient, especially for pet lovers and owners who prefer individualizing their dwellings.
Fees
Prepare to pay specific fees after buying a condo. The first is a condominium fee- a levy covering ongoing maintenance costs associated with the complex. The amount you'll need to cover pay depends on your condo's size, amenities within the building, etc.
Typical condo fees are for garbage collection services and the upkeep or repair of the gas, water, cable tv, electric, and sewer systems, among other essentials.
Lack of privacy
All condo owners within a specific complex are part of a small community. Although this isn't inherently bad, privacy can be an issue.
Besides, since units belong to different individuals, a complex may be populated by diverse personalities, ranging from noisy neighbors to nosey people.
Most condo homeowners' associations also install video and audio surveillance systems. These can raise privacy concerns because you, the resident, may not know who monitors them and whether they are intrusive rather than safe.
Things to Consider Before Buying a Condo
Buying a condo is a significant investment. It would be best if you did all you could to ensure you make the right decision and end up with the best property. That includes factoring in the following:
Your lifestyle and needs
Your lifestyle, needs, and preferences should guide you in picking the proper dwellings.
A condo may be ideal if you spend most of your time away from the house, on business trips and similar activities. That is so because you won't worry about overgrown flower beds, dirty driveways, clogged gutters, etc., while you are away.
Condos also come with built-in communities. That makes them suitable for people who like socializing or loners who may benefit from community living.
However, considering other options is highly advisable if you prioritize aspects like owning a backyard over less maintenance.
Amenities included in a condo
Suppose your lifestyle and preferences justify buying a condo. In that case, you should outline the amenities you'd like to access. For instance, if you love swimming and barbequing, include a pool and barbeque pit on your wish list.
Note that some properties come with barebone offerings. Therefore, finding a simple condo won't be impossible if that is what you want.
But if you find a fitting condominium with some facilities you don't need now, consider buying it. It is better to have something you don't need today than regret not having it when circumstances change in the future.
Association rules and regulations
Different HOAs have their own rules and regulations. These apply to all condo owners and their families, tenants, occupants, etc.
For instance, an association may stipulate that homeowners are only allowed to own less than two pets or disallow dog ownership for whatever reasons.
Unless you are comfortable with the rules and regulations that your condo's association has set out, living there will be a nightmare. Therefore, you should carefully go through them and consult with the board.
Property's location
Location is vital, especially if you plan to buy a condo as an investment. Your unit is more likely to fetch higher prices if it's in an area with essential facilities, including healthcare centers, schools, roads, and public transport systems.
Living in a condo in an unsafe or noisy neighborhood can be a headache too. Therefore, you should pick the location with the utmost care, even if you don't plan on selling soon.
The Condo Buying Process
The condo buying process may be lengthy, but following it is indispensable. Failure to do that will likely make your endeavor a fruitless journey.
So, after making the monumental decision to buy a condominium, follow through with the steps outlined below.
Step 1 - Get a preapproval from a financial institution like your bank. That will help you establish what you can afford to spend.

Step 2 - Start searching. You should consult with an experienced realtor or agent at this stage. They will help you locate the best condos, handle negotiations, etc.

Step 3 - Inspect the available options and carefully examine vital features like plumbing, wiring, and the overall condominium structure.

Step 4 - Make an offer and negotiate accordingly.

Step 5 - Apply for a loan after establishing the amount you'll need to pay for your condo. If your credit score is good, the chances are high that you will qualify.

Step 6 - Meet the homeowners association (HOA) or condo board. The association will tell you everything you need to know, including fees to be paid and community regulations.

Step 7 - Hire an independent home inspector and let them assess the property.

Step 8 - Sign the papers if everything is in order.
Final Thoughts
Numerous reasons support the decision to buy a condominium. First, condos are more affordable than single-family homes.
Plus, they promote a greater sense of community and security. And not to mention that condo owners tackle fewer maintenance and repair requirements than other property owners.
Although condo ownership has drawbacks, including no land ownership and lack of privacy, the accompanying benefits outweigh them. But don't make an impulsive decision without considering your lifestyle, budget, needs, and preferences. Good luck!