Down Payment Assistance for First-Time Buyers in Florida - 2023
Phil Ganz
/
7 Min Read
/
Mar 14, 2023
With the help of Florida down payment assistance programs, first-time home buyers no longer need to save up large amounts of money for a 20% down payment – they can start owning instead of renting. These programs have the potential to improve neighborhoods, increase local values, and bring money into stores and businesses through taxes.
Need to know about down payment assistance programs? Get all the details and learn how to find one today! View all available Florida programs and grants for first-time home buyers.
What is Down Payment Assistance?
Wondering what Down Payment Assistance (DPA) is? DPA programs are government- and charity-backed initiatives that provide cash grants, cheap loans, and tax breaks to buyers of U.S. homes. This can help reduce or eliminate the down payment requirement for a home purchase, with some programs offering up to 100% financing on homes.
These philanthropic initiatives are funded and administered by government agencies, private foundations and local charities; giving those looking to purchase a home the opportunity to do so with financial assistance.
These philanthropic initiatives feature zero-interest-rate cash advances which are repaid when the home is refinanced or sold. Additionally, grants can be used to fund renovations to upgrade homes and improve local property values.
The amount of money you can receive from down payment assistance varies depending on your location, income, and how early you apply for assistance.
Get pre-approved for your home loan today and find out how much house you can afford!
How Does Down Payment Assistance Work?
Florida residents can take advantage of down payment assistance programs to acquire homes without needing to use any of their own money for a down payment.
Down payment assistance programs are available at the federal, state, and local levels. These programs offer support for those purchasing a home, with federal options including tax credits for first-time home buyers, cash grants for home purchases, and interest rate subsidies to make buying a home more affordable.
However, the majority of down payment assistance programs are managed by state and local governments, as well as private entities and charitable organizations. These non-federal programs may have specific requirements, such as the use of FHA loans, and may also involve additional paperwork beyond what is required for the mortgage application.
Down payment assistance can be given as cash either at closing or beforehand, or as a forgivable loan to be paid at closing. Certain DPA programs are designed to assist professionals like teachers, nurses, and EMTs, while others are available to anyone buying a home in a specific neighborhood or on a certain street.
View all programs and grants available for first-time home buyers.
Who Qualifies for Down Payment Assistance?
There are over 3,000 down payment assistance programs offered throughout the country, with the majority of these programs specifically aimed at assisting first-time home buyers.
Federal down payment assistance programs, like The $25,000 Down Payment Toward Equity Act, are designed to support low- and middle-income individuals who are purchasing a home for the first time.
These programs may have additional eligibility requirements beyond this, such as being limited to teachers, nurses, and EMTs, or being exclusively available to first-generation home buyers.
At the state and local levels, down payment assistance programs typically have geographic restrictions and are only available to home buyers in specific cities, communities, or neighborhoods.
It's important to note that down payment assistance programs are not intended to replace primary mortgages, but rather to supplement them in order to make homeownership more affordable. As a result, in order to be eligible for down payment assistance, home buyers must also qualify for their primary mortgage.
To determine if you are eligible for down payment assistance, consider getting pre-approved.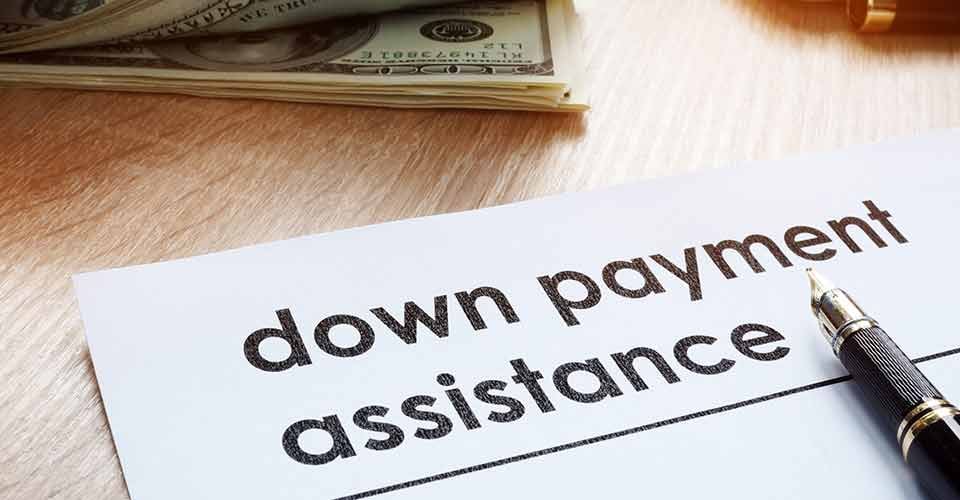 5 Types of Down Payment Assistance
There are five types of down payment assistance programs that home buyers can apply for.
Cash Grants For Your Down Payment
Cash grants make up the majority of down payment assistance programs, with the average award for first-time home buyers being approximately $10,000. Unlike loans, grants do not need to be repaid.
However, to promote community building and economic growth, many grant programs require that the buyer live in the home for a minimum of five years, or else the grant must be partially or fully repaid.
The Down Payment Toward Equity Act may provide first-time home buyers with up to $25,000 in cash to use towards down payment, closing costs, and other home-related expenses.
To find out if you are eligible for cash grants, consider getting pre-approved.
Closing Costs Credits
Closing cost credits provide a one-time cash grant, typically paid at closing, that can help reduce the amount of cash required to purchase a home.
These grants can be used to offset various costs associated with buying a first home, including mortgage closing costs, real estate taxes, title fees, and more.
Unlike loans, home buyers who receive closing cost credits are not required to repay them. However, some programs may require buyers to maintain residence for at least 36 months.
The most common type of closing cost credit is seller concessions, where the home seller contributes a portion of their proceeds to cover the buyer's closing costs.
It's important to note that this is different from a no-closing-cost mortgage, where the lender covers the closing costs in exchange for a higher mortgage rate.
If you're interested in closing cost credits, consider getting pre-approved as a first step.
Interest Rate Reductions
In some cities, homeownership can be made more affordable through mortgage rate subsidies. These subsidies are provided to residents in the form of cash payments at closing to cover mortgage discount points.
Mortgage discount points are an up-front fee paid to the lender at closing in exchange for a lower interest rate. Each point costs one percent of the loan amount and can lower the interest rate by 0.25 percentage points.
If you're interested in this type of program, it's important to get pre-approved to see what interest rate reductions may be available to you.
Property Tax Bill Credits
Property tax bill credits and tax reductions are another form of assistance available to all home buyers, not just first-timers.
These programs provide tax abatements and relief in designated areas to lower the tax bill for buyers in the long run. In some cases, mortgage credit certificates can be issued for up to $2,000 to offset property tax bills.
Check if you are eligible for property tax credits by getting pre-approved.
Down Payment Loans
Interest-free down payment loans are the least common type of down payment assistance. These loans are given to homebuyers to use towards their down payment and are interest-free.
However, they can impact the buyer's loan-to-value ratio, which can affect their mortgage pre-approval. Down payment loans are usually due when the buyer sells their home or refinances.
Get pre-approved to see if you qualify for down payment loans.
How to Find Down Payment Assistance to Buy Your Home
There is no single database that contains information on all down payment assistance programs available nationwide.
Some programs, such as property tax abatement and federal tax credits for first-time home buyers, are automatically applied. Other programs require an application to be submitted to be considered for down payment assistance.
Local and state down payment assistance programs are not widely advertised or well-promoted. The U.S. Department of Housing and Urban Development (HUD) has a semi-complete list of programs categorized by state, county, and city.
Before applying for down payment assistance, it's important to carefully review the terms and conditions of the program. Some programs may require that buyers finance their home purchase with an FHA mortgage, while others may have residency requirements of five years or more.
It's also important to note that applying for down payment assistance can add several weeks to your expected closing timeline. To ensure a smooth home buying process, it's a good idea to get pre-approved for an FHA mortgage before applying for down payment assistance.
How Much Money Do You Need For a Down Payment?
Thanks to low-down payment loans and down payment assistance programs, buyers may only need to put down as much money as they can afford.
The down payment for first-time buyers typically averages around 7 percent and has been as low as 3 percent in recent years, depending on the loan program and eligibility criteria.
The Department of Veterans Affairs offers 100% mortgages to veterans and active military members, while eligible buyers in rural and suburban areas can utilize no-money-down loans through the USDA. If you are interested in a low down payment mortgage, you can start by getting pre-approved.
Advice - Take Advantage of Down Payment Assistance Programs When Appropriate and Feasible
Down payment assistance programs can be found in every state across the United States, as well as in many neighborhoods. If there are federal programs available that are automatically applied, like tax credits, it is recommended that they be accepted.
However, when it comes to state and local programs, it is important to carefully examine the terms and conditions before accepting the assistance.
To access state and local DPAs, home buyers often need to submit a formal mortgage application and adhere to specific financing requirements.
This can include using higher-cost mortgages or mortgage lenders mandated by the state, which may offset the benefits of the down payment assistance program.
Therefore, it's important to conduct a side-by-side comparison of buying a home with or without DPA, and compare the options with low-down payment loans before deciding to use down payment assistance.
What's the Pre-Approval Process?
Obtaining pre-approval for a mortgage with a low down payment can be an excellent option to help you purchase your ideal home without having to make a significant upfront payment.
Pre-approval involves submitting an application to a lender, who will then review your credit history and financial situation to determine if you qualify for the loan.
The most common documents that lenders require are:
Identification such as a driver's license or passport.

Income verification such as pay stubs and W-2s.

Debt statements such as credit card bills or student loan statements.

Proof of assets such as bank account statements and investment accounts.

Other records such as tax returns, divorce decrees, or bankruptcy filings.
Once approved, you'll be able to shop for homes within your budget and have an advantage over other buyers when making offers.
The amount of the down payment will depend on the type of loan you choose and the lender's requirements. For example, FHA loans require as little as 3.5% down, while conventional loans may require up to 20%.
It's important to note that pre-approval does not guarantee that you will get the loan. The lender may still need additional information or documents before they can approve the loan.
Additionally, lenders may change their terms or rates after pre-approval, so it's important to stay in contact with them throughout the process.
Let Us Guide You Through the Process
Feeling overwhelmed? That's a normal reaction to trying to navigate the home-buying process.
Luckily our Florida experts can help you navigate down payment assistance programs, home loans, and real estate in Florida so that you can find your dream home without all the stress.
Contact us today to find the perfect program and get started.