FHA Loan Requirements for First-Time Buyers in Florida: Expert Guide
Phil Ganz
/
8 Min Read
/
Mar 30, 2023
This article provides information on the history, requirements, limits, types, and tips for applying for an FHA loan as a first-time home buyer in Florida.
What is an FHA Loan?
For Florida home buyers, FHA loans are characterized by three key traits:
A down payment requirement of just 3.5 percent, which makes it easier for many first-time home buyers to become homeowners.

All credit ratings are accepted and allowed, which means that even if your credit score is less than perfect, you may still be able to qualify for an FHA loan.

Loan sizes are within the FHA's insurance policy limits, which vary by location.
In addition to these traits, FHA loans are also assumable. This means that if you decide to sell your home, the new owner can assume your FHA mortgage at the same interest rate.
This can be a valuable benefit when interest rates are on the rise, as it allows you to potentially sell your home for more money than you would otherwise be able to.
What are FHA Loan Requirements for First-Time Buyers?
FHA-backed mortgages in Florida utilize the same mortgage contract as other U.S. home loans. Homebuyers borrow money, agree to monthly payments, and have the option to pay off the loan over either a 15 or 30-year term.
One of the benefits of an FHA loan is that there is no penalty for selling your home before the loan is paid off. As the homeowner, you also have the right to pay off your loan faster or refinance it if you choose.
According to mortgage software company ICE, the typical FHA homebuyer in Florida makes a down payment of less than 5 percent.
What is the Minimum Down Payment on an FHA Loan?
When purchasing a home with an FHA loan in Florida, buyers are required to make a down payment of at least 3.5 percent of the purchase price.
This means that for every $100,000 of the purchase price, the minimum down payment required would be $3,500.
It's important to note that there is no maximum down payment amount for an FHA loan.
Buyers are welcome to make a larger down payment if they choose, which can help lower their monthly mortgage payments and reduce the overall amount of interest they'll pay over the life of the loan.
What is the Minimum Credit Score For an FHA Loan?
To qualify for an FHA loan in Florida, most buyers are required to have a credit score of 580 or higher. However, borrowers with credit scores as low as 500 may still be eligible for an FHA loan with a down payment of 10 percent or more.
It's important to note that while FHA loans are designed to be more accessible to buyers with lower credit scores, lenders may have their own credit score requirements that are higher than the FHA's minimum.
Additionally, borrowers with lower credit scores may face higher interest rates or other fees.
How Much Is The FHA Mortgage Insurance Premium (MIP)?
On February 22, 2023, the FHA announced a new mortgage insurance premium (MIP) schedule that will apply to all FHA-backed mortgages with case numbers assigned on or after March 20, 2023.
FHA home buyers pay for mortgage insurance in two parts - an upfront mortgage insurance premium (UFMIP) and an annual mortgage insurance premium (MIP).
Under the new 2023 FHA mortgage insurance schedule, the UFMIP will be 1.75 percent of the loan amount. The annual MIP rates will vary based on the down payment, loan size, and length of the loan.
The FHA will automatically add the UFMIP to the buyer's loan balance as a built-in expense, and then collect 1/12 of the annual MIP as part of the buyer's monthly mortgage payment.
It's important for FHA home buyers in Florida to be aware of these new MIP rates when considering their mortgage options.
Who Qualifies for an FHA Loan?
To qualify for an FHA-insured loan, Florida homebuyers and the home they want to purchase must meet the FHA's eligibility standards, which are as follows:
A minimum down payment of 3.5% is required.

Verifiable income and employment are required.

Homebuyers cannot be delinquent on federal taxes or federal student loans.

Homebuyers cannot own another FHA-financed home.

Homes must meet habitability standards and be free from lead paint.
While the FHA does not enforce a minimum credit score for its mortgage program, it makes special provisions for buyers with no credit history or score. Lenders are directed to look beyond a person's credit score and consider their overall financial situation.
The FHA mortgage program has no unique eligibility standards, and buyers can purchase any residential property in any Florida city.
Additionally, non-permanent resident aliens and employees of the World Bank and foreign embassies can also use FHA mortgages.
Compared to other government-backed mortgage programs, FHA mortgage guidelines are less rigorous, making them an ideal choice for first-time homebuyers in Florida.
If you have been turned down for a conventional mortgage or VA loan, FHA financing could help you achieve your dream of homeownership.
What Are FHA Loan Limits?
In Florida, the FHA loan limits vary by county and are typically higher in more expensive areas.
As of 2023, the FHA loan limit in Florida ranges from $356,362 to $726,525 for a single-family home, depending on the county. The limit increases for 2-unit and multi-family homes.
The Federal Housing Finance Agency updates these loan limits every year, and the FHA provides a loan limit table for buyers to check the maximum allowable loan size in their county.
It's important to note that these limits only apply to FHA-insured mortgages and not to other types of home loans.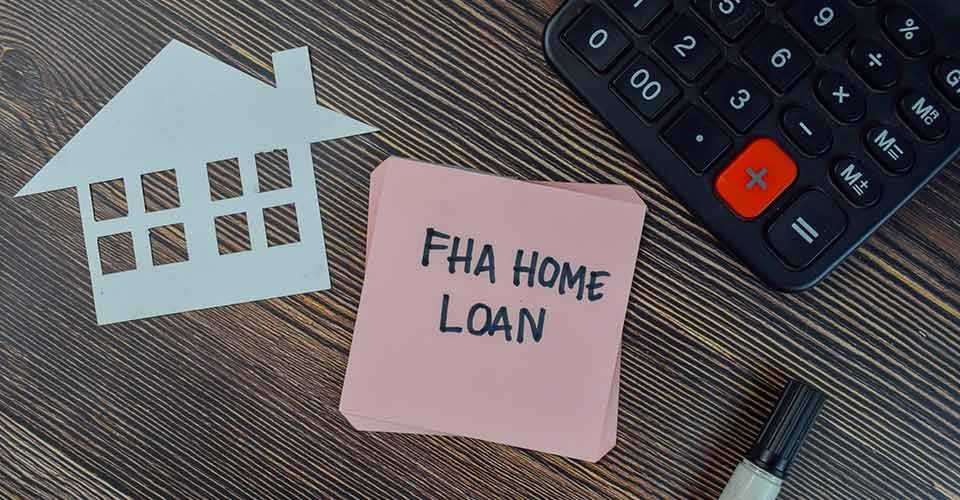 What Are the Different Types of FHA Loans?
The Federal Housing Administration (FHA) offers several types of loans that cater to different home buyer needs. These loans have helped many Americans achieve homeownership since the FHA insured its first mortgage in 1933.
If you're looking to buy a home in Florida, you may be interested in learning about the following FHA loan types:
FHA 203b Loan - Best For Buying A Home
The FHA 203b loan is commonly known as an "FHA loan," which is the standard government-backed mortgage option.
This type of loan is the default choice for buyers seeking FHA backing and offers several advantages, including a low down payment requirement of 3.5 percent, flexible mortgage guidelines, and a minimum credit score that's generally lower than what other lenders require.
FHA 203k Renovation Loan - Best For Buying A Home That Needs Repairs
The FHA's 203(k) renovation loan is a unique mortgage program that combines the costs of purchasing a home and renovating it into one single 30-year fixed-rate mortgage.
It's an excellent option for FHA-backed borrowers looking to make home improvements more affordable.
The program covers a wide range of home renovation costs, including energy-efficient upgrades such as solar installations, repairing plumbing and electrical systems, replacing roofs, floors, gutters, and downspouts, and enhancing landscaping and curb appeal.
The FHA 203(k) loan program also removes health and safety hazards to comply with the Americans with Disabilities Act (ADA).
The FHA operates as a sub-agency under the U.S. Department of Housing and Urban Development (HUD).
In 1968, HUD introduced the HUD Homes program to sell foreclosed homes that it acquired. The program allows the public to purchase these residential properties at significantly discounted prices.
The down payment requirements for buyers of HUD-owned homes may vary. Some homes require the standard 3.5 percent down payment of an FHA loan, while others permit buyers to make down payments as low as $100.
The FHA Streamline Refinance - Best For Refinancing Without Paperwork
The FHA Streamline Refinance is a fast and straightforward way for homeowners with FHA-backed loans to refinance their mortgages.
This type of refinance doesn't require typical verifications such as employment, income, assets, credit score, or home appraisal.
To be eligible for the FHA Streamline Refinance, homeowners must demonstrate a 6-month history of on-time payments and show proof that the new FHA mortgage will lower their monthly payments by at least five percent.
The FHA Streamline Refinance is considered a low-risk loan because it reduces the monthly payment for borrowers who already make on-time payments. In general, the default rate on FHA Streamline Refinances is lower than for FHA loans.
However, to qualify for this type of refinance, you must have already completed at least six monthly payments on your existing loan.
FHA Cash-Out Refinance - Best For Refinancing To Get Cash
The FHA cash-out refinance is a great option for homeowners looking to access their home equity for spending purposes.
This program allows homeowners to replace their current mortgage with a larger one, giving them access to cash they can use as they please.
However, the FHA has certain guidelines to limit the size of cash-out mortgages. The loan size cannot exceed 80% of the home's appraised value and must remain within the local FHA loan limits.
Additionally, homeowners cannot cash out their refinance within the first 12 months of occupying their home.
Comparing FHA Loans vs. Conventional Loans
Conventional home loans are not backed by the government, but rather by private mortgage lenders, Fannie Mae, or Freddie Mac.
Unlike FHA loans, conventional mortgages follow more general mortgage standards and are not insured by the government. In fact, 82% of home buyers use conventional mortgage financing.
One advantage of conventional mortgage loans is the greater number of fixed-rate mortgage terms they offer compared to FHA or USDA loans.
They also offer more adjustable-rate mortgage terms. Home buyers can choose a 10-, 15-, 20-, or 30-year fixed-rate mortgage; or a 3-, 5-, 7-, or 10-year adjustable-rate term.
There are also multiple low down payment options available through conventional mortgage financing, including some with a minimum down payment of only 3%.
What's the Difference Between FHA vs. USDA Loans?
The USDA loan program is a government-backed mortgage option to promote home affordability in suburban and rural areas. Unlike FHA loans, USDA loans do not require a down payment and offer 100% financing.
However, USDA guidelines are more restrictive than FHA guidelines. For instance, borrowers must have a credit score of 580 or higher, and the loans are limited to single-family homes. There are also maximum income limits for homeowners.
Furthermore, USDA loans are only available in low-density census tracts, as determined by the USDA eligibility map. However, 91% of the United States is eligible for USDA mortgages.
How Can First-Time Buyers Apply for an FHA Loan?
Applying for an FHA-backed loan!
Utilize MakeFloridaYourHome.com
If you're a first-time home buyer, MakeFloridaYourHome.com is the perfect place to start your home-buying journey. You can apply for FHA loans online at our website, and we'll guide you through the process step-by-step.
With nearly 600,000 first-time buyers getting FHA-approved each year, it's clear that FHA loans are a popular option. To complete your application, you'll need to provide proof of income and employment and undergo a credit score check.
At MakeFloridaYourHome.com, we are an FHA-approved lender and offer a comprehensive suite of FHA-endorsed products, including the 30-year mortgage and the FHA 203k home construction loan.
Apply For Your FHA-Endorsed Mortgage
If you're a homebuyer in Florida considering an FHA loan, be prepared to provide income, asset, and employment verification to your selected lender as part of the application process. FHA eligibility also requires verification of credit scores.
You can get an FHA pre-approval based on your application, but to obtain a binding FHA mortgage approval, you must purchase a home and commission an FHA-certified home inspection.
This inspection ensures that the property meets FHA standards, including being free from lead paint, compliant with HVAC, plumbing, and electrical regulations, and habitable and safe for humans.
Remember that because FHA applications are manually reviewed, they may take longer to approve than other mortgage loan types.
For a streamlined application process for an FHA loan as a first-time homebuyer in Florida, consider using MakeFloridaYourHome.com.
FHA Loans Frequently Asked Questions
Here are our readers most asked questions about FHA Loans in Florida:
Can you transfer an FHA mortgage to a new buyer?
Absolutely! FHA mortgages are assumable, which means that the buyer of your Florida home can take over your existing mortgage along with the property.
This can make your home more attractive to potential buyers, especially when mortgage rates are increasing.
For example, imagine you have a 4% mortgage rate, but the current market rate is 10%.
By selling your home with an assumable mortgage, the buyer can take advantage of your lower interest rate, making your home more affordable to them in the long run.
Essentially, you can sell your Florida home with a 4% mortgage rate even in a market with 10% mortgage rates.
Is it possible to refinance an FHA mortgage?
Absolutely! FHA-backed homeowners can use the FHA Streamline Refinance program, which is the quickest and easiest way to reduce your mortgage rate.
This program allows homeowners to switch to lower-rate mortgages, regardless of their employment status, savings account balance, or credit score.
Even better, when mortgage rates drop, you can take advantage of the program without going through a home appraisal process. This can save you both time and money while also helping you secure a lower mortgage rate.
Can I negotiate closing costs with home sellers?
Definitely! If you're an FHA home buyer, you can negotiate with the seller to contribute up to 6% of the purchase price towards closing costs.
For example, if you're purchasing a home for $100,000, the seller can contribute up to $6,000 towards your closing costs.
These contributions are called seller concessions and can be applied to various expenses such as real estate fees, loan costs, state and local taxes, and even the cost of title insurance.
This can help alleviate some of the financial burdens of closing costs and make purchasing your Florida home more affordable.