Hometown Heroes Loan Program: Learn How to Get up to a $25,000 Grant in Calhoun County, Florida
Phil Ganz
/
8 Min Read
/
Jun 26, 2022
Almost all frontline workers earn less than $62,000 per year, the minimum wage required to afford a median-priced home in the state. EMTs and paramedics, for example, earn an average of $33,660, whereas firefighters and elementary school teachers earn $49,870 and $33,660, respectively.
With such meager earnings, many of these individuals find it impossible to afford to live in the areas they serve. As a result, the Florida Housing Corporation has launched the 2022 Hometown Heroes program across the state, including Calhoun County, under the directive of the state's legislature. In honor of the National Homeownership Month this June, qualified Floridians can now seek lower first mortgage rates, down payment assistance, and other aid through this program to purchase primary residences and remain in the neighborhood they serve.
Here is a detailed look at the program and the qualifying criteria for those who wish to try it. Let's chop it up, shall we?
What is the FL Hometown Heroes Loan Program?
The Florida Hometown Heroes Mortgage Program helps eligible professionals, teachers, and service members afford homes by providing low-cost first mortgage options and substantial down payment assistance, among other perks. Those who now serve their neighborhoods, as well as military service personnel and vets, are eligible for the program.
The loan program is made possible by the Bond Alternative (TBA)Program, which works to enhance and sustain affordable housing options for Florida's emergency service providers, military service members (vets or active duty), and other frontline workers.
The TBA program only considers the applicant(s)' income and first-time purchaser status. If the husband or wife is not on loan, this program doesn't consider family income or the spouse's first-time homeowner status. (The borrower(s) are the individuals named on the loan application form).
While introducing the program, the governor remarked that the state appreciated the efforts of its teachers, law enforcement officers, firefighters, nurses, and other frontline workers. He referred to these people as "hometown heroes" and, therefore, the "backbone of the community." He stated that one way to reward them and ensure the success of the American Dream is to help them afford homes in the communities they serve.
What are the low-cost first mortgage options?
First-time homebuyers who meet their county's income requirements may be eligible for lower-than-market interest rates on their first mortgage through the hometown heroes loan program.
Available first mortgage options include:
30-year fixed-rate government-sponsored home loan (aka FL First for TBA) - Lending enterprises include the FHA, USDA-RD, and the VA

The Fannie Mae Offering (aka HFA Preferred for TBA) - a 30-year fixed-rate mortgage program with reduced-cost private mortgage insurance for borrowers with AMI below 80% AMI

The Freddie Mac Offering (aka HFA Advantage for TBA) - a 30-year fixed-rate mortgage with cheaper private mortgage insurance for borrowers with AMI below 80%
What is the down payment assistance?
Down payment aid (DPA) refers to financing that can help with closing costs and down payments. Many frontline workers do not make enough money to save for down payments on homes they want to buy. The hometown heroes loan program offers down payment help to all who qualify for the above first mortgage options.
It's a 5 percent Second Mortgage — 5% of the first loan amount, up to a maximum of $25,000. Individuals may utilize the fund to boost their down payment and cover closing charges.
However, the DPA fund for Florida hometown heroes is neither a grant nor a forgivable debt. It is available as a zero-rate, non-amortizing second mortgage to be repaid in 30 years but may become fully due sooner.
Any remaining loan balance will be due in full in case of the following:
The borrower(s) refinance
The borrower(s) pay off the first mortgage
The borrower(s) transfer deed
The borrower(s) move out of the house and no longer occupy it as their primary residence.
However, the down payment aid offered by the hometown heroes program cannot be paired with another FL Housing down payment aid program from FL Housing.
That said, it can be paired with down payment assistance from other agencies, such as SHIP, as long as the second agency assumes a third lien position. Of course, there are many other DPA agencies out there. Most are geared toward first-time homebuyers and require a stellar FICO score and a low to medium income.
Learn about DPA initiatives in your region by speaking with an experienced local loan officer. They should be able to help you find any local DPA grants or loan programs that can help you. You can also research to identify the current DPA programs you are eligible for. However, not all programs adhere to the same set of Some even provide grants or forgivable deferred loans.
What other assistance does the Hometown Heroes loan program provide?
Apart from reduced-cost first mortgage options and down payment assistance, the hometown heroes loan program reduces upfront fees. The loan scheme does not impose a 1 percent upfront loan origination fee, as is standard with other FL Housing Corporation first mortgage loan packages. The advantage here is that it saves borrowers big time in upfront closing fees.
Lenders cannot charge the regular 1% origination fee imposed on other Florida Housing's first mortgage loan options. But they may charge other regular, fair, and typical origination fees. The US Bank Home Mortgage will pay lenders a service release premium of 2.5% on all purchased hometown heroes' first mortgage loans.
Are you eligible?
The Florida Hometown Heroes Loan Program is available throughout Calhoun County to individuals in the following frontline job areas:
Professional educators in the state's school districts, including teachers, teaching assistants, school nurses, school librarians, and school counselors

Law enforcement officers in the county, including juvenile corrections officers, correction officers, police officers, and public security officers

Emergency service personnel and firefighters
Veterans or active military duty members
Nursing and associated health professions
Veterinarians
This housing loan program is available to families earning less than 150 percent ($118,950.00) of the county median income. Except for war veterans, all program participants must be full-time employees in a position that requires their license or certification. The complete list of qualified professionals can be seen here.
What are the application requirements?
To be approved for this loan program, eligible first-time homebuyers must meet specific requirements and work with approved loan officers. These requirements are as follows:
Be a first-time home buyer
The Hometown Heroes home financing program is designed to help frontline workers purchase houses in the neighborhoods they serve. This indicates that the program is primarily for first-time homebuyers or those who haven't possessed or owned title to a home in the past three years.
Meet the income and home price limits set for the county
The hometown heroes loan program has income and home price limits. Only families with less than 150 percent ($118,950.00) of the county's median income are eligible. This loan scheme solely takes into account 1003 or credit-qualifying income.
Meanwhile, the home price cap for the FHA and USDA-RD loans is $420,680.00 and $647,200.00 for VA, Fannie Mae, and Freddie Mac programs. The implication is that negotiated home prices must not exceed this limit; otherwise, you will be disqualified from the loan program.
Here is the summary of the Calhoun County hometown heroes loan program income and negotiated home price limits.
2022 Hometown Heroes Income Limits - $118,950.00
2022 Hometown Heroes Loan Limits (FHA & USDA-RD) - $420,680.00
2022 Hometown Heroes Loan Limits (HFA Preferred, HFA Advantage and VA) - $647,200.00
FICO score of at least 640
The USDA-RD first mortgage option requires that back-end DTI fall below 45%. Meanwhile, the FHA and VA accept DTIs of up to 45% for FICOs in the 640-679 range. For borrowers with FICO above 680, you can have a back-end DTI of up to 50%.
For the Fannie Mae Offering, the max back-end DTI is 45% for FICOs in the 640-679 range. For FICO above 680, you can qualify with a DTI as high as 50%.
Freddie Mac accepts up to 45% DTI for FICO in the 640-679 range and a max 50% DTI for FICO above 680+.
Supporting documentation
You will have to produce these documents to prove your occupational eligibility:
A photocopy of your Florida occupation certification or license
Copy of signed form 1003
Copy of your VOE
Three years of Federal Tax Returns
Pay stubs proving two years of continuous work (not necessarily with the same employer)
Copy of the filled-out Florida Hometown Heroes Loan Borrower Attestation Document
Non-citizens must show proof of identity and Florida residency. They must also adhere to loan agency guidelines (FHA, USD-RD, VA, Freddie Mac, and Fannie Mae).
Active-duty individuals must additionally present Form 1003 and a copy of their service ID. There is no need for Military Eligibility Papers.
Military vets may be excused from the first-time homebuyer requirements if they have a valid DD-214 and honorable discharge status. Certificates of Military Eligibility are not required.
Surviving spouses of service vets may get a VA first mortgage if they produce authentic certificates of eligibility.
Create a compliance package to be submitted to the EHP Online Portal
The package must include:
$225 compliance review fee receipt (this fee goes to eHousingPlus)
Copy of your homebuyer education certificate (where applicable)
Copy of negotiated house contract
Copy of the first mortgage signed disclosure form
Copy second mortgage signed disclosure form
Copy of the warranty deed
For any repayment of excess gift funds at the time of closing, a copy of the gift letter will be required
Finish a recognized homebuyer education course
Before purchasing a property, those who qualify must take a homebuyer education course recognized by the program. The course must satisfy the Housing and Urban Development standards for homeowner education programs. Online and in-person courses are both acceptable. You cannot take a course after closing a purchase.
Homebuyer education provided by a mortgage insurer is allowed if it meets National Industry or Housing and Urban Development (HUD) requirements.
Homebuyer education course certificates of completion remain valid for two years after they are issued.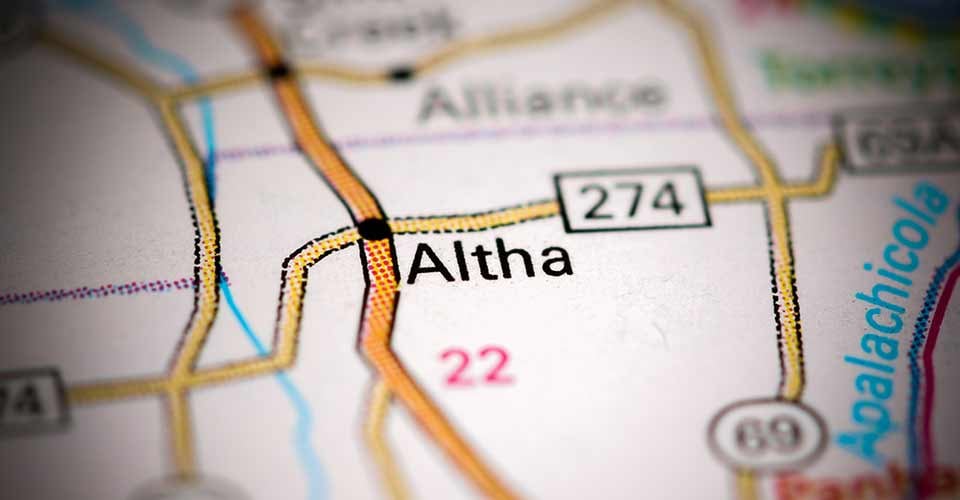 Where can you buy a home in Calhoun County?
The hometown heroes loan program is available throughout the county so frontline workers can afford to live in the communities they serve.
It's one of the cheapest Florida counties to live in. The median home cost here is $116,000 compared to the entire state's $294,900 and the country's $291,700. For this reason, 81.4% of county residents own their homes, which is sure to increase thanks to the hometown heroes program.
With this program, you can buy new or refurbished houses, multi-family or single-family homes, villas, program-approved condos, or manufactured homes. However, if you want to buy a house, you will need a FICO score of at least 680.
Some of the best locations to live in the county include:
Blountstown
Median listing price - $226.3K
Schools - Blountstown Elementary, Middle and High Schools, Calhoun Virtual Instruction Program (K - 12), and Calhoun County Adult Education Center
Popular neighborhoods - Marian, 32351, Quincy, Atha, and Wewahitchka
Altha
Median listing price - $269.5K
Schools - Altha Public School
Popular neighborhoods - Chipley, Fountain, 32428, 32421
Clarksville
Median listing price - $233.8K
Above-average schools - Carr Elementary & Middle School
Popular neighborhoods - Youngstown, 32455, Fountain, Chipley, Marianna, 32404
Kinard
Median listing price - $89.9K
Schools - Faith Christian Academy
Popular neighborhoods - Panama City, Wewahitchka, Overstreet, Lynn Haven, 32466
Is it possible to have a co-signer?
Only the FHA and Fannie Mae's first mortgage choices permit co-signers. They are also exempt from taking a mandatory homebuyer education course. However, these individuals won't appear in the house deed.
Because these two loan schemes demand credit for loan qualification, a co-signer's income may be considered in the loan calculations.
However, the income of your co-signer may disqualify you from the low-cost mortgage insurance benefit offered by Fannie Mae to borrowers with an AMI of less than 80%.
What if this is not your first time buying a home?
The hometown heroes program generally caters to first-time homebuyers; still, you can qualify otherwise if you buy in a federally specified zone or are a military veteran.
Are you a first-time homebuyer?
Those acquiring a home for the first time can also apply for Mortgage Credit Certificates (MCC) to reduce their mortgage expense. The FL Housing Corporation doesn't offer these certificates, but the IRS does.
MCCs are federal tax credits. See, you must return the principal and interest when you take a loan. MCCs allow you to reclaim part of the interest on your loan as tax credits. That means the more the interest you've paid, the bigger the tax credit you can claim. Usually, the max amount that can be claimed is $2000
To be eligible for MCCs, you must meet particular income requirements and negotiate property within a sure price cap. For Florida, it's $250,000. However, the application process is a breeze, plus FICO scores as low as 640 are acceptable. You must fill out the Mortgage Interest Credit: IRS 8396 form.
How do you apply for the program in Calhoun County?
It would be best if you dealt with a program-approved loan officer. If you fit the program requirements, contact an approved loan officer and begin the application process. The loan officers will interview you and then assist you with the application.
You will not email any files directly to the FL Housing Corporation. The lender will reserve cash in the program for you based on your signed home purchase contract and signed Form 10003.
All funds in the program must conform to a 60-day delivery date after reservation. Any loans secured after this date may be subject to repricing costs and penalties for late delivery. These fees will be deducted from the issuer's SRP at purchase.
Loans that will not have been purchased or delivered by their due date must be terminated and re-reserved. If you have to change the property, the loan must be canceled and re-reserved.
Round-Off
Calhoun County frontline workers are encouraged to apply for the hometown heroes loan program. The loan scheme, introduced this year, is managed by the Florida Housing Corporation and is funded by taxpayers to $100 million. First-time homebuyers can take advantage of the program's lower first mortgage rates, upfront fees, closing costs, and down payment assistance. Borrowers may use the funds to purchase primary residences in their service areas.
Choose Your County for More Hometown Heroes Information