Hometown Heroes Loan Program: Learn How to Get up to a $25,000 Grant in Charlotte County, Florida
Phil Ganz
/
8 Min Read
/
Jun 13, 2022
If you have ever dreamed of owning your own home, as most Americans do, you will understand how much of a challenge it is. Unfortunately for us, the average American faces a stagnating economy, record-high inflation, astronomical real estate prices, and limited credit options as obstacles in their path to home ownership.
(Sep 29, 2022)
Many states have instituted loan and grant programs to give people a helping hand to help mitigate this problem and support residents making efforts to acquire property. One of the most promising ones currently in operation is Florida's Hometown Heroes Program.
Introducing the Hometown Heroes Program
Florida's Governor Ron DeSantis launched the Hometown Heroes Housing Loan program on the 23rd of May, 2022. The program was explicitly designed to try and help Florida residents afford a down payment on homes they wish to purchase. The program is focused, meaning that not all residents will be eligible for it.
Only Florida residents working in a predetermined class of occupations will be eligible. These occupations, which the state considers to be of particular value to the broader community, include professions such as law enforcement, teaching, medicine, the military, and childcare.
In this piece, we'll be looking at the Hometown Heroes Housing Loan Program in Charlotte County, Florida. The idea here is to support the people working in these professions so that they may continue to work in these communities and bring value to their communities. If you're considering making a move to the county or if you're a resident thinking about purchasing a home, read on and find out all you need to know about the Hometown Heroes Program.
Who Qualifies for the Hometown Heroes Program?
A large number of workers in various professions are eligible for the Hometown Heroes Program, and these include:
Veterans, Active military personnel
Veterinary technicians/assistants, Veterinarians
Mental health counselors
Clinical social workers
Psychologists
Physical therapists
Hearing aid specialists
Opticians
Specialty technologists
Radiology assistants, Radiologic technologists
Certified basic X-Ray machine operators
Licensed medical physicists
Phlebotomists
Clinical laboratory personnel
Massage therapists
Electrologists
Prosthetists
Athletic trainers
Licensed nutrition counselors, Licensed nutritionists/dieticians
Respiratory therapists
Occupational therapists
Nursing home administrators
Speech-language pathologists
Certified nurse midwives
Dental hygienists, Dentists
Pharmacy technicians, Pharmacists
Chiropractic physicians, Osteopathic physicians, Acupuncturists
Certified medical assistants
Anesthesiologists
Healthcare practitioners (physicians, physician's assistants)
Home health aides
Certified nursing assistants, Licensed practical nurses, Registered nurses
Childcare instructors, Licensed childcare operators
Certified educators (career specialists, librarians, classroom teachers, social workers, school psychologists)
911 public safety communicators
Certified emergency medical technicians
Certified paramedics
Firefighters
Juvenile probation officers, Juvenile detention officers
Correctional probation officers, Certified correction officers
Sworn law enforcement officers
As long as you qualify according to your occupation, the loan application process is relatively straightforward. You will first need to identify and contact a loan officer in any of the numerous participating institutions throughout Florida. The qualifying factors are as follows:
Credit Score -As with traditional loans, they will have a minimum credit score for qualifying candidates. This is, however, significantly lower than most loan programs under typical circumstances. To obtain a Hometown Heroes loan, you will only need a credit score of 640 or above.

Minimum Income -Because the loan will have to be repaid eventually, lenders will try to ensure that loan recipients can keep up with their loan repayment schedule. This program only lends funds to people with a minimum yearly income of $118,950. The loan program arrives at this limit on a county-by-county basis, based on the average house value and the prevailing economic conditions.

Maximum Loan Threshold -Another safety measure that helps keep the program running and functioning as it should be is implementing an upper loan limit, beyond which no loans are issued. In Charlotte County, the limit is $420,000 under FHA and USDA-RD institutions. Under HFA Advantage, HFA Preferred, and VA institutions, the upper limit is $647,200.

Work Status -The final and most crucial detail to be checked will be your employment status. Aside from being on the list of eligible professions and positions, you will need to provide certified proof of your employment and current records showing that you are working full-time.
Should you fulfill these conditions, your first move to obtaining your Hometown Heroes loan will be to approach a participating lender. These institutions will have gone through the Hometown Heroes lender training program, a short training module that instructs them on the specifics and best practices surrounding the program, detailing how lenders can make the best decisions regarding their loan issuing policies.
They will be able to properly guide and advise loan applicants approaching them for a loan, which will optimize the chances of a successful loan issue and eventual repayment. Ultimately, this protocol benefits the lenders, loan recipients, and future loan applicants who will access the funds repaid by precious borrowers.
What is Charlotte County All About?
Established in April 1921, Charlotte County is a relatively young county located in the lower regions of the state, bordering DeSoto County to its North, Lee County to the South, and Glades County to the East. According to census data, approximately 190,000 people live in the county, which measures 858 square miles.
The name Charlotte is derived from the Spanish' Carlota,' which was the name given to the Bay of Charlotte Harbor. The Spanish named the harbor 'Bahia de Carlota' in 1565, after which the English renamed it Charlotte Harbor in honor of Queen Charlotte Sophia, who was married to King George III.
This harbor makes up a significant proportion of the county's total area, covering 170 square miles (20 percent of the total area). The estuary created by the harbor serves as an important nature preserve and is one of Florida's most productive regions.
Charlotte County Demographics
The county's 186,847 people are spread out across 79,789 homes, housing 51,016 families. This translates to a population density of 234 people per square mile, a healthy level for a county's size and economic size. The county's demographics are not as diverse as some of the countIes located further to the south of Florida, but there's still a healthy mix of ethnicities to be found living here.
The majority of the households are white (82.26 percent), African American (4.75 percent), Native American (0.21 percent), Asian (1.37 percent), Latino/Hispanic (7.54 percent), and Multi-Racial (3.43 percent). The average household size is 2.18 people, with 59.20 percent married couples, 17.66 percent homes with minors (under 18 years old) living with them, and 16.70 percent elderly or retired single-person households.
Charlotte County is home to many retirees and older persons. This is because Charlotte has one of the highest median ages out of all the counties in the United States, with populations higher than 100,000, standing at 55.9 years. The warm weather and relaxed southern lifestyle make it a favorite retirement destination for Americans from all walks of life.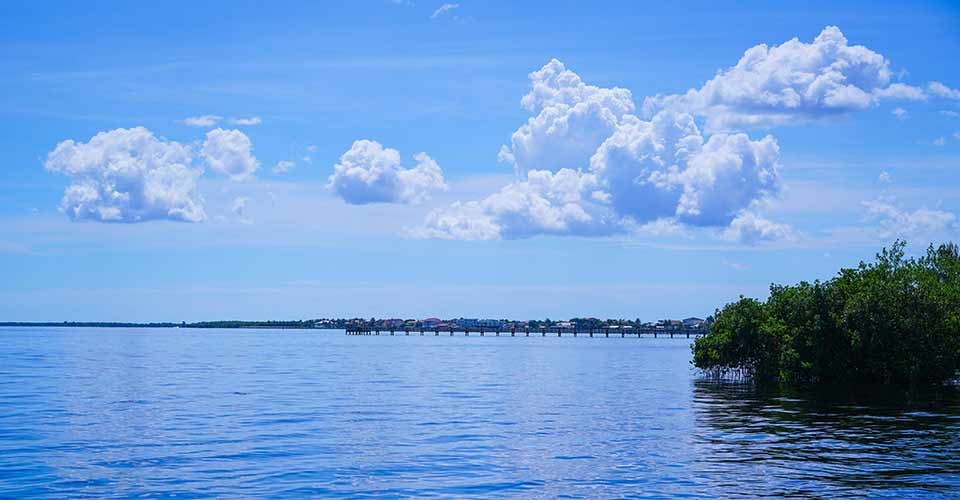 Living and Housing in Charlotte County
There are a lot of factors that go into determining a person's quality of life. Aside from their income, health, and general family life, the type of day-to-day living conditions they face will be of vital importance. An essential element here is the cost of real estate. The property values in Charlotte County are, on average, 20 percent smaller than the national average, which stands at $240,000.
Here, the median value of a home rose by 10.7 percent between 2018 and 2019, rising from $176,500 to $195,400. The homeownership rate is higher than the national average, which stands at 64.1 percent. 79.7 percent of people here own the homes they live in.
On average, homeowners will have a 22.6-minute commute to get to their places of work, with most driving to work on their own. Car ownership levels are commensurate with the national average, at 2 cars per household.
Taxe rates will significantly impact your quality of life, wherever you live in the United States, and whatever your income bracket. Because our country allows states to determine their tax regime independently, you will encounter different tax rates from state to state.
The Sales Tax Rate for Charlotte County, for example, currently stands at 7.0 percent, while the national average currently stands at 7.3 percent. As part of Florida's federal tax regime, county residents do not have to pay any income tax, representing significant savings as the average income tax in America is 4.6 percent.
Healthcare Provision in Charlotte County
Taking care of your health and your loved ones will be a top priority for anyone considering moving to Charlotte County. Approximately 89.6 percent of people in the county have health coverage. 26.3 percent are covered under employee plans, 11.7 percent under Medicaid, 19.3 percent under non-grouped plans, and 2.18 percent under VA or military plans.
Spending on a per capita level on healthcare here stands at approximately $8,076 per year. It has steadily increased over the past few years, especially with the effects of the Covid-19 pandemic. Primary care physicians will see about 1667 patients every year. Dentists, in comparison, and mental health service providers see 887 patients.
Economics and Working Conditions in Charlotte County
The overall economy of Charlotte County is at a healthy middle-class level, with the median income for households standing at $51,499. Full-time male workers earn a median salary of $27,352, with females earning $26,861. Between 2020 and 2021, the county experienced an increase of 8.85 percent.
You will find 62,300 people in full-time employment in Charlotte County, with the biggest employers and largest industries being Retail (10,853 employees), Social Assistance and Health Care (8,965 employees), and Construction (6,165 employees). When it comes to salaries, the highest-paying industries are Finance and Insurance ($52,172 per year), Utilities ($55,265), and Quarrying, Mining, and Gas Extraction ($50,417).
Compared to the 6.0 percent unemployment rate in the country, Charlotte County's 5.0 percent unemployment rate is not too bad. While the country is expected to see job growth levels of 33 percent over the next ten years, Charlotte County expects to have a 38.9 percent growth rate. Generally speaking, you can expect to have a reasonable chance to get a job in your field, whatever it may be when you move to Charlotte County.
Learning in Charlotte County
One of the most critical points of consideration people have when contemplating a move to another state or county is the educational infrastructure available. Whether you want to continue your studies or have loved ones who are still in school, you must have access to quality education. Charlotte County does well in this regard.
The Charlotte County Public School District is in charge of the kindergarten to 12th-grade programs in the county. Past that level, learners have a range of options that they can choose from. Florida SouthWestern State College and Southern Technical College both have a campus in the county, and Western Michigan University only recently closed down its satellite campus.
A notable addition to the county's training and educational facilities is the recent opening up of the AeroGuard Flight Training Center, operating out of the county's leading local airport and offering an Airframe and Power Plant Program. For the year 2020, the institutions of higher learning with a presence here warded a total of 326 bachelor's degrees, comprising 135 female and 115 male student recipients.
Taking the number of degrees awarded as our primary metric, the Charlotte Technical College is the largest institution in the county, having issued 100 percent of the degrees here (326). While there is a variety of degree programs on offer, the most popular ones among students are Licensed Practical and Vocational Nurse Training (56 degrees/17.2 percent), Prepress Publishing and Digital Imaging Design (31 degrees/9.51 percent), and HVAC and Refrigeration Engineering Technology (28 degrees/8.59 percent).
There are plenty of library services spread out across the county, with the Charlotte County Library System comprising 4 main branches. These are:
Punta Gorda Public Library
Port Charlotte Public Library
Mid-County Regional Library
Englewood Charlotte Public Library
The first library in Charlotte County was set up in 1963, and the library system of Glades County combined with the Charlotte county system to set up the Charlotte-Glades Library System. However, they then reverted to operating independently in 2008. The Englewood branch has seen the most recent renovations, adding 6,500 square feet of floor space and the addition of a computer lab, youth services department, and archives supervised by the historical department.
Municipalities and Communities of Charlotte County
Charlotte County comprises a relatively small number of incorporated towns and municipalities but has numerous communities. The governance structure across all of these regions is similar in function and protocol, so you will need to follow the same procedures wherever you live.
The municipalities of Charlotte County are:
Charlotte Harbor
Charlotte Park
Cleveland
Englewood
Grove City
Harbour Heights
Manasota Key
Port Charlotte
Punta Gorda
Rotonda
Solana
Communities in the County include:
Acline
Anchorage MH Park
Aqui Esta
Bay Palms MH Park
Bermont
Blue Heron Pines
Burnt Store Colony MH Park
Burnt Store Lakes
Buttonwood Village MH Park
Cape Haze
Deep Creek
El Jobean
Fishermen's Village
Gilchrist
Gulf to Bay Cooperative MH Park
Harbor Lakes MH Park
Harbor View
Harbor View MH Park
Lakewood Village MH Park
Lazy Lagoon Mobile Park
Maple Leaf Estates MH Park
Mary Lu MH Park
Mobile Gardens
Morgantown
Murdock
New Point Comfort
Palmetto MH Park
Peace River MH Park
Peace River Shores
Pirate Harbor
Placida
Ponderosa MH Park
Port Charlotte Village MH Park
River Forest Village MH Park
Riverside Oaks MH Park
Riviera Lagoons
Rotunda-West
Sancassa
Sana Souci
Shaefer
Shell Creek Resort MH Park
Slip-Not MH Park
South Punta Gorda Heights
Sparkman
Tee and Green Estates
Tropical Gulf Acres
Tropical Palms MH Park
Tucker's Corner
Punta Gorda Isles
Punta Gorda Beach
Ridge Harbor
Ventura Lakes MH Park
Vizcaya Lakes
Final Thoughts
Owning your own home is a universal ambition, but it is becoming increasingly challenging for the average person to realize this dream with each passing day. To help more people attain their homeownership ambitions, Florida's Hometown Heroes program is geared toward providing the state's frontline, and essential workers have an easier time achieving this milestone.
These are some of the most valuable members of society, often doing the jobs that the rest of us are either unwilling or unable to do ourselves. By giving them this support, the program contributes to our communities and society's overall vibrancy, cohesion, and longevity. As the program moves on in Charlotte County, let's hope that the Hometown Heroes program continues to help its residents attain home ownership.
Choose Your County for More Hometown Heroes Information