Hometown Heroes Loan Program: Learn How to Get up to a $25,000 Grant in Collier County, Florida
Phil Ganz
/
8 Min Read
/
Jun 05, 2022
Collier County is among the top emerging housing markets in Florida and the entire country. According to The Wall Street Journal's 2022 Spring Emerging Housing Markets Index, the Naples area in Collier County ranked as the top metropolitan area with a rising housing market and attractive lifestyle amenities.
(Jun 30, 2022)
However, Florida's rising housing prices mean that essential workers such as firefighters, police officers, nurses, military service personnel, and teachers find it challenging to own their dream homes in the areas they serve. The Florida Hometown Heroes Loan Program is set to change all this as it looks to provide homes for heroes. The program seeks to help Floridians in critical professions buy their first homes.
What is The Hometown Heroes Housing Program?
The Hometown Heroes Housing Program is a government initiative that seeks to complement the current efforts to provide Floridian frontline community workers with homeownership opportunities. You need to earn approximately $62,000 per year to afford a medium-priced home as a Floridian. However, the average salaries for professionals in the Hometown Heroes occupations fall short, impacting their ability to own decent homes.
The hometown heroes program parallels The Salute Our Soldiers Military Loan Program, which helps numerous active-duty military personnel and veterans purchase homes. The initiative aims to expand Florida's current housing programs to help critical workers and professionals serve the country. The Florida Housing and Finance Corporation will administer the assistance program, available starting June 1, 2022, the National Homeownership Month.
The state Legislature granted the organization $100 million to establish and administer the Hometown Heroes Housing Program. The program will help reduce homebuyers' upfront costs by offering first-time, qualified homebuyers zero-interest loans to cover the down payment and closing costs.
Under the program, you can receive up to 5% of the first mortgage loan amount up to $25,000. This grant is in the form of a non-amortizing, 30-year deferred mortgage that allows you to buy a primary residence in the community that you work in and serve.
The mortgage loan becomes due and payable when you sell the home, refinance your first mortgage, or if you no longer occupy the home as your primary residence. On top of the down payment and closing costs assistance, you can receive lower than market rates on Federal Housing Administration (FHA), Veteran Affairs (VA), Rural Development (RD), Freddie Mac, or Fannie Mae first mortgage, lower upfront fees, no discount points or origination points.
The program has the most inclusive and highest eligibility of the Housing down payment assistance programs. If you are eligible, the Hometown Heroes Loan Program can help you secure a home in Collier County. The program has also proposed a constitutional amendment to grant additional property tax exemption for members of the hometown hero occupations.
Hometown Heroes Loan Program Requirements
To qualify for the Hometown Heroes Housing Program, you must connect with a participating loan officer, provide certification for the eligible occupation, have a minimum credit score of 640, and meet the income threshold for your respective county.
The Hometown Heroes housing program will be available to critical profession workers who have an income that does not exceed 150% of local or state median income at the time of loan issuance. As a borrower, you should not exceed the maximum Income Limit requirements for Collier County if you are buying a house in the county.
The 2022 Hometown Heroes Income Limit for Collier County is $141,450, adjusted for household size. The program also requires that the home purchase price must not exceed the Purchase Price Limits in Collier County.
For Federal Housing Administration (FHA) and the United States Department of Agriculture Rural Development (USDA-RD) loans, the county's maximum Hometown Heroes loan limit is $552,000. The maximum loan limit for Veteran Affairs (VA), Housing Finance Agency (HFA) Preferred, and HFA Advantage loans are $647,200.
Eligible Professions for Participation
Suppose you are a member of a critical profession that is eligible for the Hometown Heroes Loan program. In that case, you must be currently employed full-time in the position you hold your certification or license. Below is a comprehensive overview of the occupations that are eligible for participation in the program based on the respective governing state agencies:
Law Enforcement and Correctional Officers
FL Department of Corrections – Sworn Law Enforcement Office, Certified Correction Officer, and Correctional Probation Officer.

FL Department of Juvenile Justice – Juvenile Detention Officer and Juvenile Probation Officer.
Firefighters
FL Division of State Fire Marshal – Firefighter
U.S. Military Members
Active Military Personnel and Veterans
Education Administrators and Teachers
FL Department of Education – Certified Educator including teacher, school counselor, social worker, librarian, school psychologist, and career specialist.

FL Department of Children & Families – Licensed Childcare Operator and Childcare Instructor.
Health Care Professionals, Emergency Medical Technicians, and Paramedics
FL Department of Health – Certified Paramedic, Certified Emergency Medical Technician, Certified Nurse Midwife, 911 Public Safety Communicator, Licensed Nutritionist or Dietician, Licensed Nutrition Counselor, Electrologist, Licensed Medical Physicist, Certified X-Ray Machine Operator, Certified Radiologic Technologist, Certified General Radiographer.

FL Board of Nursing – Registered Nurse, Licensed Practical Nurse, Certified Nursing Assistant

FL Board of Medicine – Health Care Practitioners including Physician, Physician Assistants, Certified Medical Assistants, and an Anesthesiologist.

FL Board of Psychology – Psychologist.
FL Board of Pharmacy – Pharmacist, Pharmacy Technician.
FL Board of Dentistry – Dentist and Dental Hygienist.

FL Board of Opticianry – Optician.

FL Board of Physical Therapy – Physical Therapist and Physical Therapist Assistant.

FL Board of Acupuncture – Acupuncturist.
FL Board of Chiropractic Medicine – Chiropractic Physician.
FL Board of Podiatric Medicine – Podiatric Physician.

FL Agency for Health Care Administration – Home Health Aide.

FL Board of Clinical Laboratory Personnel – Clinical Lab Personnel and Phlebotomist.

FL Board of Veterinary Medicine – Veterinarian and Veterinarian Technician/Assistant.

FL Board of Clinical Social Work – Mental Health Counselor, Clinical Social Worker, and Marriage & Family Therapist.
Several documents are required to support your occupational eligibility, including a copy of State of Florida certification or license, a copy of Verification of Employment (VOE), and a Florida Hometown Heroes Loan Program attestation.
The Cost of Living in Collier County
Collier County is one of the top places in Florida with the most favorable cost of living. A study by SmartAsset ranked Collier County fourth in Florida, just behind Nassau, Monroe, and Saint John's Counties in terms of per capita income relative to the cost of living. The study analyzed the cost of living relative to income to determine each county's purchasing power.
Collier County's cost of living is estimated at $38, 130 with a median income of $69,653. This figure is just slightly higher than Florida's average cost of living of $34,535 and a median income of $55,660. To calculate the cost of living, SmartAsset accounted for housing, food, living expenses, education, childcare, healthcare, transport, taxes, and extras.
The study identifies Collier County among the areas where the average living expenses are affordable for the residents. According to City-Data, the study results reflect the county's cost of living index, which at 96.3, falls below the national average of 100.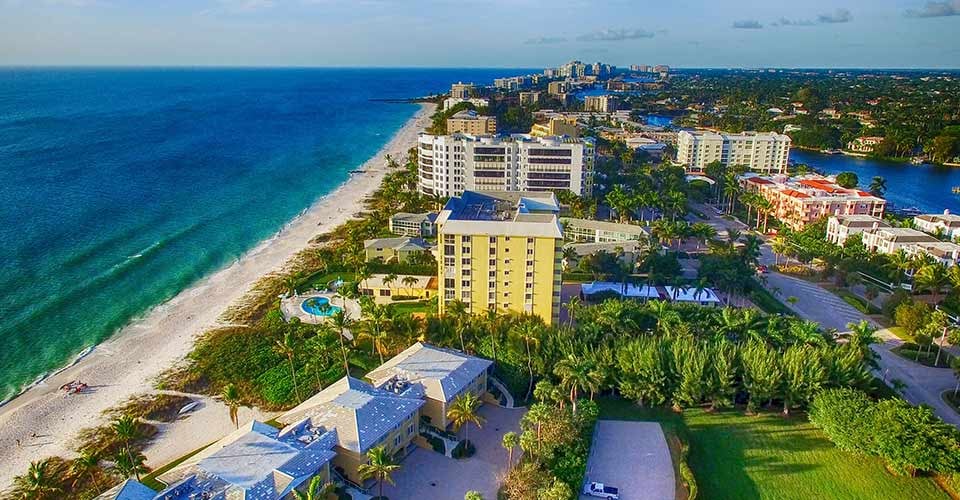 Best Places to Buy a Home in Collier County
There are several important factors to consider when considering the best places to purchase a home. These factors include home values, homeownership rates, property taxes, housing costs, and real estate trends. The annual Niche rankings look at these and other factors to determine the best places to buy a home in Collier County:
Orangetree
Orangetree is a town in Collier County with fewer than 5,000 inhabitants. Orangetree offers an intimate rural feel and is one of the best locations to own a home in Florida.
Most of the residents in the town own their homes. Many young professionals and families reside in Orangetree, which has a highly rated public school system. The residents of Orangetree are known to be friendly, and the town has a meager crime rate.
Naples
Naples is a principal city of the Naples-Marco Island, Florida Metropolitan Statistical Area, with just over 20,000. Naples is well known for its beautiful homes, many golf courses, and white-sand beaches. The city is regularly ranked as one of Florida's best places to live. Naples offers an urban feel, with most residents owning their homes.
Naples is also home to numerous amenities, including restaurants, parks, shops, and recreational areas, given that tourism is a significant industry for the city. A highly rated public school system serves the city and surrounding areas. Great locations in Naples to buy a house include:
Vineyards – Located 10 miles from downtown Naples, this census-designated place (CDP) has a population of fewer than 4,000 people. It has a dense suburban feel, with most residents owning their homes. It is among the best places to live, not only in Naples but also in Florida.

Island Walk – Located northeast of Naples, this CDP has a population of just over 3,000 people. It is a sparse suburban area that offers privacy and a highly rated public school system.

Lely – Located five miles from Downtown Naples, Lely has a population of about 3,700 people. Lely embodies luxurious, laid-back living and features many amenities, including recreational parks, golf courses, and restaurants.

Pine Ridge – With about 1600 inhabitants, Pine Ridge provides a sparse suburban feel, with most residents owning their homes.
Verona Walk
Verona Walk is a census-designated place part of the Naples- Marco Island Metropolitan Statistical Area. It is situated in Western Collier County and has a population of about 1800 inhabitants.
Verona Walk offers a mix of rural and suburban, with most residents owning their homes. Many retirees prefer this area, and it ranks highly as one of the best places to retire in America.
Pelican Bay
Pelican Bay is also part of the Naples- Marco Island Metropolitan Statistical Area of North Naples situated west Pine Ridge. With a population of 6,100, it is one of the best places to reside in Collier County and Florida.
It has an urban feel with plenty of restaurants, recreational parks, and coffee shops. Pelican Bay is also highly valued by retirees being among the top destinations for retirees in America.
Marco Island
Located off the coast of Southwest Florida, Marco Island has some of the best real estate in Florida. With about 20,000 residents, Marco Island has an urban feel in a pristine waterfront setting, with many residents owning their homes.
Best Public and Private Schools in Collier County
The District School Board of Collier County operates the county's public schools. The school district encompasses 58 schools (29 elementary, 10 middle, 8 high, and 7 charter schools) in Naples, Marco Island, Immokalee, and Everglades City. The school district employs about 3,200 teachers.
Collier County is among the counties with the best-ranked public schools in Florida. The best public schools in Collier County include:
Gulf Coast High School
Pelican Marsh Elementary School
Barron Collier High School
Sea Gate Elementary School
Gulfview Middle School
Lake Park Elementary School
North Naples Middle School
There are 33 private schools serving Collier County. The best private schools in the county include:
Community School of Naples
Education World Wide
Seacrest Country Day School
Naples Adventist Christina School
St John Neumann Catholic High School
Rhodora J. Donahue Academy
3 Oaks Academy
Raising a Family in Collier County
Collier County is an ideal place to raise a family. One of the reasons for this is that of all the metropolitan counties in Florida; it has the lowest crime rate. If you have a family with young children, purchasing a home in Collier County through the Hometown Heroes program is the right decision.
A recent analysis by Background Checks.org revealed that Naples, one of the top places to live in Collier County, is the second safest city in Florida. The extremely low rate of property and violent crime ensures that you and your family have peace of mind in a safe living environment.
Collier County also has a robust education system, with highly ranked public and private schools all across the county. The District School Board of Collier County is one of the best school districts in Florida.
You are guaranteed to find a great school that is best for your children of all ages. You can provide an excellent education for your children in the county, with lots of opportunities to engage in sports and extra-curricular activities to help them prepare for college.
Southwest Florida is renowned for its beautiful and comfortable weather, and Collier County is no exception. The county exhibits long warm summers, plenty of sunshine, and relatively mild winters. This means you and your family can enjoy the many beaches and recreational parks that the county offers. Collier County also boasts numerous amenities and engaging activities that the entire family can enjoy and participate in.
The real estate market in Collier County is growing fast. This means numerous new homes are coming up, from two-story family homes to condo units. Regardless of the size of your family unit, you are sure to find the home of your dreams in Collier County.
Benefits Collier County Offers For Young Professionals
One of the benefits of living in Collier County for young professionals is a thriving job market. Numerous employment opportunities emerge in various fields, including healthcare, service fields, business, and tourism. Some areas in Collier County would be particularly appealing if you are a young professional.
Forbes ranked the Naples area among the best cities for job growth in the U.S. It has a job market growth percentage higher than the U.S. average, and its job market increase is predicted to grow nearly 40 percent over the next decade.
Naples is also considered one of the wealthiest cities in the country, with low unemployment rates. Large segments of the population in Collier County earn six figures. Other areas in the county suitable for young professionals include Pine Ridge, Pelican Bay, Golden Gate, and Marco Island.
List of Eligible Cities/Towns in Collier County
Everglades City
Marco Island
Naples
Ave Maria
Berkshire Lakes
Carnestown
Chokoloskee
Copeland
Golden Gate
Goodland
Heritage Bay
Immokalee
Island Walk
Lely
Lely Resort
Marco Shore-Hammock Bay
Naples Manor
Orange tree
Pelican Bay
Pelican Marsh
Pine Ridge
Plantation Island
Verona Walk
Vineyards
Winding Cypress
Conclusion
The dream of homeownership has continued to drift out of the reach of many hardworking frontline workers. You commit to serving others, often putting your lives at risk, and find you and your families priced out of the housing market in which you serve. The Hometown Heroes Housing Program is an excellent step toward changing this.
The program's offerings look to make housing more affordable for eligible workers in critical occupations, something you very much need and deserve. This well-received initiative reflects the state's gratitude and obligation toward its essential workers.
Choose Your City for More Hometown Heroes Information