Hometown Heroes Loan Program: Learn How to Get up to a $25,000 Grant in Duval County, Florida
Phil Ganz
/
8 Min Read
/
Jun 12, 2022
Nevertheless, with the Hometown Heroes Loan Program officially rolled out, frontline workers, first responders, military members, and other essential workers can now breathe a sigh of relief.
The Hometown Heroes Program is set to make homeownership affordable for eligible community workers in all the counties of Florida. Income-qualified applicants will receive a lower first mortgage rate. Still, they will also be provided with down payment and closing cost assistance to help them purchase primary residences in the communities they serve so diligently.
If you're wondering how you can qualify for this program in Duval County, you've come to the right place. At present, the Hometown Heroes is open to critical workers serving in more than 50 occupations across various departments and imposes very flexible requirements for applicants. In this complete guide, you will learn everything you need to know about this groundbreaking program and how you can take advantage of it when purchasing your first home.
Hometown Heroes First Mortgage Programs
Income-qualified critical workers can qualify for three government loans and two conventional loans under the Hometown Heroes Program. Here's a rundown of the several mortgage programs offered through this program:
Florida First Heroes Home Loan (FL First) - If you're a frontline worker, you may be eligible for 30-year fixed-rate FHA, VA, or USDA-RD mortgage loans provided under this program. Qualifying for this first mortgage program automatically makes you eligible for down payment and closing cost assistance in the form of a second mortgage.

FL HFA Preferred Heroes Home Loan (Fannie Mae) - This mortgage program provides you a 30-year fixed-rate mortgage with lower private mortgage insurance (PMI) premiums if your income is equal to or less than 80% of the average median income (AMI). Furthermore, if you qualify for this loan, you may be eligible for a second mortgage to help with the down payment and closing costs.

FL HFA Advantage Heroes Home Loan (Freddie Mac) - Under this program, you can receive a 30-year, fixed-rate mortgage with reduced cost PMI if your median income does not exceed 80% of the AMI. Furthermore, this mortgage program automatically means you're eligible for the down payment and closing cost assistance through a second mortgage.
Hometown Heroes Second Mortgage Program
If you qualify for one of the aforementioned First Mortgages, you'll be automatically considered for a 0%, non-amortizing, 30-year, repayable second mortgage to aid with the down payment and closing costs. This mortgage is equal to 5% of the first loan and is capped at $25,000.
With that being said, it is worth bearing in mind that this second mortgage is not forgivable. Consequently, you'll be required to pay it out in full once the first mortgage is fully paid off or refinanced, the property deed is changed, or you no longer live in the house.
Hometown Heroes Loan Program Income Limits For Duval County
To qualify for the Hometown Heroes Loan Program in Duval County, you must satisfy the income requirement as adjusted for this county. This criterion ensures that borrowers who most need home financing assistance benefit from the program.
Currently, the income limit for Duval County is set at $118,950. This means that your income should not exceed this amount for you to be eligible for the program. Moreover, the loan limits for USDA-RD and FHA loans are capped at $432,400, whereas the limits for HFA Advantage, HFA Preferred, and VA loans are $647,200.
Hometown Heroes Loan Program Eligible Occupations
As highlighted at the outset, FL Housing's Hometown Heroes Program is specifically designed to make homeownership affordable for essential community workers in all Florida counties by providing them grants of up to $25,000. With that being said, you need to be actively working or show proof of having worked in one of the over 50 critical professions approved for this home financing assistance to benefit from the program.
If you are a healthcare worker in the following professions, you might be eligible for the grant:
Certified Radiologic Technologist
Certified Nurse Midwife
Electrologist
Licensed Medical Physicist
Certified Basic X-Ray Machine Operator
Certified Radiology Assistant
Certified Paramedic
Certified Emergency Medical Technician
911 Public Safety Communicator
Certified General Radiographer
Specialty Technologist
You are also considered eligible for the Hometown Heroes Loan Program if you work in any of the following occupations in the Juvenile Justice and Corrections Department:
Juvenile Probation Officer
Juvenile Detention Officer
Sworn Law Enforcement Officer
Certified Correction Officer
Correctional Probation Officer
If you work in the Department of Education, you can qualify for the program as a:
Classroom Teacher
Social Worker
Career Specialist
Librarian (Media Specialist)
School Psychologist
School Counselor
Various nursing and medical professions are also considered, including:
Registered Nurse
Licensed Practical Nurse
Certified Medical Assistant
Certified Nursing Assistant
Osteopathic Physician
Podiatric Physician
Acupuncturist
Chiropractic Physician
Other essential workers that are also prioritized in the Hometown Heroes Loan Program include:
Psychologists
Physical Therapists
Mental Health Counselors
Veterinarians
Clinical Social Workers
Opticians
Athletic Trainers
Massage Therapists
Prosthetists
Orthotists
Licensed Dieticians
Speech-Language Pathologists
Respiratory Therapists
Dentists
Phlebotomists
Hearing Aid Specialists
If you have previously served in the military or are currently an active military member, you are also encouraged to apply for the Hometown Heroes Loan Program. However, it is worth keeping in mind that the requirements for veterans and active military service members are a bit different from those of other occupations.
If you're a military member, you'll need to provide a copy of your military ID. However, unlike other occupations, you will not be required to fulfill the first-time homebuyer requirement to be deemed eligible.
Veterans are also exempt from the first-time homeowner restriction when applying for the Hometown Heroes Loan Program. However, suppose you're seeking the mortgage as a veteran. In that case, you'll need to provide a DD-214 form during the pre-qualification procedure to verify that your discharge status is honorable (rather than dishonorable).
You can also apply for the Hometown Heroes Loan Program if you are the surviving spouse of a veteran or military member. However, you'll need to submit a certificate of eligibility (COE) to be considered for the loan.
How To Get The $25,000 Hometown Heroes Grant In Duval County
To receive the Hometown Heroes Loan Program's $25,000 grant in Duval County, you must satisfy the income and occupational requirements stipulated by FL Housing. As long as you're already qualified for the first mortgage, you will be automatically considered for this grant.
With that being said, your lender will require that you provide the following documents during the qualification process:
Copy of your occupational license or certification
Copy of your Verification of Employment (VOE)
Copy of DD214 (applies only for veterans)
Copy of Military ID (applies for active military members)
Fully completed Hometown Heroes Program Attestation Form
Once you've reserved your first mortgage, your $25,000 grant will be automatically reserved. Next, your lender will underwrite your loan within 45 days and print the forms in preparation for closing.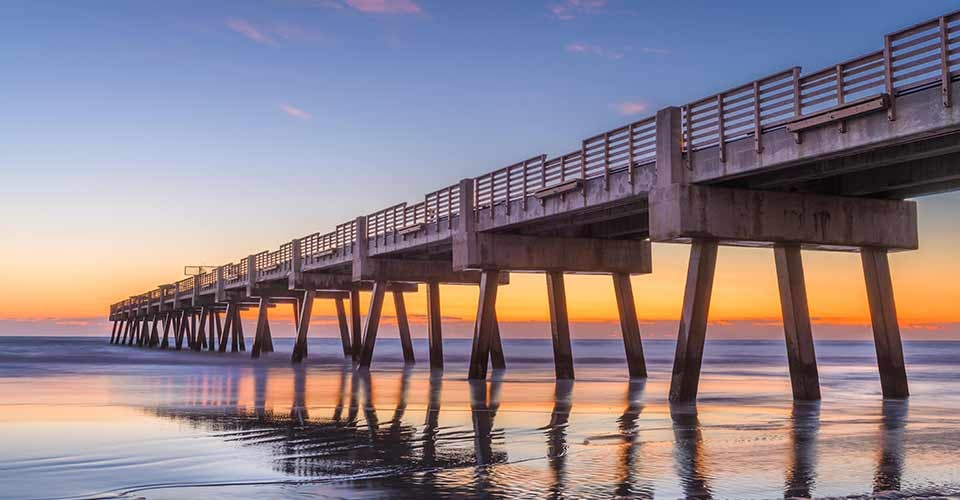 Cost Of Living In Duval County, FL
Duval County is located in the northeastern part of Florida and has Jacksonville as its county seat. It has an estimated population of 995,567, according to the 2020 census, with the majority of its residents (about 57%) owning their homes.
The average cost of living in Duval County is 8% lower than the Florida average and 6% lower than the United States average. The affordable cost of good quality housing, fantastic year-round weather, and plenty of social amenities are some of the main reasons why many domestic immigrants to the Sunshine State choose to settle here.
The median price of a home in Duval County is only $245,100, which is pretty low compared to the state median, which stands at $294,900, and the national median of $291,700. There are also many unique neighborhoods in Duval County where rental prices are just as affordable. The average cost of renting a three-bedroom apartment in Duval County is only $1,542, whereas the state's and national average rental costs for the same property are $1,790 and $1,681, respectively.
Duval County's affordability is reflected in its property prices, rents, groceries, and healthcare. The average cost of groceries is 1% less than the national average and up to 4% lower than the Florida average. However, utility costs are generally higher in this county than in other parts of the US, owing perhaps to the sweltering climate, requiring residents to keep their air conditioning running almost constantly.
Households in Duval County make an average annual income of $56,769, which is lower than the national average of $65,712. The county's household incomes still fare better compared to other popular Florida counties such as Bay County ($56,483) and Pinellas County ($56,419).
Best Areas To Buy A Home In Duval County
If you've set your sights on moving to Duval County, Florida, you're lucky as this area is home to some of the most beautiful neighborhoods anywhere in the Sunshine State. To help you narrow down your choice of where to buy a home, we have shortlisted a few of the best neighborhoods in Duval County that you might want to consider.
Bartram Park
Bartram Park is undoubtedly one of the fastest-growing neighborhoods in Jacksonville and all of northeast Florida. Over the past few years, it has witnessed a real estate boom, with residential buildings, commercial spaces, and offices springing up every day. It is home to the Julington-Durbin Creel Preserve, which offers residents and visitors the chance to explore Florida's remarkable flora and wildlife and kayaking circuits, biking, and hiking trails.
A single-family home in this quaint neighborhood costs about $250,000, while condo prices range from $110,000 to $260,000.
Mandarin
If you're looking for a quiet, family-friendly place to settle in Duval County, FL, then the neighborhood of Mandarin on the south side of Jacksonville is a terrific choice. This community has both beautiful scenery and outstanding schools, as well as great parks and commercial complexes.
Whether you're raising a young family or seeking to retire, you will find that Mandarin has everything you could ever need. The median price of a home in this community is about $350,000.
Riverside
Set along the St. John's River, the neighborhood of Riverside is an idyllic location, particularly for young single professionals. It's set just a few minutes away from downtown Jacksonville, making commutes to the city center brief.
Riverside is also home to numerous trendy clubs and restaurants, giving it a distinctly youthful vibe. On the other hand, the mid-century architectural style that adorns most residential buildings imbues the neighborhood with a sense of history.
The median home price in this neighborhood is around $375,000
Jacksonville Beach
Jacksonville Beach is one of the largest neighborhoods in Duval County's capital, with about 25,750 residents. This community has a laid-back suburban feel that families and young professionals find irresistible. It also has many parks, restaurants, and coffee shops that offer a welcoming ambiance for singles and families to relax and unwind.
Property prices are also quite affordable, and most residents (70%) own their homes. The median price of a home in this community is currently $466,080.
Best Public And Private Schools In Duval County
Duval County Public Schools (DCPS), headquartered in Jacksonville, FL, is the school district that serves Duval County in Florida. It encompasses 204 schools with a student population of 126,815.
Public Schools in Duval County have an average graduation rate of 87%, with 57% of students proficient in maths and 49% of students proficient at reading.
Some of the best public schools in the county include:
John Stockton Elementary School
Chet's Creek Elementary School
Duval Virtual Instruction Academy
Neptune Beach Elementary School
River City Science Academy at Mandarin
Bartram Springs Elementary School
Stanton College Preparatory
Paxon School of Advanced Studies
Mandarin High School
Duncan U. Fletcher High School
Duval County is also home to some of the most prestigious private schools in Florida state. About 69% of the private schools in this county are religiously-affiliated. Among the most notable private schools in the area are:
The Foundation Academy
The Bolles School
Trinity Christian Academy
Center Academy Jacksonville - Julington Creek
Academie de Montessori
Bishop Kenny High School
Christ The King Catholic School
The Covenant School of Jacksonville
Episcopal School of Jacksonville
Is Duval County Ideal For Families Or Young Professionals
Duval County offers numerous perks for families looking to settle here. It has plenty of scenic and serene neighborhoods that are reasonably priced and a great school district with numerous high-performing public and private schools. Besides property prices being compared to other parts of the country, groceries and healthcare are also very affordable, which you have to consider if you have a young family.
If you're a young professional, you'll be pleased by the affordability cost of living in Duval county and the numerous recreational opportunities. Whether you're looking to explore the great outdoor adventure, enjoy some time at the beach or go out for some nightlife partying, Duval County has it all. So, if you're thinking about making a move to Florida, you absolutely won't regret setting up roots in this beautiful region.
Hometown Heroes Loan Program: Eligible Cities and Towns In Duval County
The Hometown Heroes Loan Program is now available in all cities, towns, and incorporated areas in Duval County, including:
Jacksonville
Jacksonville Beach
Atlantic Beach
Neptune Beach
Wrapping Up
With the Hometown Heroes Loan Program officially rolled out in Florida, critical workers no longer have to worry about saving up all their lives to raising a home payment. Provided they meet the program requirements, workers in more than 50 essential occupations now have a shot at affordable home ownership thanks to the $25,000 grant that they will receive in this program.
Choose Your City for More Hometown Heroes Information