Hometown Heroes Loan Program: Learn How to Get up to a $25,000 Grant in Holmes County, Florida
Phil Ganz
/
8 Min Read
/
Jun 20, 2022
Everyone seemed to win when the housing market was booming in Florida. But as the market crashes and house prices plummet, many heroes are in a very different situation. They have dedicated their lives to serving others and making our communities better places to live. And now they're struggling to make ends meet.
(Sep 29, 2022)
Florida Creates Affordable Housing Program For America's Heroes
The State of Florida is taking steps to ensure that heroes in this state can afford to house.
In 2022-23, the state legislature put $100 million in its annual budget to create the Florida Hometown Hero Housing Program. This program aims to make housing more affordable for eligible workers by providing down payment and closing cost assistance through government grants.
The Florida legislature has passed a resolution offering property-tax exemption for hero professions in this jurisdiction. The constitutional amendment proposal is expected to provide the same. This is good news for military, law enforcement, firefighters, and EMS personnel looking to purchase or remodel a home.
If you're one of these folks, you may be eligible for the Hometown Heroes Loan Program! This program provides up to $25,000 in grant money to help you purchase or remodel a home. Read on to learn more about the program and how to apply.
Who Can Apply?
Suppose you're a frontline worker in the military, education, medical, childcare, firefighters, or law enforcement fields, and you live in an eligible municipality (meaning there's a housing shortage for your profession and area). In that case, you may qualify for Florida's "Affordable Housing Program For America's Heroes."
To qualify:
You must be living in an eligible municipality in Holmes County.
You must have worked full-time with the same employer for at least one year
You must meet the required income in Holmes county.
Have a credit score of 640 and above.
The Best Places To Live In Holmes County, Florida
"I've lived in Holmes County my whole life and never been to any of these places."
That's what most people say when they hear about the best places to live in Holmes County, Florida. The truth is that there are some great ones out there, but they're not exactly on everyone's radar. Some of them are far off the beaten path, while others are just so full of life and energy that they're easy to miss if you're not looking for them.
So if you've ever wanted to know where the best places to live in Holmes County are, here's your chance! Here's our list of the top five spots that no one talks about, but everyone should know about.
Westville
Westville is a quaint little town in Florida with a population of 323 people. The residents of Westville enjoy living in a suburban rural environment, and most of them own their homes. Residents tend to be conservative and are very friendly.
Westville is a great place to live if you want to get away from city life. It's quiet, peaceful, and safe. The streets are lined with beautiful trees, so the shade will always be during the hot summer. There're also lots of stores that offer great deals on food and clothing items.
Bonifay
Bonifay's population is 2,675, making it one of the smaller towns in Holmes County. But size doesn't matter when it comes to Bonifay: it's chock-full of charm and southern hospitality. The weather here is fantastic year-round; more excellent in the winter with plenty of mandarin and pear trees, and steamy and perfect beach weather in the spring, summer, and fall. Gorgeous clean white sands are just a short distance away from the city center, where there are excellent restaurants, vibrant culture, and a thriving community.
It's a great place to raise a family: safe, and lots to do (karate, dance, swim, baseball, soccer)…the rodeo and peanut festival is spectacular! There's something for everyone with natural food markets nearby, lakes… farmers' markets… there's something for everyone! A gator farm? Jump parks? Absolutely!
Schools are top-notch here—mainly private schools—and southern culture is everywhere: ma'am/ no sir is the norm; children are taught respect early; beautiful Southern belles take care of themselves; churches abound, and crime is low.
Esto
Esto is a quiet place to settle down, with a population of 398, and is one of the best places to live in Florida.
Esto offers residents a suburban rural feel with a diverse population and excellent schools. You'll be able to find everything you're looking for here: great nightlife, great restaurants, and friendly neighbors.
Most residents own their homes—an impressive feat in today's economy—but plenty of options are available if you're interested in renting.
Esto residents tend to be conservative politically but open-minded socially. The town offers an eclectic mix of people from all walks of life who enjoy getting together for community events like parades or neighborhood parties.
Ponce De Leon
Ponce de Leon is a Florida town with a lot to offer.
It has a population of 498, and it's just large enough to offer the amenities of a suburb while maintaining a small-town feel. Most residents own their homes, so you can be as picky as you want when finding the right place. Residents tend to be conservative, so if you're looking for a quiet place where everyone knows everyone else, Ponce de Leon might be just what you're looking for.
Ponce de Leon has one grocery store, restaurants, gas stations, and a Dollar General store. It's not big by any means, but it does have everything you need—and then some! We would recommend this area as an affordable and peaceful place to live.
Noma
If you're looking for a town that offers the best of both worlds, look no further than Noma. This little burg has just enough culture to keep things interesting and just enough isolation to keep you feeling like you're in the middle of nowhere.
Noma is in Holmes County, which means it's close enough to the big city life that you can hop in your car and get there within an hour or so, but far enough away that when you get there, you feel like you've escaped into a whole new world.
Noma's population is 251—a number that feels much larger when considering how large the town is and how few people live there. You'll find yourself thinking, "there are only five houses here," at least twenty times a day during your first month or two in town, so don't be surprised if it takes some time before it stops sounding crazy!
Most residents own their homes, which means they have plenty of space to themselves while still being close enough to neighbors that they can borrow milk from them if necessary. The suburbs aren't all bad!
Residents tend to be conservative—this isn't a place for hippies! However, the residents are friendly and welcoming to new neighbors.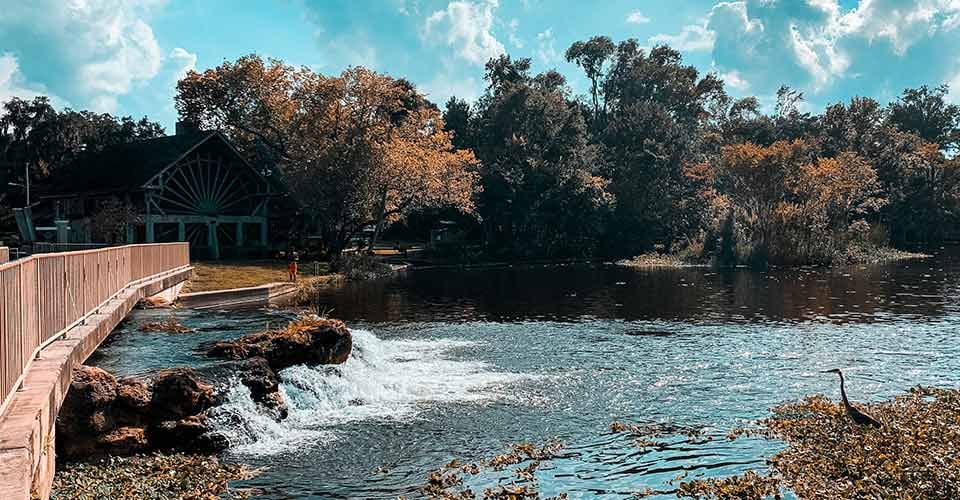 Things You Need To Know Before Moving To Holmes County, Florida
When you're looking at moving to Holmes County, Florida, you've got a lot of essential things to consider.
And we know that. That's why we put together this handy guide to help you start your new life in the Sunshine State.
Overall Cost of Living in Holmes County, Florida
First, let's talk about how much it costs to live in Holmes County compared to other areas of Florida and the nation.
Holmes County has an overall cost of living index of 78.7, which is way lower than Florida's 102.8—and even below the national average of 100. This looks great!
But don't get too excited yet: some expenses are more expensive here than they are in other parts of the state or country:
For example, healthcare is at 117.6, higher than Florida and the national average. This means you'll need a substantial health insurance policy if you move here—and maybe even some extra money for prescriptions and visits to specialists! Not to mention that Utilities are 109, which is way higher than Florida and the national average.
However, all is not lost since transport and miscellaneous expenses are below both Florida and the national average.
The Cost Of Housing
If you're looking for the "American Dream Home," Holmes County, Florida, is the place to go. According to city data, this county has a median household income of $41,607 and a median contract rent of $532 (lower quartile is $391, upper quartile is $636); you'll be able to afford a home with plenty of room for your family.
If you're looking for a great place to live as an adult with no responsibilities or kids, Holmes County's got that covered too! With an estimated median house or condo value in 2019 of $105,531 and monthly housing costs for homes and condos with a mortgage at $1,031, this county is practically paradise on earth.
With all this said, it's no wonder Holmes County has been named "Best Place To Live" by several publications over the past few years!
Holmes County's Educational System
If you're considering moving to Holmes County, you must understand what kind of schools your children will attend. The good news is that the public education system in Holmes County is highly rated by many sources—including US News & World Report and GreatSchools ratings.
The average student spends $8,383 per year on tuition (compared to an average of $12,383 nationwide). That means if you have three kids in school at once, they'll cost around $29k per year—pretty reasonable!
Holmes County also has fewer students per teacher than most places: 14 compared to a national average of 15. That means less competition for attention from teachers and more time for your kids to get individualized instruction.
There are fewer students per teacher in Holmes County than elsewhere in the country and fewer librarians per child than in most places, 517 compared with 538 nationally. This means that each library has more space for books than libraries.
Let's Talk About Commuting
The average one-way commute in Holmes County takes 28.2 minutes, which is longer than the US average of 26.4 minutes.
You could spend a lot of time on your favorite Netflix show, reading a book, hanging out with friends and family, or maybe just sleeping in! And for most people who live there, it's not even an option: 84.3% drive their car alone to work each day, followed by 9.2% who carpool with others, and 3.6% work from home. Only 0.2% take mass transit to get to work each day.
So if you're moving to Holmes County, Florida, and want to enjoy the benefits of being able to walk or bike to work, or if you want more free time for yourself after work every day (and weekend), consider moving somewhere else!
How Good Is The Job Market Here?
Suppose you've got a job, great! You'll be able to afford a house in Holmes County. The unemployment rate is 4.7%, compared to 6% nationally, and the employment growth rate is currently at -3.24%, compared to -6.18% nationally. That means there are jobs for people who want them and plenty of room for new businesses to grow here.
Holmes County is also excellent for families with kids: the average household income is $37,474 per year, compared to $57,652 nationally. That's enough money for a family of four to get by on—and even have some money left over!
And if that wasn't enough, Holmes County has 32.51% more future job growth than the entire America—which is at 33.51%. So if you're looking for somewhere exciting with lots of opportunities for growth and prosperity… look no further than Holmes County!
Holmes County Is Great For Young Professionals
This small town has everything you need to thrive in your career—and there are plenty of opportunities for fun on the side.
Holmes County is home to some of the best schools in the state, so it's easy to find work that doesn't require you to move away from your family. The local community college offers degrees in everything from criminal justice to education and counseling, so there's something for everyone! And if you want to keep learning after graduation, there are plenty of opportunities for internships and part-time jobs that will help you get started on your career path.
If you're looking for something more laid-back than your typical 9-to-5 job, Holmes County also has plenty going on at night! The local bar scene thrives with live music performances every night of the week, and there are always a few good shows at the cinema.
There are also plenty of events around town—from wine tastings at local vineyards to chili cook-offs—so if what you want out of life is a good time with friends or family members, then Holmes is your home.
You'll Need To Know About The Diversity Of The County
According to city data, the population is 86% white and 6.9% black. But that's not all! The county also has significant numbers of Hispanics or Latinos (2.5%), people who identify as two or more races (1.5%), American Indians and Alaska Natives alone (0.6%), Asians alone (0.4%), and Native Hawaiians and Other Pacific Islanders alone (0.02%). We're talking about many people coming together under one county's name!
If you're looking for a place that reflects the rich diversity of our country, then look no further than Holmes County, Florida.
Incorporated Towns & Census Designated Places in Holmes County
The Hometown Heroes Loan Program is available to all cities and towns in Lake County. These include:
Bonifay
Esto
Noma
Ponce de Leon
Westville
Ards Crossroads
Arrant Settlement
Baker Settlement
Barker Store
Bayou Crossing
Bethlehem
Bounds Crossing
Cerrogordo
Cobb Cross Roads
Eleanor
Gritney
Hathaway Mill
Hickory Hill
Hobbs Crossroads
Holland Crossroads
Hoover Mill
Hudson
Izagora
Leonia
Miller Crossroads
New Hope
Noma Junction
Pittman
Prosperity
Royals Crossroads
Smith Crossroads
Smyrna
Tendil Crossing
Underwood Crossing
Wynnlum
And that's a wrap!
You've done it! You've found your dream home and are ready to get it.
If you follow these steps and make sure to apply for the Hometown Heroes Loan Program, we promise you'll be in your new home faster than ever before.
We know that getting into a new house is exciting, but it can also be a little intimidating. We hope this guide has helped ease some of those worries by giving you all the information you need to start your application process.
Now all that's left is for you to get some rest and start living your best life in your dream home!
Choose Your County for More Hometown Heroes Information