Hometown Heroes Loan Program: Learn How to Get up to a $25,000 Grant in Miami-Dade County, Florida
Phil Ganz
/
8 Min Read
/
Jun 05, 2022
This state of affairs has prompted the establishment of various programs and initiatives aimed at helping American citizens to acquire their own homes conveniently.
On May 23, 2022, Florida Governor Ron DeSantis officially launched the Florida Hometown Heroes Housing Program. This initiative aims at helping Florida residents working in over 50 critical professional fields afford to place down payments and eventually own permanent properties in the state. Such professions and fields include medicine, law enforcement, teaching, childcare, and the military.
The idea is to encourage such individuals, who the Governor referred to as 'the backbone of Florida communities,' to own their own homes among the people they serve. While all the counties of Florida have this program in place, individual details vary from one county to another. In this piece, we'll focus on one county in particular - Miami-Dade County.
Let's examine the program in further detail, highlighting who stands to benefit from it, the prerequisite conditions for eligibility, and some salient facts about living in Miami-Dade County, Florida.
Establishing the Hometown Heroes Loan Program
This is one of the most generous and inclusive housing loan programs in the state and falls under the Florida Housing and Finance Corporation's administration. The Governor announced that this down payment assistance program would receive an initial funding round of $100 million, with an additional $263 million to be allocated to housing and affordable and worker housing initiatives for the financial year running from 2022 to 2023.
According to the Governor, Florida wanted to find a way to express its gratitude to the people whose work contributes to the well-being of their communities most directly. The importance of such professionals was recently highlighted by the ravaging effect the recent Covid-19 pandemic had on the United States and the world.
The program's funding will be available for reservation starting from June 1 to coincide with the National Homeownership Month, which runs through June. The month was dedicated to celebrating homeownership's value and benefits to families, neighborhoods, and communities across the United States.
Florida Housing was instituted through state legislation 40 years ago to manage federal and state resources directed toward providing affordable housing options for Floridians.
This program will provide its recipients with 5 % of their first house's mortgage loan (no more than $25,000) in down payment and closing cost assistance funding provided as a zero percent, non-amortizing, thirty-year deferred second mortgage.
Who is Eligible for this Program?
To qualify for a loan, applicants will first have to contact a participating loan officer, who will guide them through the process. They will need to have a healthy credit score (640 is the minimum), meet the income threshold stipulated for their county ($146,250), and have certified proof of their occupation. They will need to be a full-time employee working at the time of their application.
The occupations and professions that will qualify you for this loan program are as follow:
Sworn law enforcement officer
Certified correction officer, Correctional probation officer
Juvenile detention officer, Juvenile probation officer
911 public safety communicator
Licensed childcare operator, Childcare instructor
Registered nurse (RN), Licensed practical nurse (LPN)
Certified nursing assistant (CNA), Home health aide
Certified medical assistant
Acupuncturist
Osteopathic physician, Chiropractic physician
Pharmacist, Pharmacy technician
Dentist, Dental hygienist
Certified nurse midwife
Speech language pathologist
Nursing home administrator
Occupational therapist, Respiratory therapist
Licensed dietician/nutritionist, Licensed nutrition counselor
Athletic trainer
Prosthetist orthotist, Prosthetist, Electrologist
Massage therapist
Clinical laboratory personnel, Phlebotomist
Radiologic technologist, Tadiology assistant
Specialty technologist
Optician, Hearing aid specialist
Physical therapist, Psychologist
Clinical social worker, Mental health counselor
Veterinarian, Veterinary assistant/technician

Active military personnel or a Veteran

Certified educator (classroom teacher, librarian, career specialist, social worker, school psychologist)

Firefighter, Certified paramedic, Certified emergency medical technicians

Healthcare practitioner (physician, physician's assistant, anesthesiologist)

Licensed medical physicist (X-Ray), Certified primary X-Ray machine operator
Income and Maximum Loan Limits
The Hometown Heroes Loan Program has a few stipulations that applicants must adhere to. For one, applicants must not earn a yearly income over $146,250. This limit is adjusted for household size and the particular market and economic conditions. For this reason, you will find that these limits vary from one county to another.
You will find that the program also stipulates maximum loan limits, which are pegged to the purchase price limits. Miami-Dade County, in this case, sets the maximum loan amount for USDA-RD and FHA loans at $460,000. For HFA Preferred, VA, and HFA Advantage loans, the maximum amount is $647,200.
Living in Miami-Dade County
The county is one of the most diverse and multi-ethnic counties to be found not only in Florida but anywhere else in the United States. According to the 2020 United States Census, of the 2,701,767 people living here, 68.73 percent were Latino or Hispanic.
Non-Hispanic white residents were 14 percent, African Americans represented 13 percent, and the rest of the population was divided between Pacific Islanders, Asians, Native Americans, and Multi-racial inhabitants. Approximately 52 percent of the people living here were born outside the country, with about 72 percent of people speaking a language other than English while in their own homes.
Religious Groups
You'll find that the county shows as much diversity in religion as it does in its demographics. The largest religious grouping is Catholic, as the Archdiocese of Miami presides over 600,000 Catholic believers spread out across 65 parishes. You will also find sizable communities and congregations of SBC Baptists (80,123 congregants), NBC Baptists (47,921), Seventh-day Adventists (27,901), AoG Pentecostals (25,244), LDS Mormons (14,628), TEC Episcopalians (12,569), Muslims (23,064), and more.
Jewish residents are a significant segment of the county's religious demographic, numbering over 121,00, with the majority being the elderly and retired people. Because of their presence, Miami-Dade county boasts the third-largest Jewish population in the state and the tenth-largest in the country.
Transportation
Compared to some other major cities across the United States, Mami-ade compares traffic congestion and ease of commuting well. The county possesses a public transit system known as Miami-Dade Transit which operates the Metrorail and Metrobus services. They also have inter-city rail services known as Tri-Rail and Brightline.
Miami-Dade County plays host to one of the world's largest transport hubs, Miami International Airport, which serves over 35 million passengers each year. American Airlines, the world's largest passenger airline, has its most important international berth here.
Residents traveling from here have access to non-stop flights to international locations in Asia, Europe, the Middle East, and South America. Aside from this, fliers can also choose Miami Executive Airport, Miami Seaplane Base, Homestead Air Reserve Base, Homestead General Aviation Airport, and Dade-Collier Airport.
Public Services
A significant concern for people considering moving to a new area is the level of public service delivery they might expect. Because different counties and municipalities are primarily responsible for the operation of these departments, you will find that they can vary significantly from one region to another. As we highlight the Hometown Heroes Program, let's look at some public service professions whose members are eligible.
Police Department
With its headquarters located in Doral, Florida, the Miami-Dade Police Department serves residents living in the county. However, it will often cooperate with the departments of their municipalities, such as the City of Miami Police Department.
It is Florida's largest police department, with over 4,700 employees. Overseen by the director Juan Perez, the department ensures that all residents are adequately served and covered by spreading outposts across nine districts all across the county and two specialized bureaus.
Fire Rescue
The Miami-Dade Fire Rescue Department is responsible for the emergency medical service providers and fire protection services. This department is also responsible for the Oplock Airport, Miami Executive Airport, and Miami International Airport. The agency is tasked with covering 29 municipalities and all unincorporated regions of the county.
In extreme scenarios involving wilderness settings or grievous injuries, they are also home to the Urban Search and Rescue Florida Task Force 1 and the EMS, which comprises 640 emergency medical technicians and 760 paramedics, all certified by the state.
Water and Sewer Department
The MDWASD (Miami-Dade Water and Sewer Department) ranks as one of the United States' largest public utilities, with over 3,00 employees on its payroll. These employees are necessary to run the department, which serves over 2.4 million clients with a budget of $400 million each year.
The department has a service area of 400 square miles, 7,100 miles of water lines, 954 pump stations, and 3,600 miles of sewer pipes. This department is overseen by the South Dade Soil and Water Conservation District.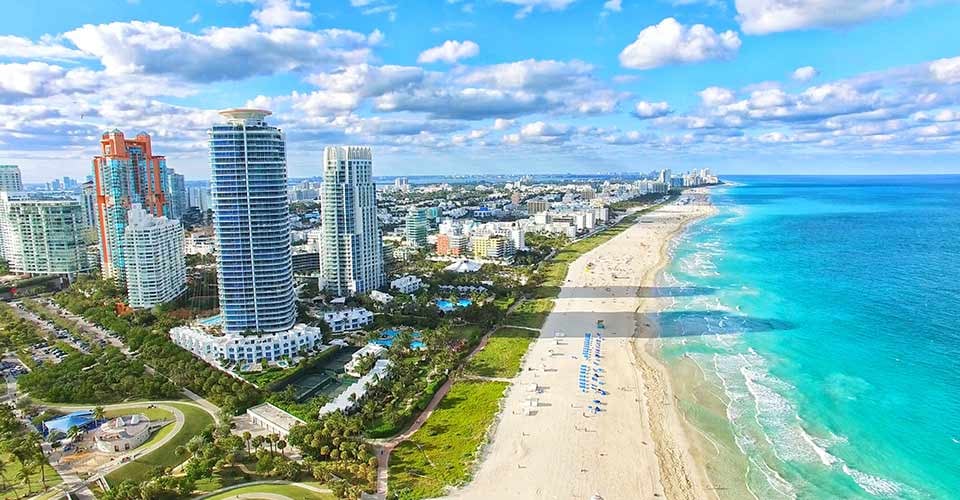 Miami-Dade County Cultural Scene
There are many things to do, sights to see, and events to attend in Miami-Dade County. As a beach town, it possesses all the typical attractions designed for tourists, but it also offers plenty more besides them. Art lovers, for example, will enjoy taking trips to highly esteemed museums such as Coral Castle, Bass Museum of Art, Frost Art Museum, Lowe Art Museum, Gold Coast Railroad Museum, Vizcaya Museum, and the Philip and Patricia Frost Museum.
If culture and wildlife are more in line with your interests, you can enjoy a day of family fun by visiting one of the various zoos, waterparks, and performing arts centers dotting the county.
These include the Adrienne Arsht Center for the Performing Arts, Bayfront Park Amphitheatre, Bayside Marketplace, Jungle Island, Monkey Jungle, Zoo Miami, Miami Seaquarium, Miami New Drama, Colony Theatre, Ancient Spanish Monastery, and the Wertheim Performing Arts Center, among others.
Florida is well known for its unique natural environment, part of the Everglade ecosystem. You will find a large selection of parks in the county offering a variety of natural scenery and creatures in their natural settings. Residents have access to popular parks such as Everglades National Park, Oleta River State Park, Bill Baggs Cape Florida State Park, Tropical Park, Bayfront Park, The Barnacle Historic State Park, Crandon Park, Biscayne National Park, and more.
Miami-Dade is South Florida's sports hub, hosting most stadiums, arenas, and complexes. These facilities include Hard Rock Stadium (Miami Hurricanes), Marlins Park (Baseball), American Airlines Arena (Basketball), FIU Arena (Basketball), Cobb Stadium (Track and Field, Soccer), Alex Rodriguez Park at Mark Light Field (Baseball), and many more.
Working in Miami-Dade County
The economic conditions and employment opportunities available in an area will often be the foremost consideration for people considering a move. If you're interested in this program, you're probably a current resident of the county or considering a move. There are plenty of job opportunities available in diverse industries and professions in Miami-Dade County.
Whether you're hoping for work in the public or private sector, you will have plenty of options. According to census data, the median income of families in the county is $40,260, with males earning $30,120 on average and women bringing in $24,686.
Some of the most significant public sector employers in Miami-Dade County are Miami-Dade County Public Schools, U.S. Federal Government, Jackson Health System, Florida State Government, and Miami Dade County.
The private sector is vibrant, offering employment in diverse sectors led by companies such as the University of Miami, Baptist Health South Florida, American Airlines, Carnival Cruise Line, Nicklaus Children's Hospital, Florida Power&Light, Royal Caribbean International, and the Mount Sinai Medical Center.
Other notable corporations based in Miami-Dade County include Astra Zeneca (Latin American Headquarters), Goya Foods, the Unicomer Group, and Gate Group. The working climate of Miami-Dade County, while somewhat reliant on tourism and related industries, is a very healthy one. This is a continuously growing county that shows every sign of continued growth in the future.
Learning in Miami-Dade County
Whether you hope to continue your education or have a family that requires quality learning conditions, you won't have any trouble in Miami-Dade County. They have quality options from kindergarten level to universities. The Miami-Dade County Public School District is one of the largest in the country, with over 360,000 learners.
It hosts numerous high-performing private and public schools, including Allison Academy School, The Cushman School, Monsignor Edward Pace High School, Riviera Schools, Don Soffer Aventura High School, etc.
One of the most famous higher learning institutions located here is the University of Miami, renowned for its position as one of America's best research universities and the top-ranked private university in Florida.
Another notable institution is the Florida International University, which is ranked fifth in the country regarding enrollment. You will find plenty of information available to the public provided by the Miami-Dade Public Library system, one of the country's largest.
Municipalities in Miami-Dade County
Miami-Dade County comprises 19 cities, 6 towns, and 9 villages. These are all incorporated municipalities, although the county seat resides in Miami. All these municipalities have the same governance structure, so you will be eligible for the Hometown Heroes program and face the same qualifications and regulations. These municipalities are as follows:
Miami Gardens City
Aventura City
Sunny Isles Beach City
North Miami Beach City
North Miami City
North Bay City
Opa-Locka City
Hialeah City
Hialeah Gardens City
Doral City
Miami Springs City
Sweetwater City
Miami City
Miami Beach City
West Miami City
Coral Gables City
South Miami City
Homestead City
Florida City
Golden Beah Town
Bay Harbor Islands Town
Surfside Town
Miami Lakes Town
Medley Town
Cutler Bay Town
Bal Harbour Village
Indian Creek Village
Biscayne Park Village
Miami Shores Village
El Portal Village
Virginia Gardens Village
Key Biscayne Village
Pinecrest Village
Palmetto Bay Village
Final Thoughts
Homeownership is an almost universal dream, but realizing it is a challenge for many in these difficult times. The Florida Hometown Heroes Housing Program offers a way for frontline and essential workers and a good variety of professionals playing different roles in our communities to access the funds they need to make the first step toward this goal comfortably.
By providing them with these resources, the program goes a long way in promoting our communities' health, vibrancy, and longevity.
It is a good idea and well worth implementing, not only in Miami-Dade County but across the state of Florida and beyond.
Choose Your County for More Hometown Heroes Information