Hometown Heroes Loan Program: Learn How to Get up to a $25,000 Grant in Monroe County, Florida
Phil Ganz
/
8 Min Read
/
Jun 07, 2022
If you love touring and visiting exciting places, you must have heard of the Florida Keys or, better yet, visited them in person. The fabulous Florida Keys are a string of enchanting tropical islands that are a favorite destination for scuba diving, boating, fishing, and snorkeling enthusiasts.
(Jun 30, 2022)
Most importantly, they make up a large portion of Monroe County, named after the United State's fifth president, James Monroe.
Monroe County has some of the safest, family-friendly neighborhoods in Florida. Plus, the entire region qualifies for the Florida Hometown Heroes Loan Program.
In short, this county is an ideal choice for critical community workers planning to buy properties and live in quaint, closely-knit communities.
This article introduces you to one of the most essential financial platforms for Floridian frontline workers: the FL Hometown Heroes Loan Program. It also outlines everything you need to know about Monroe County and why living here is a splendid move.
An Overview of the Florida Hometown Heroes Loan Program
Heroes. What comes to mind when you hear that word? Is it spider-man or batman? Maybe it's Indiana Jones and James Bond. Or, you might be picturing someone walking out of a burning building with kittens wrapped up snuggly in a blanket.
The world is full of heroes and superheroes. Although most of these are fictional characters birthed by the movie industry, some are real-life people- individuals who achieve superhuman feats in ordinary positions, without capes or superpowers.
For instance, in 2021 alone, the U.S. Marshals Service (USMS) seized 7,028 guns in various operations, weapons that some would otherwise use to instigate crime and violence.
The State of Florida recently decided to recognize the efforts of such outstanding individuals through the FL Hometown Heroes Loan Program. This program's primary purpose is to help frontline workers that plan to buy a home but need financial assistance.
The FL Hometown Heroes Loan Program mainly helps eligible parties to cover their down payments and closing costs.
Anyone who qualifies for the loan can receive a $25,000 grant, roughly 5% of the original mortgage loan limit. That is the maximum amount you can receive in down payment and closing costs assistance. The good news is the platform considers it a non-amortizing, 0%, 30-year deferred junior lien, otherwise known as a second mortgage.
Qualifications Requirements for the FL Hometown Heroes Loan Program in Monroe County, Florida
Check if you qualify before applying for the FL Hometown Heroes Loan Program in Monroe County.
The program only accepts critical workers employed in 50+ occupations eligible for participation. These include sworn law enforcement officers, juvenile probation officers, certified paramedics, healthcare practitioners, athletic trainers, active military personnel, and clinical social workers.
Note this - the FL Hometown Heroes Loan Program is only for full-time frontline employees currently practicing in a position that agrees with the certificate or license they hold.
In addition, the program has stipulated income limits and maximum loan limits for every county in the Sunshine State.
The 2022 Hometown Heroes income limit for Monroe County is $153,750. No borrower is allowed to participate if their income exceeds this limit that the platform has adjusted to accommodate household sizes and the counties where participants plan to buy property.
Two different categories fall under the loan program's 2022 maximum loan limits for Monroe County.
First is the FHA (Federal Housing Administration) and USDA-RD (U.S. Department of Agriculture- Rural Development) loan limit, $710,700. The other is the HFA (Housing Finance Agency) Preferred, HFA Advantage, and VA (Veterans Affairs) limit- $647,200.
In a nutshell, if you want to get the Hometown Heroes grant, do the following:
Find a participating loan officer
Check if your credit score is at least 640
Ensure you meet Monroe County's income threshold
Provide relevant job certification or license
Is Monroe County a Good Place to Buy Property?
Determining Monroe County's suitability requires you to consider the following:
Cost of Living
Don't let Monroe County's popularity fool you into believing the living costs here are too high. If you expect to maintain a modest standard of living in this area, $4,000 should be enough. But, if you are willing to spend more a year, you can enjoy most of what this county has to offer.
The neighborhoods with the lowest living costs in Monroe County include Layton and Islamorada in the Village of Islands. Expect to spend less on necessities like housing, transportation, healthcare, and child care living in these areas than in other neighborhoods in Florida.
Crime Rates
Crime rates in Monroe County are surprisingly low, despite the region having 82,000+ residents by 2020, with the rate of violent crime alone being 5.32 per 1000 residents. Murders, sexual offenses, and robbery are pretty rare in Monroe County.
Why is this important? For starters, low crime has many economic benefits. For instance, you can start a business in Monroe County without worrying about safety or spending copious amounts on security systems and guards.
Learning Institutions
If you have a family or plan to raise one in the future, good schools should be abundant around your home. Fortunately, most neighborhoods in the county have outstanding institutions, including schools like Treasure Village Montessori Charter, Coral Shores High School, and Big Pine Academy.
Not to forget, Monroe County is home to many reputable colleges and universities. The best include the University of Miami, Barry University, Navy College Learning Center, and The College of the Florida Keys.
Business Opportunities
Monroe County attracts many tourists every year. The Hemingway Home and Museum, Dry Tortugas, and John Pennekamp Coral Reef State Park are top attractions for visitors.
If you are an aspiring entrepreneur, there are numerous ventures you can start in this county and reap significant returns. These include Airbnb rentals, souvenir shops, walking tours, and eateries.
Employers in the region also constantly hire new workers. That means there are plenty of job opportunities in Monroe County.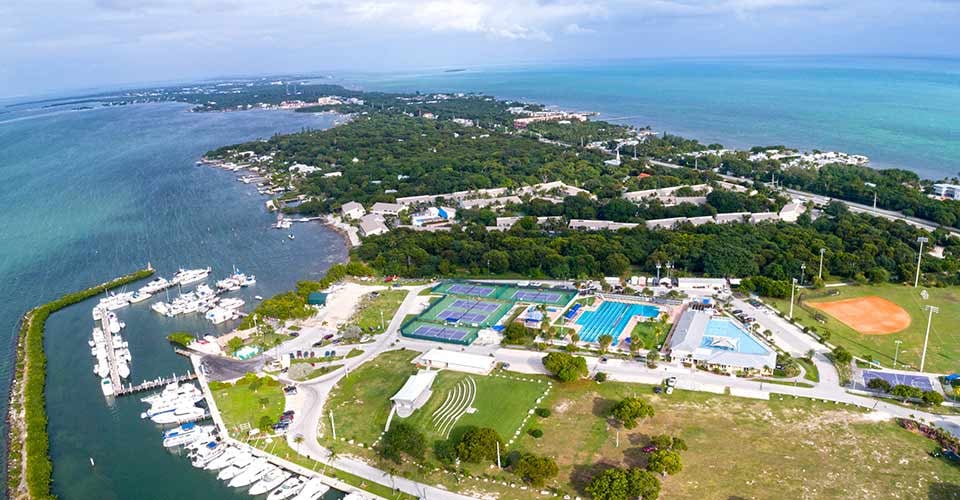 The Best Neighborhoods in Monroe County
Homeowners are a lucky bunch. Their investment puts them in a better position to build equity, enjoy living security, exercise more control over expenses like utility bills, and create their dream homes.
But before you transition into homeownership and enjoy said benefits, you must first pick the best place to buy property.
Although Monroe County has scores of villages, towns, and cities, no two are equal. The best areas that have reasonable living standards, low crime rates, and beautiful sceneries include:
Layton
Layton is a city located in Monroe County's Long Key island. In 2019, this place had a population of 181 people. Most of the residents in Layton own their homes and are pretty conservative.
Living in a city with a low population may seem like an ill-advised decision, but it can be a wonderful experience. The reason is that areas like Layton have little to no congestion, problematic waste issues, and water and food shortages.
Plus, a low population is associated with decreased social unrest and crime rates.
The total annual cost of food, housing, taxes, healthcare, transportation, child care, and other necessities is around $46,025 in Monroe county. Although this amount is higher than the Sunshine State's annual cost of living, it's pretty affordable.
If you are worried about housing costs in Layton, let your fears be assuaged. The median home cost in this region is $367,700, which is within the FL Hometown Heroes Loan Program's limit for the entire county.
Big Pine Key
Big Pine Key is an unincorporated community and census-designated place in Monroe County, Florida. By 2020, this neighborhood had around 4,800 people.
What's to love about Big Pine Key? First, this region has numerous top-tier, family-friendly facilities. These include the Big Key Community Park and various community centers, roller hockey rinks, tennis courts, skate parks, and fitness trails.
But Big Pine Key's main appeal is beautiful sceneries and tranquil neighborhoods. Plus, it's close to the water, making it a haven for any homeowner who loves fishing, exploring, snorkeling, diving, and similar activities.
The median home price in Big Pine Key is $537,100. This sum qualities for the FL Hometown Heroes Loan Program's stipulations. And, if fine weather is what you seek, Big Key Pine experiences fantastic conditions several times a year, including in December, January, and February.
Key Colony Beach
Key Colony Beach is one of the best places to live in Monroe County and the Sunshine State. Most residents in this neighborhood own their homes. That makes the area a closely-knit community with less interference from outsiders.
The Key Colony Beach community had 523 people in 2020. This small population, coupled with the area's friendly environment, makes it ideal for individuals seeking opportunities for financial growth, optimum security, and striking, uncrowded natural sceneries.
Most importantly, property in Key Colony Beach is quite affordable, despite the area offering top-tier options. Currently, the median home value in this region is $566,800. That means you can use the FL Hometown Heroes Loan Program to help you pay for a suitable property in Key Colony Beach without any hassles.
Islamorada - Village of Islands
Islamorada, otherwise known as Islas Morada, is a quaint incorporate village tucked in the recesses of Monroe County. This neighborhood is strategically positioned between Key West and Miami. Therefore, any resident can travel to either city when they choose to.
All 7,000+ residents love this area. But, it's cherished more by outdoor enthusiasts. Why is that so? The main reason is Islamorada is associated with top-notch ocean-front properties, a laid-back lifestyle, and tropical breezes.
If the qualities outlined above have you worried, don't fret. Properties in Islamorada are surprisingly reasonably priced. The median home price in this area is $650,100. And the best thing is at least 70% of residents live in their properties!
Key West
Key West is one of the more populated cities in Monroe County, with 24,843 residents. This region is Monroe's county seat and home to several essential amenities, including the Key West International Airport and the Naval Air Station Key West.
What's more, Key West is a favorite port of call for countless passenger cruise ships. That makes the city ideal for prospective homeowners that wish to set up a business like a restaurant or coffee shop in the future.
If you buy property in this city, expect to relish an urban/suburban mix feel. Most of the residents you'll interact with will be renters, so you'll meet an interesting bunch of people from all walks of life.
The best neighborhoods in Key West include Bahama Village, Old Town, Big Pine & Lower Keys, Stock Island, and Historic Seaport. Since most of this city's residents rent their homes, you can build rentals and enjoy significant returns over the years.
Key Largo
Does the title "self-proclaimed Dive Capital of the World" stir something in you? In that case, try living in Key Largo because that is the neighborhood's moniker.
Key largo is one of Monroe County's popular census-designated places. Reports from the 2020 census indicate that this region has 12,000+ people. But that isn't inherently what makes this area an excellent place to live.
The most notable thing about Key Largo is it is home to the colossus USS Spiel Grove, the world's largest reef. The African Queen and the John Pennekamp Coral Reef State Park are also in Key Largo. These are all places you can explore at your leisure when you become a part of this community.
Not to forget, the Key Largo Real Estate has diverse housing options, just like its population. The neighborhood is chock-full of single-family houses, luxurious mansions, condos, and beach-front cottages.
Lastly, the cost of living in Key Largo for a single adult is $46,025. That means you are unlikely to spend ungodly on expenses like food, housing, taxes, transportation, and healthcare.
Big Coppitt Key
Would you like to live on a beautiful island? If yes, Big Coppitt should be on your itinerary.
This island covers around 7.93 km². Its name originates from the old English for thicket, coppice. The island's population in 2020 was 2,869. Authorities categorize Big Coppitt Key is an unincorporated community and a census-designated place.
Most Big Coppitt Key residents own their homes. So, the area is primarily laid-back, peaceful, and relatively crime-free. The area is also ideal for young professionals, with the median household income shattering the $86,000+ mark.
If you plan to own a single-family home in this neighborhood, expect to spend an average of $700,952.
All Cities, Towns, and Villages that Qualify for the FL Hometown Heroes Loan Program in Monroe County
Monroe County has the following incorporated designated places, towns, and cities (the regions with asterisks are incorporated places):
Layton*
Big Pine Key
Duck Key
Key West*
Islamorada Village of Islands village*
North Key Largo
Big Coppitt Key
Stock Island
Key Colony Beach*
Marathon*
Key Largo
Cudjoe Key
Tavernier
The county also has other populated places, including:
Fort Jefferson
Anglers Park
Conch Key
Gulf View Trailer Haven
Coconut Grove
Galway Bay MH Park
Coastal Waterway Park
Grayvik
Carysfort Yacht Harbor
Deans Trailer Park
Manatee Cove MH Park
Jewfish
Chatham
Leos Trailer Park
Plantation
Jolly Roger Travel Park
Big Pine
Fort Jefferson
El Chico
Lower Matecumbe Beach
Bay Point
Riptide Trailer Park
Dynamite Docks
FlamingoIslamorada
Key Largo Park
Plantation Key
Trailerama MH Park
Leon Matecumbe
Hamilton Place
Liz's Trailer Park
Newport
Lucky Landing MH Park
Marathon Shores
Overseas Trailer Park
Pirates Cove
Stadium MH Park
Paradise Point MH Park
Rock Harbor Marina East MH Park
Roys Trailer Park
Seabreeze Trailer Park
Valhalla
Sunset Point
Plantation Key Colony
Rock Harbor
Sunny Isle Trailer Park
Garden Cove
Summerland Key
The Watson Place
Sugarloaf Shores
Travel Trailer Town
Village Mobile Park
Waters Edge Colony MH Park
Thompson
Trail Center
Pinecrest
Perky
Seaside Resort MH Park
Sunset Harbor Trailer Village
Terra Marine Trailer Park
Woodsons Trailer Park
Tropic Palms MH Park
Walter Hamilton Place
All cities, towns, census-designated places, and other populated places in Monroe County, Florida, qualify for the FL Hometown Heroes Loan Program.
Buy a Home in Monroe County Today!
A lot goes into picking the right place to buy a home. Monroe County has everything a prospective homeowner could hope for, including affordable living costs, good schools, relatively low crime rates, reasonably priced properties, and tranquil neighborhoods.
And the best thing is that you can use the Florida Hometown Heroes Loan Program grant to cover the costs of buying a home in Monroe County. The only catch is that you must be an essential community worker with all relevant credentials.
Choose Your City for More Hometown Heroes Information