Hometown Heroes Loan Program: Learn How to Get up to a $25,000 Grant in Pinellas County, Florida
Phil Ganz
/
8 Min Read
/
Jun 06, 2022
As property prices in most Florida counties continue to rise, many critical workers, including firefighters, teachers, and nurses, have struggled with housing costs. The ever-increasing property costs, occasioned by high demand for homes, have locked out many of these hometown heroes who earn modest incomes from enjoying homeownership.
(Jun 30, 2022)
Fortunately, the newly introduced Hometown Heroes Loan Program is set to change, giving frontline workers in all Florida counties the opportunity to access affordable first mortgages and down payment and closing cost assistance in grants of up to $25,000.
This complete guide will learn everything you need to know about qualifying for the Hometown Heroes Program in Pinellas County, Florida. We will also share some general information on the best areas to purchase a home in the County. Keep reading to find out more.
Hometown Heroes First Mortgage Program Loans In Pinellas County
As mentioned at the outset, there are various mortgage loans that critical workers in Pinellas County, Florida, can qualify for through the Hometown Heroes Loan Program. These include:
Florida First Heroes Mortgage Loan (FL First) - Prospective homeowners may be eligible for 30-year fixed-rate, USDA-RD, FHA, or VA mortgage loans. Qualifying borrowers are also automatically eligible for a second mortgage to help with the down payment.

FL HFA Advantage Heroes (Freddie Mac) - Applicants of this program who have a median income less than or equal to 80 percent of the County's average median income are eligible for a 30-year, fixed-rate mortgage with reduced PMI. Qualifying candidates of this mortgage program can also receive down payment and closing cost assistance through a second mortgage.

FL HFA Preferred Heroes (Fannie Mae) - Through this mortgage program, qualifying borrowers are eligible for a 30-year fixed-rate mortgage. Borrowers earning less than 80% of the average median income (AMI) can save money on private mortgage insurance (PMI) with this loan. Similarly, borrowers who are qualified for this first mortgage automatically qualify for down payment and closing cost assistance in a second mortgage.
Hometown Heroes Down Payment And Closing Cost Assistance In Pinellas County
Essential workers who qualify for Hometown Heroes First Mortgage loans are eligible for a 0%, non-amortizing, 30-year, repayable second mortgage to help with down payment and closing costs. This second mortgage is capped at $25,000 and is equivalent to 5% of the original mortgage's value.
With that being said, this second mortgage is non-forgivable, and borrowers are required to pay it back in full upon payment on the first mortgage, refinance the mortgage, transfer the property deed, or if they no longer use the property as their primary residence.
Eligible Occupations For The Hometown Heroes Loan Program
The Hometown Heroes Loan Program is designed to provide community workers in various professions with down payment and closing cost assistance to purchase primary homes comfortably. More than 50 occupations are permissible in the Hometown Heroes Housing Program. These include:
Certified Emergency Medical Technician
Firefighter
Juvenile Probation Officer
Juvenile Detention Officer
Certified Corrections Officer
Law Enforcement Officer
Correctional Probation Officer
Classroom Teacher
Certified Paramedic
Librarian
Career Specialist
School Psychologist
Social Worker
School Counselor
Licensed Practical Nurse
Registered Nurse
Certified Nursing Assistant
Certified Nurse Midwife
Psychologist
Optician
Veterinarian
Veteran
Active Military Personel
Dentist
Dental Hygienist
Nutritionist
Pharmacist
Physician
Physician Assistant
Anesthesiologist
Athletic Trainer
Pharmacist
911 Public Safety Communicator
Licensed Childcare Operator (Owner of the facility)
Childcare Instructor
Osteopathic Physician
Chiropractic Physician
Podiatric Physician
Pharmacy Technician
Speech-Language Pathologist (Audiologist)
Speech-Language Pathologist Assistant (Audiologist Assistant)
Occupation Therapist
Occupational Therapist Assistant
Nursing Home Administrator
Respiratory Therapist
Licensed Nutrition Counselor
Prosthetist
Prosthetist Orthotist
Orthotic Fitter
Orthotic Fitter Assistant
Clinical Laboratory Personel
Massage Therapist
Electrologist
Phlebotomist
Licensed Medical Physicist
Certified Radiologic Technologist
Certified Radiology Assistant
Certified General Radiographer
Specialty Technologist
Hearing Aid Specialist
Physical Therapist
Physical Therapist Assistant
Marriage and Family Therapist
Mental Health Counselor
Clinical Social Worker
Hometown Heroes Loan Program Income Limits For Pinellas County
Applicants must fulfill FL Housing's qualifying income requirements to be eligible for the Hometown Heroes Housing Program. The income restriction establishes a ceiling over which a person cannot obtain a mortgage. This guarantees that only borrowers with low to medium incomes qualify for the mortgage program.
The income limits for the Hometown Heroes Loan Program are typically adjusted according to the household size and the County in which the property is being purchased. So, if you live in Pinellas County, the income limit above which you won't be eligible for the Hometown Heroes Loan Program is $123,150. Additionally, the loan limit for USDA-RD and FHA loans is capped at $420,680, while the ceilings for HFA Advantage, HFA Preferred, and VA loans are $647,200.
Cost Of Living In Pinellas County
Located on the west-central coast of the State of Florida, Pinellas County has a population of about 959,107, according to the 2020 census. The County is part of the more comprehensive Florida Metropolitan Statistical Area, with Clearwater as its county seat and St. Petersburg as its largest city.
Housing is one of the main expenses that residents of Pinellas County have to contend with. The overall cost of living in Pinellas County is generally lower than Florida's average, but considerably higher compared to the nationwide average. The median cost of a single-family home is about $304 700, which is higher than Florida's average of $294,900 and the national average of $291,700.
Families looking to rent in this region will also find that rental prices can be pretty high compared to other parts of Florida and the nation. The average cost of renting a 3-bedroom apartment in Pinellas County is about $1,732, whereas the national average for the same property type comes in at $1,681.
Utility, groceries, and healthcare costs in Pinellas County are generally higher compared to the national average by margins of 4.6%, 5.8%, and 1.4%, respectively. On the other hand, transport costs are slightly lower than the nationwide average by 1%.
Pinellas County seems to be performing reasonably well in the economy, with the median household income coming in at $54,090. Although this is a bit on the low end compared to the state's average of $59,227 and the nationwide average of $67,521, incomes in the County have been steadily rising. They are expected to continue doing so in the coming years.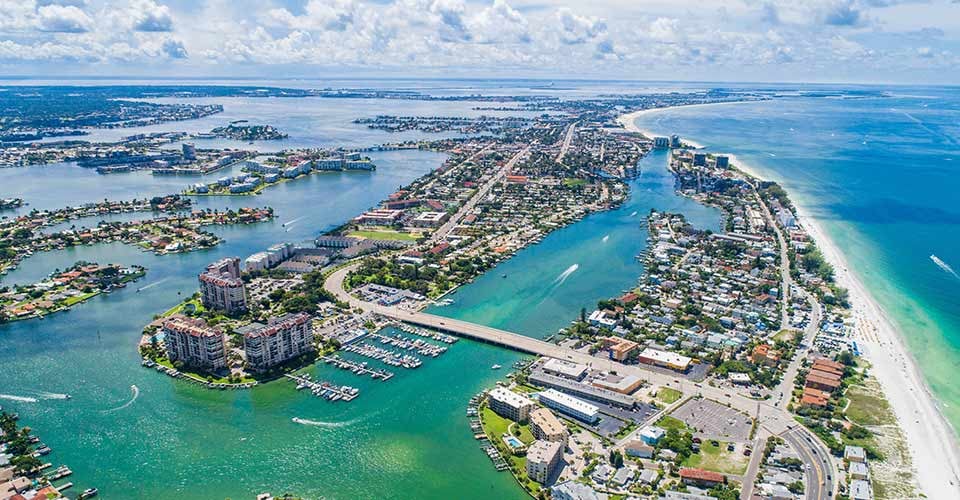 Best Places To Buy A Home In Pinellas County
While Pinellas County has a highly competitive housing market, most people generally find owning a home less expensive than renting. If you're looking to settle in this part of Florida, here are a couple of neighborhoods where you can find affordable properties and considerably low living costs.
Cromwell Heights
The neighborhood of Cromwell Heights in St. Petersburg has 1,415 people and is one of Florida's most desirable areas to live in. Cromwell Heights has a minimal suburban feel, with the majority of inhabitants renting their homes. The median price of a property in this suburb in Pinellas County is about $240,146, whereas the average cost of renting is $1,058.
This bustling neighborhood has numerous parks where residents can enjoy outdoor activities such as picnics and other social events.
The community of Cromwell Heights is generally family-oriented, with most inhabitants tending to be liberal. Cromwell Heights has an above-average public school system with numerous public and private schools. This makes it an ideal location to settle for young families.
Campbell Park
Campbell Park is yet another great neighborhood in St. Petersburg, Florida, with an attractive real estate market and incredibly affordable cost of living. This serene suburb has a population of 3,698, with roughly 53% of the residents owning their own homes. The high homeownership rate can be attributed to attractive property prices, with the median price of a homecoming at $234 921. On the other hand, the average price of renting a home is about $1,033.
There are plenty of parks and playgrounds in Campbell Park where families can enjoy many recreational activities. Some of the best parks in the area include Albert Whitted Park, Bodega Park, and Glazer Family Playground. The area also has numerous restaurants where residents can explore a variety of culinary delights in a relaxed and serene atmosphere. The most popular dining locations are Grattzi Italian Grill, Chipotle Mexican Grill, Red Mesa Cantina, and Red Mesa Mercado.
Clam Bayou
Clam Bayou is a neighborhood in St. Petersburg, Florida, with a population of 1,649. About 20% of the population is made up of families with children. This community has an unmistakable neighborly feel to it with an average family size of 3.63 and an average household size of 2.65.
Roughly half the population of Clam Bayou own their own homes while the other half rent. The median price of a home in this neighborhood is $264,872, while the average rental price is $923.
Some of the famous parks and recreational centers in Clam, Bayou, and St. Petersburg include Clam Bayou, St Pete Park, Clam Bayou Nature Park, and Skyway Trail Head. The community also provides plenty of dining options for residents ranging from coffee shops, dessert shops, and restaurants.
Mel Tan Heights
The neighborhood of Mel Tan Heights in St. Petersburg, Florida, is one of the most attractive places to live in Pinellas County. It has a pretty neighborly feel, with over 60% of its population of 1,350 being homeowners. The median home price in Mel Tan Heights is $145,075, while the average rental price is $1,107.
The community's school district is above average and features several top-rated public and private schools. This makes it an ideal place to live for families with young children. It also has plenty of restaurants where families can enjoy relaxing brunches and dinners.
Best Public and Private Schools In Pinellas County
Pinellas County Schools is the school district that serves Pinellas County in Florida. As of 2022, Pinellas County's School District has 162 public schools serving a student population of 101,661. Incidentally, Pinellas County has the highest number of top-rated schools in the Sunshine State.
Based on a school's combined math and reading proficiency test score ranking, Tarpon Springs Fundamental Ele, East Lake Middle School Academy Of Engineering, and Clearwater Fundamental Middle School are the top-ranked public schools in Pinellas County, FL.
Pinellas County, Florida, public schools have an average arithmetic proficiency score of 57 percent compared to 59 percent overall and a reading proficiency score of 54 percent compared to the statewide average of 56 percent.
Here are 10 of the best public schools in Pinellas County:
Tarpon Springs Fundamental Elementary School
Plato Academy Clearwater
Pasadena Fundamental Elementary School
Curtis Fundamental Elementary School
Orange Grove Elementary School
St. Petersburg Collegiate High School
East Lake High School
Osceola Fundamental High School
Lakewood High School
Tarpon Springs High School
In addition to its plethora of public schools, Pinellas County's School District is home to some of the most impressive and high-performing private schools in the Sunshine State. Most of the private schools in this County are religiously affiliated, typically Christian and Catholic.
The average tuition fee is $9,585, less than the $9,613 average tuition cost in Florida private schools.
Some of the top-rated private schools in Pinellas County include:
Bellair Montessori Academy
Calvary Christian High School
Center Academy - Pearl Harbor
Our Savior Lutheran School
Admiral Farragut Academy
Blessed Sacrament Catholic School
Clearwater Central Catholic High School
Espiritu Santo Catholic School
First Lutheran School
Holy Family Catholic School
Is Pinellas County A Great Place To Live For Families or Young Professionals?
With an above-average school district and much high-performing public and private schools, Pinellas County is one of the best places to raise a young family in the Sunshine State.
Although the utility and grocery costs might be on the higher end compared to other areas in Florida, the cost of healthcare is quite affordable. Most cities also have a highly accessible transport system and affordable housing, which is within reach for most working families. There are also plenty of family-oriented recreational spaces and parks where young families can enjoy various activities without spending a lot of money.
Pinellas County also offers a plethora of opportunities for young working professionals looking for a laid-back lifestyle in the Sunshine State. Although the median income is slightly lower than other Floridian counties, it is projected to increase in coming years as more companies shop in Pinellas County. The unemployment rate currently stands at about 2.4%, lower than the national average of 3.6%. So, if you're looking to establish a career in this County, you shouldn't have much of a problem finding employment.
Overall, Pinellas County, FL, provides a good balance of amenities for young professionals, families, and seniors. If you're wondering whether or not to settle here, you might want to take some time to explore the exciting attractions that each town or city in this County has to offer to see if there are any that appeal to you.
Cities and Towns In Pinellas County That Are Eligible For The Hometown Heroes Loan Program
As part of the state of Florida, Pinellas County benefits from statewide programs. The Hometown Heroes loan program is one of the many incentives available to qualifying citizens. Like those in other parts of Florida, critical workers in Pinellas County are eligible for this sort of program.
Here is a list of all the cities and towns eligible for the Hometown Heroes Loan Program in Pinellas County.
Palm Harbor
Pinellas Park
Largo
St. Petersburg
Tarpon Springs
Seminole
Dunedin
Madeira Beach
Safety Harbor
St Pete's Beach
Indian Rocks Beach
Treasure Island
Belleair
Gulfport
Tierra Verde
Redington Beach
East Lake
Indian Shores
Belleair Beach
Redington Shores
Belleair Bluffs
Kenneth City
South Pasadena
Bay Pines
Gandy
Bardmoor
Belleair Shore
Feather Sound
Harbor Bluffs
Bear Creek
Ridgecrest
Wrapping Up
As property prices continue to rise in Florida, the Hometown Heroes Housing Program will be a lifesaver for many essential workers serving Floridian Counties, including Pinellas. Not only will community workers be eligible for zero-interest first mortgage loans, but additional down payment and closing cost assistance in the form of a second mortgage. Thanks to this newly-instituted program, critical workers will no longer worry about being locked out of ownership.
Choose Your City for More Hometown Heroes Information