Hometown Heroes Loan Program: Learn How to Get up to a $25,000 Grant in Polk County, Florida
Phil Ganz
/
8 Min Read
/
Jun 02, 2022
It's difficult to ignore the contributions of frontline workers, first responders, active military members, and veterans to society. In Florida, to be specific, these hometown heroes have held the Sunshine State together at times of need. Ensuring that they can afford a home is one of the most significant ways to give back.
(Jun 30, 2022)
As a gesture of appreciation, Florida Housing rolled out the Hometown Heroes to enable these heroes to achieve their homeownership dreams. The loan program is dedicated to them for their commitment and continued service to their communities.
Governor DeSantis recently announced that the Hometown Heroes Housing Program would take effect on June 1. It seeks to enable Floridians working in more than 50 critical occupations to own a home. The program is backed by 100 million funding and was considered in Florida's 2022-2023 budget.
Hometown Heroes is aimed at expanding the current housing programs in the state to reach more critical workers. Eligible Floridians will enjoy up to $25,000 in housing assistance and closing and down payment assistance. Here's how to qualify for the housing assistance in Polk County:
Income Limits for Polk County and Eligible Occupations
The 2022 Hometown Heroes income limit for Polk county is 118,950, while the Hometown Heroes loan limit for FHA and USDA-RD stands at $420,680. For VA, HFA Advantage, and HFA Preferred, the 2022 Hometown Heroes loan limit is $647,200.
Hometown Heroes comes with a 30-year fixed rate and will serve as a grant for first-time homebuyers. Provided you qualify, your options for the first mortgage program include HFA Advantage for TBA by Freddie Mac and HFA Preferred for TBA by Fannie Mae.
The Fannie Mae options boast a reduced-cost and charter-level mortgage insurance policy. As a side note, your Area Median Income needs to be below 80 percent to qualify.
You also enjoy reduced-cost, charter-level mortgage insurance for the Freddie Mac option. You also need an AMI of less than 80 percent to be eligible for this mortgage.
Requirements for the Program
The eligibility requirements for the Hometown Heroes loan program are less strict for qualifying critical workers. If you meet the occupational requirements, you have to submit the following documents:
Fully completed Hometown Heroes Program Attestation
Copy of Florida State certification or license
Copy of VOE (verification of employment)
Hometown Heroes also allows critical workers to get a 5 percent second mortgage under certain conditions. First, it won't be easy to sign up for the second mortgage when you are already signed up on another down payment assistance program offered by Florida Housing. Second, you can qualify for the mortgage when you have signed up for down payment assistance from an agency, provided they oversee the third lien position.
It's possible to lock in a rate with a mortgage lender under the reservation timeline. The timeline starts 45 days before you buy the home. After the 60-day deadline, expect to pay new repricing, extension fees, and cancellation fees if you take a loan.
Eligible Occupations
To be eligible for this program, you have to be a licensed or certified full-time frontline worker, first responder, correctional officer, or military personnel. Hometown Heroes also requires you to have full-time employment and serve in the mentioned position on your license.
If you work in the departments of juvenile justice and corrections, you qualify for the housing assistance provided that your occupation is:
A Juvenile Detention Officer
A Juvenile Probation Officer
A Sworn Law Enforcement Officer
A Certified Correction Officer
A Correctional Probation Officer
You are eligible for the Hometown Heroes loan program if your occupation requires prompt emergency or accident response and is listed as:
A Certified Paramedic
A Certified Emergency Medical Technician (EMT)
A 911 Public Safety Communicator
A Firefighter
If you are a certified educator, you are eligible for the housing assistance provided that your occupation is classified under:
Classroom teaching
Career specialist
Librarian/Media specialist
School counseling
Social work
School psychology
You qualify for the program if you are working in the childcare and nursing field as a certified:
Registered Nurse
Licensed Practical Nurse
Certified Nursing Assistant
Childcare Instructor
Licensed Child Care Operator
As a health care practitioner, you are eligible for Hometown Heroes when working as a
Certified Nurse-Midwife
Dental Hygienist
Dentist
Acupuncturist
Osteopathic Physician
Chiropractic Physician
Podiatric Physician
Pharmacy Technician
Pharmacist
Physician Assistant
Physician
Anaesthesiologist
The FL Housing also qualifies you for Hometown heroes if you work in the following health-related professions:
Licensed Nutritionist or Dietician
Licensed Nutrition Counselor
Athletic Trainer
Nursing Home Administrator
Speech-Language Pathologist/Audiologist (with assistants)
Occupational Therapist (with their assistant)

Massage Therapist or Electrologist

Veterinarian Assistant or Technician (provided you are employed by a permanent or mobile veterinary practice)

Psychologist, Clinical Social Worker, Marriage and Family Therapist, Mental Health Counselor, Psychologist, Physical Therapist (and assistants), Hearing Aid Specialist, and Optician

Certified Radiologic Technologist, Certified General Radiographer, Certified Radiology Assistant, Specialty Technologist, Certified Basic X-Ray Machine Operator, Licensed Medical Physicist (X-Ray). Clinical Laboratory Personnel and Phlebotomist

Orthotic Fitter Assistant, Orthotic Fitter, Prosthetists, and Prosthetist Orthotist
You also qualify for the loan program if you are a veteran or active military personnel. While serving as an active military member, FL Housing requires you to give a copy of your military ID. You also don't have to be a first-time homebuyer to be eligible.
If you are a veteran, you won't need to meet the first-time homebuyer requirement. However, you will be required to submit a DD-214 form that reflects your discharge status as honorable instead of dishonorable. Surviving spouses of veterans and military members can also apply for a VA-backed mortgage if they submit a valid COE (Certificate of Eligibility).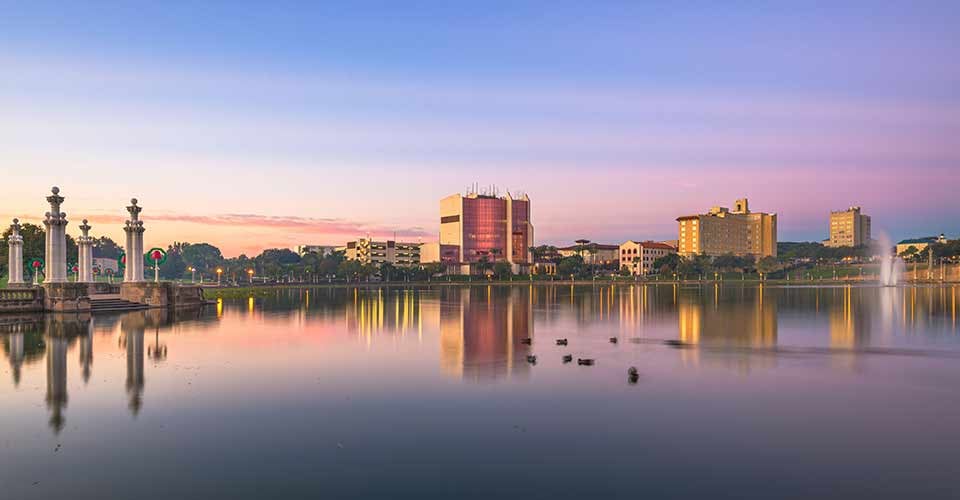 Cost of Living in Polk County
Polk county lies at the center of the Sunshine State and boasts a population of 725,06 based on the 2020 census. Its largest city is Lakeland, while its county seat is Bartow. Polk County encompasses the Lakeland-Winter Haven Metropolitan Statistical Area.
The total cost of taxes, health care, transportation, child care, food, and housing, among other necessities, for a single adult in this county is $3,206. This figure is lower than the state average, which stands at $36,375, and the national average of $38,433.
Housing is one of the most significant living components in Polk County. The median home price in the county is $325,000, which is lower than the national average of $374,900 and the state average of $378,108.
Income is a massive determinant of housing affordability in the county. The median household income stands at $51,535 compared to the state's median household income of $59,227 and a nationwide average of $67,521.
Cost of Out-of-Pocket Expenses in Polk County, FL
Transportation is a significant component of the cost of living in Polk County, FL, with 9.70 percent of commuters driving to work, compared to the nationwide average of 85.5 percent. A single adult spends $9,687 per year on transportation costs, compared to the nationwide average of $9,760.
Health care costs for a single adult in Polk County amount to $4,265 per year. This amount is higher than the statewide average of $4,213 and the nationwide average of $4,266.
Expect to spend an average of $3,164 on food every year if you are a single adult and $9,137 if you have a family. These estimates are based on groceries rather than the cost of eating out. Your Social Security contributions and state and federal income taxes in this county will amount to $4,900.
Best Places to Buy a Home in Polk County
Most Polk County residents own their homes, suggesting that the housing market is quite favorable. With so many places to pick from when looking to buy a home in this county, it can be challenging to choose. Here are five places you should consider:
Beacon Hill
Beacon Hill is a sparsely populated neighborhood in Lakeland with a sparse suburban feel. The area has a population of 1,153, which majorly comprises homeowners. Beacon Hill favors young professionals and families looking for a quiet life away from the city.
The public schools in the area are above average in terms of performance. There's also a well-defined road network in the neighborhood, and the median home value stands at $203,800.
Lake Hollingsworth
Like Beacon Hill, Lake Hollingsworth is also a Lakeland neighborhood, but with a population of 5,416. The area is ideal for families and young professionals due to its relaxed, suburban feel.
With a median home value of $270,432, most of the homes in Lake Hollingsworth on sale are pretty affordable. There are plenty of parks and restaurants in this neighborhood to explore with friends and family. Public schools are also above average performance-wise.
Cumberland
With a median home value of $168,300 and a population of 2,085, Cumberland is an excellent place to live in Polk County. It lies at the heart of Lakeland and boasts a dense suburban feel.
Most residents live in rentals rather than purchased homes. Public schools in the area are above average.
Lakeland Highlands
You may want to consider Lakeland Highlands when looking for an excellent place to live in Polk County due to its rural feel. This suburb is part of Lakeland and has a current population of 12,332.
Lakeland Highlands favors retirees and families or young professionals who enjoy rural settings. Public schools in this neighborhood are above average, while the housing market is quite favorable, with a median home value of #262,900.
Lake Horney
If you're looking for a place to live in Polk County with a sparse suburban feel and a low median home value, you may consider Lake Horney. As a neighborhood in Lakeland, Lake Horney has a current population of about 2,938. Most residents in the area own their homes.
The median home value in Lake Horney is $166,210, which is lower compared to the nationwide average of $217,500.
Best Public and Private Schools in Polk County
The latest figure from the public school statistics in Florida suggests that about 101,589 students are attending 156 public schools in Polk County. Polk County has the most significant number of high-ranking public schools in the Sunshine State.
Polk Pre-collegiate Academy, Lincoln Avenue, and Hartridge Academy are the highest-ranking public schools in this county. All public schools in the religion have a reading proficiency score of 47 percent, which is lower compared to the statewide of 56 percent. They also have an average math proficiency score of 50 percent, which is lower than the statewide average of 59 percent.
With an average ranking of 2/10, public schools in Polk County rank at the bottom 50 percent of public schools in Florida. The minority enrollment in this region is 60 percent (with the majority being Hispanic), compared to the statewide average of 62 percent. Here are the top five public schools in Polk County, FL:
Hartridge Academy (with a math and reading proficiency ranging from 90 to 94 percent)

Lincoln Avenue Academy (with a math and reading proficiency of 93 percent and 90 percent, respectively)

Polk Pre-collegiate Academy (with a math proficiency of 80 to 89 percent and reading proficiency of 85 to 89 percent)

Magnolia Montessori Academy (with a math and reading proficiency of 89 percent)

South Mckeel Academy (with a math and reading proficiency of 85 and 81 percent, respectively.
Best Private Schools in Polk County
Polk County, FL, recorded 60 private schools that served 9,719 students in the 2022 school year. Highest-ranking private schools in this county include Grace Lutheran School, All Saints Academy, and Santa Fe Catholic High School.
Private schools in Polk County charge an average tuition fee of $11,733, which is higher than the statewide average of $9,613. Eighty-five percent of the private schools have an affiliation with religious institutions. The best private schools in Polk County, FL, include the following:
All Saints Academy (an Episcopal school)
Davenport Christian Preparatory School (an alternative (Christian) school)
Excel Christian Academy (a Chrisitan school)
Grace Lutheran School (a Lutheran Church Missouri Synod sponsored school)
Lakeland Christian School (a Christian school)
Is Polk County Suitable for Young Professionals or Families?
Most of the cities/towns in Polk County feature accessible transportation, affordable housing, and an excellent public school system ideal for raising children. They also have plenty of playgrounds, open spaces, and parks that families and young professionals can enjoy.
It's pretty affordable to raise a family in any city or town in Polk County. The health care system is up to par while necessities such as education, transport, and food are affordable.
If you are a young person looking for a deep suburban feel, you may consider this county. There are superb professional opportunities, social networks, transportation options, and amenities you can tap into. At the onset of retirement, Baby boomers can also consider Polk County for its tranquility.
All in all, Polk County, FL, has a mixture of most of the things young professionals, families, and retirees may want. Look at the exciting amenities that a town or city in this county offers to find one with features you like.
Cities/Towns in Polk County that are Eligible for the Hometown Heroes Loan Program
Since it's part of Florida, Polk County enjoys the benefits rolled out on a statewide level. Among these benefits that eligible residents get is the Hometown Heroes loan program. As with other counties in the Sunshine State, critical workers in Polk County are eligible for this type of program.
Polk County comprises 17 municipalities that range from rural areas to metropolitan cities. It also comprises 24 unincorporated, populated areas. Here's a breakdown of the incorporated populated areas in Polk County:
Adurndale (city)
Bartow (city)
Davenport (city)
Dundee (town)
Eagle Lake (city)
Fort Meade (city)
Frostproof (city)
Haines City (city)
Highland Park (village)
Hillcrest Heights (Town)
Lake Alfred (city)
Lake Hamilton (town)
Lakeland (city)
Lake Wales (city)
Mulberry (city)
Polk City (city)
Winter Haven (city)
Summing up
In light of the Hometown Heroes Housing Assistance program, affordable housing is necessary. For years, most critical workers have been struggling to afford homes in the areas they work. Luckily for them now, Hometown Heroes offers down payment and closing cost assistance.
The housing assistance program aims to improve the lives of critical workers and transform communities. Polk County is among the communities in Florida with critical workers who will benefit from the program. Now you know what is required to get up to a $25,000 grant in Polk County and the factors that make the county favorable for living.
Choose Your City for More Hometown Heroes Information