Hometown Heroes Loan Program: Learn How to Get up to a $25,000 Grant in St. Lucie County, Florida
Phil Ganz
/
8 Min Read
/
Jun 04, 2022
These are excellent reasons for anyone to move to and dwell in St. Lucie County. Unfortunately, property prices may deter you from achieving this goal. After all, how long will it take you to save enough to purchase property in a place where the median listing home price is over $300k? Eons, probably.
However discouraging that may sound, giving up shouldn't be an option, not just yet. We will introduce you to a solution that may salvage your situation: the Florida Hometown Heroes Loan Program.
This piece contains everything you need to know about this program, including the eligibility criteria and who it's tailored for. We also have a bonus section that will help you decide if living in St. Lucie County is as great as it sounds and picks the best neighborhood.
Let's dig in!
Florida Hometown Heroes Loan Program 101
Most people define heroes as people endowed with superhuman abilities. Superman, Spiderman, and Wonder Woman are but a few of the names that pop up in many people's minds when you mention heroes.
But, not all heroes wear capes, shoot webs, or wield superhuman strength. Like police officers and doctors, some perform great acts of heroism without most of these otherworldly and sometimes mundane features.
Today's world recognizes the efforts of everyday heroes like law enforcers, healthcare professionals, educators, military veterans, and childcare employees through platforms like the Florida Hometown Heroes Loan Program.
The Florida Housing and Finance Corporation administers the Hometown Heroes Loan Program. This solution is tailored for eligible frontline community workers planning to transition into homeownership.
If, for instance, you are an income-qualified law enforcer contemplating buying your first property, the Hometown Heroes Loan Program can help you make that final leap by providing closing costs and down payment assistance.
Who Qualifies for the F.L. Hometown Heroes Loan Program in St. Lucie County, Florida?
Although the Florida Hometown Loan Program doesn't require you to wear a cape to be eligible, several requirements still apply.
First, you must be a Floridian from a listed county, like St. Lucie County. But that isn't the be-all-end-all because if you are not a first responder engaging in any of the 50+ professions that the platform describes as jobs for heroes, too bad for you.
On the other hand, you may qualify if you hold a valid certificate and practice in an eligible occupation, like teaching, law enforcement, or nursing.
But before applying, ensure your salary doesn't exceed the 2022 Hometown Heroes income limit for St. Lucie County- a princely $120,000. In addition, the program requires you to choose a property that goes for $431,250 or below, which is St. Lucie County's maximum loan limit.
If you satisfy all the requirements listed above and have the necessary credentials and certificates, congratulations are in order. You're now ready to become a first-time homeowner. All you have to do is connect with a participating loan officer and start the process.
Note this: if you are an eligible borrower, the program will offer you a grant that doesn't exceed 5% of the first mortgage loan sum (up to $25,000). This grant is a 0%, non-amortizing, 30-year deferred junior lien (second mortgage).
Why Buy a Home in St. Lucie County?
When buying a home, always remember that NO QUESTION IS A DUMB QUESTION. That is why we will address the first question likely running through your mind at this moment: is buying a home in St. Lucie a good idea?
Oh- spoiler alert- it is one of the best moves you'll ever make in your lifetime. St. Lucie County is a goldmine for homeowners for the following reasons:
Amazing climate
What is your definition of the perfect climate? If it's long, sunny summers and short, cool winters, St. Lucie County is the place to be.
Most cities in St. Lucie experience warm and humid climates. The summers are hot, and winters mild; nothing too extreme. But the warmer seasons can get a bit searing, with temperatures in cities like Port Saint Lucie hitting an average high of 89°F in August, the hottest month.
The good news is that there are plenty of activities to indulge in during the hotter days. You can set up a cozy fort and play games with your kids or have tons of fun ice skating in the exemplary rinks scattered throughout the county.
And, if you don't feel like going out in the heat, make a watermelon slushy, lounge on the couch, and enjoy your favorite movie!
Affordable cost of living
U.S. inflation recently shattered the 40-year mark, and experts expect it to keep soaring. With that in mind, buying a home in a region with reasonable living costs is quite sensible.
St. Lucie County has several fitting places for people that prioritize spending less on basic expenses like food, housing, healthcare, and taxes. Topmost on the list include Lakewood Park, Fort Pierce, River Park, and White City.
Currently, this county's median listing home price is $397,000, well below the Hometown Heroes Loan Program's maximum loan limit. And residents have access to affordable healthy food, transportation, and healthcare facilities.
Suppose you are a frontline worker but plan to diversify income through business. In that case, we have even better news: St Lucie County has one of the most favorable tax climates in the U.S. You can use this feature to set up and grow into a successful entrepreneur.
Top-tier schools
What do Jamar Chaney and Megan Fox have in common? First, they have made it big in the sports and movie industries, respectively. Second, they schooled in St. Lucie County!
St. Lucie County has many accredited private and public schools. These include the Lincoln Park Academy, South Fork High School, John Carroll High School, and the Greene Schools.
If you or your loved ones seek higher education, this county has plenty of reputable institutions; Indian River State College and the Florida Atlantic University, to mention but a few.
Employment opportunities
You are likely asking yourself why you need to factor in the employment opportunities in St. Lucie County at this point. After all, to be eligible for the F.L. Hometown Heroes Loan Program, you must be employed full-time.
But, if you are a young professional, the sky should be the limit. That means chasing career advancements or trying different employers and professionals need to be on your itinerary.
Besides, you may have a spouse or kid that'll need an excellent job after schooling and graduation.
Fortunately, St. Lucie County has many companies and institutions that hire thousands of employees, including primary public schools, medical centers, and call centers.
Beaches!
St. Lucie County has numerous beautiful beaches. You won't find this county wanting if you love snorkeling, beach volleyball, miniature golf, boogie boarding, picnics, or the occasional sunbathing.
And, unlike some of the crowded beaches, you're likely to find along Florida's Gulf Coast, the shores in St. Lucie County are pristine and ample. So, if you are a clean freak, dipping your toes in filthy sand won't be an option when you buy a home near the top-tier beaches in this county.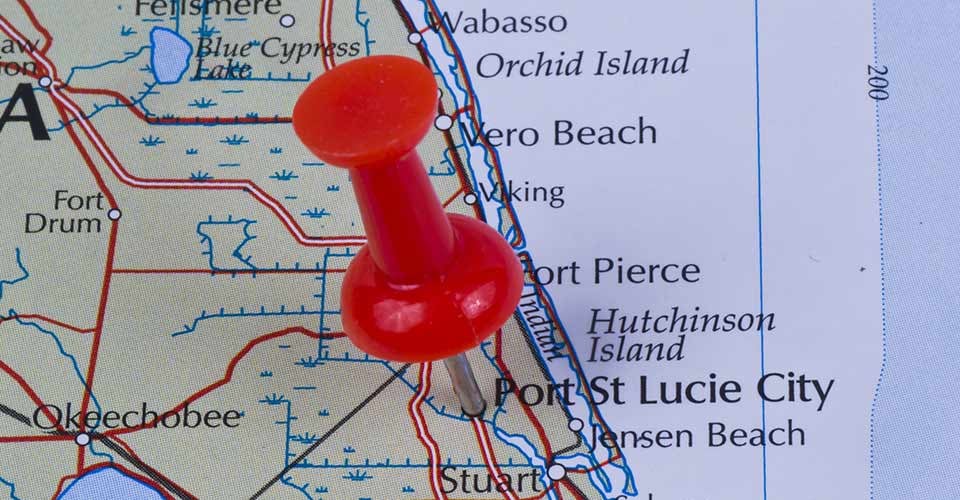 7 of the Best Areas to Buy a Home in St. Lucie County
Now that buying property in St. Lucie County sounds like a great decision, the next step is to pick the exact place you want to live. Remember, this county is home to diverse cities, towns, and neighborhoods.
If you seek nothing but the best place to buy a home, consider the following areas:
White City
Most people believe the White City borrowed its name from the Great White City- a utopian masterminded by a renowned architect known as Daniel Burnham. Despite the city name's origin, it is abundantly clear: it's a great neighborhood to live in.
This area is steeped in history. Take the White City Mercantile as an example. This antique shop once served as a post office before being converted to a general store and the behemoth it is today.
Most importantly, White City is a thriving suburban neighborhood with excellent public schools, high homeownership rates, and few crimes. Statistics indicate that this area had 5,091 residents in 2020.
We can't forget to mention diversity. This area is populated by different communities, including Jamaicans and Brazilians. So, living here will expose you to cultures you've likely never encountered before, broadening your life perspective.
Indian River Estates
Does owning a home in an area with a rural vibe sound fascinating to you or other household members? In that case, you should start researching and reviewing properties for sale in Indian River Estates, a part of the Port St. Lucie Metropolitan Statistical Area.
One of the best things about Indian River Estates is it's conveniently close to several premier shopping locations like the Town Center at St. Lucie West and the Landing.
Moreover, this neighborhood lies adjacent to the Savannas Preserve State Park, a facility that encompasses approximately 7,000 acres of natural land. As a resident of Indian River States, you can easily access this park and revel in countless activities, including fishing, canoeing, and kayaking.
To top it all, f you heard worrisome reports about this area in the past, let your fear be assuaged. Although the Indian River States was historically associated with heavy rains and floods, authorities have installed pump stations, wet detention ponds, and quality collection systems, obliterating such issues.
St Lucie Village
St Lucie Village is one of the most popular towns in St. Lucie County. The Village is on the National Register for Historic Places list, and by 2020, its population was 613.
Living in a small town like St. Lucie Village has its perks, including less crime, traffic, pollution, and stressors.
Making St. Lucie Village your home also allows you to be a part of a close-knit community that encourages involvement and stronger ties. The reason is that this neighborhood has been the pride and joy of multigenerational families.
Not to forget, this area has attractive settings and is near the beach. If living close to the sea tickles your fancies, the Village won't disappoint.
North Hutchinson Island
North Hutchinson Island lies between St Lucie County and Indian River County. But, the portion in St. Lucie County has a higher density development than its counterpart in River County, known as the Orchid Island.
Suppose you dream of owning a home in a scenic area with rich history and tradition. In that case, you should give North Hutchinson Island a try. This neighborhood has breathtaking waterways, pastures, and orchards that make it a tranquil haven tucked deep within the recesses of Florida.
To top it all off, North Hutchinson Island has a small population of around 1,747 people. That number contains more or less equal males and females, and the median age is 69. That makes it an excellent place for retirees and young professionals that prefer living in peaceful settings.
Lakewood Park
Anyone that has ever visited Lakewood Park in St. Lucie County can attest to one thing: it's one of the spotless and friendliest neighborhoods in the region.
Surprisingly, the Lakewood Park neighborhood has a higher population than most other St. Lucie areas, with 14,000+ people, and still encourages community ties. Several things may be responsible for this area's welcoming ambiance. These include the residents' inclination to work together and make Lakewood Park a safe, family-oriented area.
Overall, Lakewood Park is a fitting choice for prospective homebuyers with or without families. The walkable city environs, tranquil streets, and ample natural spaces make it suitable for anyone.
If you plan to or already have kids, a quick search on the best schools in the Lakewood Park neighborhood ought to impress and give you the extra push. Among the institutions you might encounter in this area include the coveted Lakewood Park Elementary School.
South Hutchinson Island
As the name suggests, South Hutchinson Island is located in the Southern portion of St. Lucie County. This area stretches 21 miles from Stuart Beach to Fort Pierce.
If you consider miles of pristine beach access a thrilling, awe-inspiring prospect, you'll fall in love with this island.
This neighborhood has beautiful shorelines perfect for diving, snorkeling, swimming, etc. Couple that with the natural reefs and shipwrecks available in this place, and you get an exciting area to live in, explore, and raise a family.
What about schooling? Very few places have better private schools than Hutchinson Island, so that shouldn't be a deal-breaker.
Sandpiper Bay
Would you like to reside in a neighborhood known for beautiful botanical gardens and golf courses? If yes, Sandpiper Bay is the right haven for you. This place is popular for two primary features: The Port St Lucie Botanical Gardens and the Saints Golf Club.
Apart from golfers and lovers of nature, all other homeowners can enjoy living in this quaint and pristine location. The properties here, though primarily extensive, are reasonably priced and nestled in scenic greenery lush enough to inspire awe.
Which Places are Eligible for the F.L. Hometown Heroes Loan Program in St Lucie County?
Two large cities make up the entire bulk of St. Lucie County: Port St. Lucie and Fort Pierce. But, in total, you'll find the following cities, towns, and neighborhoods in these regions:
St. Lucie
Eden
Fort Pierce South
North Hutchinson Island
Eldred
Lakewood Park
Fort Pierce
Hutchinson Island South
Ankona
Indian River Estates
Port St. Lucie
Fort Pierce North
River Park
Walton
All these places qualify for the Florida Hometown Heroes Loan Program.
The Bottom Line
Numerous challenges make homeownership nothing but a distant dream for many people today. These include high living costs, soaring property prices, and tighter lending criteria.
If you are a frontline community worker facing a similar challenge, the Florida Hometown Heroes Housing Program may be the answer you seek. This program's primary goal is to help heroes like you buy a primary residence in St. Lucie County, Florida.
Check if you are eligible for the F.L. Hometown Heroes Loan Program today and start enjoying a smooth transition to homeownership. And if you fall short, spread the good news to all the heroes in your life, such as police officers, certified educators, health care workers, and licensed childcare operators.
Choose Your City for More Hometown Heroes Information