Hometown Heroes Loan Program: Learn How to Get up to a $25,000 Grant in Sumter County, Florida
Phil Ganz
/
8 Min Read
/
Jun 28, 2022
However, the Hometown Heroes loan program is available to enable all essential members of the community to acquire homes regardless of their income. Hometown Heroes loan program relieves these critical workers since it allows them to enjoy closing cost assistance and down payment when buying their homes.
With over $100 million in funds, the Hometown Heroes program seeks to make homeownership accessible and timeless. The program further aims to eliminate the significant barriers critical workers encounter whenever they try to secure home financing. The Hometown Heroes loan program aims to achieve this goal by helping essential workers save some money on the down payment and closing costs of their chosen property.
Bear in mind that these savings surpass what they would be given from other government and non-government-backed housing programs. So, if you are among the hometown heroes in Sumter County, Florida, and need the $25,000 grant, here is what you should know before applying for this loan.
Hometown Heroes Loan Program in Perspective
The Florida Housing Finance Corporation, popularly known as FL Housing, provides the Hometown Heroes Housing program. The FL Housing is a statewide program designed to offer eligible first-time homebuyers downpayment and closing assistance and mortgage products through accredited participating lenders. Usually, these participating lenders involve underwriting, originating, funding, closing, and delivering loans to eligible and deserving new home buyers.
FL Housing works for hand in hand with The Bond Alternative (TBA) program to offer the Hometown Heroes Loan program. TBA plays the role of increasing and securing affordable housing for eligible frontline/emergency and military personnel (both war veterans and those still on active duty) living in the state of Florida, especially in Sumter County. TBA goes the extra mile to check and confirm the status of first-time homebuyers, including their income.
Compared to other FL Housing's first-time mortgage loans, the Hometown Heroes program does not charge the mandatory 1% upfront origination fee. Apart from that, FL Housing does not allow lenders to charge new homebuyers the origination fee. It allows lenders to charge customary and standard but reasonable upfront origination fees.
The FL Housing also allows eligible borrowers to buy homes and stay within the communities they are currently serving. Also, the FL Housing sets lower first-time mortgage rates, a generous down payment/closing cost option, and TBA first mortgage loans.
As a critical worker in Florida State and Sumter county, in particular, you must acquaint yourself with the available conventional and government loan programs provided by FL Housing.
The two conventional loan programs and three government loan programs are as follows:
The Florida First Heroes program includes government-sponsored USDA-RD, FHA, and VA. These programs offer a 30-year fixed rate and an opportunity for new homebuyers to meet the requirements for down payment assistance.

The FHA Preferred Heroes (for TBA) provides up to 30 years of housing loan for a fixed rate. Down payment assistance and reduced PMI premiums for loans below 80% AMI are also provided.

The FL HFA Advantage Heroes (for TBA) offers a fixed-rate mortgage of up to 30 years with a significantly reduced-cost PMI for those with AMI that is below 80%. These programs also provide down payment assistance to critical workers in the Sunshine State.
Income Limit for Sumter County, Florida
Various requirements are set aside for those looking to benefit from the Hometown Heroes loan program. In this regard, FL Housing requires potential homebuyers (among the essential workers) to meet all income limit requirements in their given counties.
Most of these income limit requirements are adjusted according to the county where these critical workers live, their household size, and the type of property they want to purchase. This means that if you live in Sumter County, Florida, you must meet the maximum loan limit.
Usually, this limit is put into practice to ensure that the property's buying price down payment does not exceed the actual buying price limits within Sumter County. That said, the 2022 Hometown Heroes program income limit for Sumpter County stands at $118,950.00. The 2022 hometown Heroes Loan Limits for FHA & USDA-RD is $420,680.00, while the 2022 Hometown Heroes Loan Limits for HFA preferred, HFA advantage, and VA is $647,200.
Hometown Heroes Program Requirements
To qualify for Sumter County's Hometown Heroes Program, you must meet specific requirements. Among them is that you should be a licensed or certified full-time frontline worker, a correctional officer, a first responder, or military personnel. Besides, you should be ready to submit a valid copy of your license or certification. You may also be requested to provide your VOE to support your occupational eligibility.
Hometown Heroes Eligible Occupations
The Hometown Heroes Loan program was established to provide essential community members and professionals with an excellent opportunity to buy homes. The program assists these essential critical workers with down payment and closing cost assistance, enabling them to acquire some property n Sumter County, Florida.
Currently, numerous occupations are considered for the Hometown Heroes Housing Program. Therefore, if you belong to any of the following occupations, you automatically qualify for the Hometown Heroes loan of up to $25,000:
Firefighters
Librarians
Certified emergency medical technicians
Juvenile detention officers
Juvenile probation officers
Correctional probation officers
Certified corrections officers
Law enforcement officers
Certifed paramedics
Classroom teachers
Career specialists
Social workers
School psychologists
School counselors
Registered nurses
Licensed nursing assistant
Certified nursing assistant
Certified nurse-midwives
Opticians
Psychologists
Veterinarians
Active military personnel
Veterans
Dentists
Dental hygienists
Nutritionists
Physician assistants
Physicians
Athletic trainers
Anesthesiologists
Pharmacists
Licensed childcare operators
Childcare instructors
911 public safety communicators
Chiropractic physicians
Osteopathic physicians
Podiatric physicians
Pharmacy technicians
Speech-language pathologist assistants or audiologist assistants
Speech-language pathologists or audiologists
Occupational therapist assistants
Occupational therapists
Respiratory therapists
Nursing home administrators
Prosthetist orthotists
Prosthetic
Orthotic fitter assistants
Orthotic fitters
Message therapists
Clinical laboratory personnel
Electrologists
Phlebotomists
Certified radiologic technologists
Licensed medical physicists
Certified general radiographers
Certified radiology assistants
Specialty technologists
Physical therapists
Hearing aid specialists
Physical therapist assistants
Marriage and family therapists
Clinical social workers
Mental health counselors
The FL Housing emphasizes more on an individual loan applicant's occupational requirements. In this sense, FL Housing expects you to have a full-time occupation in one of the above-listed professions. Most importantly, it requires you to possess a professional license that matches your occupation. Once you fulfill the proper requirements, you can apply for the Hometown Heroes loan amounting to about $25,000 grant in Sumter County, Florida.
Cost of Living in Sumter County, Florida
Sumter is one of the counties in Florida with an affordable cost of living. This is the reason many people relocate here every year. Another reason is the steadily increasing economy, which creates many job opportunities for residents.
Land costs, housing tax rates, and government services are some of the most affordable in the Sunshine State. All these positive attributes come from the strongly aggressive expansion and development in Sumter County, Florida.
The median price point for homes ranges from $200,000 to $300,000. These figures show you that it is more affordable to own homes here than in the rest of the state of Florida. No wonder the county's cost of living index stands at 101.9 against Florida's 102.8, which is more affordable than in other counties.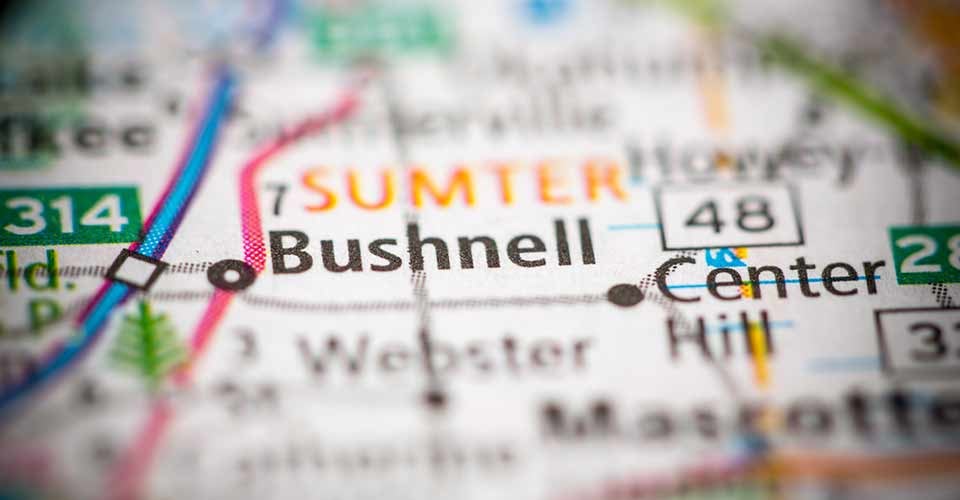 Best Places to Buy a Home in Sumter County, Florida
Sumter County may have a highly competitive housing market, but most residents prefer owning homes to renting. Popular neighborhoods to find the most affordable property and relatively low cost of living include:
Bushnell
With a population of 3,123, Bushnell in Sumter County, Florida, is an ideal place to relocate with your family. This neighborhood provides residents with a complete suburban-rural mix feel not found elsewhere. Bushnell is also a perfect place for seniors, retirees, and young professionals looking to enjoy a quiet and peaceful lifestyle away from busy urban life.
Most people own their homes and tend to be slightly conservative. Around 76% of residents own homes, while the rest (24%) live in rented houses. The median home value stands at $54,300 compared to the national $217,500. On the other hand, the median rent is around $939 against the national $1,062. Both public and private schools in Bushnell are ranked above average. So, moving here with your school-going children should be your priority.
The Villages
The Villages is popularly referred to as Florida's friendliest hometown, with a population of more than 79,000. This neighborhood presents the best atmosphere for both young and old residents to enjoy a quiet and peaceful rural life. Like the rest of the neighborhoods in Sumter County, the Villages is quite a fantastic town.
Living here offers you a pleasant rural feel because it features exciting outdoor recreational amenities such as parks and plenty of social amenities for its residents. About 96% of residents own homes, while a modest 4% live in rented houses. The median home value is around $ 280,300 against the national $217,500 while the median rent stands at $1,683 compared to the national $1,062.
Lake Panasoffkee
Panasoftkee in Sumter has a population of slightly more than 3000. Living here provides you with that exotic suburban rural mix feel. Residents are usually conservative, and most own their homes. The median home value in Lake Panasoffkee is $80,700 compared to the national $217,500. The median rent is $838 against the national $1,062, with 82% owning homes while 18% living in rented houses.
Wildwood
Wildwood in Sumter has caring people, making it suitable for those with families. Its population is around 6,800. Many retirees and young professionals live in Wildwood. Living here offers you a sparse suburban feel throughout the year.
The median home value stands at $169,100 compared to the national $217,500, while the median rent is about $968 compared to the national $1,062. About 61% of residents own homes against the 39% who live in rented facilities.
Best Public and Private Schools in Sumter County, Florida
As per the 2022 academic calendar, up to 14 public schools serve around 8,600 in Sumter County, Florida. Keep in mind that Sumter County boasts one of the highest numbers of top-ranked public schools in the Sunshine State.
This school's average math proficiency score is around 66%, compared to Florida's school average of about 59%. The reading proficiency score for public schools in Sumter County is around 63% against the 56% statewide average.
The overall ranking for public schools is 9/10. This number places public schools in Sumter County among the top 20% of all public schools in Florida. Check out this list of the best public schools in this country:
Villages Charter School
Bushnell Elementary School
Lake Panasoffkee Elementary School
South Sumter Middle School
South Sumter High School
Wildwood Elementary School
Webster Elementary School
Sumter Prep Academy
There are several private schools serving approximately more than 3000 students in Sumter County, Florida. The schools are religiously affiliated, and they include:
Sumter Christain school with 85 students
Maranatha Christian Academy, with 11 students
Holy Family Catholic School, with 627 students
American Heritage Schools, Broward Campus with 2,794 students
The Master's Academy, with 1135 students
Is Sumter County, Florida Suitable for Young Professionals and Families?
Like most counties across Florida State, Sumter County has the appeal and charm for young professionals, families, and retirees. This is because the county boasts an above-average school district complete with high-performing private and public schools. For that reason, Sumter County is an ideal place to raise your young family.
Cities across Sumter County have a well-developed transport network. Its accessible transport system coupled with affordable housing are all within reach for quite a number of working families. The cost of healthcare and basic needs like groceries are pocket-friendly compared to other places in Florida.
Family-oriented recreational facilities are in plenty in Sumter County. Parks, trails, and recreational spaces are designed for young families. You can take your kids to enjoy or participate in various outdoor activities at affordable rates.
Different opportunities for young professionals are also plenty in Sumter County. Young people looking for a laid-back lifestyle in Florida can move to this county to experience its uniqueness, tranquility, and friendly communities.
Even though the median income for most people in Sumter County is slightly lower than the other counties in Florida, experts project its increase in the future. This is attributed to the growing number of companies and businesses setting up shops in Sumter County.
According to the Metropolitan Area Employment & Unemployment report, the unemployment rate in Sumter County, Florida stands at 3.0%, compared to 3.5% for the previous months and 5.4% for last year (2021); from these figures, it is evident that finding employment in this county is straightforward and timeless for young professionals moving here.
Sumter County, Florida, assures its residents of a good balance between working time and social lifestyle. Young families, seniors, and professionals will find settling in this county easier.
Cities/Towns in Sumter County, Florida, that Are Eligible for the Hometown Heroes Loan Program
Because Sumter County is part of Florida, essential workers in this county can also benefit from the statewide Hometown Heroes Program. This is among the numerous incentives for qualifying citizens in this Sunshine State.
Below is a complete list of all towns and cities within Sumter County that are eligible for the Hometown Heroes Loan Program:
Bushnell
Webster
Center Hill
Wildwood
Coleman
The Villages
Oxford
Sumterville
Lake Panasoffkee
Final Thought
Florida is one of the states in the United States that experiences soaring property prices year-in-year-out. The rising home prices keep low-income earners away, making it difficult to buy homes. The most affected are the essential members of the community, such as firefighters, frontline workers, retired and active military personnel, and others.
Luckily, there is the Hometown Heroes Housing Program that comes in handy to save these critical workers serving Sumter County. Through this program, community workers can get their zero-interest first mortgage grant, including additional down payment and closing assistance (as part of their second mortgage). For that reason, critical workers in Sumter County will no longer have to be left out when it comes to home ownership.
Choose Your County for More Hometown Heroes Information