Hometown Heroes Loan Program: Learn How to Get up to a $25,000 Grant in Walton County, Florida
Phil Ganz
/
8 Min Read
/
Jun 19, 2022
Over the last six years, median house prices in Florida have risen by more than 58%, even though household incomes in many parts of the state have remained relatively stagnant. This situation has made it difficult for many individuals working in critical sectors such as law enforcement, health care, and education to keep up with rising property costs.
(Jun 30, 2022)
The good news is that the government of Florida, through FL Housing, has officially rolled out the Hometown Heroes Loan Program, which is projected to make homeownership more affordable for income-qualified professionals working in over 50 occupations.
Through this initiative, frontline professionals will now be able to secure home financing in the form of zero-interest loans in addition to down payment assistance through a grant of up to $25,000.
If you are wondering how you can benefit from the Hometown Heroes Loan Program, you have come to the right place. In this guide, we'll have an in-depth look at this groundbreaking program, including the types of loans it offers and how to qualify for the grant in Walton County, Florida. Keep reading to find out more.
Overview Of The Hometown Heroes Loan Program
As stated at the outset, the Hometown Heroes Loan Program is a brand new initiative by FL Housing that promises to support critical workers across Florida counties in their dream of homeownership. The ability to purchase a residence has been out of reach for many critical workers in Florida, owing to the competitive real estate market coupled with the modest income they earn.
To make homeownership attainable for the hometown heroes who devote their lives to serving their communities, FL Housing has availed three government loan programs and two conventional loan programs which income-qualified frontline workers can apply for. In addition to these first loans, critical workers can obtain further home financing assistance through a second mortgage, which is meant to cater to the down payment and closing costs.
Here is a breakdown of the various mortgage loans offered by FL Housing in the Hometown Heroes Loan Program:
Florida First Heroes Loan
This program provides 30-year fixed-rate FHA, USDA-RD, or VA mortgage loans to income-qualified critical workers. Applicants who qualify for this first mortgage loan are eligible for a second mortgage to help with the down payment.
HFA Advantage Heroes (Freddie Mac)
For income-eligible applicants with a median income of less than 80 percent of the AMI, this program provides a 30-year fixed-rate mortgage with reduced PMI. Qualifying candidates of this mortgage program are also automatically considered for additional down payment and closing cost assistance in the form of a second mortgage.
HFA Preferred Heroes (Fannie Mae)
Under this mortgage program, income-qualified borrowers can obtain a 30-year fixed rate with reduced private mortgage insurance for applicants whose incomes are equal to or below their County's average median income. Similarly, borrowers qualified for this first mortgage loan immediately qualify for the down payment and closing cost assistance through a second mortgage.
Hometown Heroes Second Mortgage
As previously stated, essential workers who qualify for any of the above mentioned Hometown Heroes First Mortgage loans are eligible for a 0%, non-amortizing, 30-year, repayable second mortgage to help with down payment and closing costs. This second mortgage is capped at $25,000 and is equivalent to 5% of the original mortgage's value.
It is worth mentioning that this second mortgage is non-forgivable and must therefore be paid in full once the borrower completes payment on the first mortgage, refinances the first mortgage, transfers the property deed, or no longer uses the property as their primary residence.
Who Is Eligible For The Hometown Heroes Loan Program?
FL Housing's Hometown Heroes Loan Program is strictly accessible to prospective homebuyers who serve or have previously served in various essential professionals. At present, there are more than 50 occupations that are admissible in the program. These include:
Correctional Probation Officers
Juvenile Probation Officers
Juvenile Detention Officers
Sworn Law Enforcement Officers
Certified Emergency Technicians
Firefighters
Classroom Teachers
Certified Paramedics
Librarians
Career Specialists
School Counselors
School Psychologists
Social Workers
Licensed Practical Nurses
Registered Nurses
Psychologists
Massage Therapists
Opticians
Nutritionists
Dentists
Pharmacists
Athletic Trainers
Veterinarians
Pharmacists
Nursing Home Administrators
Veterans
Active Military Service Members
Physical Therapists
How To Qualify For The Hometown Heroes Loan Program in Walton County, Florida
To qualify for the Hometown Heroes Loan Program in Walton County, Florida, you must satisfy several conditions. These include:
Income Limit
The income restriction sets a ceiling above which an applicant may not be eligible for the Hometown Heroes Loan Program. This criterion ensures that only applicants with low-to-median incomes benefit from the program. This income limit typically varies depending on which County you're in. The income limit in Walton County, Florida, is currently capped at $118,950.
Purchase Limits
This criterion stipulates that the FL Hometown Heroes mortgage loan cannot be used to pay more than the maximum amount authorized for certain types of property in Florida. Like the income limit, the maximum purchase price may vary depending on the County in which you are purchasing a property.
The current purchase limit for FHA and USDA-RD loans in Walton County is capped at $539,350, while the purchase limits for VA, HFA Advantage, and HFA Preferred loans are $647,200
First-Time Homebuyer Requirement
To be eligible for the FL Housing Hometown Heroes program, you must be a first-time homebuyer. This means you shouldn't have shown any interest in a primary residence in the three years following the Mortgage Loan's execution.
If you are a veteran or currently serving in the military, you do not need to be a first-time purchaser to qualify for the loan.
Credit Requirement
You'll need a minimum FICO score of 640 for a typical house and a score of 680 for prefabricated housing if you apply for the Hometown Heroes First Mortgage Loan (VA, FHA, and USDA-RD). Likewise, If you're seeking an HFA Preferred or an HFA Advantage loan, you'll need a FICO score of 640 or higher (depending on your mortgage provider) and a minimum FICO score of 680 for manufactured homes.
Homebuyer Education Requirement
To qualify for the Hometown Heroes Mortgage Program, you must take a pre-purchase homebuyer education course that satisfies the Housing and Urban Development Department's (HUD) or the National Industry Standards for Homeownership Education and Counseling standards.
Participating lenders are responsible for conducting this education course independently or in collaboration with a mortgage insurance company. The validity of certificates of completion is two years from the date of completion, and borrowers are expected to move into the property within 60 days of closing on the mortgage.
DTI Requirements
To be considered for the Hometown Heroes Loan Program, your debt-to-income ratio (DTI) must not exceed 45% if you have a FICO score between 640 to 679. On the other hand, if your credit score exceeds 680, you can be approved for the program with a DTI score not greater than 50%.
Property Requirement
All mortgage products provided through the Hometown Heroes Loan Program can only be utilized to purchase primary residences. They can't be used to refinance existing mortgages or buy properties for other reasons, including businesses.
Here are some of the properties that you can purchase using a Hometown Heroes Loan:
2- 4 unit properties
Attached or detached single-unit dwellings
Townhouse
Condos
How To Get The $25,000 Hometown Heroes Grant In Walton County, Florida
To obtain the $25,000 Hometown Heroes Grant in Walton County, Florida, you must qualify for one of the government mentioned above or conventional first loans. Your $25,000 grant will be automatically reserved once you've secured your first mortgage. Then, within 45 days, your lender will underwrite your loan and print the papers in preparation for closing.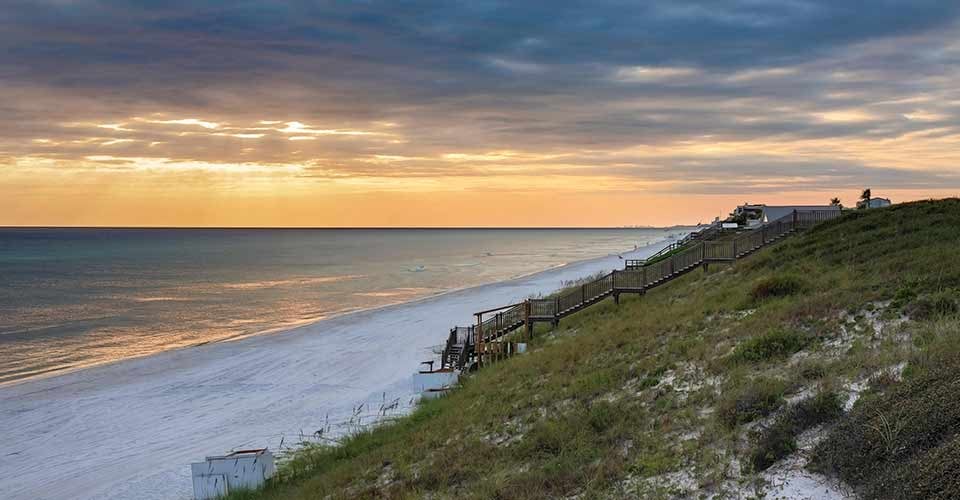 Cost Of Living In Walton County, FL
Walton County has its county seat at DeFuniak Springs, located on the Emerald Coast in the northwestern part of the Sunshine State. According to the 2020 census report, the County of Walton has an estimated population of 75,305.
Walton County is known for its gloriously sunny weather and exquisite scenery and is famed for being home to Britton Hill, the most elevated characteristic point in Florida. However, regarding the cost of living, Walton County might be one of the most expensive places to live in the Sunshine State.
The overall cost of living in Walton County is 17.2% higher than the state average and 20% higher than the national average. Property prices are very steep in this part of Florida, with the median home price at $508,600. This is over 60% higher than the national average home price of $291,700.
However, high property prices are not the only significant expenses that residents of Walton County have to contend with. Groceries, transportation costs, and utilities are equally expensive. The cost of groceries, for instance, is 3% higher than the national average, whereas the costs of utilities and transport are 5.7% and 4.1% higher than the US average, respectively. Even so, the County has a pretty good health care system which is more affordable than the national average by a margin of 2%.
Moreover, the median household income in Walton County is remarkably high compared to other parts of Florida and the US. The average household in Walton rakes in an annual income of $67,390, much higher than the national average of $65,712.
Best Areas To Buy A Home In Walton County, FL
Walton is home to several neighborhoods offering a quiet and relaxing suburban living to families looking to escape the hustle and bustle of dense cities. If you are considering purchasing a home in Walton County, here are a few that you might want to consider:
Miramar Beach
Miramar Beach in Walton County is an affluent neighborhood with a population of 8,356. It offers an urban feel with plenty of excellent restaurants, shopping malls, and parks where families can retreat for relaxation and entertainment.
This bustling community has one of the highest home ownership in Walton County, with about 71% of the residents owning their homes and only 29% renting. The median price of a home in Miramar Beach is $393,900, and the median household income is $70,069.
DeFuniak Springs
The Historic DeFuniak Springs is a small town with a population of 6,448. Living in DeFuniak Springs offers a sparse suburban feel with close interaction among residents. This neighborhood is also among the most affordable in Walton County and the entire state of Florida.
The median price of a home in DeFuniak Springs is $121,700, while the median rent is only $746. Since property prices are all-around affordable, the number of people who own their homes is roughly equivalent to those that rent. The median household income in this community is $41,964.
Freeport
If you're looking for a neighborhood offering a suburban lifestyle with a tinge of rural living, you should consider purchasing a home in Freeport. This diverse community of 2,369 residents is strategically nestled between Panama City and Fort Walton Beach, giving residents easy access to government and commercial offices and social hubs.
Most residents (76%) own their homes while the rest (24%) rent. The median property value in the neighborhood of Freeport is $223,100, and the median household income is $54,243.
Best Public and Private Schools In Walton County, Florida
Walton County School District, headquartered in DeFuniak Springs, is an above-average school district serving the County of Walton, Florida. It comprises 15 public schools with a student population of 13,844. Roughly 60% of the student population is white, while 22.5 % of the student body is black. Walton Public Schools also enrolls other minorities, including Asians (1.7%), Latinos/Hispanics (10.2%), and American Indians (0.3%).
According to Niche, Walton County School District is ranked the 14th best school district in Florida, with an average graduation rate of 89%. About 63% of the students in the school district are proficient at reading, while 66% excel in maths.
Some of the top-rated schools in Walton County School District include:
Bay Elementary School
Van R Butler Elementary School
West DeFuniak Elementary School
Freeport Elementary School
Maude Sanders Elementary School
Seaside Neighborhood School
Freeport Senior High School
Wewahitchka High School
Walton High School
There are also several excellent high schools in Walton County, including:
Gateway Academy
Ohana Institute
Compass Ross Academy Inc
South Walton Montessori Academy
First Christian Academy
Galilean Academy
Benefits Of Living In Walton County For Families and Young Professionals
Walton is a small county that offers a laid-back lifestyle for families. While the average property price in the County is steeper compared to other parts of Florida, there are plenty of desirable neighborhoods with affordable housing, particularly on the northeastern side of the County. Walton County also has a small population, and its neighborhoods tend to be relatively sparse regarding residency. This promotes a neighborly feel which many individuals with families will find attractive.
Moreover, Walton County is served by a good school district with many high-performing schools. So, if you're planning to settle here, you can be confident that your kids will have a good foundation for their academic and future professional lives.
Walton County may still be perfect if you are a young professional seeking a relaxed and quiet lifestyle with a sophisticated feel. Many beaches can be found here, including Dune Allen Beach, Miramar Beach, Sandestin Beach, and Seascape Beach. There are also plenty of fantastic restaurants and bars where you can enjoy nightlife after work and on weekends.
Hometown Heroes Loan Program: Eligible Cities and Towns in Walton County, Florida
The Hometown Heroes loan Program is currently available in all the cities and towns in Walton County, including:
DeFuniak Springs
Miramar Beach
Freeport
Argyle
Mossy Head
Rosemary Beach
Paxton
Santa Rosa Beach
A Final Word
Community heroes in Walton County now have a reason to celebrate after introducing the Hometown Heroes Program in Florida. Many frontline workers in the County will now be able to purchase houses in the areas they serve and live in, thanks to the $25,000 grant granted by the program to eligible applicants. If you want to buy a home in Walton County, apply for the program today to take advantage of its incredible benefits.
Choose Your City for More Hometown Heroes Information