Is Moving to Miami Right for You? The Complete Guide
Phil Ganz
/
8 Min Read
/
Apr 24, 2022
If you're thinking about a move to Miami, you're not alone. The number of residents in Miami has increased by a huge percentage since 1990, which means there are more reasons to settle in this great city in The Sunshine State!
However, it's important to get as much information as possible to ensure that a move to Miami is the right decision for you and your family.
Miami has had a reputation as a party town, filled with beautiful beaches and flashy nightclubs, but there's more to this city than meets the eye.
If you're considering a move to Miami, this article will walk you through everything you need to know before making the major move.
From housing and transportation options in Miami to its pleasant weather, great schools, and things to do in the city will be explored in this post. Read on to discover why it's right to move to Miami.
Top Benefits of Moving and Living in Miami
Miami has risen to prominence as one of the top vacation destinations in the United States, and not without good reason.
With gorgeous weather year-round, vibrant nightlife, sandy beaches, and warm waters that appeal to swimmers, boaters, and snorkelers alike, it's no wonder so many people are considering making a move to Miami permanently.
But you might be surprised to learn that there are plenty of reasons to live in Miami, even if you're not planning on spending most of your free time at the beach.
Here are the top reasons why you should move to Miami right now.
Excellent Medical Facilities
When it comes to quality of care, no city in Florida tops Miami in terms of healthcare. Multiple hospitals in Miami are ranked among America's best for cancer treatment, heart care, and children's care.
Many people are surprised to learn just how good and well-equipped some of Miami's medical facilities are.
From Mercy Hospital in downtown Miami Beach (just a few blocks from The Marlin Hotel) right through to Baptist Health Medical Center, you'll find world-class specialists ready and waiting for you.
And when it comes time for surgery or other procedures, you can have it done locally so your recovery will be relatively painless and stress-free.
With so many great hospitals, clinics, and doctors in Miami, you can rest assured that no matter what your medical needs may be, you will find top-notch medical care for yourself and your family.
Whether it's a routine checkup or emergency services you're looking for, you'll have access to some of South Florida's best medical facilities.
The most interesting thing about health facilities in Miami is that they're conveniently located throughout the city, making them easily accessible.
Affordable Cost of Living
If you're looking for a place where you can afford to live but still want to be close enough to all of the action, look no further than Miami.
It is easy to find a place to live and eat in Miami and do it on a budget. This makes for an easier transition for those who want to move to Miami with limited funds.
The cost of living in Miami is much cheaper than in most metropolitan cities across the U.S.
As a resident; you can expect to pay significantly less for goods and services. Basic groceries and restaurant meals will cost 30% less in Miami than in many metropolitan cities in the country.
Affordable Housing Options Around
If you're looking for a home, you'll likely find plenty of options in Miami. The city is well-known for its affordable real estate properties, partly due to Florida's no-income-tax policy.
Low taxes on residents help keep housing costs manageable, so real estate investors aren't inclined to overcharge consumers. Generally, you can find apartments and homes in Miami, including tiny houses that fit any budget.
Living in a major U.S. city, especially on an entry-level salary, can be expensive—especially in more exclusive neighborhoods.
If you're looking for something in a higher-rent area, you may have better luck in more rural parts of South Florida. But when it comes to finding an affordable place within city limits, there are plenty of choices.
You can find reasonably priced housing in trendy areas of South Beach and Miami Beach without breaking your budget if you know where to look and how much money you can spend.
Average rent prices in Miami are lower than most other big cities in the United States. Greater Miami and Fort Lauderdale have plenty of affordable apartments in low-rent buildings near public transportation.
Business Friendly Environment
The business climate in Miami is growing every year, making it a natural choice for ambitious professionals. Did you know that Florida has no local, state, or federal income taxes?
If you're an entrepreneur looking for ways to cut costs and increase your revenue, look no further than South Beach. What can be better than making more money on fewer taxes? So if it's an area with friendly tax laws on your mind, move to Miami.
There's no shortage of innovation or startup activity in South Florida as well. If you have your sights set on starting your own business or taking a job with an exciting startup, then Miami is your place.
Additionally, Miami is home to multiple great companies offering a wide range of career opportunities. This is among the reasons why most people choose to move to Miami.
An Enriching Community
With over 5 million people, Miami is among America's most populous cities.
And while it doesn't command a large percentage of New York City's population, there are enough people that share common interests and hobbies with you.
With such a diverse population, people of all races and cultures can find comfort living in Miami.
The diverse population of Miami makes for a more enriching community than most metropolitan areas in the world.
If you're looking for a place to make good friends and build a social life without being limited by your background, you'll find it in Miami.
People come from all over to visit, vacation, and live in South Florida, making it one of America's most culturally diverse cities.
Excellent Transportation Options
It doesn't matter if you walk, bike, ride a skateboard or get around via public transportation. Getting around Miami is a breeze. It's almost too easy and convenient.
Conveyance in Miami is top-notch, and it's only getting better. From trains and subways to buses, or simply walking from place to place, people are never too far away from where they need to be.
Public transportation should be your best option if you don't have a car or want an alternative form of transportation while you live in Miami.
Buses in Florida are generally very reliable and accessible. Just be sure to pay attention to their schedules so that you can avoid long waits during rush hour.
Additionally, the city recently opened a new subway system called Metrorail, which connects most of downtown and other key locations throughout South Florida.
If you have some cash to spend, there are also plenty of taxi cabs available to transport you across the city with relative ease. And you can always jump in your car or hop on a bike—Miami has some of America's best cycling paths.
Safety is Paramount
If you're moving your family and want a community that provides safety and security, then Miami might be right for you.
With crime rates at all-time lows in recent years and virtually no violent crimes, it's easy to see why so many people are choosing to move to Miami. The top-notch public safety in Miami will make you feel confident about keeping your family safe.
This city has a plethora of safe and affordable neighborhoods, including Coral Gables, Key Biscayne, South Miami, and Kendall. One of the favorite parts about living in Downtown Miami is that it's a very safe area with so many police officers around.
The city has a lower crime rate than most cities in the United States, especially cities with reputations for being fairly dangerous.
Despite a few cases of petty crimes, violent crime in Miami is lower than that of Chicago, New York, and Los Angeles. You can feel safe walking around at night, which is always a plus.
There are plenty of ways for your family to live in a safe environment, from high-end gated communities to upscale apartment complexes.
Some people have concerns about living in neighborhoods with bad areas, but you don't need to worry—be careful where you decide to live.
The majority of crime is only common in certain neighborhoods, so focus on finding a place that'll keep you safe and sound. If you have children, choose an area with plenty of children in your neighborhood as well.
Friendly Weather
The weather in Miami is warm and inviting, with average temperatures hovering around 78 degrees.
From tropical sunsets to warm winters, you'll find a stable climate year-round in Miami. The region is known for its balmy weather, which helps put residents in a good mood.
If you don't want to step outside your house into snow and ice every morning, consider a move to Miami.
Accessible Beautiful Beaches
It doesn't matter if you live in South Beach, North Bay Village, or Key Biscayne; you're never more than 10 minutes away from beautiful beaches.
With over 1,000 miles of coastline and such a temperate climate all year round, it is easy to understand why many people who have move to Miami have made it their permanent home.
Miami is home to some of the most attractive beaches in the world. With sparkling blue waters and soft, white sand, sunbathing and swimming are especially popular among beachgoers in Miami.
While you can spend your time lounging on a lounge chair, you'll also find plenty of water activities like snorkeling and scuba diving if you want more action.
Great Nightlife
It's always a good time in Miami. That's why we included great nightlife in our list of top reasons you should move to Miami.
There are many opportunities for an active nightlife, whether during spring break or any time throughout the year. If you love going out and having fun, then Miami is one of those places that will make you feel at home.
Whether you like dancing, live music, or other bars and clubs, you'll find an establishment for whatever your interests are in Miami.
And if you want to stay home at night with your significant other or on a weekend morning with friends and family—there are plenty of daytime activities as well.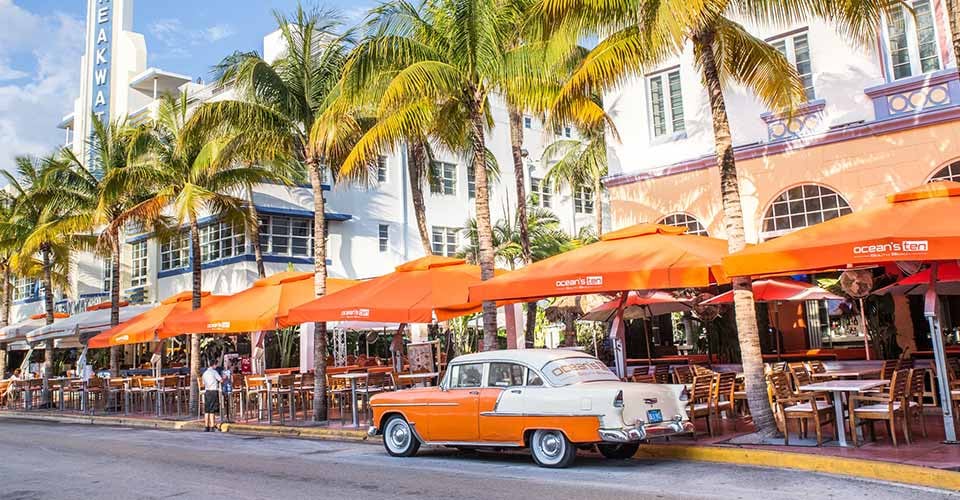 Intriguing Activities to Do in Miami
Miami is one of the most exciting cities globally, with its fabulous nightlife, pristine beaches, and hot summer weather. There are so many fun things to do in Miami that you'll never get bored.
Whether you're planning on going with friends or taking the kids, here are the top intriguing activities to do in Miami.
Going for a Walk on the Beach
Miami's beaches are always a good place to start. The Ocean Drive area is one of the favorites, but you can find long stretches of sand just about anywhere along the Miami coastline.
If you're seeking a low-key activity that won't cost you a thing and is good for your health, take your walking shoes and take a stroll across one of the famous beaches in Miami.
Below are some of the best beaches in Miami:
South Beach
Haulover Beach
Sunny Isles Beach
Crandon Park Beach
North Beach Oceanside Park
Bill Baggs Cape Florida State Park Beach
Explore Miami by Speedboat
Most of us have seen pictures of Miami, but it's different to see it from a speedboat.
This tour is great for families or groups, and you get a great perspective on iconic sites like South Beach and secret spots that only locals know about.
The speedboat operates between South Beach and Hollywood Beach, giving you views of beaches, hotels, marinas, and more.
Visit Vizcaya Museum and Gardens
One of Miami's most famous and beautiful structures, Vizcaya Museum and Gardens, dates back to 1916.
Renowned as a historical landmark, it is one of Florida's finest examples of Mediterranean Revival architecture.
Take a day to explore its beautiful gardens or spend some time at its museum and galleries.
Visit Wynwood Walls
Wynwood Walls is a very hip area of town, brimming with creativity. It's also home to an incredible street art exhibit known as Wynwood Walls.
This creative space is made up of more than 50 murals featuring some of the most famous street artists from around the world. If you want to get a close-up look at what truly constitutes urban art, Wynwood Walls should be on your list.
Visit the Dolphin Mall
The Dolphin Mall is one of the favorite places to go when in Miami. This mall has everything you could ever want, from bookstores and movie theaters to department stores and even a small aquarium.
The mall also has over 100 stores and restaurants that range from smaller shops to national retailers. You'll never be bored here. Dolphin Mall is so large that it has a bus stop, so you can easily get here by public transit.
Explore Zoo Miami
Zoo Miami is one of Florida's largest and most diverse zoos. Animals from all over the world call Zoo Miami home, and it's worth a trip for you and your family. This is an excellent way to see some exotic animals, including endangered species.
You can even get up close and personal with a few of them if you're looking for something a little more interactive than your average zoo experience.
The zoo is home to Sumatran tigers, sloth bears, lorises, moon bears, babirusas, clouded leopards, and more.
Kids will especially love it here as there are plenty of animals to play with and some great petting areas where they can touch monkeys, zebras, sloths, or other furry friends.
Visit Various Museums Around Miami
Miami has no shortage of galleries, museums, and historical attractions.
The city museums feature a variety of media, including sculpture, painting, photography, architecture, design, and more.
Consider visiting one of the following museums around Miami:
Institute of Contemporary Art (ICA)
Pérez Art Museum Miami (PAMM)
The Phillip and Patricia Frost Museum of Science
The Bass
The Haitian Heritage Museum
Miami Children's Museum
The World Erotic Art Museum (WEAM)
Bottom Line
Miami, Florida, has long been one of the most popular cities in the United States and the world, drawing in people from around the globe due to its tropical weather, relaxed lifestyle, and rich cultural heritage.
If you're thinking about a move to Miami, there are many things to consider before making your final decision. Before you pack up and head down south, it's important to ensure that Miami is the right city for you and your family.
A move to Miami can be an exciting and rewarding decision with the right information and research.