What is it Like to Live in Miami Beach, Florida for Young Adults?
Phil Ganz
/
9 Min Read
/
Apr 08, 2022
In this guide, you'll learn everything there is to know about living in Miami Beach for young adults. We'll discuss the people, culture, weather, and more.
Things to Do in Miami Beach, FL for Young Adults
Miami Beach has a lot of fun things to do for young adults. Whether you want to go out at night or participate in outdoor activities during the day, there's something for everyone in Miami Beach.
When living in Miami Beach, you can go paragliding, take in the wildlife, and shop at vintage stores. You can also eat at excellent restaurants and find a great nightclub.
Go paragliding
Go paragliding over the gorgeous beaches of Miami with Para-Sailing Miami. The company has been around for years, so you know it's legit. You'll get to see the city from an entirely new perspective as you float in midair.
Check out the wildlife
Take a trip to Jungle Island, where you can see some of nature's most fascinating creatures up close and personal. You can even feed a giraffe or a flamingo if you dare! Once you're done exploring the island, head over to the beach for some fun in the sun.
People-watch at the beach
One of the best parts about living in Miami Beach is being able to spend time with your friends outside, so head over to South Beach to do just that. With plenty of eye candy and even more people doing crazy things all day long, South Beach is one of the best places to people watch on Earth!
Explore the art scene
Miami Beach is known for its trendsetting culture. A great way to experience this is by exploring the art scene.
There are galleries and museums all over Miami Beach, but it's best to start at the Art Deco Welcome Center at 1001 Ocean Drive, where you can pick up a free Art Deco walking tour map. The map highlights some of the city's most notable art deco architecture, including the Versace Mansion on Ocean Drive and Casa Casuarina.
Young adults who enjoy street art will love Wynwood Walls and Wynwood Arts District in the Wynwood neighborhood. Here, you'll find dozens of murals painted by some of today's most famous artists.
Shop at Vintage Stores
Vintage shopping is a great way to find one-of-a-kind clothing items and accessories unique to you. Plus, shopping at vintage stores is a fun activity for young adults who like to socialize with friends.
Some of the best vintage shops in Miami Beach include Kill Your Idol on Washington Avenue, The Butcher Shop on Espanola Way, and Vintage Soul on South Pointe Drive. Each one has a unique selection of items from various periods.
The Weather
The weather in Miami Beach is pretty warm all year round. The summer months can get very hot, with temperatures in the 90s Fahrenheit (over 30 degrees Celsius). Temperatures rarely drop below 70 degrees Fahrenheit (21 degrees Celsius) in the winter months. When living in Miami Beach, you can wear shorts and t-shirts almost any year. And it rains fairly often in Miami Beach! This city has a little more than 60 inches of rainfall every year on average.
The weather in Miami Beach, FL, is excellent because of all the different things you can do outside while enjoying yourself! You can go swimming or surfing (and even snorkeling) at one of our beaches here; there are also many different parks where people like to play sports or go hiking with friends and family members.
It's not often that you have to worry about snow, sleet, or hail - we get some rain, but it's usually light showers that don't last too long, so it doesn't bother anyone too much either way (and when they do happen they tend to bring cool breezes).
It's always nice out: sunny skies with temperatures ranging from 60-90 degrees Fahrenheit year-round make for perfect conditions when visiting us! The weather can be scorching in the summer, but it usually cools off nicely at night, making it easier to sleep; some people even prefer sleeping without air conditioning because they find it more comfortable than being too cold indoors!
The weather is also great for shopping and dining at outdoor malls and restaurants: you'll never have an issue finding somewhere new or exciting to eat lunch on a warm day when walking around town - make sure not to forget your umbrella if rain threatens; otherwise, you might end up wetter than expected!
The People
Miami Beach is an excellent place for young adults. It has a lot of things to do but if you're looking for a quiet night in you can find that too. There are areas for people, families, young adults, and senior citizens. It's not dull here, and the weather is always excellent. When living in Miami Beach, you can always find something to do, and there's plenty of public transportation.
They love the trendy clubs, bars, and beaches
You'll see young adults at almost all of the hot spots in Miami Beach, FL. There are great bars, clubs, restaurants, and beaches to enjoy!
YACs (Young Adult Centers) are always packed
It's no secret that young people have a lot of energy to burn off. Miami Beach, FL, has a lot of places for them to enjoy their favorite activities, like sports, health and fitness, and outdoor activities.
A beach is a fun place for young people to work out and meet others at; it is not just for vacation.
When the weekend rolls around, you'll see lots of people heading to the beach. It's a place where they can get some exercise while catching up with their friends. It's also a great way to meet new people!
The coffee shops are popular hangouts with Wi-Fi
If you're looking for somewhere to go where you can catch up with friends over coffee or do some work on your laptop, then check out one of the many great coffee shops in town. You're sure to find one that suits your needs!
Oceanic Experience
From kayaking and paddleboarding to dolphin tours and fishing, Miami Beach offers many oceanic experiences. There are guided tours available to accommodate all levels of fitness and experience.
One popular option is renting a paddleboard or kayak from Hobie Sports and heading to the Miami Beach Marina. Winding through the mangroves, you'll see various wildlife, including dolphins, manatees, fish, birds, and more.
For those who would prefer to take it easy and not get their feet wet, there are plenty of options as well. One of the most popular is taking a Miami Beach dolphin tour with Seaquarium's Dolphin Odyssey Program. After entering the water with a trained staff member, you'll have the opportunity to interact with these majestic creatures in their natural habitat.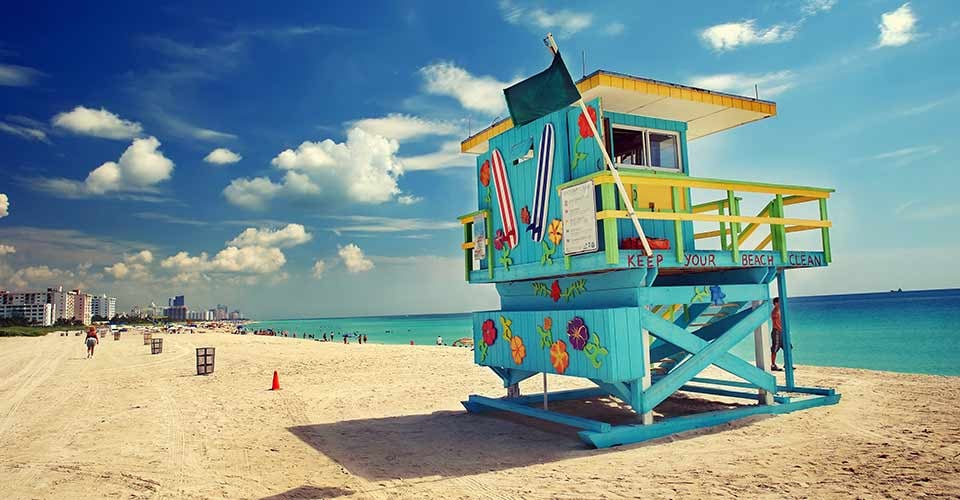 The Dating Scene
There are many ways to meet new people in Miami Beach, through friends, at work, at school, or through activities, you enjoy doing. Miami Beach has a very diverse population, and lots of people are coming in and out of the area all the time, so it's easy to meet someone new every day.
Tips for dating when living in Miami Beach
Miamians are serious about their food. Explore new restaurants, fast-casual kitchens, or food trucks.

Get together for a good cause. Volunteer with a local charity and show your date you care about your community.

Channel your inner child at the arcade bar. Play a competitive game of air hockey or Pac-Man.

Hit up Lincoln Road for people watching and window shopping.

Take advantage of the warm weather and go for a bike ride along Biscayne Bay.

Get lost in the Miami Design District to celebrate art and architecture.
Where is the Best Place to Live in Miami Beach?
In our opinion, South Beach is one of Miami's best places to live. It's a fantastic neighborhood that never sleeps. This area is right on the beach, so you'll have beautiful views, easy access to the beach, and plenty of activities. There are a lot of trendy restaurants and bars that are always filled with people looking to have fun. The beach is also right next door, and there is always something to do!
How Much Does it Cost to Live in Miami Beach, FL?
The cost of living in Miami Beach varies greatly depending on where you live. The average rent for a one-bedroom apartment is $1,500 per month, more than twice the national average of $700. In addition to rent and utilities, you'll have to factor in groceries and clothing, which may be more expensive in Miami than in your current location. If you want to spend a lot of time in South Beach, you'll need money for dining out and visiting nightclubs.
What is the Crime Level Like in Miami Beach?
Crime rates tend to be higher in large cities like Miami than elsewhere. Violent crime rates are higher than the national average and property crime rates. However, if you exercise common sense and avoid getting into potentially dangerous situations or traveling alone at night, you should have no trouble staying safe.
How Can I Find a Home in Miami Beach as a Young Adult?
If you are looking for a home in Miami Beach as a young adult and want an affordable place to live, some options include looking for a roommate or renting an apartment. The beach area has many apartments available for rent. You can also look for housing near the university campus.
Miami Beach offers many jobs for young adults
Miami Beach is known for its tourism industry, including hotels, restaurants, and entertainment venues. Many young adults find employment at these businesses. The tourism industry also offers freelancers and entrepreneurs who work independently from home.
Miami Beach has a thriving nightlife
A lot of people move to Miami Beach for the nightlife. The city is known for its vibrant scene, with many bars and clubs for locals and visitors to enjoy. If you're more interested in a relaxed atmosphere, there are plenty of lounges and cocktail bars in Miami Beach, from Monterrey Bar to El Salon and Sweet Liberty. There is something for everyone!
There are tons of cultural events and festivals in Miami Beach
In addition to its thriving nightlife, there are tons of cultural events and festivals in Miami Beach. You can find everything from art exhibits at the Perez Art Museum or film screenings at Soundscape Park. There's also an Annual International Film Festival every spring that brings together filmmakers from all over the world!
Miami Beach has a tropical climate
Miami Beach has a tropical climate, so it's warm year-round with an average temperature of 86 degrees Fahrenheit (30 degrees Celsius) during summer months and 80 degrees Fahrenheit (27 degrees Celsius) during winter months. The rainy season runs from May until October when frequent thunderstorms bring heavy rains but only last about 30 minutes at most.
Miami offers a fantastic international scene
Miami is a fantastic city. If you're single and like adventure, this place is great to be! It's very international, has a great night scene, and is filled with beautiful people. It's also incredibly close to the Caribbean islands and South America, making it easy to make weekend getaways.
You need to own a car
If you want to make the most of your time living in Miami Beach, you need to own a car. You can get around by bus if you want, but it's not very fast or convenient. Traffic can be bad at times, but it's not that much worse than most major cities in the US (except for LA).
The food scene is vast and diverse
One of the best things about Miami is the food scene. There are so many different types of cuisines represented here worldwide. You can get anything from Cuban sandwiches to sushi on every corner. The only downside is that some restaurants are not open late at night (especially on weekends), so plan accordingly if you're trying to grab dinner after 10 pm or so.
The best foods and food venues for young adults in Miami Beach include:
Avocado toast at The Salty Donut
Avocado toast is the closest thing to a universal food in Miami. If you're not eating it, you're making it. But at The Salty Donut, avocado toast is elevated to new heights: Theirs is served open-faced, with a thick layer of creamy avocado spread atop a slice of country white bread and topped with two sunny-side-up eggs. At $6, it's one of the most affordable and delicious breakfasts in town.
Black garlic noodles at R House Wynwood
The bowl of al dente spaghetti comes tossed in a rich and sweet black garlic sauce seasoned with just a bit of heat. It's topped with shiitake mushrooms, charred broccoli, sesame seeds, and scallions. The dish is vegetarian but hearty enough to satisfy any meat lover (and many swear by its hangover-curing properties). The black garlic noodles are R House's favorite, and they cost only $9.95.
Guava pastelitos at Doral Bakery
This family-run bakery is known for its guava pastries, which have a rich guava filling and are cleanly rolled in the dough. The result is a subtle balance between sweet and savory. These are best eaten right out of the oven, as they can get hard over time. It's also worth noting that if you can't eat meat, the cheese-filled pastelito is just as delicious.
Churrasco at Estefan Kitchen
The churrasco at Estefan Kitchen is made with beef tenderloin and comes with chimichurri sauce and plantains. What sets this dish apart is the tenderness of the meat and how very, very flavorful it is — there's no need for any sauce or seasoning.
This restaurant serves a fried chicken sandwich with spicy mayo, pickles, and tomato jam on an egg bun. The chicken is crispy and juicy, the mayo has just enough kick to it, and the bun holds together well when you sink your teeth into it.
If you're single and like adventure, it's a great place to be
Miami is one of the top destinations for fun and adventure, especially young and single. You will never get bored in Miami because there is always something going on. The nightlife ranges from clubs and bars to lounges and restaurants with live music.
During the day, you can check out one of the many beaches or go out on a boat ride. Another thing that makes Miami so unique is that many different cultures come together here. You can try new foods from different countries or trip around town to see some of the fantastic art and architecture.
Miami Beach, Florida, is an exciting city to visit and an even more exciting city to live in. There are plenty of opportunities for young adults to enjoy themselves, whether they want to go out on the town or chill out at home.
It is truly an electric city that serves as a tourist hub and an excellent place for newcomers to get their feet wet in the workforce. However, newcomers must know what they are getting themselves into before deciding to pack up and relocate down south.
Interested in learning about becoming a resident in Florida or moving there? Read more.