Naples, Florida: Best Places To Live In 2023
Phil Ganz
/
8 Min Read
/
Mar 23, 2022
The best places to live in Florida for retirees, young professionals, and families are Tampa, Miami, and Naples. In particular, Naples provides a conducive environment for individuals looking to enjoy their dream retirement. It is no secret that this part of Florida ranks among the highest places to call home in the United States.
(Mar 31, 2023)
In addition to that, Naples is affordable, safe, and in proximity to some of Florida's breathtaking sceneries and attractions. Whether you enjoy outdoor activities like boating and golfing or love high-end shopping and good dining, Naples has you covered all around the year.
Nestled along the Gulf of Mexico and southwest corner of Florida, Naples offers the best social amenities that make it a top spot for new homeowners. It is famous for its gentle waters, beautiful sandy beaches, and paradise waters.
Naples, Florida enjoys a metro area population of approximately 372,000, an average salary of about $48,000 annually, and a median home price of around $350,000. Residents of this city enjoy a median monthly rent of about $1,320 and average annual rainfall of 39 inches.
Why You Should Choose Naples, Florida
Naples is well-known for its world-class affluent lifestyle and high-end shopping. That is why it is considered the most fascinating and attractive place to live. Naples is home to wealthy figures, families, and retirees, including young professionals.
It is also a perfect destination for famous celebrities and top politicians in the country. The city boasts a vibrant real estate market and booming tourism, including plenty of things to do for holidaymakers.
If you are thinking of relocating to Naples, Florida, here is what to expect:
1. A Booming Job Market
The booming job market is one of the top reasons why you would want to relocate to Naples, Florida. As a matter of fact, the job growth is projected to increase by a whopping 39.3% in the coming ten years. This job market growth percentage is considered to be among the highest in the US average.
Naples, Florida has an employment rate of approximately 3.5%. This percentage means that the city enjoys a relatively lower unemployment rate than the US average that currently stands at 6%. Most of the jobs popping up in Naples are in the healthcare, business, and service sectors.
Top companies that offer employment to many people in Naples include Marriott International, Collier County Public Schools, and NCH Healthcare System. ASG Technologies and Arthrex are also located in Naples, Florida.
On average, there are about 6,000 jobs in this city. All these positions provide great opportunities for Naples residents including newcomers. Other available jobs are found within commuting distance just outside Naples in places such as Fort Myers and Cape Coral. With the booming job market in Naples, Florida, you can never fail to find the right job that goes hand in hand with your experience and skills. Learn even more about Naples, Florida here!
2. Beautiful Beaches
Moving to Naples, Florida brings you closer to endless hours of fun and relaxation along its beautiful beaches. These breaches are simply breathtaking thanks to their crystal clear blue waters, white sand, and beautiful panoramic views.
The shoreline along the beaches in Naples is considered one of the top shelling places in Florida and beyond. It provides a rare opportunity to walk around, collect shark teeth, or hunt for colorful shells.
Naples, Florida beaches are always sunny and hot, so they are perfect for swimming in the evening hours. Additionally, these beaches are family-friendly, safe, and easily accessible.
Living in Naples allows you to showcase your surfing skills without breaking your bank. No wonder many people agree that Naples has the best beaches in Florida to enjoy the surf. Here are some of these beaches:
Naples Pier
Lowdermilk Beach
Clam Pass Park
Delnor Wiggins State Park
Barefoot Beach Preserve
3. Excellent Education System
Naples prides itself on an excellent school system. There are plenty of educational facilities for young individuals and families looking to settle in this city. In this case, your family of school-going children will benefit greatly from the well-established education system in Naples. You kids will certainly be in safe hands at one of the private or public schools in the city of Naples.
Some of the best learning institutions in this city are:
Sea Gate Elementary School
Pelican March Elementary School
North Naples Middle School
Pine Ridge Middle School
Naples High School
Gulf Coast High School
All these schools are under the Collier County School System and have all received impressive ratings. Take a while to research which Naples neighborhoods have schools that suit your needs.
Even though there are no large universities and colleges in Naples city, there are numerous institutions of higher learning for students looking to further their higher education opportunities.
Examples include Hodges University in Fort Myers, Florida Gulf Coat Unversity, the Ava Maria University School of Law, and Florida Southwestern State College. All these institutions are within a short drive. You may also choose from 171 universities found in the state of Florida to enroll for your tertiary education.
4. Fine Dining
Besides an excellent education system, beautiful beaches, and booming job market, Naples boasts five-star dining establishments, affordable bistros, and casual cafes. The dining scene in this city is considered one of the best in the entire country.
Naples' culinary culture has become a way of life for residents. This is attributed to the tremendous growth and expansion of eating joints in almost every part of Naples, Florida.;
The constantly evolving dining scene in Naples is making headway that appeals to any palate and appetite. This means you can enjoy different types of cuisines including the freshly caught seafood at the Naples' waterfront, experience international flavors, or dine right on the beach as you enjoy a cool breeze from the sea.
Naples assures you of a romantic evening with your loved one and fine dining with your family. For that reason, you may want to visit one of these establishments to enjoy your favorite meal and drink:
The Turtle Club
Mediterraneo
Sails Restaurant
Caffe Milano
Rumba Cuban Cafe
5. Fabulous Shopping
If shopping is one of your favorite hobbies, then Naples, Florida is a place to settle. This is due to the presence of world-class shopping complexes and high-end retailers. All tailored to help you channel your inner fashionista at pocket-friendly rates. What you need is a deep wallet and you will have the best shopping experience ever.
You will come across designer shops, upscale shopping districts, boutique brands, and independent labels, all at your disposal. According to the US census, Naples' total sales per capita standards at $116,000.This amount is 9 times more than the national average.
Residents of Naples are always serious about shopping with the quality of goods sold defining their purchasing power. So, if you are coming to live in Naples, be ready to join a community that considers shopping to be a fabulous part of their daily life.
While in Naples, you can visit the Downtown area to explore 5th Avenue South and 3rd Street South. This is one of the popular shopping districts in Naples, Florida. It consists of both unique stores and antique shops to choose from. Other areas of interest include The Village Shops along the Venetian Bay, Mercato, and The Westside Shops. All these are prestigious outdoor shopping areas in Naples.
6. A Vibrant Neighborhood
Naples, Florida is home to the famous, the rich, and the influential people in the United States. Living here might get you closer to the prominent people you have only read in newspapers or seen on television. Many celebrities and politicians have their second homes in this coastal region.
So, you may not be surprised to discover that your neighbor is a famous figure or meet a star at the high-end shops and grocery store during your routine shopping. At least, you won't have to go all the way to places like California to meet top celebrities in the country.
Moving to the southwestern coastal community in Florida will get you closer to celebrities, especially those who vacation in Naples. When you settle in Naples, you will realize that this is one way to enjoy a vibrant neighborhood and meet people from different backgrounds.
7. World-Class Golf Courses
At the moment, Naples, Florida is home to more than 90 golf courses and 18 holes. 30 of these world-class golf courses are open to the general public, This gives you a chance to showcase your golfing skills in the best way you can.
Bear in mind that golf is more of a second language to people in Naples than just a sport. So, before relocating to this city you should consider investing a few dollars in good golf clubs. You may also get ready to reserve enough tee time given that playing golf is an exciting and addictive sport.
Naples claims to be the world's golf capital. That is why it has the second-highest number of holes per capita compared to other places in many countries. It even ranks high in providing high-quality of life not only in Florida but across the United States. As such, settling in this tropical part of southwestern Florida is highly considered a golfer's paradise.
You may choose to play at the top-ranked golf courses across Naples and enjoy your game to the maximum. Examples of golf courses in this city include Glen Eagle Golf & Country Club, Hammock Bay Golf Course, Bonita Bay, Cedar Hammock Golf & County Club, Riviera Golf Club, and Heritage Bay Golf & Country Club.
8. Exciting Events
It has been a tradition in Naples for Locals to come together for a common goal. Mostly, they converge at a designated place during the holidays. They also meet together at one of the several events and festivals that the city holds on numerous occasions.
Usually, this coming together aims at making everyone in attendance relax, make new friends, and network. This neighborhood had to make a few changes to usual annual events due to the pandemic.
Check out these popular events that take place in Naples, Florida annually:
The Naples Craft Beer Festival
The Naples Stone Crab Festival
The Naples Shakespeare Festival
The Naples Winter Wine Festival
The Naples National Arts Festival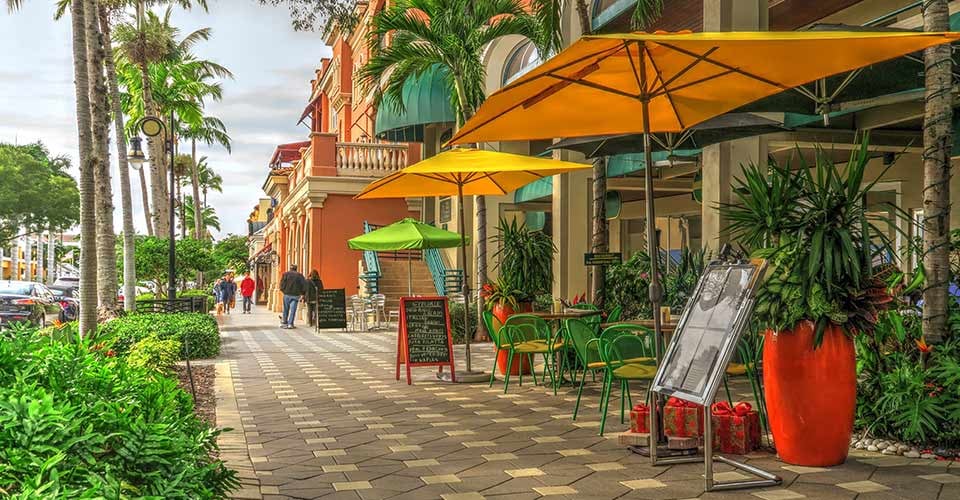 Best Neighborhoods in Naples, Florida
When it comes to the best places to live in Florida, Naples takes the lead. This laid-back community in southwestern Florida has safe neighborhoods for families and retirees. Are you a first time homebuyer? If so, learn more here!
Below is a list of the six best neighborhoods found in Naples, Florida:
1. Old Naples
Old Naples is characterized by gorgeous mansions, tall palm trees, and a romantic atmosphere. Home to extravagant and expensive real estate, Old Naples is both elegant and historic. The average cost of homes is about $1.7 million.
Located a short distance from Port Royal, this neighborhood boasts architectural styles that range from Spanish and Mediterranean to Colonial and Coast Contemporary. The main attraction in Old Naples is the famous "Millionaires Row", which is located next to Naples Pier. Others include the Naples Zoo and Delnor Wiggins Pass State Park. Favorite eating joints include Campiello, Truluck's Ocean's Finest Seafood & Crab, and Osteria Tilia.
2. Park Shore
Two words that describe Park Shore are luxurious and exclusive. This neighborhood of Naples features high-rise apartments, waterfront properties complete with boat access, and breath-taking stately mansions. Due to its location, the housing market in Park Shore is in high demand.
Local favorite attractions consist of Park Shore Beach Park and Naples Botanical Garden. The Village Shops along Venetian Bay offer an upscale waterfront shopping district with boutiques and restaurants such as Escargot 41 and Hogfish Harry's Restaurant & Bar.
3. Coquina Sands
Coquina Sands is a neighborhood of Naples with plenty of condominiums and single-family homes. It also features tree-lined winding streets, white sand beaches, and an award-winning golf course.
Families settling in this neighborhood can enroll their kids in Gulfview Middle School, Naples High School, or Lake Park Elementary School. Local favorites in Coquina Sands include Lowdermilk Park and The Naples Preserve while the eating joints consist of Caffe Dell'Amore, NectarLab Kava Bar, and Lake Park Diner.
4. Aqualane Shores
This neighborhood in Naples, Florida is a private waterfront community made up of around 350 spectacular homes. It sits on deepwater canals making it a perfect spot for docking sailboats and yachts.
Aqualane Shores is also located between Port Royal and Old Naples and provides a quiet, relaxing environment for its residents. Its centralized location to several attractions and the country's most sought-after real estate gives it a huge advantage. Local Favorites are Artis-Naples and Sun-N-Fun Lagoon. Eateries comprise Mediterrano, Bleu Province, and the Bevy.
5. Port Royal
Port Royal is located on the southern side of Naples, Florida. Named after pirates, Port Royal has a unique history and expensive homes in this part of Florida. This neighborhood features luxury waterfront living with custom-built homes.
As a culturally diverse neighborhood, Port Royal is full of friendly people. Amenities include top-of-the-line tennis courts, a heated pool, a pristine beach, a club restaurant for gourmet dining, and a new exercise facility. Local favorites consist of Port Royal Club, Bad Ass Coffee, Divine Naples Coffee &Wine, Sea Salt Naples, and Tommy Bahama Restaurant, Bar & Store.
6. Pelican Bay
Located in northern Naples, Florida, Pelican Bay is an exclusive high-end community. It is considered to be the most trendy neighborhood in Florida. Pelican Bay provides residents with luxurious waterfront living and direct access to the Gulf of Mexico.
Mangrove forests surround this neighborhood, making it an ideal place to see beautiful wildlife in Naples. Its classic amenities consist of tennis courts, Gulf-front restaurants, a private beach, and two boardwalks.
Local favorites include The Club Pelican Bay Golf Course, Cam Pass Beach Park, and Lover's Key State Park. The Catch of the Pelican, Angelo's Southern Grill, and Gumbo Limbo Naples are the most popular restaurants in Pelican Bay.
Final Thought on the Best Places to Live in Naples, Florida
If you are looking for the best places to live in Florida, Naples should be on your list. Naples is reputed for its outstanding scenery, beautiful sandy beaches, and many social amenities that can make your life more exciting than ever. The quality of life in this area is also great, not to mention the amazing warm weather conditions year-round.
Besides the spectacular ocean views and numerous golf courses, Naples has everything you need to make your life comfortable. This city in Florida has luxury homes, an excellent education system, and a booming job market. All these features make it a true gem and unique place in southwest Florida.
Interested in learning about becoming a resident in Florida or moving there? Read more.