The Most Popular Places to Live in the Florida Gulf Coast
Phil Ganz
/
10 Min Read
/
Jul 13, 2022
Besides, the stunning ocean views, beachfront properties, and warm weather moving to the sunshine state boast additional benefits – no income taxes. But not all regions on the Gulf Coast of Florida are created equally.
Dig in as we take a detailed look at four of the most popular places to live on the Florida Gulf Coast.
Fort Myers
Fort Myers, also known as the City of Palms, is ranked among the best emerging cities in Florida. This mid-sized urban community sits along the Caloosahatchee River. Fort Myers is a choice place to live because it blends affordability with the vibrancy of larger Florida cities such as Sarasota and Naples.
The recent revitalization efforts in downtown and other areas have only added to Fort Myers' allure. The city is increasingly becoming an attractive place for young professionals, families, and retirees. The cost of living in Fort Myers is 6% lower than the Florida state average.
Fort Myers' Job Market
Besides the lovely weather and lowered cost of living, Fort Myers offers plenty of job opportunities. The city is teeming with jobs in the retail, healthcare, tourism, and educations sector. Lee Health, Radiology Regional, and Hope Hospice are some of the largest healthcare employers in Fort Myers. Other leading employers include
Chico's FAS
Publix
Lee County School District
Gartner
Hertz Global Holdings
Florida Gulf Coast University
Education in Fort Myers
School-going children living in Fort Myers are guaranteed access to exceptional education programs. The Lee County School District operates multiple elementary, middle, and high schools, private schools, and special education centers. Villas, Treeline, and Tanglewood are notable elementary schools in Lee County. Notable high schools in Fort Myers include Cypress Lake, Fort Myers, Dunbar, and Coronado.
Building a successful career in Fort Myers is easy. The city offers plenty of opportunities to further your education, build skills, and further your career. Florida SouthWestern State College's Lee Campus offers two- or four-year undergraduate degrees in 45 academic programs. You can study pre-med, music, engineering, business, or entrepreneurship at Florida Gulf Coast University. Hodges University's online programs let you earn your degree or certificate from the comfort of your home.
Fort Myers Lifestyle
With its low crime rate, vibrant school district, and fun-filled activities, Fort Myers is one of the best places for young families. Raise your children in a warm, friendly, and enabling environment where people are super-friendly and caring. The metropolitan lets your children grow up in the best of both indoor and outdoor worlds. They can spend time exploring the outdoors, including beaches, nature parks, hiking trails, and more.
Things to Do in Fort Myers
The HeadPinz Entertainment Center provides plenty of indoor fun activities, including arcade games and high rope courses. The IMAG History & Science Center provides 3D movies and science exhibits. Castle Golf lets you tee offer in a medieval mini-golf course surrounded by a lagoon, knights, and dragons. Your little ones will never forget feeding the stingrays.
Fun festivals are a hallmark of the City of Palms. You're treated to several fun-filled festivals each year. The Lee County and Southwest Florida Fairs are marked by delicious food, carnival rides, livestock shows, etc. Other festivities in Fort Myers include the Edison Festival of light, Mutt Strut, Taste of Lee, STEMtastic Day of Discovery, and ArtFest Fort Myers.
The City of Palms is brimming with opportunities for the younger generation. Besides ready access to world-class beaches, the city is full of promise for singles. Affordable single housing, plenty of job and education opportunities, and outdoor activities give you a real shot at building a thriving social life.
You can build your network and social circle as you explore Fort Myers recreational spots. Take a paddleboat to explore the Lovers Key State Park, hike the trails on Black Island, go mountain biking, fishing, and more.
The recently revitalized downtown area is home to the city's thriving social scene. Fort Myers' historic downtown is home to restaurants, bars, shopping malls, exhibitions, etc. Enjoy sumptuous meals and explore the local cuisine in the cozy outdoor gardens and patios. Dance the night away at The Ranch, or enjoy an evening of laughter at the Laugh in Comedy Café. Sample Fort Myers Brewing Company's Chocolate Butter Porter or Seltzer on tap.
Sarasota City, Florida
Sitting along the Gulf of Mexico, the City of Sarasota is part of the larger Sarasota-Bradenton-North Port metropolitan areas. The city is an hour south of Tampa and covers 26 square miles. It's home to 54,000 residents drawn from all age brackets. White beaches, affordable housing, a lively art scene, and enviable recreational amenities make the city enticing to families, singles, professionals, and retirees.
Living in Sarasota City
Relocating to Sarasota lets you pick a neighborhood that matches your lifestyle to a tee. With its eccentric boutiques, stunning ocean views, and delicious eateries, Harbor Acres, is Sarasota's crown jewel and is popular with retirees. Singles and young professionals are right at Laurel Park due to its proximity to Sarasota's restaurants and nightlife scene.
Safe, affordable, and family-friendly, Alta Vista is a popular neighborhood for young families. The neighborhood is safer than 79% of the cities in Florida, making it the perfect place to raise a family.
Sarasota School District
With 86 public and private schools, the Sarasota County School District is home to outstanding schools. The city oversees 15 elementary, five middle, and six public high schools that provide quality but affordable education. The school district is consistently ranked high by the Florida Department of Education for exemplary school performance.
Sarasota residents have plenty of options when looking to pursue higher education. Enroll in any of the city's institutions of higher learning, including the Keiser University of Sarasota, New College of Florida, Florida State University, and Ringling College of Art and Design. The Florida State University of Medicine and Eckerd College has satellite campuses in the city.
Sarasota's Job Market
Sarasota City is an attractive destination for job seekers due to its strong job market. Sarasota's largest employers include:
School Education Board
Publix
Tropicana Products
PGT Industries
Walmart
Bon Secours
Winn Dixie
The salary scale in Sarasota ranges from $18,716 to $124,167, with most people earning an average of $45,193. The wide range suggests plenty of opportunities to advance your career and grow your income.
Sarasota's Lifestyle
In a poll with 150 metro areas, U.S. News ranks Sarasota 1st in best places to retire and 9th in best places to live. Besides the fine sandy beaches, Sarasota boasts a tranquil, laid-back feel that's rare in similarly-sized cities. The warm weather encourages people to embrace the outdoor lifestyle. It offers plenty of outdoor and indoor recreational opportunities and fun-filled festivals.
Sarasota boasts rich cultural offerings spread across art galleries, museums, historic sites, performing arts centers, and music venues. The city is home to many restaurants that let you sample the local cuisine, fresh seafood, cold beers, and live musical performance. Indigenous Restaurant, Tide Tables, Selva Grill, and Lila are some top eateries in Sarasota.
Things to Do in Sarasota
There's never a dull moment in Sarasota as the city has plenty of exciting things to offer. Take a walk on the beautiful white beaches, and visit the Big Cat Habitat & Gulf Coast Sanctuary to see some of nature's gorgeous creatures, including the majestic Liger.
Spend time fishing, kayaking, or boating at the Myakka River State Park. Other social and entertainment opportunities include the Sarasota County Fair, Taste of the Suncoast, Shark's Tooth Festival, Sarasota Jazz Festival, and the Sarasota Holiday Parade.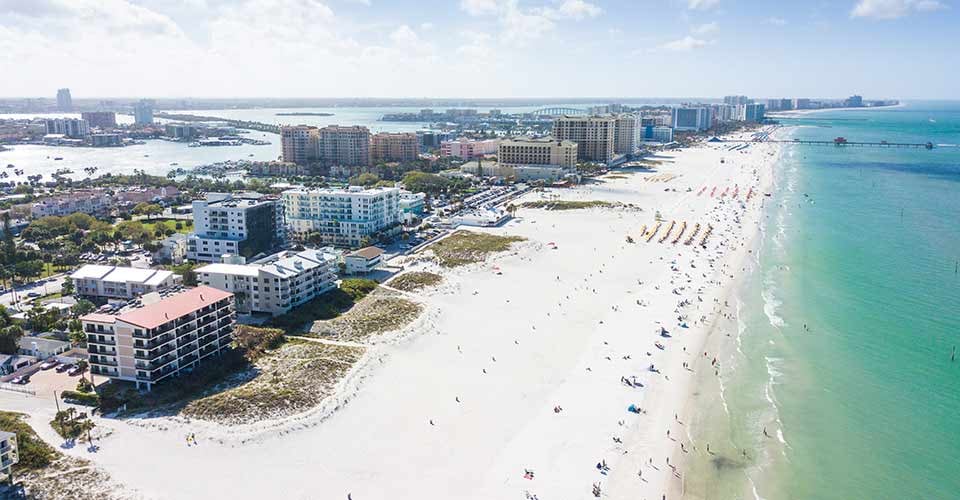 Cape Coral
Boasting more than 400 canals, Cape Coral is a friendly and vibrant community along the Gulf of Mexico. The city borders Fort Myers and offers all the beauty you've come to expect from Southwest Florida. From sunny, white beaches to tennis courts, golf courses, and nature preserves, Cape Coral is a great place to live.
Cape Coral City Community
Cape Coral is a residential community popular with singles, families, and retirees. The city is home to 200,000 residents, but the population swells drastically during the winter months. People keen to escape the winter flock to Cape Coral to sample its sunny offerings.
The locals divide the city into four significant areas – northeast, northwest, southeast, and southwest.
Southwest Cape Coral is an upscale, charming area with established and upcoming neighborhoods. Eight Lakes neighborhoods are popular with families and offer many home options. Southeast Cape coral has the oldest neighborhoods and the best boating access.
It is popular with families and retirees due to its waterfront neighborhood, including Beach Parkway and Cornwallis. Northwest Cape Coral is less densely populated with plenty of vacant lands. Northeast Cape Coral is popular with singles and small families. The area has ready freshwater access and plenty of new constructions.
Cape Coral's Job Market
The Cape Coral job market offers plenty of employment opportunities across various sectors. This job market doubled between 2009 and 2019 and is poised to grow by up to 40% over the next decade. Some of the largest employers in Cape Coral include:
Lee Memorial Health System
The School District
City of Cape Coral
Publix Supermarkets
Walmart
Most of the new job opportunities in Cape Coral are in the healthcare and construction industries. That's largely due to the influx of people moving to the Gulf of Mexico. Most people in Cape Coral work in the accommodations, retail, and foodservice sectors. Cape Coral Salaries range from $16,214 to $97,748, with most people earning $25,000 to $54,000 annually.
Cape Coral School District
Cape Coral residents enjoy access to various education options from children to adults. The city's rich educational offering ranges from elementary to virtual schools. The public schools fall under the School District of Lee County and operate close to 100 schools and education centers.
The city is home to about half a dozen charter schools catering to students of all ages. There are plenty of private schools in the area, most religiously affiliated. There are plenty of nonstandard options available.
Cape Coral residents have extensive higher education options. However, you'll need to cross the river into Fort Myers to get a degree as there are no universities in Cape Coral. Pursue a career in agriculture, health, business, and hospitality by enrolling in Cape Coral Technical College.
Cape Coral Lifestyle
Cape Coral is a big city that delivers a small-town feel. Enjoy the laidback feel as you revel in its great weather, sunny beaches, and healthy community. The population in Cape Coral is spread across families and retirees, creating a warm and inviting living atmosphere. The safe, small-town feeling makes this city a great place to raise a family.
The city allows you to have the best indoor and outdoor experiences. Spend your time outdoors exploring parks, aquatic attractions, or communing with nature. Enjoy the Cape Coral's natural life by visiting the Four Mile Cove Ecological Preserve, Tom Allen Memorial Butterfly House, or taking informative eco-tours.
You can visit museums, theatres, and libraries for indoor delights or visit shopping malls for some retail therapy.
Things to Do in Cape Coral
With more than 400 miles of canals, Cape Coral is the boating capital of Southwest Florida. These canals direct access to the Caloosahatchee River and the Gulf of Mexico to let people of all ages enjoy various marine activities.
Fish in the fertile freshwaters of Matlacha Pass, take out a sailboat or a pontoon or go kayaking. The town boasts many local attractions, including the Cape Coral History Museum and the Military Museum. Take refreshing walks in the scenic waterfront walking trails or visit the waterfront Jaycee or Veteran's Parks.
Cape Coral is a hidden for foodies and nighttime lovers. The city's cuisine experience spans local seafood to Indian, Italian, Japanese, Mexican, and more. Check out the Cork Soakers wine and Back Streets Sports bars for a dose of Florida's nightlife. Troop to Wicked Dolphin for locally brewed craft beer, rum, and specialty drinks.
Naples City, Florida
Nestled along the shores of the Gulf of Mexico and the edges of the Everglades in Collier County is Naples City, America's second-wealthiest city. Naples is the wealthy elite's tropical playground, most of whom are wealthy snowbirds and retirees. Despite having a population of about 20,000 residents, Naples has the 6th highest per capita income. The luxurious coastal town is a millionaire playground, having more millionaires than 98% of the country.
Naples Community
Naples is a town for all seasons, with more than 12 close-knit neighborhoods that accommodate people at all stages of life. With its deep canals and beautiful waterfront views, Aqualane Shores is one of the most sought-after neighborhoods in Naples. Bear's Paw is an exclusive gated community with 15-single family homes comprising condos and villas.
Characterized by tree-lined streets and verdant parks, Coquina Sands is the ideal neighborhood for young families. Eagle Oak Ridge is a dynamic neighborhood with diverse housing options ranging from single-family abodes to condos and apartments to trailers. Seagate is a quiet waterfront neighborhood with private beach access.
Naples Job Market
Naples has a booming job market that's expected to grow by almost 40% over the next decade. Most of the job opportunities in this metropolitan area are in the service, healthcare, and business sectors. Top-hiring companies in Naples include:
Collier Public Schools
Marriot International
NCH Healthcare System
ASG Technologies
Arthrex
The average income in Naples range from $16,801 to $101,287, with most people earning between $25,000 and $56,000 per annum. Tourism is the primary driver of Naples' economy, creating multiple jobs in the service and hospitality sectors.
The growing demand for housing also creates numerous employment opportunities in the construction sector. Major employers include healthcare, professional sectors, and business services. Retail trade, insurance, finance, recreation, entertainment, and transportation are notable employers in Naples.
Naples School System
The residents in Naples are well-educated, thanks to its exceptional school program. The Collier County School System manages the public schools, including 16 public elementary, middle school, high school, and 26 private schools.
Living in Naples lets your school-going children learn in one of the top-rated schools in the country. Sea Gate and Pelican March are some of the top-performing elementary schools. Pine Ridge and North Naples are top-performing middle schools, while Gulf Coast and Naples are among the best high schools.
Despite the absence of prominent colleges and universities within its city limits, Naples offers ready access to higher education. Further your career options by enrolling in Hodges University, a private university in Naples. Or pick from any of the 58-degree programs at Florida Gulf Coast University in Fort Myers. Florida Southwestern State College is only an hour away from Naples. Most of Florida's 171 universities offer an online program.
Naples Lifestyle
Naples is home to a diverse community that spans various age groups – from students to young families to professionals to retirees well over 65 years. The diversity makes it easy to find your tribe and create a rich social network. Besides the warm weather and beautiful sandy beaches, Naples is a gift that keeps on giving.
The city has a rich, vibrant culinary scene with more than 700 restaurants. Sample the local cuisine in outdoor restaurants and shop until you drop into the metro area's exclusive malls or boutique shops.
The lovely all-year weather lets you strike a balance between your indoor and outdoor activities. Naples has plenty to offer outdoor enthusiasts starting with beautiful nature parks, hiking trails, botanical gardens, swamps, and parks. The indoor activities include visiting museums, art galleries, sporting events, festivals, etc. The people are warm and friendly, making each day a worthwhile adventure.
Things to Do in Naples
You can never run out of things to do in Naples since each day is an adventure. Besides exploring the boundless outdoors, be sure to attend one of the city's festivals spread throughout the year. You're spoil for choice from art shows, nature festivals, winter wine festivals, and craft beer festivals. Head to Everglades National Park and hike in a World Heritage Site with diverse plants and wildlife.
Explore Naples' natural beauty by visiting the Corkscrew Swamp Sanctuary, Big Cypress National Preserve, and Picayune Strand State Forest. Visit the Arrowhead Golf Course or any of the 80 golf courses in Naples. Catch a live performance by Opera Naples or the Equity Theater company. Stop by the Caribbean Gardens and let your kids have a blast at the Naples Zoo.
Pick the Best Place to Live in the Florida Gulf Coast
Each city along the Florida Gulf Coast presents you with an opportunity to lead an idyllic coast life. Naples is the most developed and luxurious city on the Gulf Shore, followed by Fort Myers and Sarasota. Cape Coral is an upcoming neighborhood with lots of room for development. All the cities boast lower living costs than similar cities while delivering a big city experience with a big city feel.