Hometown Heroes Loan Program: Learn How to Get up to a $25,000 Grant in Flagler County, Florida
Phil Ganz
/
8 Min Read
/
Jun 07, 2022
First, Flagler has 19 miles of pristine, breathtaking beaches. Here, the shores are cinnamon-colored, tranquil, and a sight to behold in any season.
If you wish to own a home in this region and wonder if it's worthwhile, the answer is GO FOR IT! The place's affordability, low crime rates, and beautiful weather will make this life-changing decision a worthy investment.
And if your finances make buying property in Flagler County impossible, the Florida Hometown Loan Program can help you iron things out.
Sounds too good to be true, right? Before jumping to a conclusion, read all the sections below. They contain must-know facts about the FL Hometown Loan Program and buying property in Flagler County.
What is the Florida Hometown Heroes Loan Program?
Did you know that 21% of employed Floridians work in one of the six frontline industries in the state, including health and child care & social services? That's right. These are the everyday heroes who ensure you are well taken care of in these challenging times.
But, most of these heroes often don't get the recognition or appreciation they deserve, like nurses, who are underpaid and overworked. But, the state of Florida has decided to change that through the FL Hometown Heroes Loan Program.
This program is tailored for essential workers that need help affording a home. Therefore, if you belong in this category, say as a nurse, police officer, firefighter, childcare employee, or educator, you can use the FL Hometown Heroes Loan Program to make transitioning into homeownership more than a pipe dream.
So how exactly does the program help essential workers?
Essentially, it provides down payment assistance. That is arguably the most significant upfront payment you need to cover before owning a house. The Hometown Heroes Loan Program can also help you with closing costs- around 3-6% of the property's purchase price.
But there's a catch! You must be deemed eligible before enjoying what this loan program offers.
Florida Hometown Heroes Loan Program Eligibility Criteria in Flagler County
The FL Hometown Heroes Loan Program is for frontline workers that are full-time employees in any of the 50+ occupations specified by the platform. Professionals who qualify for assistance from this program include sworn law enforcement officers, certified paramedics, classroom teachers, physicians, veterans, and active military personnel.
But meeting the occupational requirements listed above isn't the alpha and omega. You should also be planning to purchase a home in a qualified Floridian state like Flagler County. Also, note that the program has income limit and maximum loan limit requirements.
The FL Hometown Heroes Loan Program limits differ from state to state. In Flagler County, the program offers assistance to critical workers with a 118,950 maximum income limit.
But, to get it, your plans must include buying a home with a contracted price that doesn't go beyond Flagler County's maximum loan limit: $420,680. That applies to FHA (Federal Housing Administration) & USDA-RD (US Department of Agriculture-Rural Development).
On the other hand, VA (Veterans Affairs), HFA (Housing Finance Agency) Preferred, and HFA Advantage loan limit for the county is $647,200.
The program also requires applicants to submit several documents, including a relevant, fully completed program attestation, a VOE (Verification of Employment) copy, and a copy of the Florida State license or certification.
If you meet all requirements, the FL Hometown Heroes Loan Program will offer you a grant that doesn't exceed 5% of the first mortgage loan amount (up to $25,000). You can use that to cover the down payment and closing costs.
The grant offered by the loan program comes as a 30-year deferred second mortgage. It's also a 0%, non-amortizing loan.
Buying a Home in Flagler County, Florida: Is it a Good Idea?
A home is an excellent but enormous investment. You will likely spend thousands of dollars paying for quality property anywhere in the United States. Therefore, carefully vetting any place you wish to buy and call home is necessary.
If you consider buying property in Flagler County, go through the points listed below before going through with it. They will help you decide if owning property in this county is a splendid idea.
Cost of living
One of the most significant reasons to live in Flagler County is the reasonable cost of living in this place.
If you find that statement hard to believe, consider this: the housing expenses in Flagler Beach alone are around 6% lower than the national average. Transportation, too, is approximately 7% below the national average?
What does this mean? Bluntly, lower expenses equal more money in your pocket. You can use the extra savings to cater to other key areas in your life, including grocery shopping, paying school fees, covering utility bills, and bolstering savings.
Plus, Flagler County's median home listing price is $399,900. That is considerably lower than FL Hometown Heroes Loan Program's loan limit for the county- $420,680.
Schools
Flagler County has many outstanding schools, private and public. These include the Belle Terre Elementary School, Indian Trails Middle School, and First Baptist Christian Academy.
Why are good schools important in any county? According to experts, educated people enjoy several unique benefits, including healthier lifestyles, better social networks, and access to more jobs. You want everyone in your household to relish said advantages, right?
Notable institutions of higher learning like Stetson University, Daytona State College, and St. Johns River Community college are also accessible to Flagler County residents. So, if you or a loved one plans to advance their education, doing it in this county won't be a problem.
Crime rates
CrimeGrade.org gives Flagler County an A+ overall crime grade. That means the crime rate in this county is incredibly lower than in most other places in the US.
Flagler County's rate of crime is currently around 18.49 per 1000 residents. That applies to any standard year. And according to residents, the safest places in the county are in the western neighborhoods.
We have more good news: crime rates in Flagler County have dropped steadily over the years. In fact, in 2020, the rates were so low that authorities gave the county the 4th-lowest rate in Florida, meaning Flagler is one of the safest regions in the Sunshine State.
If you want to buy a home in a place where your loved ones and belongings are safe and secure, this county should be top on your list.
Family-friendly amenities
Suppose you are raising a family. In that case, living in an area with family-friendly amenities should be a top priority. After all, there are some places you can't take the young ones because they are not kid-friendly, including nude beaches and nightclubs.
Fortunately, most facilities and businesses in Flagler County accommodate people of all ages and have their best interests at heart, including children. For instance, countless hotels in the region have family-friendly features like kids' clubs, kitchenettes, group bookings, and innovative children's activities.
Plus, most urban areas in this county have more than enough family-friendly coffee shops, restaurants, and recreational parks.
Weather
Do you like soaking in the sun or taking long strolls under clear skies? In that case, you are highly likely to find Flagler County a haven.
On average, residents in this county enjoy around 229 sunny days per year. So, if you love going for walks, gardening, watching sunsets/sunrises, or doing yoga outdoors on sunny days, Flagler County won't disappoint.
At this point, you may be wondering what winter is like in Flagler County. After all, it can't always be rainbows in kittens, right?
Surprisingly, winter in this county isn't harsh compared to other places in the United States. Flagler's cooler season lasts roughly three months, from December to March. During the coldest month -January- the average low is 50°F. That may be below room temperature, but it isn't inherently "freezing."
Beaches
What's not to like about beaches? It can't be the view because most people find clear waters and white sands incredibly beautiful. And these are standard features on most beaches.
Lacking anything to do on a beach is also nearly impossible. There are countless fun activities you can partake in on a beach. You can pick sea shells, play on boardwalks (if they are available), toss around a frisbee, go fishing, or have a picnic.
If living close to a sandy beach sounds like something your family needs, move to Flagler County. This place has several charming beach towns, including Beverly Beach, South Flagler Beach, The Hammock, Marineland, and North Flagler Beach. All these are places you can live in or visit and have immense fun!
Professional opportunities
If your household has young professionals, factoring in their interests is only fitting. And the best way to do that is to move to a place that lets them grow and explore their abilities and potential, like Flagler County.
If you conduct a quick search of "available jobs in Flagler County" on any search engine, you will be bombarded by countless adverts. Employers in this region regularly seek diverse workers, ranging from dispensary associates and cashiers to medical practitioners and customer service reps.
Some of the larger employers you or your loved ones may have the chance to work for while living in Flagler County include AdventHealth Palm Coast, which has 1000+ employees, and the Flagler County government.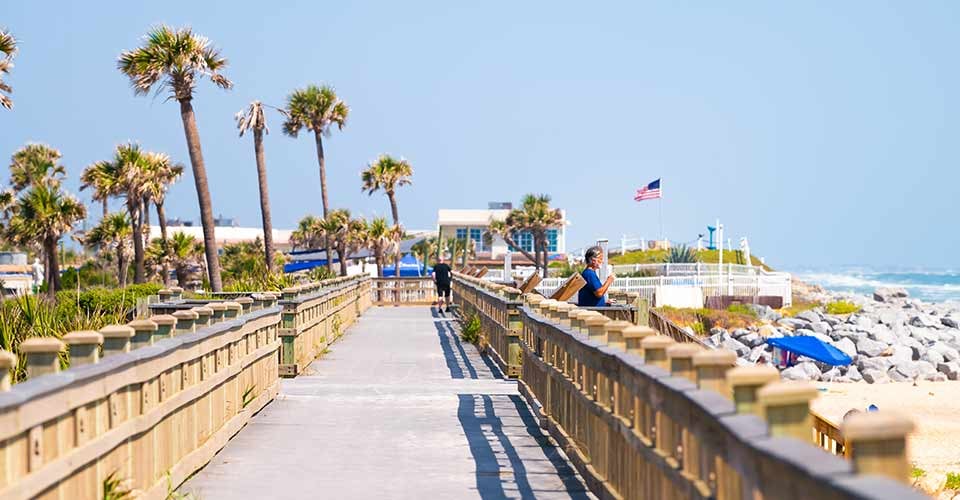 Where Can You Buy Property in Flagler County?
The best places to buy a home in Flagler County include:
Bunnell
Bunnell is Flagler County's county seat. Most people that have ever visited this area know it has a rich history and intrigue. As a Flagler County resident, you will have ample opportunity to explore historic landmarks like Bulow Plantation Ruins.
But this area isn't inherently old and antique. It has its fair share of suburban vibes since many residents are renters.
Most importantly, Bunnell, FL is chock-full of quaint parks, Joann B King Park, Edward Johnson Park, Municipal Park, and Commissioner Louis L. Jackson Park among the best.
What's more, Bunnell properties sell at reasonable prices, with the median listing home price being $165,000.
Dupont
Dupont is an unincorporated community, meaning it doesn't fall within any incorporated municipality's boundaries but is populated and located in Flagler County.
The Northeastern parts of Dupont have very affordable homes. So, if you plan on spending enough but not too much, this neighborhood will do. But, if you prefer living in desired areas, try the city's eastern regions.
Overall, the median home price in Dupont is $241,624, which is way below the US median.
Espanola
Bimini is a quaint small-sized town with a tight-knit community. Most residents love this area because it is relatively crime-free, especially in the southeast parts of the city. Crimes like vehicle theft, sexual assault, robbery, kidnapping, and animal cruelty are infrequent in Espanola.
What's more, houses in Espanola are pretty affordable. The median home price in this city is $84,596. Plus, this area boasts one of the most popular features in the region: the Espanola School. This last-standing schoolhouse was recently officially recognized as an important piece of black heritage.
Beverly Beach
Despite the suggestive name, properties in Beverly Beach are pretty affordable. The median house price in this region is $166,257. That means you can find prime property for much less in this area than most other places in Florida or the entire United States.
There's more: Beverly Beach has a small population. In 2019, this place had around 570 people. A less-populated area like this one is ideal because it allows residents to enjoy low crime percentages, spend more time with nature, relish more intimacy, and tackle fewer disputes.
Marineland
Marineland is a small town located along Route A1A, a few miles south of St. Augustine. The best thing about Marineland is it is close to the ocean, making it fitting for residents that love experiencing the wonders of marine life.
Not surprisingly, the median home prices in Marineland are higher than most other neighborhoods in Flagler County, at $401,922. But that is below Florida Hometown Heroes Loan Program's maximum loan limit, so affording property in this town is feasible.
National Gardens
National Gardens has many affordable properties in the southern regions. The other parts, especially the southeast areas, have higher price tags, but they offer coveted options. Overall, the median house prices in this neighborhood are $412,663, which is slightly higher than the national average.
If you want a safe neighborhood to raise your family in, try National Gardens, FL. The crime rates here are extremely low, with kidnappings, vehicle thefts, rape, and murder being virtually non-existent.
Palm Coast
Properties are reasonably priced in Palm Coast, with the median home price being $314,763. Most affordable houses in this area are in the southeast regions, and neighborhoods in the north are for people seeking desired environments.
Palm Coast is one of the most populated cities in Flagler County. By 2020, the area had 88,000+ residents. So, if you prefer living in a bustling community with many neighbors and thriving businesses, buying a home in this area may be an excellent idea.
Which Cities, Towns, and Villages Qualify for FL Hometown Heroes Loan Program in Flagler County?
Here is a list of all the municipalities that qualify for the Florida Hometown Heroes Loan Program in Flagler County:
Marineland
Bunnell
Flagler Beach
Palm Coast
Beverly Beach
You may also get assistance from the FL Hometown Heroes Loan Program if you plan to buy property in any of these other populated places:
Shell Bluff
Bull Creek MH Park
Andalusia
Favoretta
Bimini
Flagler Beach Trailer Park
Saint John's Park
Plantation Oaks MH Park
Codys Corner
Deanville
Beverly Beach Trailer Park
Painters Hill
Myrtle Island
Deanville
Bon Terra
Palm Terrace Mobile Manor
Espanola
Flagler by the Sea MH Park
Relay
Dupont
Surfside Estates MH Park
Black Point
Hanks Hideaway MH Park
Korona
Neoga
Roy
Key Takeaways
Buying a home comes with many pros, including potential property tax deductions, the pride of ownership, value appreciation, and the freedom to live as you wish.
But houses are expensive. Most people also don't make enough to buy them out of pocket. Plus, many US citizens are drowning in student debts, and lenders have tighter standards.
If you are a frontline worker facing similar challenges, the Florida Hometown Heroes Loan Program is here for you. You can use this platform to make buying property in Flagler County, Florida, a dream come true soon.
Choose Your City for More Hometown Heroes Information