First Time Home Buyer Process in Florida: Expert Guide
Phil Ganz
/
11 Min Read
/
Apr 04, 2023
What does "first-time homebuyer" mean?
A first-time homebuyer in Florida might refer to someone who's never bought a home before. But in some cases, the definition is broader.
Homebuyers who don't have a big down payment might qualify for assistance from first-time homebuyer grants and loan programs, even if they've purchased a home before.
To qualify for many of these programs, buyers just need to have not owned a home for at least the past three years.
Benefits of being a first-time homebuyer in Florida
There are many benefits to being a first-time homebuyer in Florida.
One of the biggest advantages is that there are programs designed specifically for first-time homebuyers that can make buying a home more affordable.
Many lenders offer slightly discounted mortgage rates, and numerous state and local governments have programs that provide down payment assistance or other types of aid to people who are looking to purchase their first home.
Keep in mind that some of these programs may have specific requirements, such as income limits, while others may not have any restrictions at all.
To find out about first-time homebuyer opportunities in your local area that you may be eligible for, it's worth doing some research and checking with your real estate agent or mortgage lender.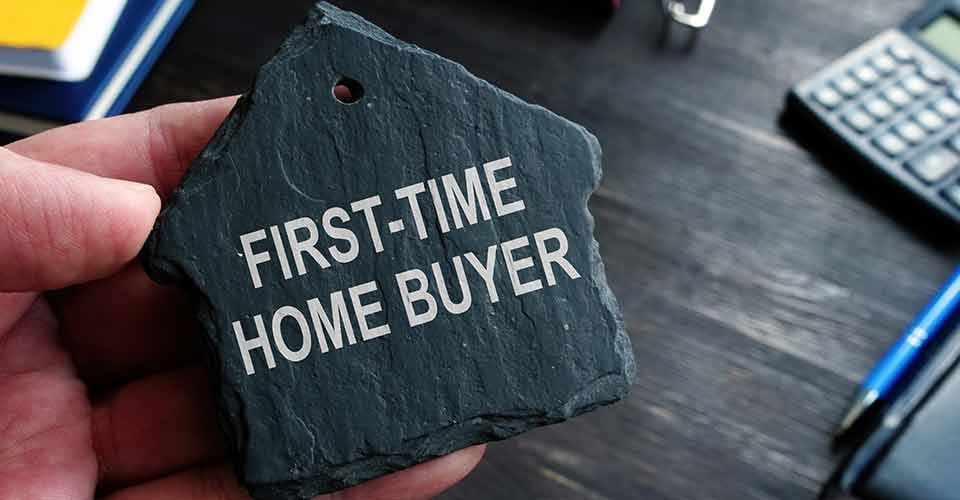 Step-by-step first-time homebuyer guide
Step 1 - Assess your finances
Before buying a home in Florida, it's important to review your finances to make sure you're prepared for the costs associated with homeownership. Here are some key things to consider:
Credit
Checking your credit reports and score is crucial. A higher credit score can lead to more favorable loan terms, saving you money over the life of your mortgage.
While you can still get a loan with a score as low as 500 (for an FHA loan) or 620 (for a conventional loan), a score of 760 or higher will generally qualify you for the lowest rates and most favorable terms.
Debt-to-Income Ratio
Your debt-to-income (DTI) ratio is another important factor to consider. This ratio compares your monthly debt payments to your gross monthly income.
For housing costs, including mortgage payment, property taxes, homeowners insurance, and homeowners association dues, the ideal spend is 28 percent of your gross monthly income.
For all monthly debt payments, including housing costs, the ideal spend is 36 percent. Many mortgage lenders prefer a DTI ratio of no more than 43 percent, but some may go higher, up to 50 percent.
Keep in mind that the higher your DTI ratio, the more likely you are to pay a higher interest rate on your mortgage because you're considered a riskier borrower. Additionally, a higher DTI ratio can put a strain on your finances.
Down Payment
The next important factor to consider is the down payment.
If you are interested in a conventional loan and can afford to put 20% down, you can avoid paying private mortgage insurance (PMI), which protects the lender if you default on the loan.
However, you can still get a conventional loan with as little as 3% or 5% down, depending on the loan type, with the added cost of PMI. VA and USDA loans do not require any down payment, while FHA loans require a minimum of 3.5% down.
Savings
After assessing the down payment, you should also evaluate your ability to pay for closing costs, which usually range from 2% to 5% of the home's purchase price.
Depending on the fees charged by your lender, you may need to set aside a significant amount of money for the closing day.
You also need to consider the earnest money deposit, which is a smaller deposit submitted with your initial offer to buy a home. The deposit required varies by state, with some states asking for 10% of the home's purchase price and others accepting a few hundred dollars.
In addition to all these costs, you should also have some cash set aside for moving expenses, furniture, and potential repairs or updates you may want to make before moving in. It is essential to have funds reserved for emergencies too.
Once you have evaluated these factors and determined what you can afford, gather your financial information, such as pay stubs, bank statements from the past two months, W-2 forms, and federal tax returns from the past two years, and any other information related to your assets and debt.
This information will help your lender determine your eligibility for a loan.
Step 2 - Decide which type of mortgage to get
When looking into mortgages, there are various types to consider. The first factor to contemplate is whether to choose a fixed-rate or adjustable-rate mortgage (ARM).
Fixed-rate loans have a slightly higher rate than ARMs, but the interest rate remains constant throughout the mortgage term, allowing you to know your monthly payments in advance.
On the other hand, ARMs start with a lower rate for a set period (e.g., five or seven years), and then the interest rate changes at a predetermined interval (e.g., once a year). If the rate increases, your monthly payment will increase as well.
Loan Term
Another critical factor to consider is the mortgage term, such as 15 or 30 years. Shorter-term loans typically have lower rates but higher monthly payments.
While less budget flexibility might be required each month, it translates to less interest paid over the mortgage life. Ultimately, you need to decide what is more important to you, lower monthly costs or long-term savings.
Most first-time homebuyers usually select a 30-year fixed-rate mortgage. However, for those who don't plan on residing in a property for an extended period, an ARM can help save money. Fixed-rate loans provide stability to those who intend to remain in one location.
Loan Programs
Several loan programs are available, including conventional and FHA loans. You might not be eligible for some programs unless specific criteria are met, so it's essential to review the exact terms to determine which one might be suitable for you.
Step 3 - Get quotes from at least three mortgage lenders
Obtaining rate quotes from several lenders is a helpful initial step in comparing loan offers. Mortgage rates change frequently and can vary significantly among lenders, so obtaining rate quotes from a minimum of three lenders is recommended.
Many lenders offer rate quotes at no cost through their websites if you supply some essential information, such as the loan amount, down payment, and credit score range.
In general, it is desirable to secure the lowest interest rate possible because this will result in lower monthly payments and less overall expenditure.
If this is your first time buying a house, you may want to learn more about how rates fluctuate and the current rate environment to know what to anticipate when requesting a quote. You can get an idea of the best time to secure a mortgage by subscribing to a daily rate trends service.
Additionally, working with a mortgage broker who can conduct the comparison-shopping for you may be a good option. Mortgage brokers usually do not charge borrowers a fee for their services.
Remember that while rate quotes are beneficial for comparison purposes, your rate will not be finalized until you secure it with the lender.
Step 4 - Get preapproved for a mortgage
Once you've received quotes from several lenders, it's time to apply for a mortgage preapproval. A preapproval is a preliminary commitment from a lender that states the amount of money they are willing to loan you, but it is not a final offer.
It's essential to get pre-approved before beginning your home search because sellers will not consider your offer unless they know you have financing lined up.
The preapproval letter typically specifies the loan program you're using, how much you're qualified to borrow, and the expected down payment.
When you apply for preapproval, your mortgage lender will scrutinize every aspect of your financial life, so having the necessary paperwork organized ahead of time is crucial.
Make sure you're obtaining a preapproval, not a prequalification. While a prequalification can provide an estimate of the mortgage amount you could be approved for, it is not a firm commitment from the lender and should not be used to make an offer on a home.
Step 5 - Find a real estate agent
An agent who specializes in the local housing market can be an invaluable resource when you're buying a home. They can provide insights into neighborhoods, school districts, and other factors that can influence your decision.
If you're not sure how to find an agent, start by asking friends or family for recommendations. Many agents work on referral, so this is a good way to find a reliable agent. You can also research agents online, looking for highly-rated agents with positive reviews from past clients.
When you're considering an agent, it's a good idea to interview at least three buyer's agents. Ask about their experience and track record, and whether they specialize in any particular areas. Ask for references to verify their experience with past clients.
In a competitive market, it's important to have an agent who can move quickly on a home you're interested in and help you navigate a bidding war, if necessary. Talk to your agent about their communication style and how they've helped other buyers in the current market.
When you're ready to look at homes, enlist your agent to help you find the right one and negotiate the best price.
You'll likely need to sign an agreement with the agent, but you won't have to pay the agent's commission — this is paid by the seller, who also pays the agent representing them in the transaction.
Step 6 - Shop for your home
Discussing your budget and priorities with your agent is an enjoyable aspect of the home-buying process.
It's crucial to communicate these details so that you don't waste time looking at unsuitable properties. It's best to visit the homes in person whenever possible, rather than relying solely on online descriptions and photographs.
During property showings, take the opportunity to tour the home and the surrounding neighborhood. Consider how you would feel if you discovered the area had a high volume of traffic or was located near an airport or underperforming schools.
Remember, the location of the property can be just as crucial as the home itself. If the home is part of a homeowner's association, ask for a copy of the HOA documents to review the rules and fees.
Step 7 - Be prepared to make an offer
If you're interested in a particular home and think it fits your budget and preferences, it's essential to act quickly and make an offer.
To determine a fair offer, your agent can analyze recent comparable home sales in the area ("comps") and assist you in making a competitive bid.
Your offer should include an offer price, a deadline for the seller to respond, and any contingencies you want to request.
At a minimum, appraisal and home inspection contingencies should be included, meaning that you can back out of the deal and keep your deposit if the home appraises for less than the offered price or if the inspection uncovers significant issues.
If there is a chance of a bidding war, you should also add an escalation clause that establishes a maximum offer limit.
While some buyers choose to waive contingencies to make their offers more appealing, this should be avoided if possible. Purchasing a home only to discover later that it has significant problems beyond your budget can be disastrous.
However, in highly competitive markets, it may be challenging to purchase a home with specific contingencies. Speak with your realtor to determine what is feasible.
When you submit a purchase agreement to the seller, they may accept, reject, or propose a different price. Utilize your agent's expertise to bargain with the seller for the most advantageous result.
If you find yourself competing with other offers in a bidding war, consider writing a letter to the seller conveying your admiration for the home.
However, don't be disheartened if you lose to another buyer. In today's market, where many homes sell promptly and above the listed price, it's entirely possible that you may not secure the first home you make an offer on.
Step 8 - Negotiate closing costs
After your offer has been accepted, the next step is to apply for a mortgage. Once you've applied, your lender will send you a loan estimate within three days that outlines the terms of the loan and the estimated closing costs.
Some closing costs can be negotiated, such as origination and underwriting fees that may be waived or discounted upon request.
Alternatively, you may opt for a no-closing-cost option that adds these fees to your loan but comes with a higher interest rate. Make sure to ask your lender about any fees that you don't understand.
If you need help covering closing costs, consider looking into down payment and closing cost assistance programs offered by your state's housing finance agency or local housing organizations. You may be eligible to receive several thousand dollars to help with expenses if you meet program requirements.
Paying mortgage points
Another factor to consider is whether you should pay for mortgage points to lower your mortgage rate. Essentially, paying points means you're prepaying some of the interest on your loan.
Typically, each point costs 1% of the total value of your loan. So, for a $250,000 mortgage, buying one point would cost $2,500, and each point you pay generally lowers the rate by 0.25%.
Generally, it's better to pay for points if you plan to stay in a home for a longer time, as you'll recover the cost of the points through a lower monthly payment on your loan.
To determine the breakeven point, divide the amount you pay for a point by the amount you'll reduce your mortgage payment each month.
For example, if you pay $2,500 for one point and that lowers your monthly payment by $30, you would need to live in the home for about 84 months (or approximately seven years) to break even ($2,500 divided by $30).
Step 9 - Hire a home inspector
Once your offer has been accepted, it's crucial to hire a home inspector to evaluate the property.
Your agent can recommend a reliable inspector, or you can search for one through reputable organizations like the American Society of Home Inspectors, International Association of Certified Home Inspectors, and the National Academy of Building Inspection Engineers.
As with researching agents, it's important to consult online resources such as the Better Business Bureau, HomeAdvisor, and Yelp to read testimonials and check for complaints.
During the inspection, the inspector will examine the home's structure, roof, heating, plumbing, and electrical systems, but it's important to note that they typically won't check for lead paint or mold.
The inspection can take two to three hours and may cost between $300 to $1,000, depending on the size of the home and the extent of the inspection.
It's recommended that you and your agent attend the inspection so that you can ask questions and seek clarification on any issues that arise. After you receive the inspection report, review it carefully with your agent and determine your next steps.
If the inspection reveals major problems, you could request that the seller fix them, but they may not be willing to do so if there are other offers on the table that don't require repairs.
If you have an inspection contingency in your purchase agreement and the seller is unwilling to address the issues, you may choose to walk away from the deal.
Step 10 - Get homeowners insurance, finalize your move and close
To safeguard their investment, mortgage lenders mandate that homeowners have insurance.
The premiums charged by insurance companies may differ, hence it is wise to obtain quotes from multiple firms or hire an insurance broker who can obtain rates on your behalf.
It is crucial to evaluate your requirements and ensure that you purchase sufficient coverage to fully reconstruct your home in the event of severe damage or destruction. If your property is in a federally-designated flood zone, you'll need to purchase flood insurance as well.
Organize your move
Depending on your desired moving timeline, it is wise to begin planning your move prior to the closing date.
Before you move in, reach out to your utility, cable, and internet providers to arrange new service for your move-in date. Then, hire a reputable moving company and begin packing your belongings.
Attend the closing
Finally, it is time to close the deal and finalize the purchase contract to officially become a homeowner. Prior to the closing, obtain updated pay stubs and other financial documentation to prove your employment status and ability to make mortgage payments.
If you are paying closing costs on the day of the closing, obtain a cashier's or certified check made out to the escrow company for the funds in advance. Don't forget to bring your identification as well.
Within 24 hours of the closing, conduct a final walkthrough of the property to ensure that any repairs have been made and that the home is vacant. At the closing table, you will sign a lot of paperwork to finalize the loan and transfer ownership of the home from the seller to you.
What lies ahead for those who have recently become homeowners?
Once you've bought your home, there are still important things to consider. First, take a good look at your property and decide what improvements or repairs you want to make, using the inspection report as a guide.
It's a good idea to start saving money in a home improvement fund for these projects, as well as for unexpected repairs.
Keep an eye on the housing market and mortgage rates as time goes on. If home values are increasing, you may consider tapping into your home's equity through a cash-out refinance, home equity line of credit (HELOC), or home equity loan.
If interest rates have fallen, refinancing to a lower rate may save you money, but make sure to weigh the pros and cons of each option.
If you choose to prepay your mortgage or make extra payments, be sure to speak to your lender first to ensure that the extra payments go towards the principal balance and not just the interest.
Consider your goals and other financial moves you could make before focusing on a payoff.