Homes for Sale in Coral Gables - Miami, Florida
Phil Ganz
/
8 Min Read
/
Feb 12, 2023
Gables Estate also offers you the convenience of dining, entertainment, and shopping options. Enjoy easy access to the Miami International Airport and Port of Miami. Besides, homes for sale in Gables Estates offer bay-front lots with unimpeded views over the open water.
Impressive waterways run throughout this community. The neighborhood's homes feature vibrant foliage, trees, and surrounding gardens. Renowned industrialist Arthur Vining Davis developed most of this community with the sea-walled waterways winding through the estates.
Besides, 24-hour security guards patrol Gables Estate to protect your privacy and security. This area always delivers if you need a neighborhood that provides gracious and quiet waterfront living. This neighborhood has a reputation for manifesting sub-tropical vibes in the palatial mansions - no wonder it is among the most desirable estates in the country.
Are you looking to settle in a secluded, gated community? Don't think twice about buying a home in Gables Estates to enjoy the finest luxury living in the upscale city of Coral Gables.
Living in Gables Estate
Developed during the early 1960s, Gables Estates cuts across over 200 acres of the Coral Gables' shoreline. Floral-scented gardens and lush foliage highlight most of this neighborhood's lots. The architectural designs combine the rich tradition of European living and modern floor plans.
Purchasing any of the homes for sale in Gables Estates gives you an elegant palette of warm ambiance and comfortable aesthetics. Most homes have spectacular outdoor rooms that add to the neighborhood's flavor. The area's family-oriented charm and 24-hour gated security remain its longstanding allure.
Residents also have diverse exclusive amenities and facilities to enjoy. However, you'll need to be a Gables Estates Club, Inc. member to settle in this neighborhood. Pick up applications at the Club Office.
Joining this club comes with specific requirements, including:
Your application should include two sponsors in good standing of the club.

Original letters of recommendation.

Two or three banking references.

Active social or business club memberships.
The area's expansive lots mean you can dock your sport boats or oversized mega yachts. Yachtsmen will love slipping into the azure waters whenever they please - you can never miss life on the water. Relish the quiet and serene surroundings once you settle in homes for sale in Gables Estates.
Homes for sale in Gables Estates let you enjoy unobstructed views of Key Biscayne and Stiltsville. Dock your yacht on the private and protected waterways located in most of the properties here.
Homes not on the open bay sit on the inlets or canals close to the open ocean. Grand Spanish Mediterranean homes have dominated the neighborhood for a long time. Most of these homes represent the work of renowned architect Ramon Pacheko.
Currently, transitional homes from architects like Cesar Molina are becoming more prominent in the area.
School Systems
Your kids will access the best private and public schools in Miami. Choose from the numerous nearby private schools, including Palmer Trinity, Ransom, St. Thomas Episcopal Parish School, Gulliver Prep Academy, and Riviera.
If you prefer public schools, then Sunset Elementary School, Ponce De Leon Middle School, and Coral Gables Senior High are ideal options for your children.
Fun Things to do in Gables Estate
Gables Estates is within a short distance of Coconut Grove and downtown Miami where you'll find endless fun activities. Are you looking for heightened culture and fun options? Homes for sale in Gables Estates are only minutes away from top highbrow and fashionable destinations.
Residents often explore the whimsical neighborhoods of South Miami, Coconut Grove, Pinecrest, Miami Design District, and Miami Beach. The Matheson Hammock Park and Fairchild Tropical Botanic Garden are only a brisk walk away.
Here are other top attraction sites near homes for sale in Gables Estates.
Matheson Hammock Park
Head to the nearby Matheson Hammock Park to delight in picturesque scenes. Families in Gables Estate come here to enjoy the beautiful views and warm and safe waters on the breeze-swept beach. This park is also ideal for kiteboarding, thanks to its active breezes.
You'll also find a full-service marina and snack bar adjacent to a restaurant built into a coral rock building. The nature trails and picnic pavilions guarantee endless fun during your tour here.
Fairchild Tropical Botanic Garden
Get closer to nature at the Fairchild Tropical Botanic Garden. This garden rocks more than 3,400 species, including orchids, butterflies, tropical fruits, and native and exotic plants, in diverse ecosystems and exhibits. A visit to this park delivers the perfect outdoor adventure for your family.
Fairchild offers a sublime oasis for anyone who loves the natural world's beauty. Use the visitor map to enjoy a self-guided tour that lets you meander through these gardens. The Overlook and Allee offer panoramic views of the garden's Lowlands and lakes.
Head to the Water Gardens and Aquatic Exhibits to discover other collections and exhibits in the garden. The Children's and Butterfly Gardens are also excellent spots to interact with nature. Ensure you enjoy a breezy lunch at the Glasshouse Cafe, with a lovely limestone cottage with outdoor dining options.
Dante Fascell Park
Enjoy endless fun adventures in this incredible family playground. Dante Fascell Park is jam-packed with a fantastic garden, pavilion, tennis court, and BBQ pits. The lovely shade and play areas ensure your kids have memorable, fun moments. Besides, you can also relax from the hot sun on the beautiful trees.
Many locals spend most of their time circling the park on the soft exercise trail. Enjoy a chill picnic with your family whenever you visit Dante Fascell Park.
Pinecrest Garden
Explore the great outdoors on the walking/bike paths available in the Pinecrest Garden. This garden has extensive lush botanical gardens that complement the numerous available family-friendly attractions. This attraction preserves the area's historical landscaping.
Visit this garden to explore a native cypress slough, specialty gardens, riverine landscapes, and a tropical hardwood hammock. You'll also explore other natural features like Snapper Creek streambed, and the 100-year-old Cocoplum.
Your kids can have fun at the petting zoo or the Splash N' Play water playground. The park's Sensory Garden delivers educational programs for children of all ages and abilities. Let your young ones explore the butterfly garden, raised herb garden, drop-in garden programs, or the Investigation Station.
Biltmore Hotel
Do you want to appreciate the area's majestic and palatial premier hotel? Make your way to Biltmore Hotel to catch glimpses of European grandeur. You'll also love the Mediterranean revival-style architecture evident in this hotel.
Spend the day appreciating hand-painted vaulted ceilings or French and Spanish antiquities. Alternatively, you can make your way to the world-class golf course for incredible golfing adventures. Bring your family to enjoy a sumptuous Sunday brunch or relax at the full-service spa.
Merrick House
Head to the Merrick House over the weekend to enjoy incredible guided tours. This old house offers charming glimpses into what Coral Gables looked like in the 1920s.
The Merrick family memorabilia, artwork, photographs, and furniture always provide a sight to behold. Appreciate the oolitic limestone highlights during the 45-minute tours.
GableStage
Do you love live-artistic performances? Homes for sale in Gables Estates offer quick access to the nearby Coral Gables theater. Book a show at this intimate venue to enjoy avant-garde city productions.
Excellent acting and solid production values highlight intelligent, provocative shows. Enjoy watching award-winning shows as you spend time with your family.
Coral Gables Museum
Catch glimpses of the city's history when you head to the Coral Gables Museum. You'll see early settlers and diverse cultures while appreciating European architecture here. Book a bike tour or museum-guided walk to enjoy the incredible history of this museum.
The Coral Gables Museum highlights the area's distinct culture and history with the blend of Mediterranean Revival influences and Depression-era architecture.
Miracle Mile
If you love shopping, spend your days at Miracle Mile and explore trendy boutiques, jewelry stores, and bridal shops.
This strip also features diverse outdoor dining options, wider sidewalks, and tree-lined areas ideal for strolls. The blocked-off Giralda Plaza offers a perfect spot for al fresco dining.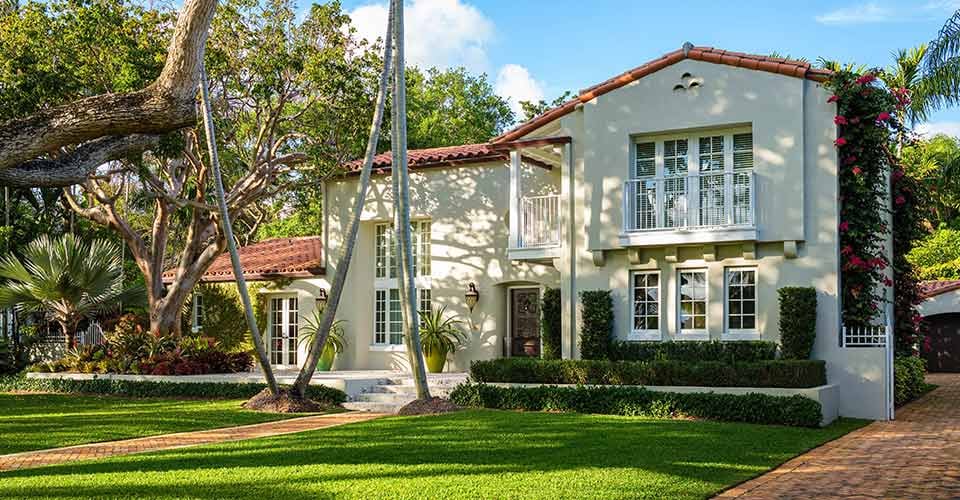 Why is Gables Estate a Good Place to Raise a Family?
Gables Estate is an impressive gated community that offers extensive privacy, ideal for raising a family. This neighborhood also has a reputation for guaranteeing security while providing quick access to top amenities in the area.
Here are more reasons you should consider raising your family in Gables Estate.
Safe Conditions
Safety is a top priority in this gated community. Gables Estate security program offers top-notch protection for people, watercraft, and properties. Enjoy various safety measures, including:
G4S armed guards secure the entrance and exit. 24-hour patrol cars surveil the streets, ensuring that your family remains safe.

Boat patrols guard your watercraft and yachts while watching over your backyard.

Most G4S officers are long serving, meaning they'll recognize your family members and ensure they remain safe.

Numerous cameras that the G4S officers monitor the entrances, streets, waterways, and exits. The FLIR night vision cameras and beam detectors ensure that no one sneaks into the neighborhood.
Excellent School Options
Gables Estate offers proximity to acclaimed public and private schools where you can send your children. Your children can also access several advanced institutions where they'll get adequate preparation for life ahead.
Incredible Amenities
A short drive to the nearby Coconut Grove, Brickell, Pinecrest, or South Miami, lets you access incredible shopping and dining spots. Kids will also have fun and make friends on the playground. Gables Estate also has a basketball and tennis court that you'll love.
Gables Estate offers convenience to numerous markets like Publix Whole Foods, Graziano's Market, and Mariner's Seafood. Source diverse Argentine cuts of cheeses, wines, and meat that your family will love.
Mortgage Options for HomeBuyers in Gables Estate
Once you settle in Gables Estate, you can leverage available mortgage options to purchase the home of your dreams. Different available loan options have specific qualifying requirements and eligibility criteria.
Active or retired military members can leverage VA loans to purchase homes for sale in Gables Estates without a deposit. On the other hand, FHA loans require a 3.5% downpayment and a significantly lower credit score requirement.
Here is more insight into the top mortgage options you could leverage while purchasing homes for sale in Gables Estates.
FHA Loans
FHA loans are government-backed mortgages that let you buy homes with looser financial requirements. You can qualify for this loan with a lower credit score, bankruptcy, or other financial issues. The Federal Housing Administration backs these loans, securing lenders from any loss if you default.
These loan options are available with low down payment requirements. However, you'll need to pay mortgage insurance. The lenient credit requirements make FHA loans attractive for most first-time home buyers. Besides, you could roll your closing costs into the loan, meaning you'll pay lower upfront costs.
Typically, lenders require you to pay a minimum down payment of 3.5% if your credit score is 580 or higher. If your down payment is between 500-579, you'll need to pay a 10% down payment. Expect interest rates that are competitive to those of conventional mortgages.
Remember that you must prove that you have a steady employment history to qualify for the loan. You can verify your income using the following:
Pay stubs
W-2s
Federal tax returns
Bank statements
VA Loans
VA loans are government-backed loans that serve as a benefit of military service. Service members, eligible veterans, and qualifying surviving spouses qualify for this low-cost mortgage option.
The department of Veteran Affairs backs this mortgage, absolving private lenders of any possible risk. This guarantee allows lenders to offer loans with no down payments and less stringent qualification requirements.
Remember that not everyone in the Armed Forces qualifies for the VA loan. It would help if you met any of these criteria to qualify:
Serve 181 days of active service during peacetime.

Serve at least 90 consecutive days of active service during wartime.

Be a spouse of a service member who lost their lives while on duty or due to a service-connected disability.

Serve in the National Guard or Reserves for more than six years.
Most VA loan lenders will ask for a certificate of eligibility before approving your loan. The credit score varies with the lender, although most lenders require a minimum credit score of 580. Lenders will also assess your debt-to-income ratio to determine if you can pay back your debt seamlessly.
VA loans come in different forms depending on how you intend to use the mortgage. You can choose from diverse loan options, including:
The home purchase loan
Rate/Term Refinance
VA Interest Rate Reduction Refinance Loan
Jumbo loan
Renovation loan
Conventional Loans
Typically, conventional loans have higher interest rates and stricter credit requirements than government-backed loans. First-time home buyers usually get this mortgage with a down payment as low as 3%. However, this amount might vary depending on your loan type and the property you acquire.
If your down payment is below 20%, prepare to pay private mortgage insurance. Mortgage investors will have a lower risk threshold if you default on the loan. You can pay the insurance as part of your closing costs or monthly mortgage payments.
Fortunately, you can ask your lender to remove the PMI from your payments once you attain 20% equity in the home.
Most lenders only approve conventional loans for clients whose credit score is at least 620. Your lender will assess your credit history before approving your loan. Your debt-to-income ratio also indicates whether you can take on more debt.
USDA Loans
Low-income individuals living in designated rural areas can leverage USDA loans to purchase a home. The Department of Agriculture backs these loans, meaning you can access lower interest rates. While you'll need to pay closing costs, you can purchase a home with no down payment.
Make your Home in Gables Estate's Waterfront Living
Homes for sale in Gables Estates offer direct access to Biscayne Bay and beyond. Besides, the private docks will entice you to this neighborhood.
Settling here means you'll enjoy the year-round sunshine and crystal blue waters. Settle in this perfectly landscaped tropical neighborhood to take in the best of South Florida.