Homes for Sale in Edgewater - Miami, Florida
Phil Ganz
/
8 Min Read
/
Feb 14, 2023
The homes for sale in Edgewater range in price, depending on the size and location. You can find everything from starter homes to luxury waterfront properties in Edgewater.
Overview and History of Edgewater Miami
Miami's Edgewater neighborhood has a long and storied history, shaped by the boom-and-bust cycles of the city's development.
One of Miami's oldest neighborhoods, Edgewater began as a mix of apartment buildings and single-family homes, bounded on one side by the Florida East Coast Railway and the other side by the Biscayne Bay. The neighborhood was developed in a series of small subdivisions in the early 20th century, resulting in an irregular street grid.
Two companies, Biscayne Boulevard Company and Shoreland Company, carved Biscayne Boulevard through Edgewater in the 1920s. This gave rise to the grand, four-lane boulevard, which later became the area's most distinctive feature.
Edgewater saw further development following World War II when several modernist office buildings were constructed along Biscayne Boulevard. The most famous of these office buildings is the Bacardi Building, which is widely considered to be one of Miami's most iconic structures. The Bacardi Building is known for its stained glass and brightly colored tilework.
After the war, the rich residents began moving to the nearby suburban areas. Developers began building waterfront residential towers with luxurious amenities to entice them back. Two of the most notable towers are the Bay Park Towers and the Charter Club, patterned after the successful postwar luxury residential towers constructed in other parts of the city.
Today, Edgewater is a thriving community of high-rise condos, eclectic shops, and lively restaurants. Edgewater has recently undergone a transformation with new construction and upscale amenities all over the neighborhood. Edgewater still offers a range of residential options, from affordable to high-end homes.
Real Estate Market in Edgewater Miami
The real estate market in Edgewater, Miami, has seen incredible growth in the past year. The median home value is now $705,000, an increase of 36.1% from last year. The average sale price per square foot has also risen significantly, by 45.7%, to $693,000.
Homes in Edgewater are selling relatively quickly, with an average of just 92 days on the market. There is currently a wide range of prices for the available homes for sale in Edgewater, from $280,000 to $21.9 million.
With such strong growth in the real estate market, Edgewater is an excellent place to live, and that's why people are coming into the area. The area is already a popular destination for vacationers and retirees, and as the city continues to grow, the demand for housing is likely to increase as well.
Top Things To Do in Edgewater Miami
If you're planning to live in Edgewater, you won't be short of lovely things to do. To help you make the most of your time in Edgewater, here is a list of the top things to do in the neighborhood:
Relax
When you want to stay active or just soak up the scenery, Margaret Pace Park is the perfect spot for a nature-themed day out in Edgewater. The park boasts winding pathways, mangrove forests, and plenty of waterfront access for water sports. In addition, there are two dog parks where your four-legged friend can run and play.
The park also has basketball, volleyball, and tennis courts if you're feeling competitive. When you need a break from the sun, there are plenty of shady areas to relax in. With its beautiful bayfront setting and condo towers framing the view, Margaret Pace Park is one of the most scenic spots in Miami.
Discover
If you're looking for a place to get away from the hustle and bustle of the city, Edgewater is the place to be. This neighborhood has plenty of activities to keep you busy, from soaking up some sun or exploring the great outdoors.
You can tour the Pace Picnic Island, a leafy triangular islet located a mile offshore from Edgewater. The island is surrounded by sandy beaches and clear blue waters, making it the perfect spot to relax and enjoy the natural beauty of Miami. Residents and visitors also enjoy a charter boat to the island for an up-close look at the wildlife, including manatees and stingrays.
Also, come to the island's north end for the best city views at sunset. You'll see Miami's skyline as the sun sets over the horizon. It's a perfect spot for a romantic evening or to enjoy the area's beauty.
Lastly, the neighborhood is a popular spot for locals and tourists during holidays like Memorial Day and the Fourth of July. To truly experience the true Miami lifestyle, check out these festivals in Edgewater.
Explore
When it comes to Edgewater, one of the best things you can do as a resident is to explore. This pedestrian-friendly Miami neighborhood is perfect for strolls and CitiBike rentals, allowing you to take in all the fantastic sights and sounds at your own pace.
One of the best places to explore is Margaret Pace Park. This waterfront park is perfect for a leisurely stroll or a picnic lunch and offers stunning views of the city and the bay. If you prefer something more active, the park also has a volleyball, a basketball, and a playground.
After working up an appetite, head to the Arts & Entertainment District for some of the best dining in the city. This trendy neighborhood is home to dozens of excellent restaurants, cafes, and bars, so you're sure to find something to your taste.
For something low-key, check out Taperia Raca, a Spanish-style tapas restaurant perfect for a casual night out with friends. Start with the gambas al ajillo (garlic shrimp) or pulpo a la gallega (octopus with potatoes), then move on to one of the delicious entrees. The huevos estrellados, or crispy eggs with potatoes, are particular favorites.
For something a bit more upscale, Azabu is the perfect spot. This Michelin-starred restaurant offers a modern take on Japanese cuisine. Start with the Wagyu carpaccio or the house-made tofu before trying one of the delicious entrees. The sushi is some of the best in the city, and the tempura is light and crispy.
If you're in the mood for something unique, head to Keg South. This modern fusion restaurant offers a unique dining experience. The menu features dishes from around the world, including Korean-style fried chicken and Peruvian ceviche. The restaurant also has an extensive craft beer list to pair your meal with the perfect pint.
Shop
Edgewater is home to various retail options, from high-street brands to quirky local boutiques. One of the best places to start your shopping spree is Midtown. This vibrant neighborhood is home to various high-end retailers, great restaurants, and cafes.
After exploring Midtown, be sure to cross I-195 and check out the Design District. This trendy neighborhood is known for its eclectic mix of shops, galleries, and businesses.
On a Saturday, be sure to visit the Edgewater outdoor markets. You'll find organic produce, locally-grown goods, and various handmade items here. This is the perfect place to pick up unique souvenirs for your friends and family back home.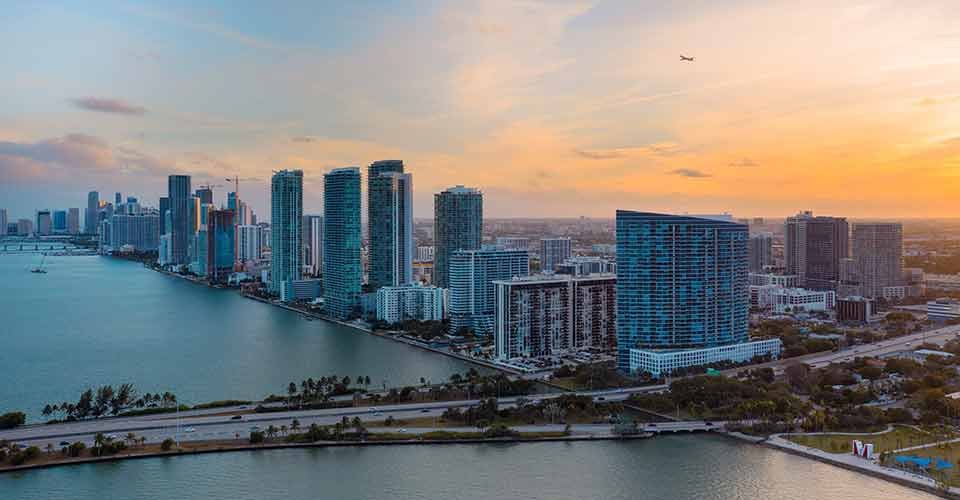 School Systems in Edgewater, Miami
The school system in Edgewater is one of the most important factors in attracting families to the area. Edgewater is home to several high-performing schools, including some of the top-rated schools in the state of Florida.
The school system in Edgewater is highly regarded for its commitment to academic excellence. The district has a long history of academic achievement, and it continues to provide students with a high-quality education. The New Jersey Department of Education considers it to be in District Factor Group "GH," the third-highest group.
The school system in Edgewater is also known for its focus on the arts. Edgewater is home to some arts schools, including the New World School of the Arts. The school system in Edgewater is also home to performing arts centers.
Crime Rates/Safety
Making Edgewater your home means finding a place where you can feel safe and secure. The Edgewater community takes pride in its safety and works hard to maintain a secure and welcoming environment.
Edgewater ranks as one of the best areas when finding a safe place to raise a family. The crime rate is lower than in most other parts of Miami.
According to crime statistics from The NeighborhoodScout, the crime rate (per 1,000 residents) in Edgewater is 16.91. This is significantly lower than the average crime rate for the city of Miami.
Also, the crime index of Edgewater is 28%, which means that it is safer than 28% of U.S. Cities. This makes Edgewater a great place to raise a family.
In addition, the residents are friendly and welcoming. Therefore, when checking the homes for sale in Edgewater, you can be confident that you and your family will be safe and sound.
Why Is Edgewater Miami a Good Place To Raise a Family
Edgewater is a beautiful Miami neighborhood with a lot to offer families. It is a perfect place to raise a family for several reasons.
The following are the best reasons to raise a family in Edgewater, Miami:
A Beautiful Community - Edgewater is a beautiful community with plenty of green space. Families can enjoy the outdoors in parks and playgrounds. Also, the bayfront views make this area a top consideration.

Family-friendly Activities - There are many family-friendly activities and events in Edgewater. Families can enjoy the many festivals, concerts, and performances. There are also plenty of museums and galleries to explore, such as the Pérez Art Museum.

Convenient Location - Edgewater is a quick drive from South Beach, the high-end Design district shopping center and Wynwood's eclectic art scape. Moreover, Edgewater is serviced by the free Miami Trolley and is home to one of the main Metrorail stations, boasting an above-average walk score of 80.

Sense of Community - The Edgewater community is tight-knit and family-oriented, with plenty of events and activities for residents of all ages. There is a strong sense of pride in the neighborhood, and residents are quick to help out their neighbors.
Best Areas To Live in Edgewater Miami
When looking for a place to live in this area, you want to choose an area that will be convenient for you. For instance, if you have a family, you may want to choose an area that is close to good schools. Luckily, whatever your reasons for looking to live in Edgewater, you can find a place that meets your needs.
Here are some of the best areas to live in this lively and vibrant neighborhood:
Biscayne Bay
One of Edgewater's best-known landmarks is Biscayne Park. This park is a popular spot for residents to enjoy the outdoors, with amenities like a playground, basketball courts, and picnic areas. The neighborhood is quiet, with a lot of green space.
The Ed Burke Recreation Center is also nearby, making it a great place to stay fit and active. The Miami City Cemetery is also nearby, which is perfect for a leisurely stroll.
Design District
The Miami Design District is a shopping destination and creative neighborhood devoted to art, fashion, design, and architecture. The neighborhood is home to several art galleries, showrooms, antique dealers, architects, and more.
As a result, the area has been experiencing a major renaissance in recent years. Once an industrial area filled with warehouses and factories, it has been transformed into a chic neighborhood.
Roberto Clemente Park
As one of Miami's most vibrant and popular areas, Roberto Clemente Park is a great place to call home. It was named after the legendary Puerto Rican right fielder, and the park features a community center, basketball courts, and ball fields.
It contains colorful murals, making it a perfect spot for joggers, picnicking, or reading a storybook while relaxing.
Types of Home Loans in Edgewater Miami
Aside from choosing the right home, you'll also need to choose the right type of loan to finance your home purchase. While many different types of loans are available, the main choices usually fall into one of these five categories.
Bottom Line
Edgewater Miami is a great place to call home. The neighborhood has a lot to offer residents. It is close-knit and has plenty of activities and events to get involved in. The location is also convenient, with easy access to public transportation and major highways.
Additionally, Edgewater is a growing community with new construction and development happening all the time. Therefore, if you're looking for a place to put down roots, Edgewater Miami should be at the top of your list. Check out the available homes for sale in Edgewater and consider making Edgewater Miami home.