Homes for Sale in Nautilus - Miami, Florida
Phil Ganz
/
8 Min Read
/
Feb 15, 2023
Whether you're a first-time homebuyer or a seasoned real estate investor, this guide will provide an overview of homes for sale in Nautilus and the area's real estate market.
We'll also explore the best neighborhoods, the school system, local attractions, the crime rates, and the types of home loans available in Nautilus Miami. Read on to learn more!
A Rundown of Nautilus Miami and the Area's Real Estate
Nautilus, Miami, Florida, is an incredibly desirable area for those seeking a luxurious and exclusive lifestyle. It's home to some of the most exquisite homes in the region and offers breathtaking views of Biscayne Bay. Nautilus is an affluent, vibrant neighborhood with something to offer everyone, from young professionals to retirees.
The town is renowned for its unique combination of modern luxury and old-world charm. The community offers stunning Mediterranean-style villas, grand estate homes, and stunning waterfront condos. Many of these properties are surrounded by lush tropical landscaping and boast magnificent outdoor spaces perfect for relaxing or entertaining.
This affluent neighborhood boasts world-class amenities, including five-star restaurants, boutique shopping, and private marinas. Residents enjoy easy access to the beach, top-notch schools, and plenty of recreational activities such as golfing, boating, fishing, and more.
Nautilus real estate prices vary depending on location, size, and amenities. Homes range from modestly priced single-family homes to luxurious waterfront estates. The median home value in Nautilus is estimated to be $1.8 million, making it one of the most expensive areas in Miami.
Despite its high cost of living, Nautilus offers an array of housing options for every budget. This vibrant neighborhood will appeal to many potential buyers with its premium real estate options.
Family-friendly Neighborhoods in Nautilus Miami
Nautilus Miami is one of the most beautiful and vibrant towns in Miami, offering plenty of amazing opportunities for families of all sizes.
These communities are designed with families in mind, from sprawling parks and recreational activities to quality schools and safe streets. But with so many communities, it can take time to choose the best.
To help narrow your search, here's a look at the top four family-friendly communities in Nautilus Miami.
Post Avenue
Post Avenue is an excellent choice for families looking for a safe, family-friendly neighborhood in Nautilus Miami. With various homes and amenities to choose from, this community provides a comfortable, convenient living experience for all its residents.
The neighborhood features spacious, tree-lined streets, lush green spaces, restaurants, and shops. Residents can also enjoy easy access to I-95 and all the attractions and activities that come with living in Nautilus Miami.
The homes at Post Avenue range from quaint single-family dwellings to modern condos, making it easy for families to find the perfect home for their needs. There are plenty of amenities to choose from, including pools, playgrounds, tennis courts, and walking trails.
You can also find several schools within walking distance, including highly-rated elementary schools. In addition, residents can take advantage of nearby shopping centers and grocery stores, making it easy to stock up on supplies or pick up groceries.
North Bay Road
North Bay Road is one of the most sought-after family-friendly communities in Nautilus Miami. Located within walking distance of downtown, North Bay Road offers a variety of amenities for families and those looking for a convenient and luxurious lifestyle.
This desirable community is situated along the edge of Biscayne Bay and boasts some of the most beautiful views of Miami's skyline. With a vibrant restaurant and shopping scene nearby, North Bay Road offers endless entertainment options.
Families will also appreciate the excellent public school system in the area, with several highly-rated schools located within the community.
The area has a variety of homes available at various price points, ranging from low-cost condos to multi-million-dollar waterfront estates. No matter your budget or style, you'll be able to find the perfect home in this beautiful community.
Alton Road
Alton Road is a vibrant and lively community in the Nautilus Miami area. With its beautiful beaches, lush parks, and plenty of amenities, it's easy to see why Alton Road is one of the most popular family-friendly communities in Nautilus. The community offers many family activities, including nearby boardwalks, beach access, and water sports.
Several playgrounds and green spaces provide opportunities for kids to explore and stay active. Shopping, restaurants, and other entertainment options are within walking distance, so there's always something to do.
Alton Road also offers a variety of housing options to fit any budget. Whether you're looking for a single-family home, a townhouse, or an apartment, the area has something to suit your needs. The neighborhood is safe and well-maintained, so you can rest assured that your family will be safe in this welcoming community.
Sheridan Ave
Sheridan Ave is a lovely area that offers families a range of amenities, including parks, recreation centers, and top-rated schools. Homes here range from single-family homes to luxury townhouses and condos.
The streets are well-maintained, making them easy to navigate. Additionally, Sheridan Ave is only a few blocks from the ocean, offering plenty of recreational opportunities for its residents.
The homes on Sheridan Ave are mostly single-family homes, with some townhouses and apartments mixed in. The homes range from spacious 3-bedroom homes to large 5-bedroom homes. Most homes feature an attached garage, providing extra storage space and convenience.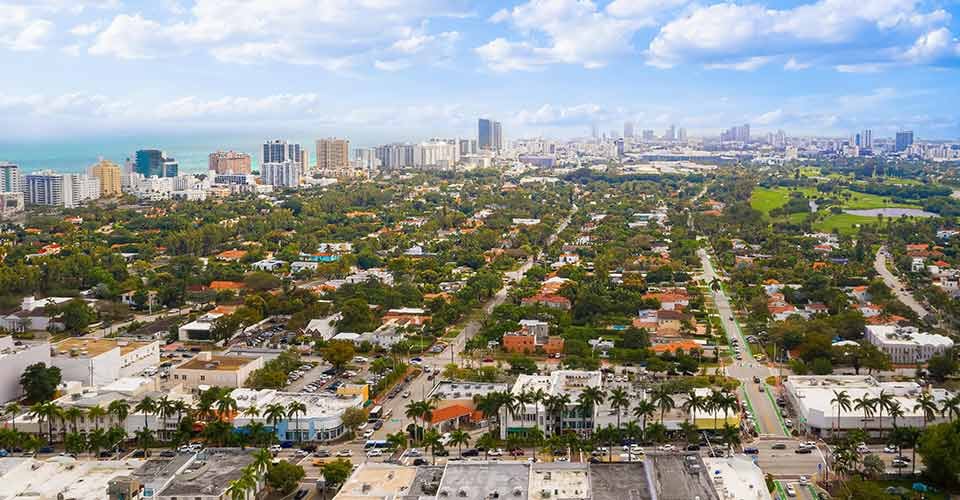 The School System in Nautilus Miami
Nautilus is home to several public schools, including charter schools, an elementary school, a high school, and a middle school. The Miami-Dade County Public Schools system serves the area with some of the best schools in the state. These schools are just a short drive away from Nautilus neighborhoods and provide a great education for all ages.
For those interested in elementary school education, the area is served by Nautilus Elementary, North Beach Elementary School, and South Pointe Elementary School. Students and parents alike have highly rated all three schools.
Middle school students can attend Miami Beach Nautilus Middle School, which offers an excellent education to prepare students for their future. The area also boasts the famous Miami Beach Senior High School.
The area also has many private schools, offering families various educational options. From Montessori to traditional education, there's something for everyone in the Nautilus area. Several of these schools offer bilingual education, making it easy for students to transition into the diverse Miami culture.
In addition to the local schools, Nautilus is home to many educational institutions that provide higher-level education to students seeking advanced degrees or specialized certifications.
Local Attractions
Nautilus is a great place to live for those who love the outdoors and appreciate the beauty of Miami. The area offers a plethora of attractions for both locals and tourists alike. From boat rides to world-class shopping, there's something for everyone to enjoy. You'll find it all here whether you're looking for culture, relaxation, adventure, or nightlife.
For those who love the beach, Nautilus is close to some of the best beaches in Miami. South Beach is just a few miles away and offers amazing white sand beaches, nightlife, and vibrant culture. Meanwhile, Bal Harbour Shops is also nearby, with over 100 high-end shops, cafes, and luxury boutiques.
Another popular attraction is the South Beach Boardwalk, which offers spectacular ocean views and stunning architecture. Here you can find dozens of unique art galleries and restaurants. The North Beach neighborhood is home to many bars and clubs if you're looking for a more casual atmosphere.
The Nautilus area also offers plenty if you're looking for outdoor recreation. The nearby Greynolds Park features several trails, lakes, and picnic areas. The Haulover Marina offers boaters and fishermen access to Biscayne Bay and the Atlantic Ocean.
Those looking for more culture can take advantage of the area's many art galleries and museums. The Perez Art Museum Miami (PAMM) is one of the most renowned institutions in Miami, with a selection of international contemporary art. Additionally, you can find several local independent galleries like Wynwood Walls and Guccivuitton Gallery.
The Area's Crime Rates/Safety
Nautilus, Miami, is one of the safest areas in South Florida. Regarding the safety and crime rate of Nautilus, Miami, residents can rest assured that their home is in safe neighborhood.
Nautilus is in a low-crime area of Miami-Dade County, making it a great choice for those looking for an area with minimal crime risk. It boasts a low violent and property crime rate, providing residents with a sense of security and peace of mind.
The Miami-Dade police department also offers a community-based policing program designed to promote safety and prevent crime. This program includes the installation of additional security cameras, increased patrol of the area, and coordination of events with local businesses and civic organizations. The department responds to calls quickly and is available 24 hours daily.
The streets are kept well-lit at night, and many homes have security systems. Additionally, the area has security services and an active Neighborhood Watch program, ensuring the community is safe. The police presence, combined with the vigilant residents of Nautilus, makes it one of the safest neighborhoods in Miami.
Types of Home Loans Available in Nautilus Miami
Whether you're a first-time homebuyer or an experienced investor, understanding the different types of home loans available in Nautilus is essential to making the right financial decision.
Below we'll discuss each home loan type available in Nautilus so that you can decide the suitable option for your situation.
FHA Loans
FHA loans are insured by the Federal Housing Administration and offer various benefits to borrowers. These home loans are especially popular among first-time homebuyers due to the low down payment requirements and flexible credit score qualifications.
FHA loans also have lower closing costs than other loan types, allowing borrowers to get into their new homes with minimal upfront costs.
In Nautilus Miami, FHA loans are available to qualified borrowers who can put down at least 3.5% of the purchase price and have a credit score of 580 or higher.
In addition, borrowers must also be able to prove that they can afford their monthly payments by providing documentation such as W-2 forms, pay stubs, and bank statements.
VA Loans
VA Home Loans are provided by the Department of Veterans Affairs and are only available to eligible veterans, active duty military members, and surviving spouses. The federal government guarantees this type of loan, allowing veterans to secure a mortgage without providing a down payment or private mortgage insurance.
VA Loans have competitive interest rates, no prepayment penalties, and a cap on the amount lenders can charge for closing costs.
VA Loans also have more lenient qualifying requirements than other loan types and are often more affordable than conventional loans. For example, debt-to-income ratio requirements are often lower, credit score requirements are typically more flexible, and an appraisal or verification of income or assets isn't required.
Eligible applicants must apply with a VA-approved lender to take advantage of this loan option. Borrowers will need to provide their Certificate of Eligibility (COE) which verifies that they meet the minimum service requirements established by the VA to be considered for a VA Loan.
Jumbo Loans
A Jumbo Loan is a mortgage that exceeds the conforming loan limits set by the Federal Housing Finance Agency (FHFA). Jumbo loans are available for primary and second residences and can be used to purchase or refinance a home.
One of the biggest benefits of a jumbo loan is that you can buy a more expensive home without making a large upfront payment.
However, this type of loan comes with higher interest rates and often requires a larger down payment than a standard conforming loan.
Additionally, you may need a higher credit score, more equity in your home, or more cash reserves to qualify. You should discuss your options with a mortgage lender and decide if a Jumbo Loan is right for your situation.
USDA Loan
USDA Loan is available to people buying a home in an eligible rural area designated by the U.S. Department of Agriculture (USDA). This loan has some of the lowest interest rates and closing costs among home loans and requires no down payment.
It also offers very attractive repayment terms and relaxed credit score requirements, which makes it more accessible than other loan types.
With a USDA loan, you can expect low closing costs, interest rates, and lenient repayment terms. If you qualify for a USDA loan, you can purchase a single-family home, a multi-family dwelling, or a manufactured home in an approved rural area.
It's important to note that these loans cannot be used for investment purposes or vacation homes. In addition, the property must be your primary residence.
Conventional Loans
Conventional home loans are the most common type of home loan available, and they offer a variety of features and benefits. Private financial institutions like banks, credit unions, and mortgage companies back these loans.
You can get better terms with a conventional loan than an FHA or VA loan. The amount you can borrow with a conventional loan will depend on your credit score, property value, and debt-to-income ratio.
Typically, conventional loans require a down payment of at least 20%, but some lenders may be able to work with you if you have less than 20%.
Private mortgage insurance (PMI) may also be required if you don't have at least 20% for a down payment. With PMI, you'll pay an additional monthly fee, but it can be removed once you've built enough equity in the home.
Conventional loans can be either fixed-rate or adjustable-rate mortgages (ARMs). Fixed-rate mortgages typically have higher interest rates, but they offer stability since your monthly payment won't change. ARMs may offer lower interest rates, but the rate can increase over time.
Bottom Line
Nautilus is a trendy neighborhood in Miami, Florida, and is quickly becoming one of the city's most desirable areas to live in.
This exclusive and luxurious area offers a variety of amenities and activities to suit any lifestyle. Whether looking for beachfront condos, luxury homes, or an urban oasis, Nautilus has something for everyone.
With its easy access to downtown Miami, the world-famous South Beach, and an array of shops and restaurants, Nautilus is the perfect place to call home.
If you want to own your dream home in this town, invest a little time and effort to explore the home for sale in Nautilus, the best neighborhoods, the schools, the safety, and available mortgages, and work with a knowledgeable realtor.