Homes for Sale in Upper East Side - Miami, Florida
Phil Ganz
/
8 Min Read
/
Feb 11, 2023
The Upper East Side of Miami is also home to some of Miami's most exclusive restaurants, schools, shops, and nightlife, so you'll never be bored. If you're looking for a more relaxed pace, you can enjoy the area's beautiful parks and beaches.
Ready to start your search for the perfect home in the Upper East Side? Here is an in-depth look at the neighborhood and all it offers.
Overview and History of Upper East Side Miami
Miami's Upper East Side has come a long way since the 1980s. Biscayne Boulevard was once a thriving area of Miami, home to the Cushman School and popular hotels. However, by the 1980s, it had fallen into decay, becoming a magnet for prostitution.
Today, Miami's Upper East side has undergone a revival in recent years. Businesses, developers, and upwardly mobile South Floridians have recently been drawn to its central location, mid-century modern architecture, and tranquility.
As the area undergoes such a resurgence, a debate is brewing over what the future of the Upper East Side should look like. Outsiders are looking to cash in on the area's charms, and longtime residents want to protect it from the drastic changes that have happened in other places like Miami Beach.
Amid the contention, the area has spruced up and boasts "Miami mid-century modern" architecture, which gives the MiMo District its name. The area is now a major draw for developers like Avra Jain. However, the majority of commercial and residential structures exist under historic designation.
Real Estate Market in Upper East Side Miami
The Upper East Side, a famous neighborhood in Miami, is known for its luxury real estate market. If you're looking for a high-end home in the city, this is one of the best places to start your search.
The Upper East Side neighborhood is home to some of the city's most expensive real estate, with median home prices well over $920,000.
Despite the high prices, properties in the Upper East Side tend to move quickly, with an average of just 60 days on the market. There are around 200 active homes for sale in the Upper East Side, so you can quickly get a home of your choice anytime.
A variety of homes for sale in Upper East Side are available, from high-rise condos to sprawling estates. For those looking to live in a luxurious home in a prime location, the Upper East Side is sure to have something that meets your needs.
Things To Do in Upper East Side Miami
When you're in Miami's east upper side, you want to make the most of your time. From exploring the outdoors to dining to entertainment, there's something for every resident. Here are a few things that residents of Upper East Side Miami can enjoy:
Eat
The Upper East Side of Miami is home to various cuisine choices. You can find Italian, Indian, French, Japanese, and Mexican restaurants, plus many more.
There's something for everyone here. Plenty of diners like Blue Collar also serve classic American staples like grilled cheese sandwiches, hamburgers, and chicken strips.
In other words, the Upper East Side's culinary scene is just as diverse and well-rounded as Miami's as a whole.
Explore
The Upper East Side is the perfect place for you if you're looking for a family-friendly community with plenty of recreational opportunities. With four public parks and numerous other green spaces, there's always something to do. The parks you can explore include:
Legion Park
Manatee Bend Park
Baywood Park
Morningside Park
You'll always be energized because many parks here offer land and water activities. Furthermore, the neighborhood is close to South Beach, and you can enjoy the beach while living here.
You can also take a cultural trip to Miami Ironside. It is a state-of-the-art outdoor mall that offers everyone dining, entertainment, and shopping options. With gourmet pizza, nitrogen-frozen ice cream, fitness centers, and over 20 art studios and galleries, Ironside have something for everyone.
Learn to Paint
Painting With a Twist offers an opportunity for residents looking to try something new. This unique painting class is a great way to spend an evening while getting to know your fellow painters.
Painting with a Twist offers free bottle openers, buckets, cups, canvas, and all the items you require to create your masterpiece. The class is led by an experienced artist who will help you get started and provide guidance along the way. You'll have the opportunity to try different techniques and paints, and the result will be a beautiful painting you can take home with you.
Painting with a Twist is also a great activity for a date night, a girls' night out, or even a family night. In addition, you can book a special session to celebrate your event with friends or family members. It's a fun and unique way to spend time together, and you'll end up with a beautiful piece of art to hang on your wall.
Visit the Weekly Farmers' Market
If you're a fan of fresh, local produce, there's no better place to be on a Saturday morning than at the Upper East Side Farmers' Market. Located in Upper East Side's Legion Park, the market is a haven for foodies, featuring abundant fresh fruits, vegetables, and artisanal goods.
In addition, the market also features a variety of prepared food vendors, offering everything from breakfast tacos to empanadas. There's also plenty of coffee and pastries to fuel your shopping adventure. Visitors to the market enjoy an incentive program called Veggie Bucks.
Load off at a Spa
This area is also home to several top-rated spas, making it the perfect place to relax and rejuvenate after a long day of sightseeing.
Clean Start Total Body Cleansing is one of the most popular spas on the Upper East Side, offering various services designed to help you look and feel your best.
The spa provides a variety of body wraps, colon hydrotherapy, vibrational therapy, massages, lifestyle coaching, acupuncture, facials, and more, all of which can help you relax and feel refreshed.
The knowledgeable and friendly staff will help you choose the right treatments for your needs, and you're sure to leave refreshed and rejuvenated.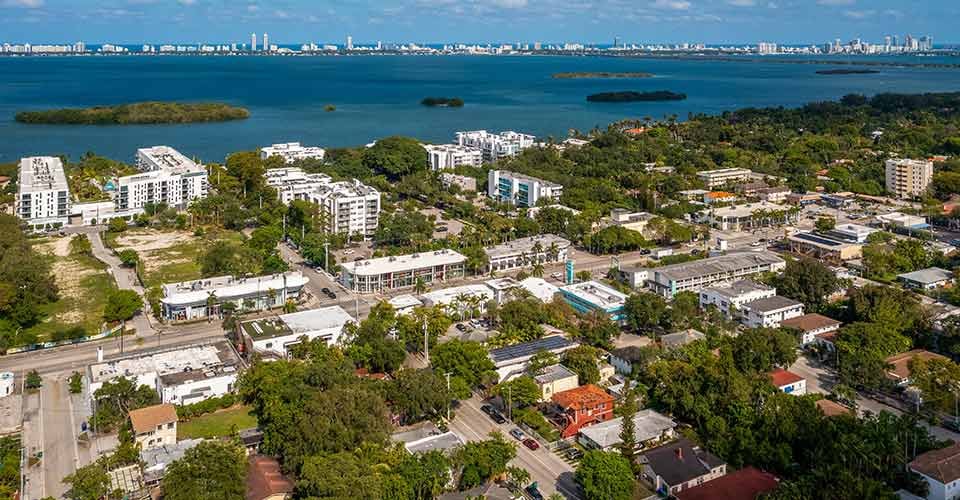 School Systems in Upper East Side Miami
The Upper East Side is part of the Miami-Dade County Schools district, which is the fourth largest in the United States, with a student enrollment of over 331,500. It is also one of the largest diversity of racial backgrounds, with over 160 countries represented in languages spoken by students. There are over 392 schools in the district.
The district offers a wide variety of programs and services to its students. Some available programs include alternative schools, adult educational centers, magnet programs, and Virtual Instruction. The Miami-Dade County school board also partners with 155 charter schools across the district to provide free tuition education to over 22% of the district's total student enrollment.
Many schools in this area have been rated "A" or "B" by the Florida Department of Education. This has led to the district rating A for three consecutive years. In addition, the schools offer a variety of academic and extracurricular programs and a variety of resources, such as libraries, computer labs, and sports facilities.
Elementary Schools
Air Base Elementary School
Phyllis R. Miller Elementary School
North Beach Elementary School
The Cushman School
North Beach Elementary School
Treasure Island Elementary School
Jesse J. Mccrary, Jr. Elementary School
Morningside K-8 Academy
Middle Schools
Nautilus Middle School
Horace Mann Middle School
Jose De Diego Middle School
Miami Arts Charter School
High Schools
Booker T. Washington Senior High School
Miami Edison Senior High School
Miami Beach Senior High School
Crime Rates/Safety in Upper East Side Miami
When it comes to urban areas, finding one that is both beautiful and safe can be quite a challenge. Living in fear of becoming a victim of crime is not something that anybody wants to experience. This is especially true for those who live in large cities where crime rates are believed to be higher. Miami is one such city, and its Upper East Side is no exception.
Despite this, Miami's Upper East Side has seen a drop in crime rates over the past few years. This is likely due to the increased police presence in the area and the improved security measures in place. Consequently, there has been a decrease in cash mugging and pickpocketing as well.
As a result of these improvements, the Upper East Side is now a lot safer than it used to be. In fact, it is now safer than 30% of the cities in Florida, according to area vibes.
Compared to the rest of Miami, the Upper East Side has a 1 in 17 chance of becoming a victim of crime, which is significantly lower than the city's average. Therefore, this neighborhood is worth considering for those looking for a place to call home.
Why It's a Good Place To Raise a Family
One of the reasons for recommending this area for families is that there is something to do for every family member. Some of the fun spots in the area include:
Urban Break Room is a nice spot for parents and kids to have fun together. Kids can enjoy the playground as mom gets her nails/hair done at one of the salons.

Mady's Dance Factory offers dance classes for kids to enjoy together. This is a great way to bond over a shared interest while learning new skills.

Pelican Harbor Seabird Station is an excellent place for parents and kids to learn about nature and the sufferings of the local wildlife.

Painting With a Twist is a great place for parents and kids to bond while doing art. This is a great way to relax and enjoy wine while learning painting skills.
Proximity to Schools
One of the most important factors to consider when looking for a home is its proximity to schools. Families with young children can take advantage of the many excellent public and private schools in Miami's Upper East Side. The nearby universities offer a wealth of educational opportunities for parents with older children.
Culture & Diversity
The Upper East Side is also a great place to live for families who value diversity and cultural enrichment. The area is home to many immigrant families from all over the world, which gives the neighborhood a unique and vibrant flavor.
Therefore, the Upper East Side of Miami is an excellent choice if you're looking for a great place to raise a family. It has everything you need to provide your children with a happy, healthy, and enriching childhood.
Sense of Community
What really sets Upper East Side Miami apart from other neighborhoods is its sense of community. Residents have a real sense of pride and a genuine desire to make the neighborhood a great place for everyone.
This is evident in the launch of many neighborhood initiatives in recent years. From community gardens to public art projects, residents are coming together to make Upper East Side Miami a better place to live.
Types of Home Loans to Apply in Upper East Side Miami, Florida
When you are ready to purchase a home in Upper East Side Miami, you may need to choose a mortgage that fits your needs.
Several loan types are available for home buyers in this part of Florida. Each type of loan has its own set of benefits and guidelines you will need to meet to qualify.
Areas To Live in Upper East Side Miami, Florida
It can be challenging to find a community that perfectly fits your interests. However, the Upper East Side is home to several great neighborhoods.
Here are a few of the best areas to live in the Upper East Side:
Belle Meade
Belle Meade is a serene gated community with tree-lined streets, large lots, and impressive architecture. The gorgeous cottages in Belle Meade were built in the early days, but many single-family homes have come up, becoming a charming community.
Residents of Belle Meade enjoy the peace of this tight-knit community and the proximity to the MiMo District, a famous shopping and dining destination.
Morningside
This is one of the Upper East Side's most affluent and desirable neighborhoods. The area is home to some high-end shops and restaurants, as well as several parks and green spaces. Morningside is also home to a wealth of Mediterranean, Art Deco-style homes.
One of the greatest highlights of this neighborhood is its ability to retain historical and architectural integrity in setback, materials, scale, and workmanship.
Bay Point
Bay Point is a beautiful waterfront neighborhood in the Upper East Side. The area features many luxury condos and apartments and several high-end shops and restaurants fronting the Sabal Lake or Sabal waterway. Bay Point is also home to some celebrities, including Anna Kournikova.
Bottom Line
If you're looking for an elegant home in one of Miami's most stylish neighborhoods, you need to check out the Upper East Side. This neighborhood has everything you want, from chic shopping and dining to beautiful homes and parks.
For beach lovers, it's just a short drive from the beach. There are also plenty of homes for sale in Upper East Side Miami, so you can make a purchase when you're ready.
Since you know the best areas to live here, making this place home has never been easier. Take advantage of the mortgage loans available and find your dream home in the Upper East Side.