Hometown Heroes Loan Program: Learn How to Get up to a $25,000 Grant in Hernando County, Florida
Phil Ganz
/
9 Min Read
/
Jun 12, 2022
Hernando County has a moderate cost of living that puts it in the middle of the pack for Florida counties. It is one of the most affordable places in the Sunshine State. If you are looking to hanker down in Hernando County, the Hometown Heroes Program can grant you up to $25,000—money that you don't have to pay back.
(Jun 7, 2023)
Hometown Heroes Loan Program Hernando County, Florida
Suppose you are a first-time homebuyer in Florida and meet the income requirements. In that case, you may be eligible for the Hometown Heroes Loan Program – an initiative designed to help heroes that including teachers, doctors, veterans, and active military members, buy their first homes.
The Hometown Heroes loan program operates through the Florida Housing Finance Corporation (FHFC)
The FHFC has partnered with local lenders in all 67 counties across the state to provide this grant program. You can apply for it by contacting your local lender directly.
Hernando County, Florida, is one of the counties in Florida where the Hometown Heroes program is available. The Hernando County, Florida, Housing Finance Authority administers the grant program for Veterans and First Responders.
The grant amount depends on your income, borrowed amount, and credit score. You can qualify for up to a $25,000 grant from this program.
Professions that Qualify Include
Active-duty service people:
Veterans
Educators
Health practitioners
The Maximum Income Limit for Eligibility
The maximum income limit for eligibility is $123,150.00 per year. This means that your family's annual income must be less than $123,150 to qualify for this program.
If you qualify, you can receive funds to purchase or refinance a home in Hernando County Private lenders provide grant funds and not from any federal or state agency.
Loan Limits for FHA & USDA-RD
The Hometown Heroes Loan Program is a great way to get assistance with your mortgage payments. This program is offered by the U.S. Department of Veterans Affairs (VA) and the U.S. Department of Agriculture (USDA), Rural Development (RD). The loan limits for FHA & USDA-RD are $420,680.
Loan Limits for HFA Preferred, HFA Advantage, and VA
The HFA Preferred, HFA Advantage, and VA loans are available with zero down payment option and no mortgage insurance required. Under Hometown Heroes, the maximum loan amount is $647,200.00.
Qualifying for the Program is Easy
To apply, you must:
Be a veteran of the U.S. Military or a member of the National Guard or Reserves.

Be an educator or health professional working in a school or community.

Be employed full-time by a non-profit organization that serves veterans, educators, and low-income households.

Have not owned your own home within the last three years before applying for this program.
To apply for the Hometown Heroes program, fill out the application form provided by your lender. You will need to provide:
Your contact details (name and email address)

A copy of your DD214 (if you are a veteran) or a copy of your employment paperwork (if you are an educator or health professional)

A letter of recommendation from your employer stating that you meet the criteria for the program (if you are an educator or health professional)

A current property tax bill showing your address
About Hernando County, Florida
Hernando County is a county located in the U.S. state of Florida. As of the 2020 census, the population was 190 700. Its county seat is Brooksville. Hernando County is part of the Tampa-St. Petersburg-Clearwater, FL Metropolitan Statistical Area. It is located in Central Florida and contains many lakes, including Lake Tsala Apopka and Lake Lindsey, both connected to the Hillsborough River by natural canals.
In July 2016, Hernando County adopted a formal plan for future land use and development called the Hernando County Comprehensive Plan 2020 (HCP 2020). The plan guides growth and development for the next 25 years through zoning regulations, environmental policy, and infrastructure planning guidelines that balance economic development with environmental protection and social equity goals.
Unemployment Rate
The unemployment rate in Hernando County, FL, is 4.5%. The number of people employed in Hernando County, FL, is around 58,150 people.
The job growth rate for Hernando County, FL, was -0.3% over the past year. Compared to other states, Florida has one of the lowest unemployment rates among states with similar population density and median age levels.
Income Per Cap.
The median individual income for Hernando County, FL, residents is $45,380. The average household income for Hernando County residents is USD 71,450 per year compared to USD 57,420 nationally.
The average household income for families in Hernando County was USD 85,930 per year compared to USD 68,540 nationally.
Tax Rate
In addition to state sales tax, you'll also pay county sales tax in Hernando County, FL, when making a purchase there. The current combined state and county sales tax rate for Hernando County is 6.5%. The income tax rate in the county, as everywhere else in the state, is 0.00%.
Median Home Price
The median home price in Hernando County is $ 379,000. The home price in 2022 is expected to be 18.7% higher than the 2021 home price.
Hernando County has long been a popular destination for retirees and snowbirds looking for warm weather. While many of these retirees are from the Midwest or Northeast, many others come from other parts of Florida. Some have returned to their roots as Hernando County has become home to many families born and raised here but left for other places such as Tampa or Orlando before deciding to return home.
Home prices in Hernando County have increased significantly over the past few years due to a variety of factors, including:
A limited supply of homes available for purchase compared to demand;

An influx of new residents moving here from other areas like Tampa or Orlando; and

An increase in people retiring here from colder climates like Michigan and Minnesota, where they used to live
Cost of Living in Hernando County, Florida
The cost of living in Hernando County, Florida, is 6 percent lower than the national average, according to bestplaces.net. The cost of living in Hernando County is 8 percent lower than the state average.
Utilities
Hernando County residents pay an average of $1,164 per year for electricity and natural gas combined.
This is less than the rest of the country. Annual utility bills are lower because of milder temperatures and less severe weather conditions in this area.
Healthcare Costs
The average healthcare cost per month for people covered by health insurance is $316 in Hernando County. Healthcare costs can vary significantly depending on your plan type and whether or not your employer offers coverage as part of a group health insurance policy or if you're paying for it out-of-pocket as an individual policyholder through government exchanges like HealthCare.gov or directly through private insurers like Blue Cross Blue Shield or Aetna.
Food Costs
Food costs in Hernando County are 2.4% lower than the national average.
Most families spend between $250 and $300 per month for groceries and prepared foods such as fast-food restaurants or takeout meals.
The cost of food depends on where you buy it, how much you buy it, and what kind of food it is. The cost of dining out is cheaper in Hernando County than nationwide.
Childcare Costs
Childcare costs are lower than the national average in Hernando County and other parts of Florida. The average price for childcare centers is $946 per month, while nannies cost between $400 and $600 per week.
This estimate is based on information gathered from local daycares and early childhood education centers and includes tuition fees only. It doesn't include costs such as books, diapers, food, or transportation.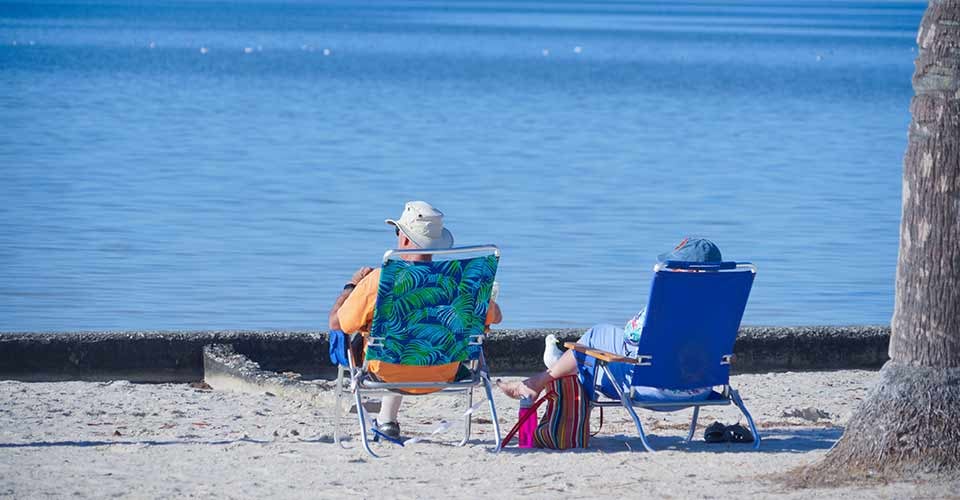 Why Hernando County, FL is A Good Place to Live for Families and Young Professionals
The climate
Hernando County, FL, is not just beautiful and lush, but it has a beautiful climate. The weather is warm and sunny year-round, with an average of 300 days of sunshine per year. Winter temperatures rarely drop below 40 degrees Fahrenheit, and summer temperatures rarely rise above 100 degrees Fahrenheit. It is an ideal place to live for people who enjoy outdoor activities like golfing, boating or fishing.
The right location
Hernando County, FL is located in Central Florida, just north of Tampa and south of Orlando. This makes it easy to reach major cities like Orlando and Tampa while still close to smaller towns like Brooksville and Spring Hill. Many residents commute to Tampa or Orlando for work each day because they want access to big cities but prefer the slower pace of life in Hernando County, FL. This combination makes Hernando County, FL, a perfect place to raise a family or start a new business venture.
Low cost of living
Housing costs are relatively low compared to other parts of Florida. If you look hard enough, you can find great deals on homes for sale in Hernando County, FL! Housing prices have risen slightly but not enough to make this place expensive compared to other cities in Florida that offer similar services and amenities at a higher price point.
A growing food scene
Hernando County, FL, has a lot of great restaurants and a vibrant food scene. There are several high-end restaurants and delicious places to eat at all price points.
Some of the best restaurants in the area include The Old Store Restaurant and Cafe, which serves Southern-style comfort food; The Back Porch Restaurant, which serves breakfast all day; and Big Daddy's Chicken & Waffles, which serves Southern-style soul food.
Growing economy/job opportunities
Publix Super Markets Inc. is one of the largest employers in the area, with over 2,700 employees working at its three locations in Hernando County, FL. Other large employers include CSX Transportation Inc., which employs more than 900 people at its headquarters in Hernando County, FL; Citrus County Bank & Trust Co., which employs more than 600 people at its headquarters in Hernando County, FL; and Walmart Inc., which employs more than 1,000 people at its local store locations
According to ZipRecruiter.com, the county's job market is expected to grow by 7% over the next four years. This means plenty of opportunities for people looking to start their careers in Hernando County, FL, or those who want to move up in their current career field.
Family-friendly activities/cultural attractions
The area surrounding Hernando County, FL, has plenty of great things to do for families and young professionals alike! There are several parks like Historic Downtown Brooksville Park where you can take your family for picnics and stroll through beautiful gardens or visit the nearby Old Jail Museum
Families can enjoy outdoor recreation at parks and beaches, while young professionals have many significant cultural events to attend, including festivals, concerts, art fairs, and more! If you're looking for something fun to do with your kids or friends on a weekend night, there are always events around town!
Healthcare is good in Hernando County FL
Hernando County, FL, has an extensive hospital system that serves all of the county's residents. Hernando County Hospital is a full-service, non-profit hospital that offers excellent healthcare options to everyone, regardless of income level or ability to pay. Other hospitals are Regional Medical Center Bayonet Point (Bayonet Point), Florida Hospital Spring Hill (Spring Hill), and Sun Coast Hospital (Brooksville). Other smaller hospitals serve specific populations such as veterans or seniors.
Excellent schools
Many excellent schools in Hernando County, FL, include Spring Hill Elementary School, Spring Hill Middle School, and Spring Hill High School. The schools have high standards for students to succeed after graduation and go to college or other post-secondary education opportunities.
The Best Public Schools in Hernando County, FL
Springstead High School
Springstead High School is in Spring Hill, Florida. This public school provides education for grades 9-12 and has 1,516 students. The student body is predominantly white, with 7% of students being Hispanic and 93% white.
Nature Coast Technical High School
Nature Coast Technical High School: Nature Coast Technical High School is located in Brooksville, Florida. This public school provides education for grades 9-12 and has an enrollment of 1,593 students. The student body is predominantly black/African American (96%), with 2% of students being Asian/Pacific Islander and 1% of students being multi-racial or Latino/a.
Central High School
Central High School is a public high school located in Brooksville, Florida. It has approximately 865 students in grades 9-12 and is part of the Hernando County School District. The school colors are orange and black, and the mascot is a bulldog.
Central competes in Class 5A (the largest schools) of the FHSAA's classifications for public schools. Sports teams compete as the Central Cobras. The school has a marching band, cheerleading squad, drill team, pep band, jazz band, and concert chorus that all perform at home football games and other events.
Brooksville Elementary School
Brooksville Elementary is a public elementary school located in Brooksville, Florida, serving grades K-5.
The school colors are red and white with blue as an accent color. The mascot is the bulldog. Approximately 690 students enrolled at Brooksville Elementary this year, with around 60 teachers on staff.
Pine Grove Elementary School
Pine Grove Elementary School is a public elementary school located in Brooksville, FL. It has 334 students and 27 teachers on staff.
The school reports it has an 86% graduation rate. The student-to-teacher ratio at Pine Grove Elementary School is 20 to 1.
Pine Grove Elementary School offers many programs such as physical education and music classes and other extracurricular activities such as sports teams and clubs that your child can be a part of. They have a wide variety of curricula, including math, science, language arts, social studies, and more!
The Best Towns And Cities To Buy A Home in Hernando County, FL
Hernando County, FL, is a great place to buy a home. There are many towns and cities in Hernando County, but these are the ones that are ideal for first-time buyers.
Spring Hill
Spring Hill is a small town in Hernando County. There are many things to do in this town, including going to the Spring Hill Museum and Gardens, which has a wide range of exhibits that tell the history of this town.
Another popular attraction is the Olde Historic Village, which allows you to experience life in Florida during the 19th century. If you are looking for something more modern, you should check out Spring Hill Mall. This shopping center has over 100 stores and restaurants.
Brooksville
Brooksville is another town located in Hernando County. This town has a population of just over 15,000 people, and it is considered one of the safest cities in America because it has no violent crime at all! It also has multiple attractions such as The Nature Coast Botanical Gardens and The Lady Luck Casino & Hotel.
You can also visit one of the many museums or take a tour through some local farms.
Hudson
The small town of Hudson is at the center of Hernando County's real estate market. The town is just a short drive from the Gulf of Mexico, which makes it a popular spot for vacationers looking to buy a second home or rent out their properties when they're not in use.
Weeki Wachee
Weeki Wachee is another small town that attracts people looking for an affordable place to live near water. Like Hudson, Weeki Wachee has a strong sense of community and a low crime rate. This makes it an attractive location for families with children — especially if they want their kids to grow up near water without dealing with traffic or crowds at the beach during peak season.
Riviera Beach
This city is located on the Gulf Coast and offers some of the best fishing opportunities in the state. It also has a thriving arts scene and is right off I-75, making it easy. This city has an excellent school system, so if you have kids or plan on having kids in the future, this may be a good option for you.
Dunedin
Dunedin offers many family-friendly amenities such as parks and several different restaurants and shopping centers. This city also has one of the highest median incomes in Florida, making it an excellent place for families looking to build wealth through homeownership.
All the Towns and Cities in Hernando County, FL, Qualify for the Hometown Heroes loan Program
Brookridge
Brooksville
Hernando Beach
Hill 'n Dale
Masaryktown
North Brooksville
Ridge Manor
South Brooksville
Spring Hill
Timber Pines
Weeki Wachee
Weeki Wachee Gardens
In a nutshell
The Hometown Heroes loan program is a home-buying assistance program that provides up to $25,000 in down payment and closing cost assistance to veterans and active-duty service members. The program helps eligible applicants purchase a home without a down payment or credit history requirements in Hernando County.
Choose Your County for More Hometown Heroes Information