Houses for Sale Near Eglin Air Force Base | Florida
Phil Ganz
/
8 Min Read
/
Nov 27, 2022
Buying a home near the Eglin Air Force base is a sound financial decision that builds your net worth while sparing your family the rigors of military life. You can have your pick from numerous houses for sale near Eglin Air Force Base and enjoy full homeownership benefits.
Eglin Air Force Base
Eglin Air Force Base is a United States Military installation on 463,128 acres in Okaloosa County, Florida. The military base is conveniently located near Fort Walton Beach, about three miles from Niceville and Valparaiso. The 96th Air Base Wing oversees and controls the base under the supervision of the Air Force Material Command.
The 96th Wing's primary role is to provide worldwide support to air deployment missions by providing ordinance and weaponry. The 46th Test Wing complements and supports the missions of the 96th Wing.
The 46th Test Wing is in charge of testing and evaluating the Air Force guidance systems, weapons systems, bombs, and missiles. The 130,00 square miles of ocean airspace make the Eglin Air Force the perfect facility for such roles. The expansive ocean airspace allows the military to safely test the most lethal and destructive weapons system without casualties.
The Eglin Air Force Base is also home to high-level military training programs. Notably, this includes the Navy School of Explosive Ordinance Disposal (EOD) and the last phase of the Army Ranger training. Ranger trainees join the 6th Ranger Battalion for the final phase of training.
History
Formerly known as the Valparaiso Bombing and Gunnery Base, the Eglin Air Force Base was established in 1935. The base served as an Army Air Corps training facility for the first seven years, from 1935 to 1942. In 1942, the military command designated the base as an Army Air Corps munitions center and proving ground. After World War II, the military facility was renamed Eglin Air Force Base after the United States Air Force became an independent military branch.
The Eglin Air Force Base was earmarked as a facility to develop, handle, and test missiles to help repulse the threats posed by the Cold War Soviet Union. It later morphed into the command center for developing new missile technology and systems. Eventually, the base created ten designated fields for testing new flight systems and training maneuvers. Each of these fields is still in use today, and each is named after one of the greatest US War Heroes from different centuries.
Mission and Roles
Eglin Air Force Base is home to the Air Armament Center (AAC) and is among the three Centers under the United States Force Material Command. The Air Armament Center is responsible for deploying, testing, acquiring, developing, and maintaining all air-delivered Air Force weapons.
Eglin Air Force Base's other roles include planning and testing the Air Force's navigation and guidance systems over open waters. It's also charged with testing the command control and air armament systems used by the United States and its allies. The Eglin AFB is a critical military installation for the US Air Force. It's the central storage point for all weapons and munitions used by the Air Force aircraft, and all advanced aircraft weapon systems are handled here.
The Air Armament Center handles various programs, including Joint Direct Attack Monition, Small Diameter Bombs, Air Armament, Miniature Air Launched Decoy, High-speed Anti-Radiation, and Advanced Medium Range Air-to-Air Missiles.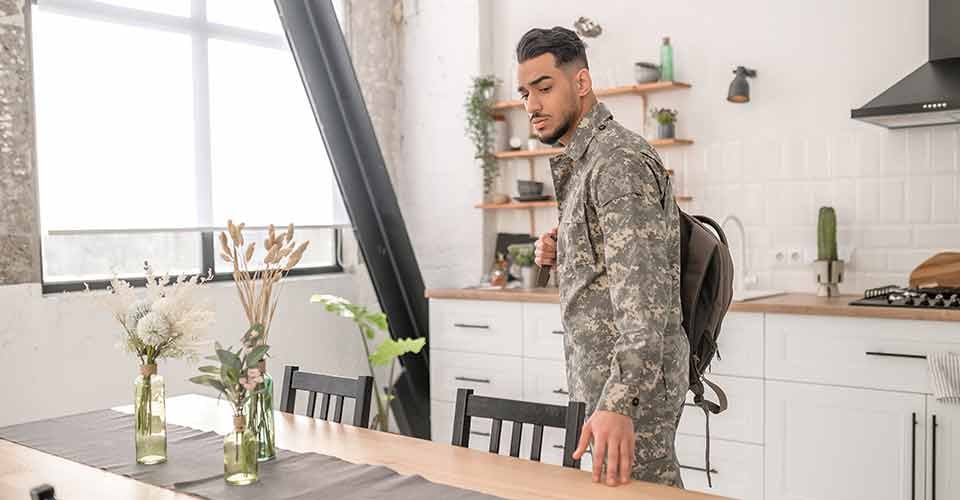 Living Off-base Near the Eglin Air Force Base
While the Eglin Air Force provides on-post housing to all service members and airmen, there's usually a long waiting list. If you wish to skip the waiting list and live off-base, you have plenty of options.
The Eglin Air Force Base is home to 2,359 housing units ranging from two to four-bedroom units. However, the housing units have no rank designation, so the living arrangement is mixed. Therefore, you're likely to be a full bird colonel living next to an E1 or E2, or vice versa.
Such a living arrangement is a mixed bag – sometimes it's excellent, and sometimes it's not. If you wish for a more exclusive living arrangement for your family, you're better off living off base.
Here are top 5 reasons to live off-base near Eglin Air Force Base.
Retain Your Full Housing Allowance
You're unlikely to get your money's worth with base housing. For starters, the houses are usually tiny, dated, and lacking modern amenities compared to the newer homes available off-base. Secondly, living on base means giving up your entire Basic Allowance for Housing each month for what is sub-par accommodation.
You'll be handing over significant cash for a small, dated house that might be dilapidated since 43% of all military housing is poorly maintained. Thirdly, you'll incur pocket expenses for other amenities such as home internet and home insurance since they aren't covered under base housing.
Living off base can improve your quality of life while allowing you to save money each month. Living off base gives you the flexibility you need to customize your living experience. You get to pick a modern luxurious house with all the modern amenities you'd wish for without exhausting your BAH.
Many modern and luxurious homes are for sale near Eglin Air Force Base to suit your lifestyle. Living off base gives you complete control over your income so you can decide how much to spend on housing. You can easily fit your housing costs within your BAH without incurring out-of-pocket expenses.
Separate Work from Home
Living on base subjects you and your family to the entire military life. There are strict guidelines and plenty of restrictions that may lower the quality of life for your loved one. Living off base allows you to leave the job at the base and immerse yourself in civilian life when you're off the clock. It allows your spouse and little ones to enjoy a carefree lifestyle in a neighborhood they love.
Given the military hierarchy, living next to a superior officer can be challenging. There's an off chance that you might have to be constantly on guard when interacting with your neighbor after office hours. You're never truly off the clock, even when you're home.
Buying a house off base is crucial to striking the work-life balance, which is crucial to your health and wellness. Experts say leaving work at the office is essential for your family's health and wellness.
Better School Options
Unlike many military bases, Eglin Air Force Base doesn't have any on-post schools. Living on base may limit your school options to the nearby elementary, middle, and high schools attended by every other kid from the base.
You can buy a home in one of the Eglin Air Force Base neighborhoods within a different school district. That grows your schooling options to include public, private, religious, and charter schools. Living off base gives you this option if you wish to shield your children from military life.
Your choice of school is crucial in helping you leave the work life at the office. Picking a different school means not running into your colleagues and their spouses at every PTA meeting, soccer practice, or recital. There's a great relief in knowing that your kids can make friends without the off chance of their interactions blowing back on your career.
Freedom, Lots of Freedom
Living on the base comes with many restrictions that are not only highly inconvenient but may also lower your quality of life. There are strict guidelines about every aspect of your life, from mowing the low to noise levels and everything in between. Any infraction – deliberate or accidental - of these guidelines is subject to excessive fines or fees.
Most private contractors managing the base housing aren't professional and often subject military personnel and their families to unlivable conditions. They are often accused of providing subpar services and taking forever to attend to maintenance issues but are quick to levy a significant fine on any damages and infractions.
You'll need to secure a visitor's pass for any non-military family members every time they come by for a visit. When living on a military base, you're subject to strict yard use and landscaping guidelines. You may not have certain items in your yard, such as above-ground pools, and must mow your yard at the stated interval or risk huge fines.
Buying a home near Eglin Air Force Base gives you limitless homeowning freedom. You can opt to move into a community without an HOA and enjoy the unlimited homeownership rewards.
No Pet Restrictions
When living on base, military guidelines dictate your lifestyle and the number and type of pets you can have in your home. Most bases restrict having a dog in the "bully breed" category. Dog breeds such as pit bulls, bull mastiffs, Doberman Pinscher, Akita, and any of their crossbreeds are banned in the Eglin Airforce base.
Depending on the size of your home, you can have as many pets as you like. If you own any of these dogs, you're better off buying a house near the Eglin Air Force Bases. Otherwise, you'd need to give up your beloved furry family member for adoption or put them in a shelter. Living off base lets you escape such pet restrictions.
The housing units on the base come with small lots, which may prove highly inconvenient. If your neighbors have noisy dogs, you'd be subjected to incessant barking noises around the clock. Still, living off base lets you pick a spacious property with enough grounds for your beloved pets.
Top 5 Communities Around Eglin Air Force Base
Eglin Air Force Base is conveniently located close to some of the best Okaloosa County communities. Most of these neighborhoods are within a 50 miles radius which would mean a moderate drive to work. Here are the best communities with houses for sale near Eglin Air Force Base.
Fort Walton Beach
Fort Walton is a family-friendly city on the eastern end of the Florida Panhandle. It's located just south of Crestview, west of Destin and Niceville, and east of Navarre. At first glance, the City of Fort Walton is ideal for those interested in aviation and aircraft, but the city has plenty of opportunities for everyone.
Besides the military, the medical, educational, and public sectors are the largest employers in Fort Walton. It's affordable and welcoming to families of all sizes and offers plenty of employment opportunities to military spouses and their families. There's plenty of private employment in the tourist and restaurant centers since the area is a tourist hotspot.
Fort Walton neighborhoods are kind, diverse, and neighborly, allowing you to live in a supportive and tight-knit community. Since half the community in Fort Walton household comprises young families, plenty of family-oriented activities and amenities exist.
The city is home to stunning beaches, beautiful suburbs, and bustling downtown and offers plenty of outdoor activities, including hikes and watersports. The medium home price in Fort Walton is $349,004, making the area an ideal place for military personnel who wish to live off base.
Niceville
Niceville is a small Okaloosa County town with a population of 15,619. It's one of the best places to live around Eglin Air Force Base if you wish to live off base. Niceville boasts the small town appeal characterized by sparse suburbs where most residents own their homes.
The median home price in Niceville is $394,800, making it one of the most affordable places to buy a home in Florida. There are plenty of employment opportunities for military spouses.
Due to its low crime rates, Niceville is rated as one of the best places to live in Florida. It offers plenty of family-friendly activities, including sunny beaches, watersports, fishing, restaurants, and state parks.
Crestview
Rated as one of the fastest-growing Florida cities, Crestview is a small, friendly city around Eglin Air Force Base. With a population of 25,663, Crestview is great to live if you wish to escape the hustle and bustle of larger towns such as Fort Walton. Crestview is a hub town since it's centrally located close to Pensacola, Destin, and the Alabama line.
The family-friendly city is home to many young families as professionals move to settle here. The medium home price in Crestview is $316,450, making it one of the most affordable places to buy a home near fort Eglin. Almost 60% of the residents in Crestview are homeowners. There are plenty of employment opportunities in the local businesses and institutes of higher learning. Crestview's central location provides residents with plenty of employment in the nearby towns.
Valparaiso
Named after a city in Chile, Valparaiso is a tiny city of fewer than 10,000 residents. It delivers a quiet experience to military personnel living off base since it's just 41 miles from the Eglin Air Force Base. The town is home to a close-knit, family-friendly community. It delivers the small-town feel without sacrificing the amenities of urban living.
The median home price in Valparaiso is $415,000, which is highly affordable compared to other places in Florida. Local attractions in Valparaiso include the historic Heritage Museum of Northwest Florida and the Silver Beach Wayside Park, with its sandy beaches and aquamarine waters.
Wright, Florida
Wright is a moderate-sized city with a thriving community of 22,000 residents located about 45 miles from the Eglin Air Force Base. It provides a thriving environment to air force personnel who don't mind a reasonable commute to work. It the ideal if you appreciate living in a community with a small-town feel. The median home value in Wright, Florida, is $315,000, which is quite affordable to military personnel wishing to own property in Florida.
Local attractions include the Gulfarium Marine Show Aquarium, with a diverse range of aquatic mammals, including dolphins, penguins, and other aquatic animals. The Aquarium is home to exotic fish and other underwater creatures and puts on displays and shows with wild animals.
Wring Every Benefit from of Your BAH
Military housing units are adequate at best and, in most cases, not worth your total Basic Allowance for Housing. Living off base is the only surefire way to put your housing allowance to good use. With careful planning, you can use your BAH to build a quality life for your family while securing your financial future.
With careful planning, you can purchase a home near Eglin Air Force Base and use your BAH to pay off the mortgage. Have your pick from the many houses for sale near Eglin Air Force Base and give your family the lifestyle they deserve.