Patrick Air Force Base - Military BAH
Phil Ganz
/
8 Min Read
/
Nov 25, 2022
The wing oversees operations on the Eastern Range, supporting crewless rockets and spacecraft launches from Cape Canaveral AFS and nearby Kennedy Space Center.
The range includes two active launch pads—Space Launch Complex 40 (SLC-40) and Space Launch Complex 41 (SLC-41), a refurbished pad previously known as Space Launch Complex 6 (SLC-6). The wing also manages three additional pads—one each at Cape Canaveral AFS (LC-13), Vandenberg AFB (SLC-3E), and SLC-17 at Kodiak Island, Alaska (which is part of Cape Canaveral AFS).
Brief History
The history of Patrick Air Force Base began with the establishment of a Naval Auxiliary Air Station in 1940. The first unit to occupy the base was the 3rd Attack Squadron (Light) of the Marine Corps Reserve.
The squadron flew Douglas SBD Dauntless dive bombers and Curtiss SB2C Helldiver bombers from 1941 to 1944, when it became part of Marine Aircraft Group 33 at MCAS Cherry Point, North Carolina.
Post WW2
In 1945, the Navy decommissioned Rickenbacker Field. It leased it to Pinecastle Bombing Range (later Camp Blanding) for use as a bombing range for artillery units using live ammunition and bombs at low elevations (15-20 feet above ground), which created environmental concerns about soil erosion and water pollution from unexploded ordnance, especially in residential areas near Ocala National Forest on the eastern edge of the base.
1950 -1970
On March 20, 1951, the first navigator trainees arrived at Rickenbacker AFB for training inside the C-45 Expeditor aircraft. In early 1952, students began flying in the AT-6 Texan and T-28 Trojan trainers until they were ready to fly a B-29 Super-fortress over the Atlantic Ocean to Europe or Asia.
In 1954, Rickenbacker AFB became home to Strategic Air Command bombers used during nuclear deterrence exercises with the Strategic Air Command (SAC).
These included B-47 Strat jet medium-range bombers that carried nuclear weapons and KC-97 Strat freighter aerial refueling tanker aircraft. The tankers had been converted from C-97 Stratocruisers military cargo planes used during World War II and Korea.
1970 - 1980
In 1972, the U.S. Department of Defense announced plans for a significant renovation at Rickenbacker Air National Guard Base and Homestead Air Force Base in Florida as part of its force modernization program.
The plan called for modernization at both bases over five years beginning in 1973 with the construction of a new munitions loading facility at Homestead AFB; construction of a new communications center at Rickenbacker ANGB; upgrading facilities on both bases, and installation of modern navigational aids at both locations.
In 1989, Patrick AFB was selected as one of four bases to host a new intercontinental ballistic missile system known as Peacekeeper. The Peacekeeper program was canceled in 1992 but continued to be maintained at Patrick AFB until its final deactivation on September 25, 2005.
1990 - Present
In March 1994, the 86th Fighter Wing was re-designated as the 86th Airlift Wing and became part of the Air Mobility Command (AMC). The wing's mission was changed from flying F-15s to flying C-21s and C-20s.
The 2000s saw more changes at Patrick AFB. In 2003, the 86th Airlift Wing was redesigned as the 86th Fighter Wing and returned to flying F-15C/D Eagles. The same year, the Air Force Reserve Command's 445th Airlift Wing was activated at Patrick AFB as an active duty wing associate unit. In 2004, the wing assumed its new role as the first Reserve associate fighter wing in history and became known as the 86th Fighter Wing (Associate).
In 2008, another historical event occurred when President Barack Obama announced that his administration had selected Patrick Air Force Base as one of two locations for a new $1 billion joint training facility for U.S. Special Operations Command (USSOCOM) and U.S. Central Command (CENTCOM).
Fun Things to Do Near Patrick Air Force Base
The Air Force Space and Missile Museum house historical pieces at Cape Canaveral Space Force Station related to the development of U.S. Space Force space launch activities.
A 16-mile drive from Melbourne, Andretti Thrill Park features amusement park rides, go-kart tracks, laser tag, batting cages, climbing walls, miniature golf, arcades, a ropes course, and batting cages.
You can enjoy retro arcade games and pinball machines at Game Over Retro Arcade & Bar In West Melbourne.
Living off Base and the House-Hunting Process
You may want to live off base at Patrick Air Force Base in Florida for many reasons. You might be looking for a more affordable housing option, better schools, or a change of pace from daily life on base. Whatever your reason, here is some information to help you in your house-hunting process.
Decide What You Want in a House
Are you looking for something modest or extravagant? Do you want to live in a neighborhood with other military families?
Do you want a house near the beach or on top of a mountain? Once you know what you're looking for, start searching for houses online and in person.
Create a List of Potential Homes That Fit Your Needs and Preferences
It can be helpful to create an Excel spreadsheet with each potential property's information so you can quickly sort through them later.
Please include the address, number of bedrooms/bathrooms, square footage, price range, and more details about each home that might help narrow your search (such as whether it has hardwood floors or a fireplace).
Know When the Housing Market Is Going to Be Busiest
The best time to buy is during the off-season — fall through spring — because fewer people are looking for homes at that time of year.
The worst time is during peak months, such as summer and winter when families settle down or move into town. If possible, avoid weekends when many people are out house-hunting once.
Take Advantage of Online Tools
Websites like Zillow and Trulia allow you to search for homes by price, size, and location. These sites also provide information about each home's condition and amenities.
You can even see how much similar homes sold for in the past six months, which is helpful when negotiating with sellers.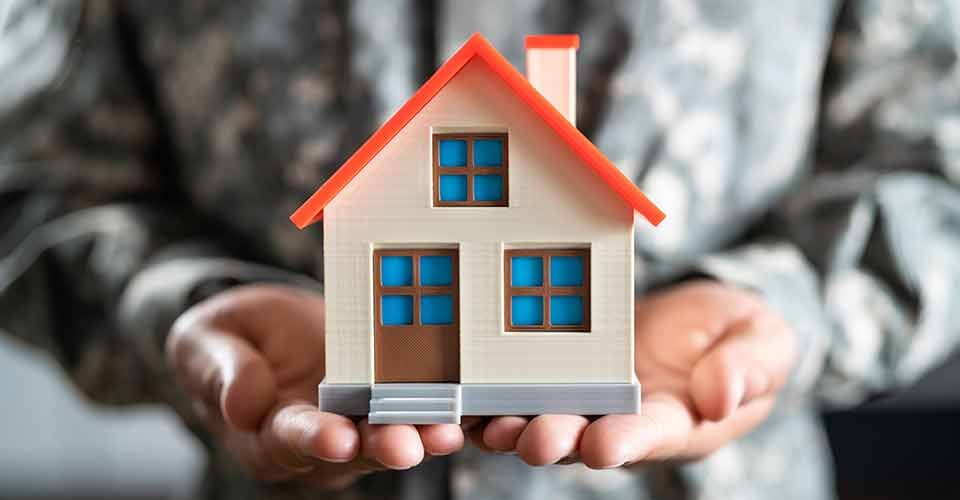 Housing Options Off Base
There are many types of housing options off base. The most common are:
Townhouses
These can be found in many different styles and sizes with one or two levels. They usually have one or two bedrooms and 1-2 bathrooms.
Townhouses usually have a shared laundry facility and a common area for entertaining guests or watching TV with friends and family members.
Condos are similar to townhomes, except they include an attached garage instead of a parking space in front of the unit like townhomes do.
Condos typically have 2-3 bedrooms, two bathrooms, and common areas for entertaining guests or watching TV with friends and family members.
Townhomes
Townhomes are similar to condos but don't have a garage or common area. They usually have 2-3 bedrooms, two bathrooms, and private parking spaces in front of the unit.
These homes are more affordable than condos because they're less expensive to build than single-family homes. However, they also tend to have fewer amenities and less storage space than condos do because they're built on smaller lots of land than single-family homes are built on.
Apartments
Several types of apartments are available around Patrick Air Force Base, including garden apartments, garden villas, patio homes (similar to condos), and carriage houses (which resemble tiny houses). Most apartments offer one or two bedrooms with a bathroom, but some also include space for a kitchenette or full kitchen.
The rent can range from $500-$1,000 per month, depending on the size of the apartment and its location.
Military Basic Allowance for Housing (BAH)
Military Basic Allowance for Housing (BAH) is a monthly housing allowance paid to military members stationed in the United States or anywhere else in the world who have no access to government quarters. BAH is an allowance, not a payment to purchase quarters.
BAH is designed to cover a portion of the cost of housing rental, mortgage, or utility payments. The highest 2022 BAH rate at Patrick Air Force Base is $2,391, and the lowest rate is $1,509.
The Department of Defense considers these factors, according to your geographical location, when determining allowance amounts - BAH rates = Home type and the number of rooms + Current rental market rates + Average cost of utilities
Factors That Determine How Much BAH You Will Receive
Patrick Air Force Base - Military BAH rate varies depending on rank, dependency status, and zip code.
Rank / Paygrade
Your rank determines how much you're paid per month. For example, an E-4 with three years' experience makes $1,245 per month at the primary pay grade; an O-3 with 15 years' experience makes $1,846 per month at the O-3 pay grade, and an O-6 with 20 years' experience makes $2,359 per month at the O-6 pay grade.
Number of Dependents
Suppose you have dependents such as children or spouses that live with you. In that case, they count towards determining how much money will be allotted to your housing needs and other expenses, such as child care or medical costs.
Locality
The type of housing varies by location, so it's important to note where you'll be stationed when determining what BAH rate you're eligible for.
Type of Housing
The type of housing can also affect how much BAH you receive. For example, if you live in an apartment or condo instead of a traditional house, your BAH may be lower because there are fewer expenses attached to those types of dwellings than there are with houses.
Benefits of Basic Allowance for Housing
The basic allowance for housing (BAH) is a tax-free allowance paid to military members who do not live in government quarters.
BAH is designed to offset the high cost of living in certain parts of the country. Here are some of its benefits:
It's Tax-Free
BAH is not taxable income and cannot be garnished by creditors. This can be especially helpful for deployed service members who may not have access to their bank accounts or paychecks during this time.
It's a Predictable Income Stream
Unlike your regular paycheck, which can vary from month to month, the amount of BAH you receive each month will be the same. You'll know exactly how much money you have coming in each month so that you can budget accordingly.
BAH Is a Fixed Dollar Amount
It provides an incentive to live in government-owned or -leased quarters, which means taxpayers save money by not having to build barracks or other housing facilities for military personnel.
BAH Can Be Used to Pay off Debts or Save Up for a Down Payment on a Home
If you have debt before joining the service, paying off those debts with your BAH money might be an option. However, this should only be done if there isn't any other way for you to pay off that debt without compromising your financial security later on down the road when you leave the service or once your spouse has left active duty.
Basic Allowance for Housing (BAH) To Apply for VA Loan
While BAH is used primarily for rental payments, it can also be used for mortgage payments if you buy a home through a VA loan. Here's how;
First, you must determine your BAH rate based on location and family size. For example, if you're buying a home in San Diego and have two children under 18 years old living with you, your current BAH rate would be $1,541 per month.
Once you know your BAH rate, you can use it as part of your down payment and closing costs when applying for a VA mortgage. The VA allows borrowers to use up to 4 percent of their annual income toward their down payment and closing costs when applying for a VA loan.
So if your annual income is $90,000 per year (which equals $7,500 per month), you could use up to $300 toward your down payment and closing costs ($7,500 x 4%).
Note - The BAH entitlement can be grossed up to purchase a house. For example, if your monthly entitlements are $2,500, it can be grossed up by 25 % resulting in a monthly qualifying income of $3,125. Such entitlements are only available to veterans; taking a home mortgage is genuinely advantageous.
How Much Can I Borrow With a VA Loan?
The maximum loan amount varies depending on the VA loan you're applying for and whether or not you have any other outstanding debts. The VA limits the amount it guarantees for all types of mortgages, including those backed by it and those offered by private lenders.
For example, if you're approved for a $200,000 mortgage, the VA will provide your loan with $200,000 in insurance coverage. If you want to borrow more than that, you'll need to get a private mortgage insurance policy from an insurance company (PMI).
Who's Eligible for a VA Loan?
The following are some of the eligibility requirements for obtaining a VA loan from the U.S. Department of Veterans Affairs:
Be at least 18 years old and discharged under honorable conditions.

Have served at least 90 days of active service during wartime (including time served during peacetime when the country was engaged in war).

Be in the Reserves or National Guard.

Not have been convicted by court-martial of an offense involving moral turpitude within the last five years or have an outstanding warrant or order that indicates a disability that may affect eligibility (for example, a felony conviction).
Conclusion
When you combine the advantage of not having to pay a mortgage payment after completing a military career with the tax freedom of BAH from your income, you begin to understand that no other profession offers such great financial opportunities to reach your dreams in life.
VA home loans for military service members and veterans should be a priority for any service member considering buying a home. One can use Patrick Air Force Base - Military BAH to apply for a VA loan and pay off the mortgage. Thus, there is no need to worry about the cost of home loans.